Baked Apple Oatmeal (Healthy, Vegan)
An easy Baked Apple Oatmeal recipe for an easy, healthy fall breakfast packed with plant-based proteins and fiber.
Bonus, this is baked oatmeal recipe is also egg-free, dairy-free and vegan approved.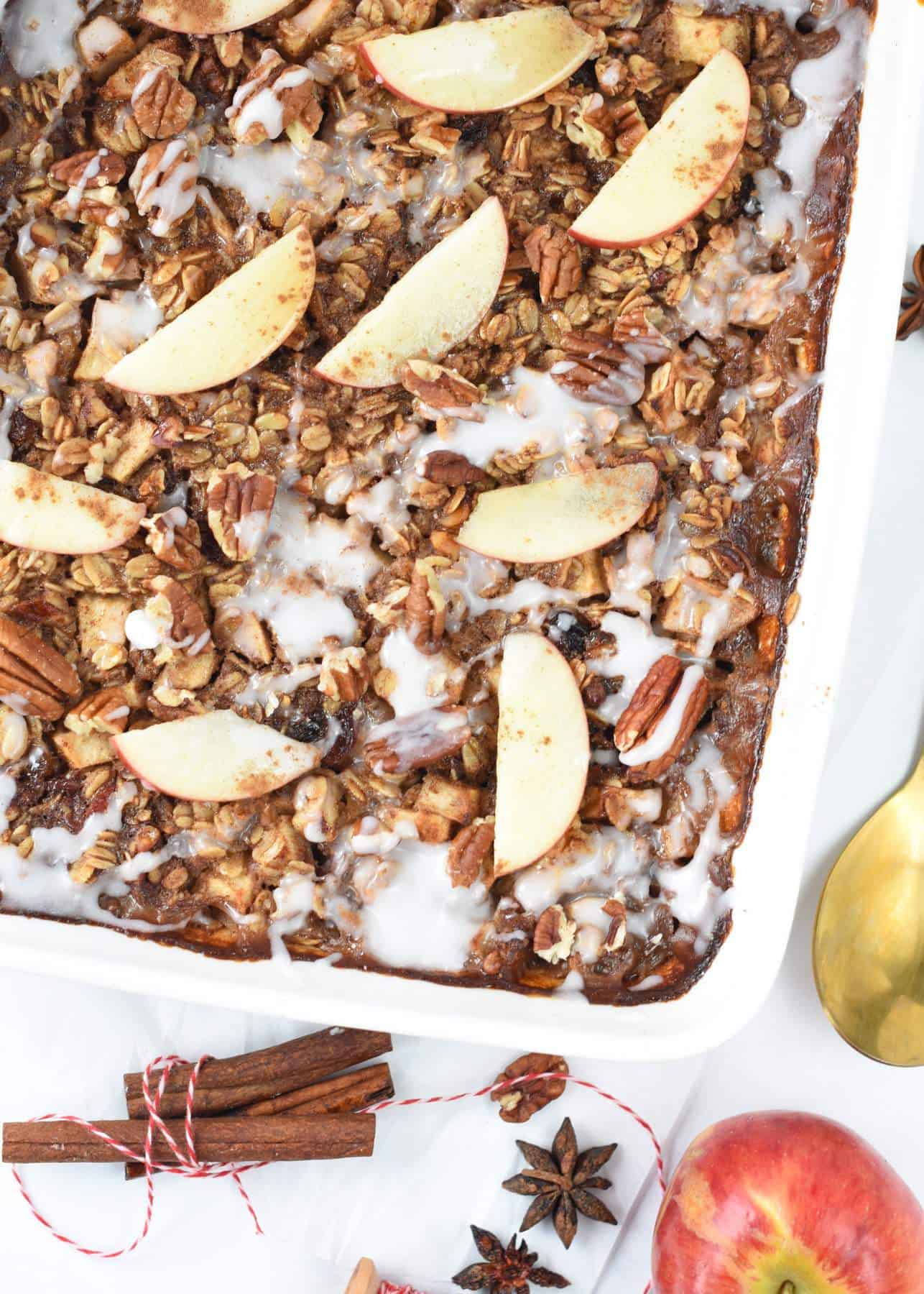 What's Baked Oatmeal?
Baked oatmeal recipes are convenient, large batches of baked oatmeal that can easily feed the entire family for breakfast.
It's also a popular easy, healthy make-ahead breakfast recipe because it stores very well in the fridge or freezer.
Then, you can rewarm your serving of oatmeal in the morning in less than 2 minutes and enjoy a healthy breakfast packed with nutrients.
How To Make Baked Apple Oatmeal
It's super easy to make this baked oatmeal recipe with apples.
All you need are a few simple ingredients, a bowl, and a large baking dish. Let me guide you through this easy healthy breakfast recipe.
Ingredients
Most baked oatmeal recipes use eggs, but since we don't use eggs in our vegan kitchen, we provide a replacement for this recipe.
Of course, you can adapt the recipe to your preferences, so we provide a note in the recipe card below to guide you if you don't have a flaxseed meal at home.
Old-fashioned rolled oats – don't use quick oats or instant oats to make a baked oatmeal recipe. The result is pretty dry and dense, and you lose some important fibers as well. You can use gluten-free certified oats if you are gluten intolerant.
Flaxseed meal or chia seed meal. This replaces one regular egg to make vegan baked apple oatmeal.
Cinnamon
Ginger
Baking powder
Unsweetened almond milk, coconut milk, or plant-based milk you love.
Maple syrup, coconut sugar, or brown sugar.
Melted coconut oil or melted vegan melted butter.
Vanilla extract
Unsweetened apple sauce or mashed banana.
Apples
Chopped walnuts or pecans
Dried raisins or shredded coconut.
Brown sugar or coconut sugar – optional, to sprinkle on top of the baking dish. This adds a lovely caramel flavor that turns this recipe into baked-apple-pie oatmeal! Delicious and a must-try!
Choose the right baking dish size
The size of your baking dish impacts the texture of your baked oatmeal.
For soft, moist, and thick oatmeal, use a 9×9-inch pan and bake for 45-50 minutes.
For a dryer, almost sliceable baked oatmeal, use an 11×7-inch pan and bake for 40-45 minutes.
Slightly oil the pan with coconut oil, and don't add any parchment paper at the bottom.
Prepare apples
First, peel and core the apples and cut them into small cubes or chunks of about 1/2 inches in size.
In fact, cutting the apple into the same cube size makes the baking even.
It means the diced apples will all bake at the same speed.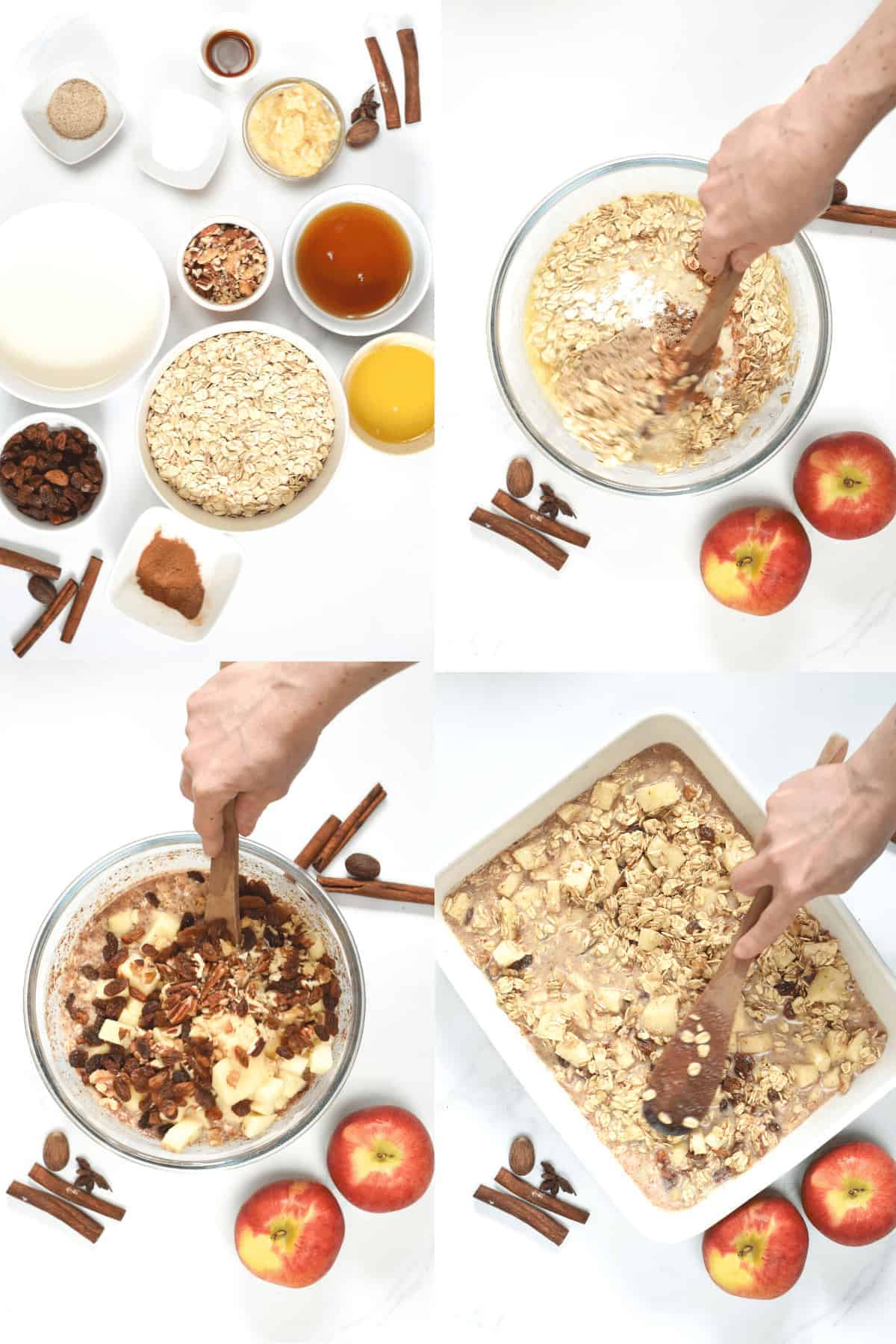 Combine liquid to dry ingredients
First, in a large bowl, combine all the dry ingredients: oats, flaxseed meal, cinnamon, ginger, and baking powder.
In another bowl, combine the liquid ingredients: almond milk, maple syrup, vanilla extract, melted coconut oil, and apple sauce.
Finally, combine the liquid ingredients with the dry ingredients until evenly combined.
Fold in add-ons
What makes this baked apple oatmeal so good are all the spices but also the add-ons. Here we fold in half the amount of chopped pecan, dried raisins, and apples.
Read below how to choose the best apples for a baked apple oatmeal recipe.
Finally, transfer the oatmeal mixture into the baking dish.
Spread evenly in the baking dish and top the dish with a sprinkle of brown sugar, remaining chopped nuts, and remaining diced apples.
Baking time
Bake in the center rack of the oven at 375°F (190°C) for about 40 minutes to 50 minutes.
Depending on the size of the baking dish you used, you may have to bake the oatmeal longer.
For smaller 9-inch x 9-inch baking dishes, the recommended baking time is between 45 to 50 minutes.
But for a larger 7-inch x 11-inch baking dish, you may need only 40 to 45 minutes minutes.
You know the baked apple oatmeal is ready to take out from the oven when the:
The sides are set.
The top is golden.
A toothpick inserted in the center comes out slightly wet, with little to no crumbs on it.
The longer you bake it, the dryer the oatmeal will be. Stop baking your oatmeal when it reaches your favorite texture and consistency.
Choice of apples
You can basically use any apples you like to make this baked apple cinnamon oatmeal. However, a crispy tart apple is better because it won't get mushy or too soft in the oven.
My favorite apple varieties to bake with, whatever it's to make this recipe or my apple crisp or apple oatmeal bars, are:
Granny smith
Fuji
Gala
Honeycrisp
Pink lady
Golden delicious
Red delicious
Storage Instructions
This is a great recipe to make ahead healthy breakfasts for the week.
Store the leftover baked apple oatmeal in its own baking dish wrapped with plastic wrap or silicone lid. Store for up to 4 days in the fridge.
You can also freeze baked oatmeal and thaw one serving in the fridge the day before serving.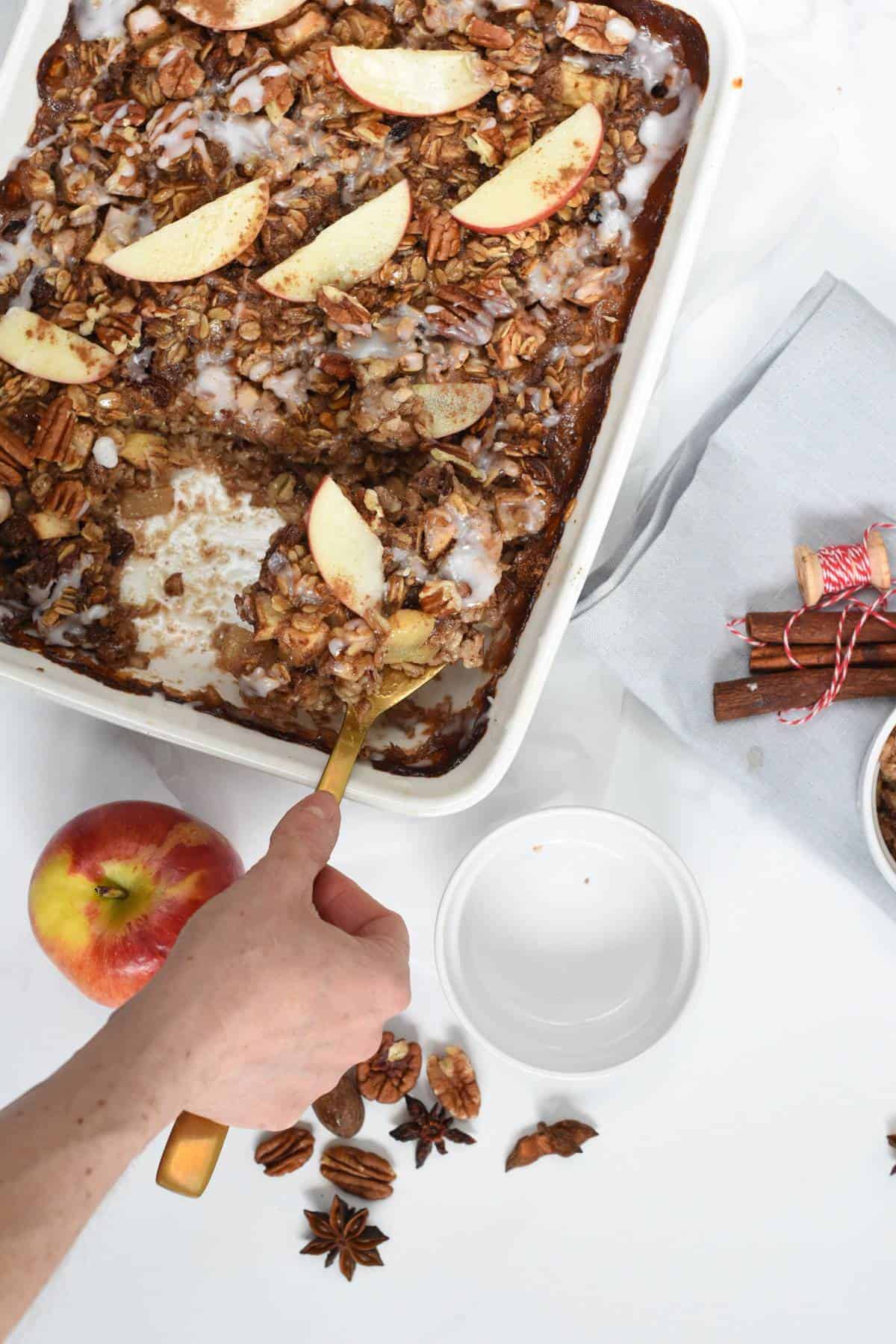 Toppings
This is totally optional but adding some toppings to your baked apple oatmeal brings it to the next level. The best topping is a combination of:
Coconut yogurt
Icing sugar or maple syrup
Cinnamon
Rewarming
Some people enjoy baked oatmeal cold the next day, but I prefer hot baked oatmeal for breakfast. You can rewarm baked oatmeal in:
The microwave for 1 minute.
A saucepan with a touch of almond milk at the bottom. Cover and simmer for 1-2 minutes. The oatmeal loosens a bit in a saucepan, but it's still delicious.
In the oven – bring back to a warm oven or air fryer at 320°F (160°C) in an oven-safe ramekin.

Serving
You can serve your baked oatmeal with 1/2 cup of almond milk or coconut milk. Or, add some of the delicious toppings below:
Coconut yogurt
A drizzle of peanut butter or almond butter is absolutely delicious with apples!
A drizzle of maple syrup for a boost of sweetness.
Troubleshooting
If your baked oatmeal doesn't set properly, meaning it's runny and too liquid, it can be that:
The oven is at a lower temperature than recommended. Increase oven temperature and keep baking for longer.
There's too much liquid in the recipe – open the oven, sprinkle one extra tablespoon of flaxseed meal in the dish and keep baking for longer.
It misses fiber – it can be because you used instant oats, quick oats, or less flaxseed meal. Apply the troubleshooting option from the previous step to fix it.
Allergy Swaps
Below I listed some options to make this recipe if you have some food allergies. Follow the food swaps provided below:
Gluten-free – choose a gluten-free certified rolled oats brand or replace it with millet flakes or rice flakes.
Nut-free – swap pecans for shredded coconut or more dried raisins.
Sugar-free – replace maple syrup with sugar-free monk fruit syrup and brown sugar with brown erythritol.
More Healthy Oatmeal Breakfast Recipes
Oatmeal is my favorite breakfast option to serve a healthy breakfast to kids and the family.
It's packed with fiber and plant-based proteins. Below I listed more oatmeal recipes you may want to try:
Have you made this baked oatmeal with apples recipe? Share a comment or review below to tell me how you love yours?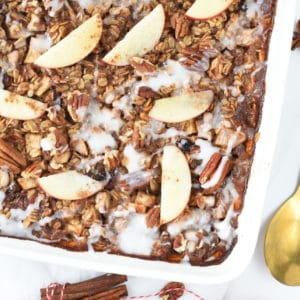 Baked Apple Oatmeal
An easy Baked Apple Oatmeal recipe for an easy, healthy fall breakfast packed with plant-based proteins and fiber.
Pin
Print
Review
Shop My Tools
Ingredients
Add-ons
1 ½

cup

Diced Apples

-

peeled, cut into small chunks 1/2 inches (about 3 apples)

⅔

cup

Chopped Pecans -

divided

⅓

cup

Dried Raisins -

or shredded coconut
Toppings – optional for a boost of sweetness
Instructions
Preheat oven to 375°F (190°C). Slightly oil a 9×9-inch or a 9×11-inch baking dish. For moist, thick oatmeal, use a 9×9 pan and for a dryer and thin layer of baked oatmeal, use a 9×11-inch pan.

In a large mixing bowl, combine all the dry ingredients: rolled oats, flaxseed meal, cinnamon, nutmeg, and baking powder.

In another bowl, combine liquid ingredients: almond milk, apple sauce, vanilla extract, melted coconut oil, and maple syrup.

Stir in liquid ingredients to the dry ingredients until well combined.

Fold in 1/3 cup chopped nuts, dried raisins, and 1 cup chopped apples (keep 1/2 cup for later). Stir well to combine in the batter.

Pour the batter into the prepared baking dish and sprinkle coconut sugar, remaining 1/3 cup chopped nuts, and remaining 1/2 cup chopped apples.

Bake for 40-50 minutes or until set to your liking. For a dryer baked oatmeal, use a large baking dish and bake until a toothpick comes clean (about 50 minutes). For moist oatmeal, remove when the top is golden, and the sides are set, but a pick inserted in the center comes out moist with no crumbs on it. It takes about 40-45 minutes of baking time.

Cool the oatmeal down for at least 40-60 minutes before serving, The baked oatmeal set and get easier to serve after cooling down. To serve slices, refrigerate the cooled baked oatmeal for 3 hours to completely set.
Serving
Before serving, combine coconut yogurt, icing sugar, and cinnamon. Drizzle on top of the cooled baked apple oatmeal.

Serve 1 cup per breakfast, rewarm in a microwave or in a saucepan over medium heat, until lukewarm or heat cold. Serve topped with coconut milk, almond milk, or a dollop of your favorite yogurt and a pinch of extra cinnamon.
Storage
Store in the fridge for up to 4 days in an airtight container or in the baking dish covered with food wrap to keep the oatmeal moist.

Freeze in an airtight container and thaw in the fridge the day before.
Share on Facebook
Pin Recipe
Nutrition
Serving:
1
serving
|
Calories:
266.6
kcal
|
Carbohydrates:
34.4
g
|
Protein:
4.2
g
|
Fat:
14.3
g
|
Saturated Fat:
5.4
g
|
Polyunsaturated Fat:
3.2
g
|
Monounsaturated Fat:
4.9
g
|
Sodium:
139
mg
|
Potassium:
231
mg
|
Fiber:
4.8
g
|
Sugar:
10.7
g
|
Vitamin A:
24
IU
|
Vitamin C:
1.7
mg
|
Calcium:
144.6
mg
|
Iron:
1.5
mg
|
Magnesium:
48.6
mg
|
Phosphorus:
133.1
mg
|
Zinc:
1.3
mg