Peanut Butter Oatmeal Recipe
This Peanut Butter Oatmeal bowl is the most creamy, warm, healthy breakfast ever packed with proteins and fiber to keep you full all morning.
Plus, this homemade oatmeal recipe is also easy to whip up in less than 10 minutes for busy mornings.
If you love oats in the morning, and in particular, oatmeal recipes that combine oats and peanut butter, you'll love this.
We often make our peanut butter oatmeal bars or peanut butter overnight oats during the week. They are easy to make on Sunday and perfect as a quick ready-to-eat breakfast on a school day.
But when fall and winter come, we love a warm oatmeal recipe to start the day.
And what's better than peanut butter in your oatmeal to add a creamy texture and a touch of flavor?
How To Make Peanut Butter Oatmeal
There's nothing easier than homemade oatmeal with peanut butter.
Ingredients
All you need to make this creamy homemade oatmeal recipe are wholesome, simple ingredients:
Old-Fashioned Rolled Oats or quick oats.
Water
Plant-Based Milk of choice, like almond milk, coconut milk, or oat milk.
Peanut Butter – Use natural peanut butter with no added sugar and no added oil.
Vanilla Extract
Preparation
There are two ways to cook oatmeal. You can make it on a stove or in the microwave.
I don't have preferences between them. They really deliver the same texture at the end. The microwave method is faster and easier for big kids to make themself.
The stove version works better with old-fashioned oats, which take a while to absorb liquid when cooked in the microwave.
So pick the cooking method that suits your lifestyle.
Stove Method
In a medium saucepan over medium heat, bring the milk and water to a boil.
Reduce to low heat, and stir in the oats, peanut butter, and maple syrup.
Stir and simmer for 4 to 5 minutes until almost all the liquid has been absorbed.
The cooking time depends on personal preferences. For creamy oatmeal, cook for about 3-4 minutes. But, for a thick dry texture, cook up to 5 minutes.
Remove from the heat, cover with a lid, and set aside a few minutes until the oats have softened and absorbed the liquid.
Serve following the serving suggestions below.
Microwave Method
Place all the ingredients in a microwave-safe bowl, and whisk with a fork to combine the peanut butter with the liquid.
It won't dissolve very well until it's warm, and that's fine.
Microwave on high (900W) in 30-second bursts, stirring a few seconds between each burst to let it steam out and bring the ingredients together.
Stop when the mixture is creamy, and all the ingredients are well combined.
Let the oatmeal steam out for a few minutes at room temperature before serving. The oatmeal thickens as it cools in the bowl.
Serving Instructions
When the oatmeal is thick and creamy, stir in the vanilla extract and maple syrup.
Then, serve in a shallow bowl and add some of the toppings below for flavor and texture:
Crushed peanuts or any nuts you love, like pecans or sliced almonds.
Shredded Coconut
Berries like blueberries, raspberries, or strawberries.
A drizzle of extra peanut butter
A drizzle of maple syrup
Pinch of salt – only if used unsalted peanut butter or the oatmeal ends up too salty.
Allergy Swaps
Below I listed some options to make this recipe even if you have some food allergies to the ingredients listed below.
Gluten-Free – Pick a certified gluten-free oat brand.
Peanut-Free – This recipe works with any nut butter or seed butter. Try sunflower seed butter for a nut-free option, or almond butter or cashew butter if you don't have an issue eating nuts.
Sugar-Free – Use any sugar-free liquid syrup you love to sweeten the homemade oatmeal.
Milk – Any dairy-free milk works well in this recipe. Some, like soy milk, add proteins or more flavors, like coconut milk. Pick your favorite plant-based milk.
Add-Ons
Feel free to stir in some of the ingredients below to thicken the oatmeal or add protein.
1-2 teaspoons of chia seeds
1 tablespoon of plant-based protein powder or powdered peanut butter
1/4 cup of mashed bananas
Frequently Asked Questions
Here are my answers to your most common questions about this peanut butter oatmeal recipe.
Can I Make Oatmeal Ahead?
You can't make oatmeal ahead because it firms up in the fridge and won't taste as creamy the next day.
Instead, try my vegan baked oatmeal for an easy oatmeal recipe that meal prep days of oatmeal.
Why Is My Oatmeal Too Liquid?
It means that your oats-to-liquid ratio is wrong or you didn't cook the recipe long enough.
Keep in mind that the liquid won't absorb at once over the stove.
You must cover the cooked oatmeal with a lid and set it aside for a few minutes for the remaining liquid to get absorbed.
However, if this doesn't help, it means you need more oats. You can simply add more oats, one tablespoon at a time, and keep cooking until it thickens up.
Can I Use Steel-Cut Oats?
You can use steel-cut oats, but it takes longer to cook. Add an additional 1 or 2 minutes.
More Oatmeal Recipes
Below are some more easy oatmeal recipes for you to try.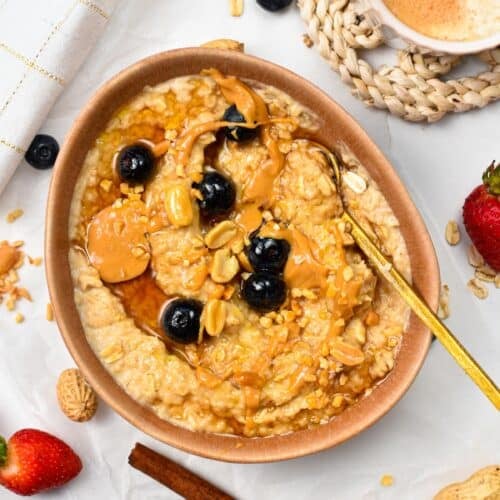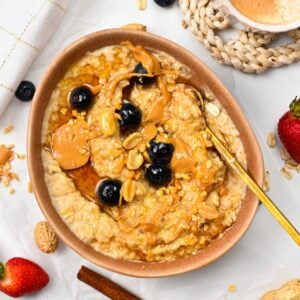 Peanut Butter Oatmeal
This Peanut Butter Oatmeal bowl is the most creamy, warm healthy breakfast ever packed with proteins, and fiber to keep you full all morning. Plus, this homemade oatmeal recipe is also easy to whip in less than 10 minutes for busy mornings.
Pin
Print
Review
Shop My Tools
Instructions
Stove option
In a non-stick saucepan, add water and milk and bring to a boil.

Reduce to low-medium heat and whisk peanut butter until well dissolved.

Add oats and cook on low-medium heat, stirring occasionally until the oats are soft and almost all the liquid has been absorbed. It takes about 4-5 minutes.

Cover, remove from heat, and set aside for 2 minutes to thicken.

Remove the lid, stir in maple syrup and vanilla extract, and serve in a bowl with your favorite toppings.
Microwave
Add all the ingredients to a microwave-safe bowl and microwave in 30-second bursts, stirring to melt in the peanut butter.

Microwave until all liquid is absorbed and the texture is thick and creamy. It takes 1 minute 30 seconds at 900W.
Serving
Serve with a drizzle of peanut butter, crushed peanuts, chocolate chips, and banana slices or blueberries.
Share on Facebook
Pin Recipe
Nutrition
Serving:
1
serving
|
Calories:
395.4
kcal
|
Carbohydrates:
44.4
g
|
Protein:
13
g
|
Fat:
20
g
|
Saturated Fat:
3.7
g
|
Polyunsaturated Fat:
5.4
g
|
Monounsaturated Fat:
9.4
g
|
Sodium:
255.3
mg
|
Potassium:
359.3
mg
|
Fiber:
5.9
g
|
Sugar:
12.3
g
|
Calcium:
155.6
mg
|
Iron:
2.3
mg
|
Magnesium:
114.2
mg
|
Phosphorus:
274.6
mg
|
Zinc:
2.4
mg