This Protein Baked Oatmeal is an easy, healthy high-protein breakfast to meal prep a week of tasty creamy vanilla oatmeal.
Plus, with only 350 kcal per serving, this breakfast contains 16 grams of proteins and 6 grams of fiber to keep you full for hours.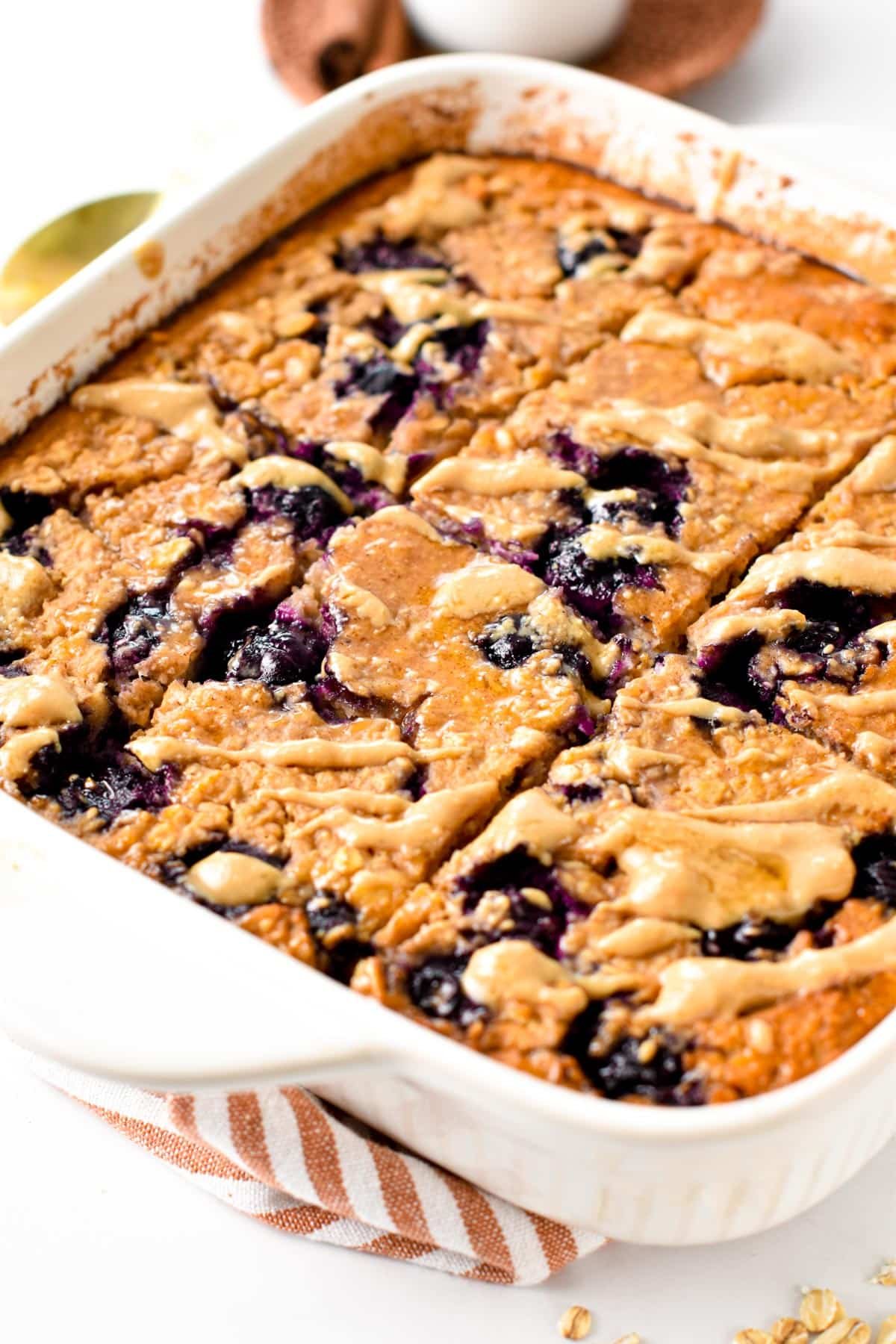 If you love a comforting breakfast that keeps you full for hours but doesn't require hours in the kitchen, this baked protein oatmeal is for you.
This recipe serves six easy, healthy high-protein breakfasts and takes only 2 minutes to rewarm in the morning.
Plus, it's easy to adapt to any dietary requirement. See the options below to make it gluten-free.
How To Make Protein Baked Oatmeal
A protein-baked oatmeal is like a classic baked oatmeal recipe but boosted with high-protein ingredients.
It's the perfect post-workout breakfast if you want to build muscles or simply look for a fulfilling breakfast that is low in calories and high in fiber.
Ingredients
All you need to make a tasty protein baked oatmeal are:
Almond Milk or any milk you love, but almond milk is low in calories and has low flavors, but still, adds creaminess to the oatmeal. For extra protein try soy milk.
Plant-Based Greek Yogurt – This is the best type of yogurt to boost the protein in baked oatmeal. Greek-style plant-based yogurt is usually made of high-protein plants like soy.
Vanilla Protein Powder – I am using clean pea protein powder made with wholesome ingredients. It's plant-based and gut-friendly. Feel free to use your favorite protein powder for this recipe.
Maple Syrup – You can also use sugar-free maple syrup, agave syrup, or brown rice syrup.
Peanut Butter – You need fresh drippy peanut butter, or it's hard to whisk in. Other options are almond butter, cashew butter, tahini, or sunflower seed butter.
Flax Egg – This binds the ingredients together while adding fiber and healthy fats from ground flaxseeds.
Old-Fashioned Oats or quick oats
Chia Seeds
Mixed Berries – Like blueberries, raspberries, boysenberries, or strawberries.
Cinnamon
Preparation
In a large bowl, add almond milk, high-protein yogurt, flax egg, maple syrup, peanut butter, and mashed banana. Whisk until all the ingredients come together.
Next, whisk in the protein powder until no more lumps of powder can be seen.
Finally, stir in the remaining dry ingredients: rolled oats, chia seeds, and cinnamon.
If you like, fold in the mixed berries, fresh or frozen, and stir to combine evenly.
Preheat the oven to 350°F (180°C). Spray some cooking oil in a 8-inch x 8-inch square baking dish.
Pour the oatmeal into the dish and bake it on the center rack for 30 to 45 minutes or until the top is dry and the center set and not jiggly.
Flavoring Ideas
You can use these protein baked oats to create a range of baked oatmeal flavors.
For example, you can use different protein powder flavors, including chocolate protein powder, to make chocolate protein baked oats.
Other options consist of replacing the berries with a mix of:
Carrot Cake – Grated carrots and chopped walnuts.
Chocolate Baked Oats – Use chocolate protein powder and stir in chocolate chips instead of berries.
Banana Bread Baked Oats – increase the mashed banana to 1/3 cup of mashed banana and swap the berries for a mix of chopped roasted nuts – walnuts, pecans, and some dried raisins.
Serving
This protein oatmeal is delicious on its own but so much better with some toppings like:
Drizzle of nut butter – cashew butter, peanut butter, or almond butter.
Shredded coconut
Hemp seeds for a boost of protein
Drizzle maple syrup to boost the sweetness
Fresh berries
Drizzle of non dairy milk of choice
A dollop of extra plain non-dairy yogurt
Sliced almonds or chopped peanuts
Storage Instructions
The great thing about baked oatmeal recipes is that they can be stored for up to 5 days in the fridge.
Therefore, this protein baked oatmeal is the best healthy breakfast to meal prep a week of high-protein breakfast.
Store the baked oatmeal in its own baking dish and wrap the top with a piece of foil or plastic wrap.
Rewarming Baked Oatmeal
Some people enjoy cold baked oatmeal, but if you prefer yours warm, it's very easy to do.
To rewarm it up, place one serve of baked oatmeal in a shallow, microwave-safe bowl and place in the microwave for 1 minute or until warm in the center.
You can also add the oatmeal to a non-stick saucepan with a bit of milk at the bottom, cover it, and rewarm on low heat until hot in the center.
Tips For Creamy Protein Baked Oatmeal
The main issue with protein powder recipes is their texture. Often, protein powder makes baked goods dry. So the trick to avoid that is to:
Check The Baking Often – After 30 minutes, check the consistency. If the top is set and center of the dish is not jiggly, you may want to stop baking the oatmeal. This keeps the texture ultra-moist and creamy. Bake with an extra burst of 5-10 minutes until the texture matches your liking
Use Plant-Based Protein Powder – Whey protein powder absorbs liquid more, and often, it turns protein recipes drier. Plus, it's not plant-based so we don't recommend this option as a conscious choice.
Allergy Swaps
Below I listed some options to adapt the recipe to any food allergies you may have:
Gluten-Free – Pick a gluten-free oat brand and wheat-free protein powder.
Nut-Free – Use coconut milk, oat milk, or soy milk. Replace the peanut butter with sunflower seed butter, olive oil, or melted butter.
Low Sugar – Use Monk fruit syrup and low-sugar fruits like raspberries. Pick a low-carb protein powder.
Chia Seed-Free – Replace the chia seeds with a tablespoon of ground flaxseeds.
Frequently Asked Questions
Find below my answers to your common questions about this protein baked oatmeal recipe.
Can I Boost The Protein Content Of This Recipe?
The best way to increase the protein per serving is to serve your portion of protein-baked oats with a cup of high-protein yogurt. This can add up to 14 grams of proteins per cup of yogurt.
How Should I Choose The Protein Powder?
There are tons of protein powders out there. Pick a clean protein powder, read the list of ingredients, and pick one made with minimal ingredients that makes sense when you read them.
It shouldn't contain any artificial sweeteners or additives.
Have you tried this protein-baked oatmeal recipe? Share a comment or review below.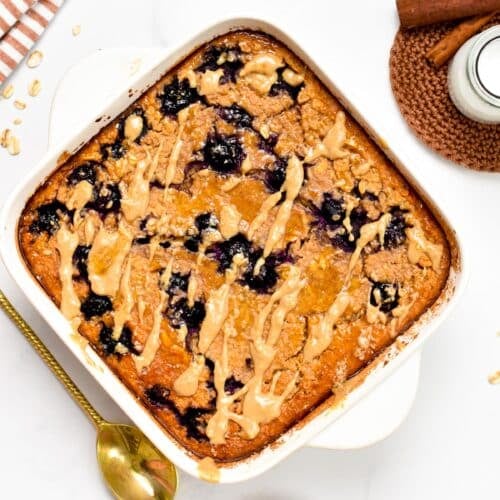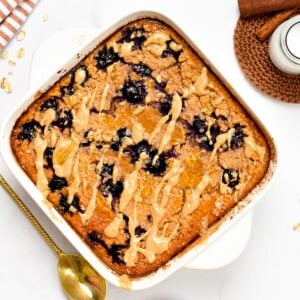 Protein Baked Oatmeal
This Protein Baked Oatmeal is the best post-workout breakfast packed with 16 grams of proteins and the most delicious creamy oatmeal texture.
Pin
Print
Review
Instructions
Make the flax egg: Stir one tablespoon of ground flaxseeds with three tablespoons of lukewarm water. Set it aside for 10 minutes and use it as a flax egg in the recipe.

Preheat the oven to 350°F (180°C). Spray oil in an 8-inch x 8-inch square baking dish. Set aside.

In a large bowl, whisk the flax egg, milk, yogurt, peanut butter, vanilla, and maple syrup.

Whisk in the vanilla protein powder until no lumps show.

Stir in the remaining dry ingredients: rolled oats, chia seeds, salt, and cinnamon.

Fold in the mixed berries and stir to combine.

Pour the mixture into the prepared baking dish.

Bake on the center rack of the oven for 40 minutes for a soft creamy texture or up to 50 minutes for a firmer texture.

Keep it in the oven until the baked oatmeal is set, not jiggly in the center, and golden brown on top. It will firm up as it cools in the pan at room temperature.
Storage
Cool down completely and store in the fridge, in its baking dish covered with a piece of foil for up to 4 days.
Serving
Serve cold or lukewarm with a dollop of non dairy Greek yogurt or extra almond milk.
Notes
Note 1: Feel free to use the plant-based protein powder you love. However, we tested the recipe with pea protein powder, which is less absorbent than whey. If using whey, expect a different result. Note 2: Use sugar-free liquid sweeteners if desired. Note 3: It can be swapped for any milk you like. Note 4: Stir one tablespoon of ground flaxseeds with three tablespoons of lukewarm water. Set it aside for 10 minutes and use it in the recipe. Note 5: Or any nut butter like almond butter or sunflower seed butter for a nut-free option.
Share on Facebook
Pin Recipe
Nutrition
Serving:
1
Serving
|
Calories:
349.2
kcal
|
Carbohydrates:
42
g
|
Protein:
16.5
g
|
Fat:
13.9
g
|
Saturated Fat:
2.5
g
|
Polyunsaturated Fat:
4.5
g
|
Monounsaturated Fat:
5.1
g
|
Trans Fat:
0.003
g
|
Cholesterol:
18.5
mg
|
Sodium:
331.2
mg
|
Potassium:
403.1
mg
|
Fiber:
5.9
g
|
Sugar:
15.7
g
|
Vitamin A:
323.1
IU
|
Vitamin B12:
0.8
µg
|
Vitamin C:
8.9
mg
|
Vitamin D:
1.2
µg
|
Calcium:
240.2
mg
|
Iron:
2.2
mg
|
Magnesium:
85.5
mg
|
Phosphorus:
219
mg
|
Zinc:
1.9
mg