These Vegan Protein Waffles are easy crispy protein waffles packed with 8.5 grams of protein per serving.
They are entirely plant-based and easy to make in the morning in less than 15 minutes.
When we don't make a batch of our vegan protein pancakes for breakfast, we love protein waffles.
These are crispy on the edges and soft in the center. The key to making protein waffles that are not dry is to measure the ingredients carefully.
How To Make Vegan Protein Waffles
It's a very simple one-bowl vegan protein waffle recipe I am sharing here.
There is nothing overly complicated about it, and it's much tastier, and protein waffles are cheaper than store-bought vegan protein bars.
Ingredients
All you need to make these protein vegan waffles as a breakfast or snack are simple ingredients:
All-Purpose Flour or whole-wheat flour as you like, but I noticed that whole wheat turns the waffles dry.
Soy Milk – It's the plant-based milk with the highest protein content, and it also makes the waffles less dry than other milk alternatives like almond milk or oat milk.
Baking Powder
Plant-Based Protein Powder – We use vanilla pea protein powder, and sometimes we use peanut protein powder or pea protein powder. Both are excellent for baking.
Apple Cider Vinegar or lemon juice. This curdles the soy milk which makes vegan protein waffles much moister.
Olive Oil or melted coconut oil. A waffle batter needs a bit of oil, or they tend to stick to the waffle iron plates.
Salt
Sugar or coconut sugar or unrefined cane sugar.
Combining Dry Ingredients
The secret of baking with protein powder is to whisk all the dry ingredients together until you don't see any protein powder lumps.
Often protein powder forms lumps that won't dissolve well in the wet ingredients later.
That's why making a consistent vegan waffle batter requires a little extra time whisking the dry ingredients.
Adding Liquid Ingredients
Now, add the soy milk, apple cider vinegar, vanilla extract, and olive oil or melted vegan butter.
Whisk to form a smooth protein waffle batter.
Cooking The Waffles
Grease the waffle iron with cooking oil spray. Pour some batter into each iron plate. The amount depends on the size of the waffle maker, of course. I make 6 waffles out of my Belgian waffle maker.
Cook the waffles for 2 to 3 minutes.
Protein waffles cook much faster than a regular vegan waffle recipe. That's why you should look at the cooking time carefully.
Remove them from the iron when golden brown, but still moist and not overly crispy and dry. Nobody likes dry waffles!
Remove the waffles from the iron and cool them down on a wire rack.
Grease the waffle iron before each batch of waffles or they tend to stick.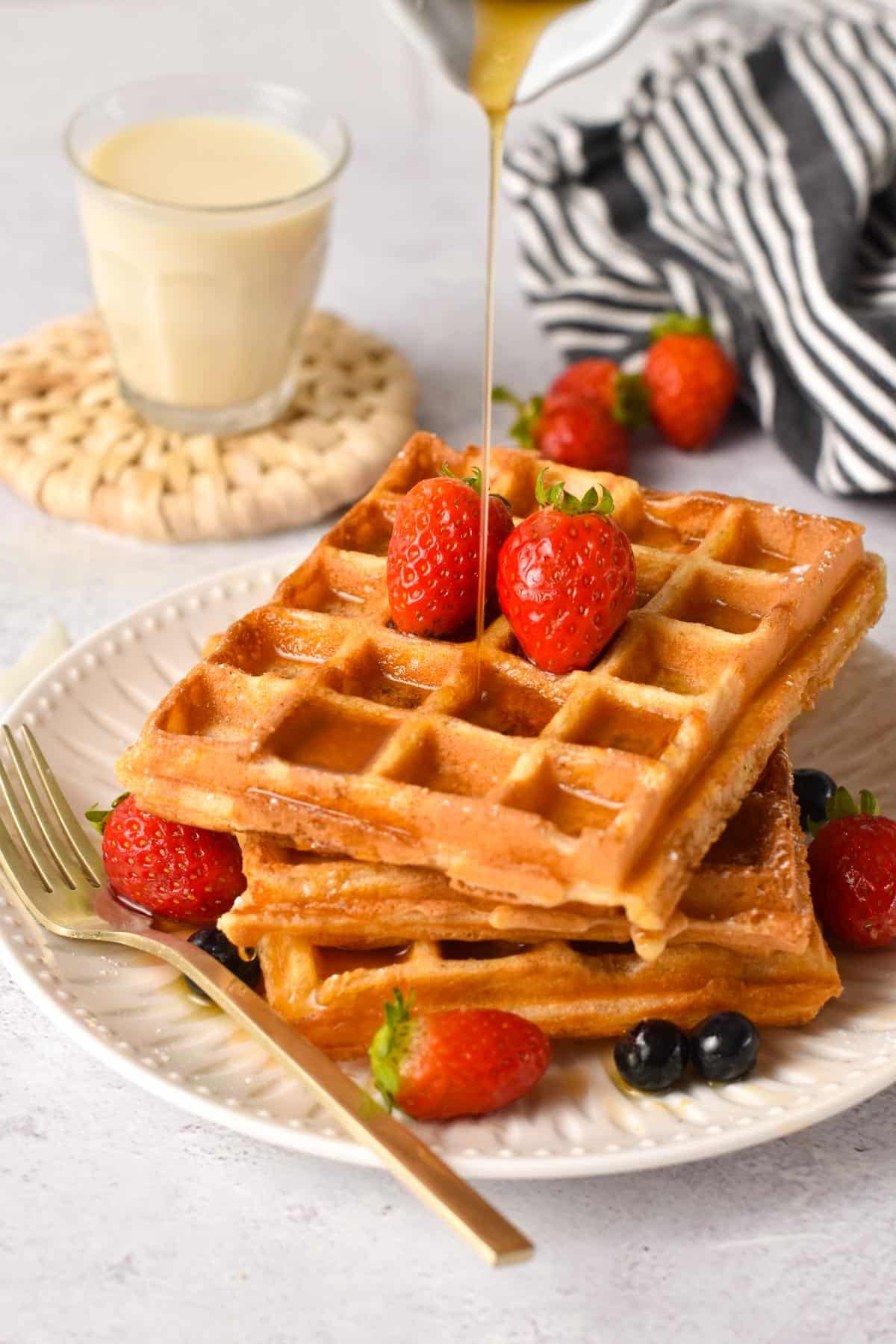 Serving Protein Vegan Waffles
Each of these protein waffles brings you 8.5 grams of protein. I recommend two waffles for a filling breakfast that brings 17 grams of protein and 336 kcal.
High-Protein Waffles Toppings
The best way to up your plant-based proteins with this waffle recipe is to add high protein toppings like:
Nut Butter like peanut butter or almond butter.
Sunflower Seed Butter if allergic to nuts.
Vegan Greek-Style Yogurt – Soy yogurt is generally high in proteins.
Hemp Seeds – The highest protein seeds.
Others Waffle Toppings
Of course, to add some freshness and sweetness add some fresh fruit and maple syrup on top of the waffle, like:
Fresh berries
Banana slices
Kiwi slices
Mango
Vegan chocolate chips
Syrup like coconut nectar, maple syrup, or agave syrup
High-Protein Breakfast Ideas
Now, to match your protein waffle, try adding one of these high-protein drinks to it for a complete, high-protein vegan breakfast.
Protein Shake Recipes – I have three amazing protein shake recipe flavors for you, each with 27 grams of protein.
Storage Instructions
These protein vegan waffles store very well in the fridge, placed in an airtight container. They stay fresh for up to 3 or 4 days. Feel free to freeze leftovers in freezer bags for up to 1 month.
Thaw the waffle the day before at room temperature.
Rewarming Protein Waffles
To rewarm the waffles, place them in a toaster oven or bread toaster for one minute or until just warm and crispy again.
Allergy Swaps
If you have some food intolerance, I listed some options below.
Gluten-Free – I didn't try all-purpose gluten-free flour for this recipe, and I am not sure it will work well. I would instead use chickpea flour.
Soy-Free – If you have a soy allergy, some almond milk is boosted in proteins and will add as much protein as soy milk in the waffles. Otherwise, any non-dairy milk work, like coconut milk, oat milk, or hemp milk.
Apple Cider Vinegar – Replace with lemon juice or lime juice.
Sugar-Free – You can skip the sugar or use a natural sugar-free sweetener instead.
Oil-Free – If you skip oil or replace it with the same amount of fruit puree, the waffles will stick to the waffle iron a bit more. Try unsweetened applesauce or mashed banana if needed.
Frequently Asked Questions
Below are my answers to your most common questions about these protein waffles.
Can I Use Oat Flour Instead Of All-Purpose?
Unfortunately, the batter is egg-free and won't hold together if you use oat flour.
You can swap 1/4 cup of all-purpose for 1/4 cup oat flour to add fiber and proteins from oats, but not more.
Are Protein Waffles Good For You?
Yes, a high-protein waffle recipe is better for you than regular waffles on so many points.
First, the high-protein content keeps you full for a long, so you don't rush for food just after eating. Also, protein waffles are low-fat and low-sugar. As a result, they are a better option for you in the morning or snack.
Why Eat Protein Waffles?
Eating more proteins, in a waffle form or pancakes, is excellent for your body. Proteins are satisfying, so you feel full quickly and longer after a meal.
They also help muscle recovery and help grow muscles. Therefore, protein waffles are perfect if you love waffles but want a healthier recipe that brings tangible benefits to your body.
Are Kodiak Power Waffles Vegan?
Kodiak waffles are high-protein waffles with 10 grams of proteins for 2 waffles.
Not all of the range is vegan, they do have one plant-based Kodiak waffle option, but the remaining range of waffles contains eggs.
Can I Make Protein Waffles In A Blender?
I don't recommend you blend the waffle ingredients. The blender add air in the batter and the waffles are not as soft in the center.
Have you made these proteins vegan waffles? Share a comment or review below to let me know how you served them.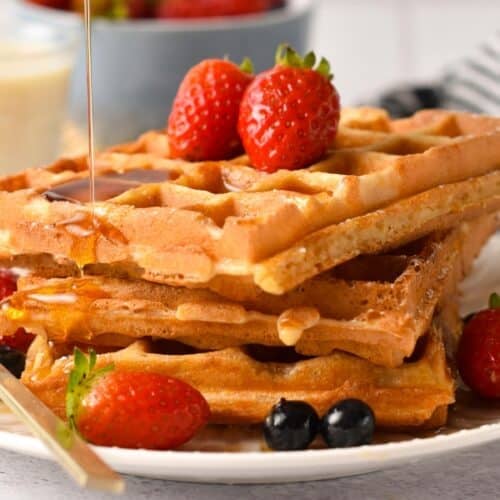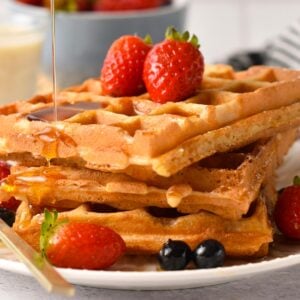 Vegan Protein Waffles
These Vegan Protein Waffles are easy crispy protein waffles packed with 8.5 grams of protein per serving. They are fully plant-based and easy to make in the morning in less than 20 minutes.
Pin
Print
Review
Instructions
In a large mixing bowl, add flour, protein powder, sugar, baking powder, and salt. Whisk until evenly combined.

Add in soy milk, apple cider vinegar, and avocado oil.

Whisk until the batter is smooth and lightly thick.

Warm a Belgian waffle iron and grease the iron plate with a pastry brush dipped in avocado oil or cooking oil spray.

When warm, fill each waffle iron with about 1/3 cup of batter – the quantity depends on the size of your iron.

Close the lid of the waffle maker and cook for 3-4 minutes.

The waffles are ready to remove from the iron when they have a lovely golden-brown color and are crispy on the edges.

Serve with fruits, dust of powdered sugar, or maple syrup.
Storage
Store in the fridge in an airtight container for up to 4 days. Rewarm in toaster oven or warm waffle iron.
Notes
Note 1:

Or white whole wheat flour
Note 2: We used

pea powder. It works the best (40g/1.4 oz).
Note 3: Or unrefined sugar or coconut sugar
Note 4: Or non-dairy milk you love
Note 5: You can also use

lemon juice
Share on Facebook
Pin Recipe
Nutrition
Serving:
1
waffle
|
Calories:
168.1
kcal
|
Carbohydrates:
19.7
g
|
Protein:
8.3
g
|
Fat:
6.2
g
|
Saturated Fat:
0.8
g
|
Polyunsaturated Fat:
1.2
g
|
Monounsaturated Fat:
3.7
g
|
Sodium:
488.9
mg
|
Potassium:
96.9
mg
|
Fiber:
0.9
g
|
Sugar:
2.3
g
|
Vitamin A:
125.8
IU
|
Vitamin B12:
0.7
µg
|
Vitamin D:
0.7
µg
|
Calcium:
199.9
mg
|
Iron:
2.6
mg
|
Magnesium:
14.9
mg
|
Phosphorus:
85.9
mg
|
Zinc:
0.1
mg