Protein Hot Chocolate with Protein Powder and 4 Ingredients!
This easy 4-ingredient protein hot chocolate with protein powder is the best creamy, rich, and healthy hot chocolate recipe with 18 grams of protein per serving.
Bonus, this recipe has only 134 kcal, and it's made of plant-based ingredients for a vegan protein hot chocolate!
You can't have too much hot chocolate in December. Well, it's even more true if it's a healthy hot chocolate recipe like this protein hot chocolate!
In fact, this easy hot chocolate recipe with protein powder is highly fulfilling, containing 18 grams of protein per serving and only 130 kcal. So keep reading to learn more.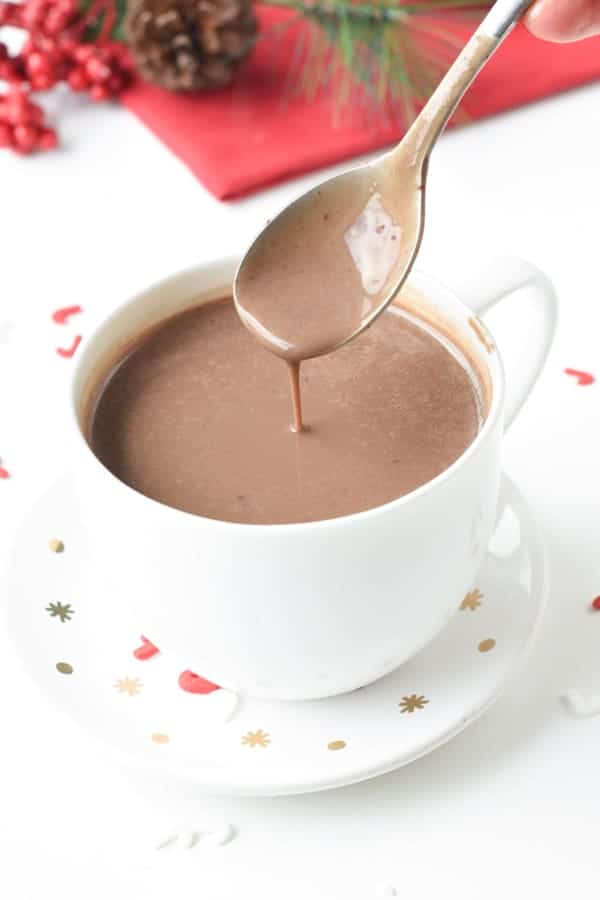 Can You Make Hot Chocolate With Protein Powder?
You can use any protein powder to create a hot drink like this protein hot chocolate recipe.
However, not all protein powders are equal, and you may have to adjust this recipe based on the protein powder brand and type you are using.
The main difference between protein powders, plant-based or not, are their:
Sweetness – most protein powders are low in carbs and sweetened with low-carb sweeteners. However, some are sweeter than others, and it will impact the taste of your hot chocolate recipe.
Thickness – plant-based protein powders, like the one we use here, are often made with pea protein powder, almond protein powder, or peanut protein powder. They tend to absorb moisture more and create a thicker drink compared to whey protein powder. If you were to try whey-based protein powder, you might get a less thick drink – and not vegan! Add a pinch more protein powder if you like your drink creamier.
Taste – some raw protein powders have an earthy flavor, and they will change the flavor of your hot cocoa recipe.
Color – some protein powders have a greenish color like Vega protein powder, and it can change the color of your drink.
Yes, you can make protein hot chocolate at home, but before you start this recipe, make sure you are using a chocolate protein powder that you love in all aspects: taste, sweetness, and texture!
How To Make Protein Powder Hot Chocolate
This protein hot chocolate drink is the easiest recipe ever as all you need are 4-ingredients.
Ingredients
First, add all your ingredients into a small saucepan. This includes:
Chocolate protein powder – I highly recommend plant-based chocolate protein powder for a rich, creamy hot chocolate. I love using Nuzest pea protein powder or Macro Mike Almond protein powder. Both are high-quality vegan protein sources. If you are using other protein powder sources that are not vegan, like whey protein powder, keep in mind that your drink's texture might be slightly less creamy. You can fix that by adding a pinch more powder to reach the creamy, rich texture you see here in my pictures.
Unsweetened cocoa powder – a must-add ingredient to boost the chocolate flavor of your drink.
Sweetener – I used sugar-free erythritol to avoid added calories from sugar and keep the drink low in carbs. But any crystal sweetener works here, like white sugar, coconut sugar, and cane sugar. Use your favorite!
Non-dairy milk – I used low-fat soy milk to add protein to the drink and enhance the rich, creamy texture. Any milk work in this recipe, including unsweetened almond milk, oat milk, and coconut milk. These options decrease the protein in the drink and change your drink's texture and taste, so again, choose your favorite! If you love coconut flavor in your hot cocoa, go for it! I love soy milk or almond milk that is very neutral in flavor.
Combining Ingredients
First, add the milk to a saucepan and whisk in the powder ingredients.
Whisk vigorously until smooth and well combined, same as when you are making a protein shake in your shaker.
Then, bring the saucepan over medium heat and heat the mixture, whisking gently until hot, creamy, and rich. Don't boil the mixture!
How To Make The Best Rich Creamy Protein Hot Cocoa
As mentioned before, two parameters impact the texture of your hot chocolate recipe:
Choice of milk – whole milk like whole soy milk or 2% soy milk creates thicker hot chocolate. Oat milk or Rebel Mylk are great vegan options too. Then if you choose almond milk, the texture won't be as creamy.
Choice of protein powder – plant-based protein powder made from pea, almonds, or peanuts are more absorbent and the best choice for a rich protein hot chocolate. Depending on the brand of protein powder you use, the texture can be very different too. For a thicker, creamier hot chocolate, add a pinch of protein powder.
Serving Protein Hot Chocolate
Protein hot chocolate is the perfect winter post-workout drink replacement to a protein shake.
It's hot, comforting, full of protein, and low in calories.
You can serve this protein hot chocolate plain, or for a cozy drink, add some toppings like:
Whipped cream – I used unsweetened whipped coconut cream as I made a vegan protein hot chocolate.
Marshmallows – there are plenty of healthy marshmallows on the market, including vegan protein ones.
Sprinkle of cocoa powder
Sugar sprinkles
More High-Protein Recipes
Below I listed some delicious healthy protein treat recipes to pair with this hot cocoa and a complete protein boost!
Have you made this protein hot chocolate recipe? Share a review or comment below or join me on Instagram for more vegan recipe inspiration.
Protein Hot Chocolate Recipe
An easy 4-ingredient protein hot chocolate recipe using protein powder.
Pin
Print
Review
Servings: 1 serve
Calories: 134 kcal
Instructions
In a medium saucepan, add milk of choice and whisk in your favorite chocolate protein powder, unsweetened cocoa powder, and sweetener of choice. Whisk vigorously until combined.

Heat over medium-low heat, frequently whisking, until warm (but not boiling) and creamy. Depending on the brand of protein powder you used, the texture can be thicker. If too thick to your liking, whisk in an extra 1/4 cup of milk. If too thin, whisk in extra protein powder. Taste and adjust sweetness before serving.

Serve immediately, plain or with a dollop of unsweetened whipped cream on top for a touch of decadence. We used homemade whipped coconut cream to keep it plant-based.
Notes
Chocolate protein powder – I tested the recipe with Macro Mike almond protein powder and Nu Zest pea protein powder. Any chocolate protein powder will work, but each brand has different sweetness and amount of fiber, so you may have to adjust the milk-to-sweetener to reach your favorite texture. Milk: this recipe works best with whole milk – I recommend soy milk. You can also use any other milk, like unsweetened almond milk or oat milk, if you like its earthy flavor. Sugar – Any crystal sweetener works in this recipe. Start with one tablespoon and adjust to taste. I used sugar-free erythritol in this recipe to reduce carbs and sugar. The nutrition panel is for the whole recipe using zero-calorie erythritol as a sweetener.
Share on Facebook
Pin Recipe
Nutrition
Serving: 1serving | Calories: 134kcal | Carbohydrates: 10g | Protein: 18g | Fat: 5g | Saturated Fat: 1g | Cholesterol: 32mg | Sodium: 437mg | Potassium: 283mg | Fiber: 6g | Sugar: 1g | Calcium: 483mg | Iron: 1mg