These Chocolate Baked Oats are an easy, healthy breakfast packed with 10 grams of protein, fiber, and the most delicious chocolate flavors.
Plus, this baked oats recipe is also kid-friendly and, with its allergy-friendly options, can also be gluten-free.
Chocolate baked oats are such a perfect breakfast for the kids in the morning.
These are easy to prepare in under 20 minutes, healthy, and fulfilling since they're packed with 16 grams of protein per serving.
Plus, the chocolate flavors turn this easy healthy breakfast into a small chocolate cake. It's moist, sweet, and a real treat packed with all the nutrients you need to start the day or to recharge after a workout.
How To Make Chocolate Baked Oats
Chocolate Baked Oats are a blended baked oat recipe with added cocoa powder and chocolate chips.
Ingredients
All you need to make cocoa baked oats are a few ingredients:
Old-Fashioned Rolled Oats – or quick oats
Almond Milk or any plant-based milk you love, including soy milk for a boost of proteins or oat milk.
Maple Syrup or any liquid sweetener you love, including sugar-free monk fruits, agave syrup, or coconut nectar.
Unsweetened Cocoa Powder
Mashed Banana or unsweetened applesauce
Baking Powder
Plain Unsweetened Plant-Based Greek Yogurt like coconut yogurt, soy yogurt or oat yogurt.
Vanilla Extract
Dark Chocolate Chips
Preparation
To make chocolate baked oatmeal, you have two options.
First, you can blend the ingredients together to create a cake-like texture. Or, you can simply whisk all the ingredients together and bake it.
I like the blended baked oats version. It turns the recipe into a small cake that tastes like dessert for breakfast.
In a high-speed blender, add the rolled oats and blend on low speed to form a powder, oat flour.
Next, add the remaining ingredients: almond milk, mashed banana, cocoa powder, non-dairy yogurt, baking powder, and vanilla extract.
Blend again on medium speed until a smooth runny chocolate batter forms.
Baking Baked Oats
Preheat the oven to 350°F (180°C).
Next, use a cooking spray or coconut oil to grease oven-safe ramekins.
Choose from two 4-ounce oven-safe ramekins, one single 8-ounce ramekin, or one small baking dish.
Keep in mind that the wider the dish, the faster the baked oatmeal cooks.
For kids under ten years old, I recommend baking this cocoa baked oat recipe into two 4-oz ramekins.
For an adult single-serving, the entire recipe makes a fulfilling breakfast, baked in an 8-oz greased ramekin.
Bake on the center rack of the oven for 20 to 25 minutes. The baking time depends on the texture you love.
For a runnier center, bake for around 20 minutes. For a firm, cake-like texture, keep baking for a little longer.
You know that baked oats are ready when the top is hard and set. Then, insert a toothpick in the center of the ramekin. If it's too liquid, keep baking.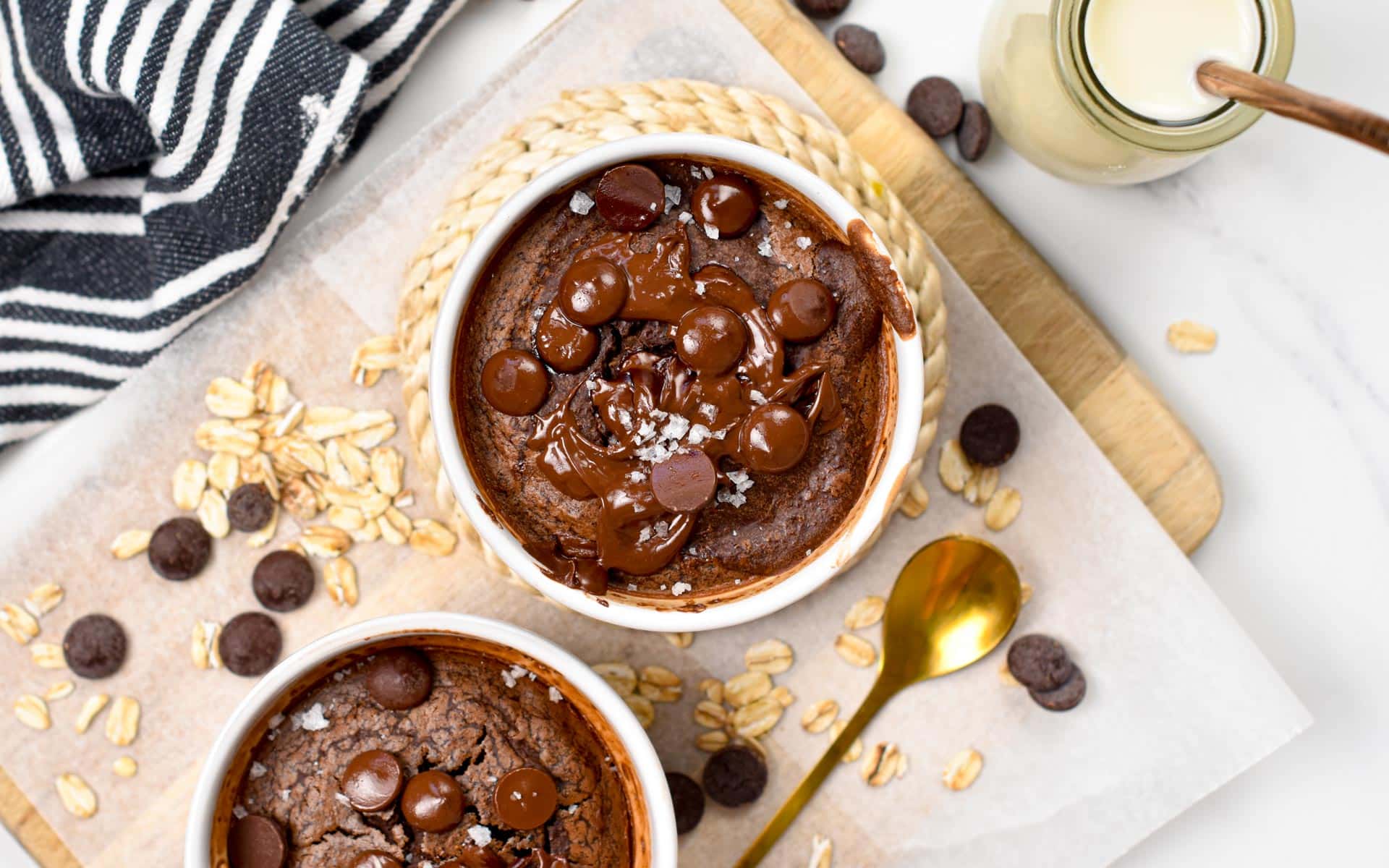 Serving
Remove the baked oats from the oven and sprinkle the chocolate chips on top.
I don't recommend adding the chocolate chips to the baked oat batter because they sink down in the bottom of the ramekin.
They taste better if added at the end, on top of the warm baked oats. The chocolate chips melt as the cake crumbs cool down.
Let it cool down for at least 10 minutes before serving, and be careful if served in the ramekin, the sides are hot.
Serve plain or with extra toppings like:
Unsweetened Shredded Coconut
Sliced Almonds
A drizzle of nut butter like peanut butter or almond butter
Dollop of Greek Yogurt
Pinch of sea salt
Storage Instructions
Baked oats taste much better after being baked when they are still lukewarm and served within 30 minutes.
However, if you want to meal prep days of healthy breakfast, you can store the baked oats in the fridge.
First, film the top of the ramekin with a piece of foil, then store it in the refrigerator for up to 2 days.
Keep in mind that prebaked oats dry out in the fridge.
If you plan to store baked oats, it's better to underbake the recipe by 3 to 5 minutes, so it doesn't taste too dry the following days.
Allergy Swaps
Below are some allergy substitution options if needed:
Gluten-Free – Feel free to use gluten-free oats brand if your are sensitive to gluten.
Sugar-Free – Use a sugar-free sweetener and sugar-free chocolate chips.
Frequently Asked Questions
Find below my answers to your most common questions about this recipe.
Can I Air-Fry Baked Oats?
You can air fry baked oats at 350°F (180°C) for 15 to 22 minutes.
Air-fried baked oats cook faster and get drier in the center much faster. Therefore, watch the air frying time closely after 15 minutes.
Can I Add Protein Powder?
I don't recommend adding protein powder, but instead, swap the cocoa powder for the same amount of chocolate protein powder.
If you add protein powder to the recipe as per written, the result will be dry and gummy.
Can I Make Baked Oats Without A Blender?
You can make baked recipes without a blender.
While most recipes tend to blend all the baked oat ingredients to create a cake texture, this recipe works by stirring the ingredients together in a bowl.
Can I Use Ready-Made Oat Flour?
You can absolutely swap rolled oats for the same amount of homemade oat flour.
Then, simply stir all the ingredients into a mixing bowl and bake them in the prepared ramekin.
More Recipes With Oats
I listed below some more easy healthy oat recipes for you to try.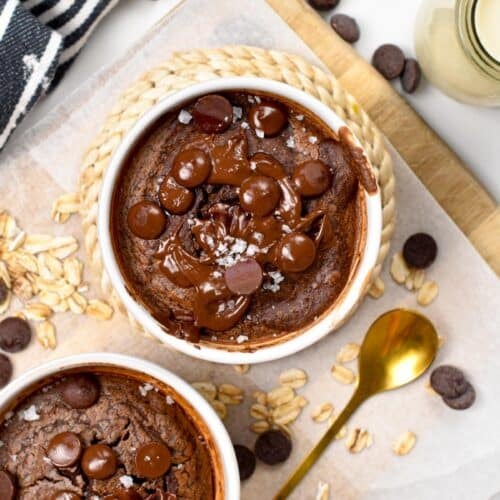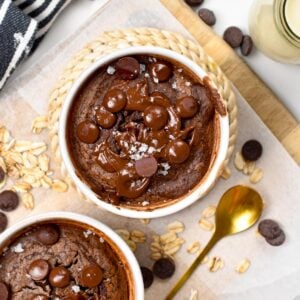 Chocolate Baked Oats
These Chocolate Baked Oats are an easy, healthy breakfast packed with 10 grams of protein, fiber and the most delicious chocolate flavors.
Pin
Print
Review
Servings: 1 Baked Oats
Calories: 453.4 kcal
Instructions
Preheat the oven to 350°F (180°C). Spray cooking oil in an 8-oz oven-safe ramekin or 2 small 4-oz ramekins for two small servings. Set aside.

In a smoothie blender, add oats and blend on low-medium speed until it forms a flour-like texture.

Stop the blender and add the remaining ingredients, except the chocolate chips, and blend until smooth. The batter should be runny, not thick, and that's normal.

Pour the batter into the ramekin(s).

Bake on the center rack of the oven for 20-25 minutes or until set on top. The longer you bake it, the more the center dries out and sets like a cake. For a runny center, bake for 20 minutes or less.

Remove from the oven, add the chocolate chips on top, and cool down for 10 minutes before serving.
Storage
Store leftovers in the fridge, wrap the top of the ramekins with foil, and keep them for up to 2 days. Note that baked oats taste better lukewarm straight after baking. Stored baked oats get dense and dry in the center.
Share on Facebook
Pin Recipe
Nutrition
Serving: 1serve | Calories: 453.4kcal | Carbohydrates: 82.3g | Protein: 9.7g | Fat: 11.5g | Saturated Fat: 4.9g | Polyunsaturated Fat: 1.6g | Monounsaturated Fat: 3.5g | Cholesterol: 0.5mg | Sodium: 308.4mg | Potassium: 662.6mg | Fiber: 10.3g | Sugar: 36.8g | Vitamin A: 41.9IU | Vitamin B12: 0.04µg | Vitamin C: 8.8mg | Vitamin D: 0.4µg | Calcium: 319.8mg | Iron: 5mg | Magnesium: 151.9mg | Phosphorus: 323.6mg | Zinc: 2.8mg