This Baked Brownie Oatmeal is a creamy chocolate baked oatmeal recipe packed with 7 grams of protein per serving for a fulfilling, healthy breakfast.
Plus, this easy oatmeal recipe has allergy-friendly options to be gluten-free and nut-free if desired.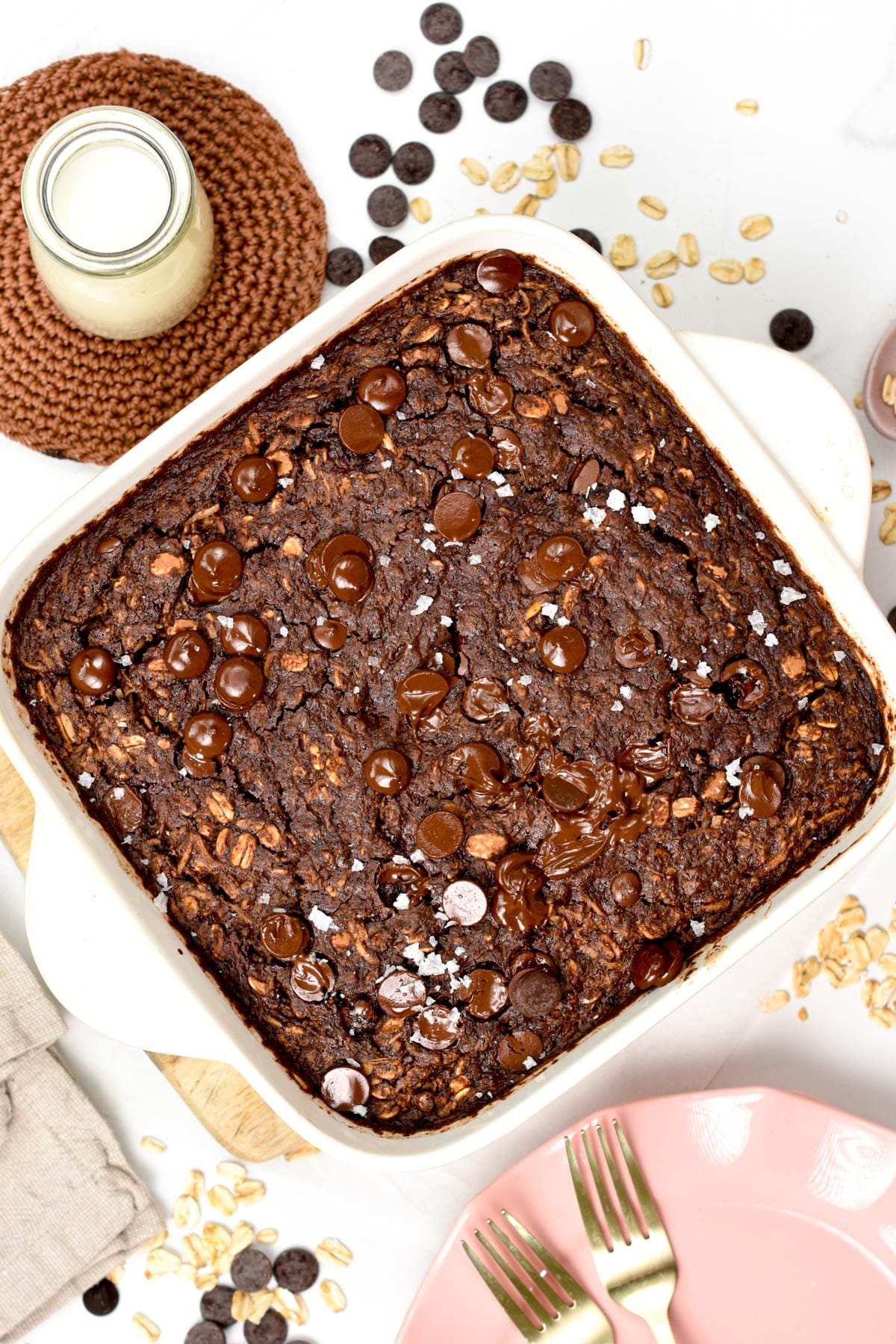 If you're adept at meal-prepping breakfasts for your kids and family, baked oatmeal has to be your favorite option.
The recipe takes under 15 minutes to whip up and end up with 6 healthy breakfasts.
Plus, kids love warm chocolate oatmeal, and this recipe really tastes like brownies and feels like having a dessert for breakfast.
Let me share how to make the most delicious healthy breakfast for chocolate lovers.
How To Make Brownie Baked Oatmeal
Baked brownie oatmeal is a one-pan oatmeal baked in 40 minutes in the oven with the most delicious brownie flavors.
Ingredients
To make brownie oatmeal, you need:
Old-Fashioned Rolled Oats or quick oats
Unsweetened Cocoa Powder
Baking Powder
Salt
Maple Syrup or any liquid sweetener you love, like honey or sugar-free monk fruit syrup, to cut on sugar.
Mashed Banana or unsweetened apple sauce
Plant-Based Greek Yogurt – or any plant-based yogurt you love, like soy, coconut, or oat yogurt.
Almond Milk or any plant-based milk you love, like coconut milk or soy milk, to boost the proteins in the recipe.
Vanilla Extract
Dark Chocolate Chips – I am using sugar-free dark chocolate chips or 85% cocoa chocolate chips. Feel free to use your favorite. Milk chocolate chips also taste amazing.
Melted Coconut Oil
Pecans or unsweetened shredded coconut.
Stirring Ingredients
Like other baked oatmeal recipes, start by stirring the dry ingredients into a large bowl: oats, cocoa powder, and salt.
Then, stir in the remaining ingredients: mashed banana, plant-based milk, vegan yogurt, and vanilla extract, and whisk them very well to create a smooth runny mixture.
Fold in the chocolate chips and pecans or coconut and stir to evenly combine.
Baking
Preheat the oven to 350°F (180°C). Spray an 8-inch x 8-inch square baking dish with cooking spray.
Pour the baked oatmeal batter into the pan and sprinkle some extra chocolate chips on top if you like.
Bake it in the center of the oven until the top is set and a toothpick inserted in the center comes out clean or almost.
Depending on how you love your oatmeal, you may want to stop baking the oatmeal from 30 minutes to 45 minutes.
For creamy oatmeal, stop earlier and keep baking for a drier texture.
Remove from the oven and let it cool down for at least 20 minutes to avoid burning yourself.
Baked oatmeal gets all its texture as it cools, so it's better to give it some time to set before serving.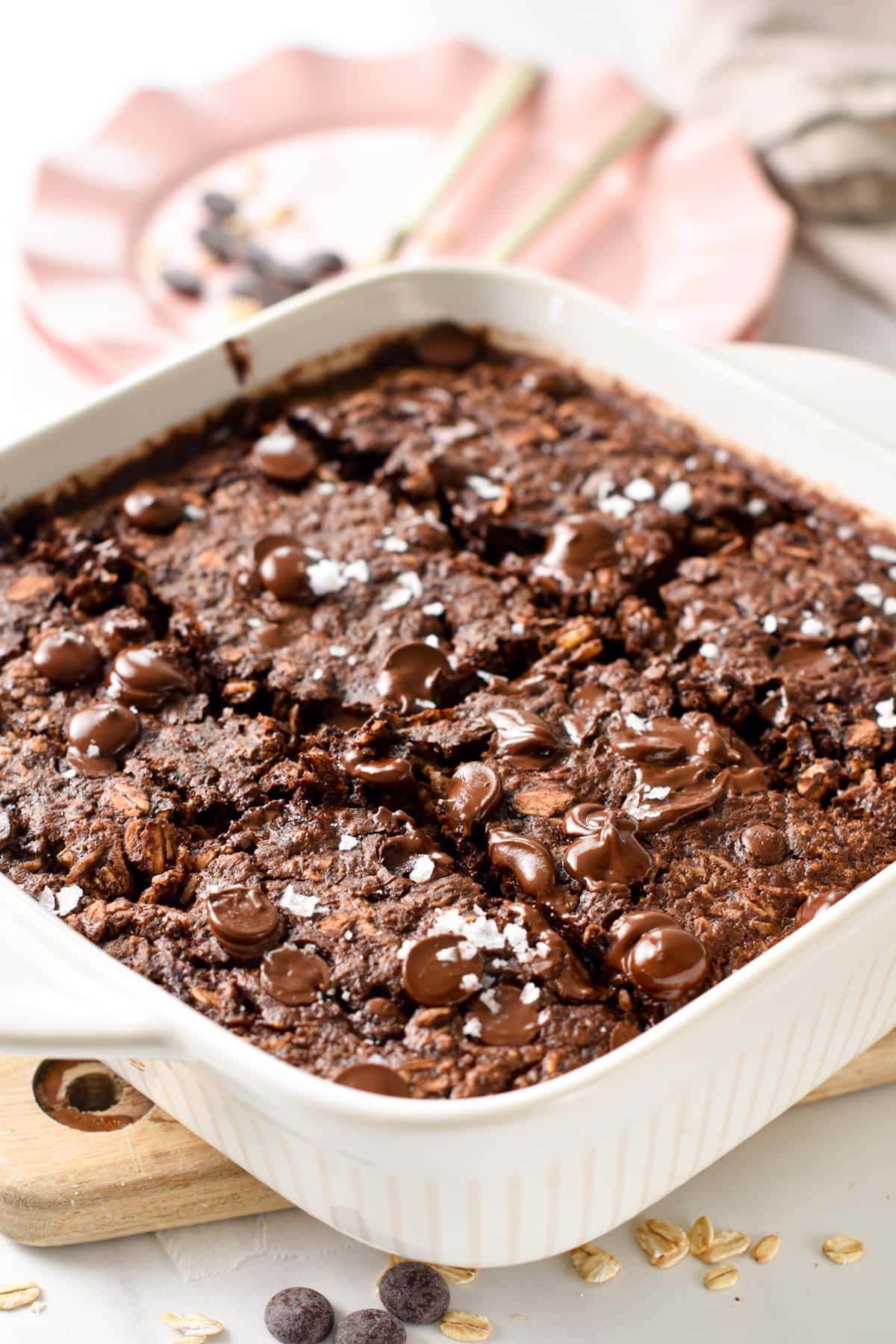 Serving
You can serve brownie-baked oatmeal cold or warm. It's up to you.
Feel free to serve one portion just after baking the whole batch. Let it cool down in the dish for at least 20 minutes
If you store the recipe in the fridge, you can rewarm one serving in a microwave-safe bowl. Microwave for one minute or a bit more, until warm in the center.
The best toppings with chocolate baked oatmeal are:
Strawberries
More chocolate chips
A drizzle of peanut butter
Pinch of sea salt flakes
Shredded coconut
Dollop of Greek yogurt
Some milk – any kind of plant-based milk you love.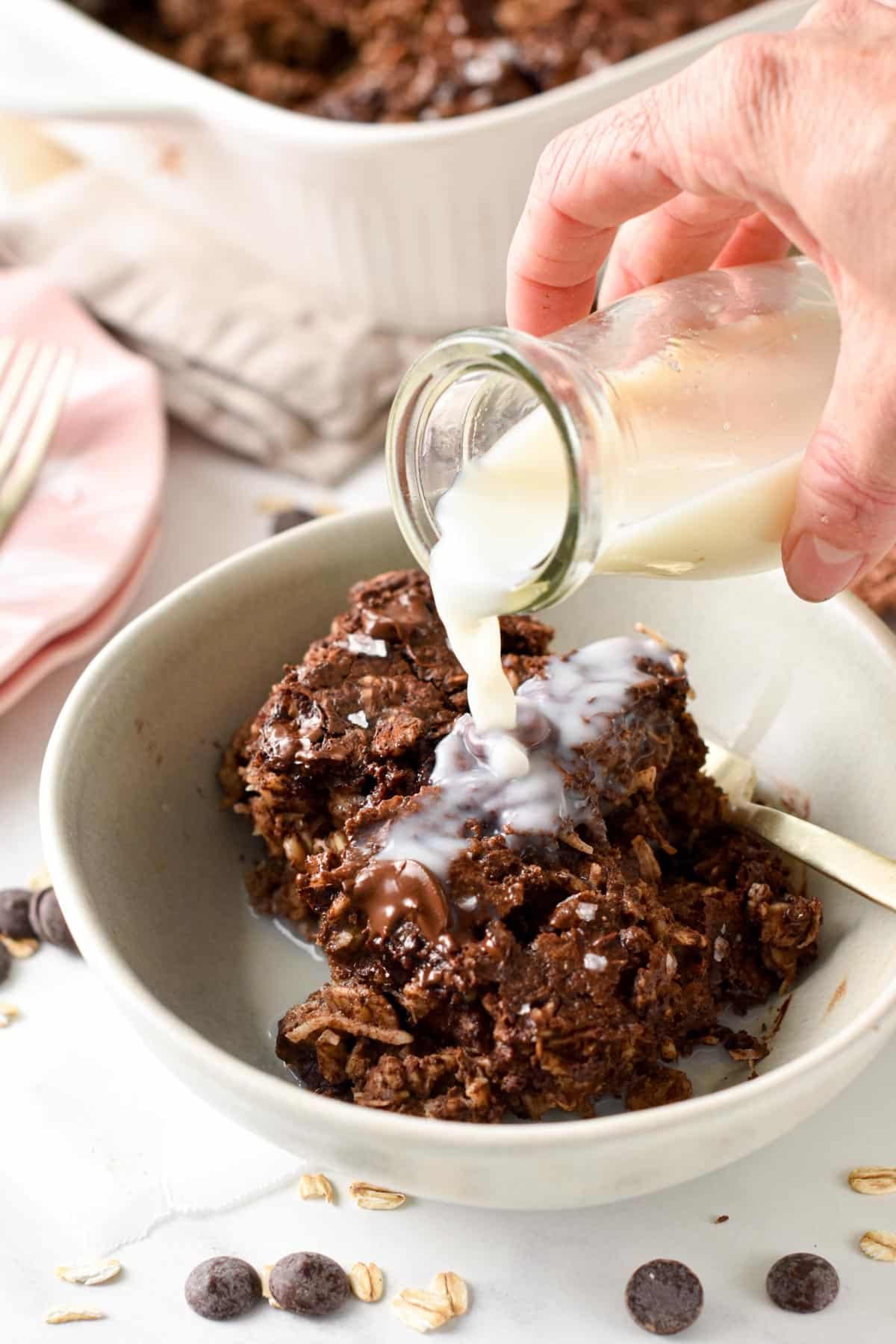 Storage Instructions
Before you store this brownie-baked oatmeal, let it cool down completely to room temperature, then film the dish with plastic wrap and pop it in the refrigerator.
This brownie oat recipe can be stored in the fridge for up to 5 days. You can also freeze portions or the whole recipe and thaw it in the refrigerator the day before.
Allergy Swaps
If you are allergic to some of the ingredients, I've listed below some allergy swap options:
Nut-free – use oat milk or soy milk and swap pecan for sunflower seeds or shredded coconut.
Sugar-Free – Use sugar-free stevia-sweetened chocolate chips and monk fruit syrup.
Gluten-Free – Pick a gluten-free certified oat brand.
Oil-Free – You can swap the coconut oil for more Greek yogurt or unsweetened applesauce.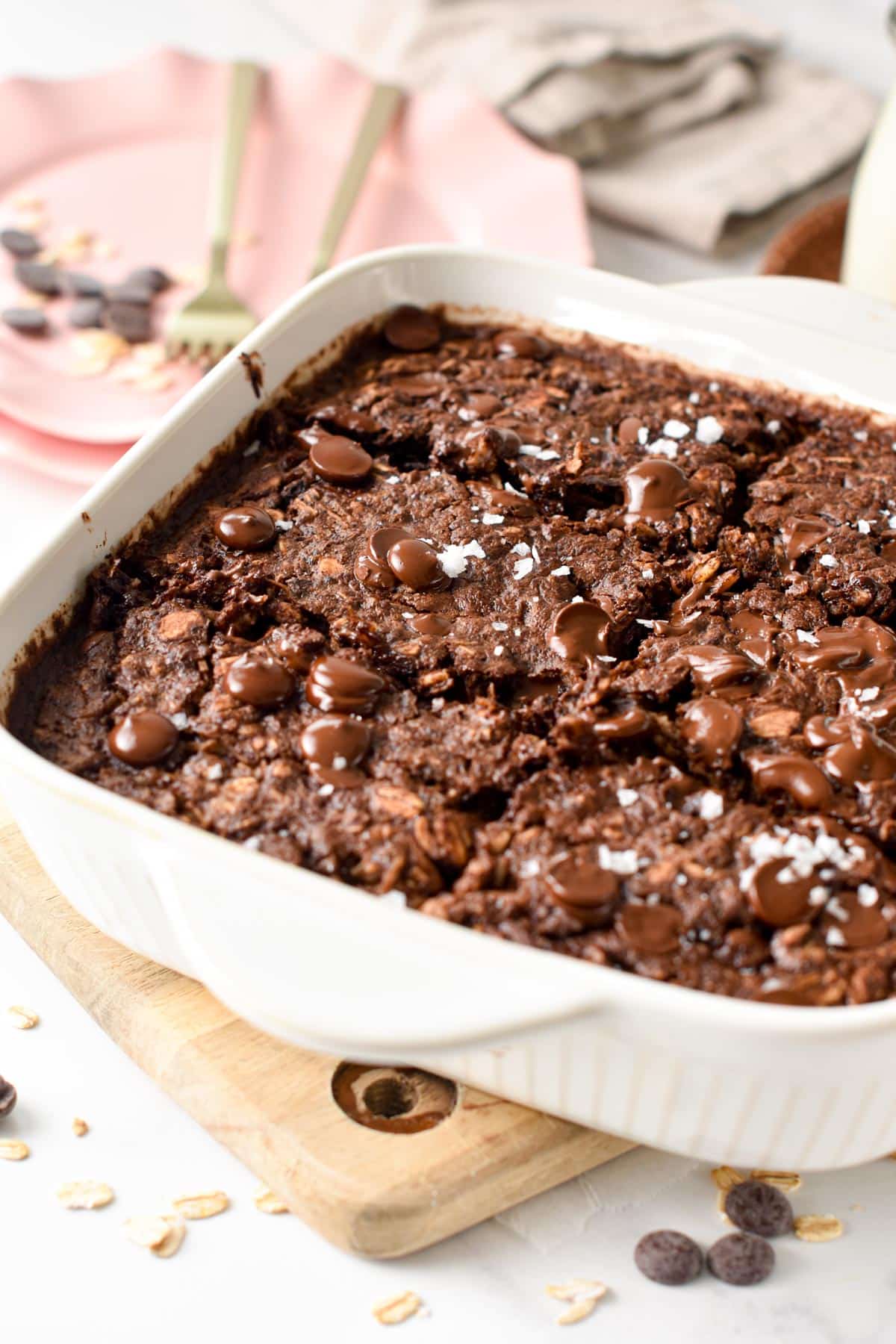 Frequently Asked Questions
Below are my answers to your most common questions about this breakfast recipe.
Can I Skip The Sugar?
Yes, you can skip the sweetener and add a bit more almond milk to keep the baked oatmeal moist and creamy.
Can I Add Fruits?
Some of the best fruits to add in chocolate oatmeal are frozen raspberries, frozen strawberries, or banana slices.
Stir up to 1/2 cup of them in the batter and a few extra on top of the dish just before baking.
How Can I Boost The Protein?
You can boost the proteins in these chocolate baked oats by stirring 1/4 cup of nut butter like peanut butter or almond butter.
Another option is to add protein powder, you can add 2 to 3 tablespoons of your favorite chocolate protein powder and add an extra 1/4 cup of almond milk to keep the texture creamy.
Then, swap the almond milk for soy milk. They are higher in protein.
Next, swap the pecans for high-protein seeds like hemp seeds.
Finally, serve the recipe with a dollop of high-protein yogurt and extra hemp seeds on top.
More Healthy Breakfast Recipes
Baked oatmeal is a great easy breakfast for busy families with kids. But I have some more healthy breakfast recipes for you to try.
Have you baked this chocolate brownie oatmeal recipe? Share a comment or review below to connect with me.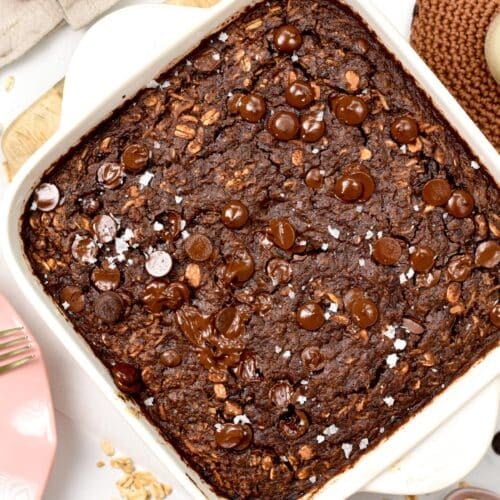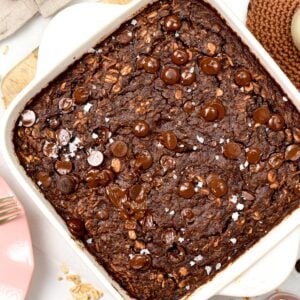 Brownie Baked Oatmeal
This Baked Brownie Oatmeal is a creamy chocolate baked oatmeal recipe packed with 9 grams of protein per serving for a fulfilling, healthy breakfast.
Pin
Print
Review
Servings: 6 servings
Calories: 356.5 kcal
Instructions
Preheat the oven to 350°F (180°C). Spray oil in an 8-inch x 8-inch square baking dish. Set aside.

In a large bowl, stir dry ingredients: oats, cocoa powder, baking powder, and salt.

Whisk in wet ingredients: mashed banana, milk, yogurt, coconut oil, vanilla extract, and maple syrup.

Fold in the chocolate chips and chopped pecan or coconut, and stir to combine evenly.

Pour the mixture into the prepared baking dish and add a few more chocolate chips on top, if desired.

Bake on the center rack of the oven until the baked oatmeal is set, not jiggly in the center, and golden brown on top.

After 30-35 minutes, it is a soft, moist baked oatmeal. That's my favorite way, and remove the pan from the oven at this time.

Bake for 40-45 minutes for a dry and firm texture.
Storage
Let it cool down completely or for at least 20 minutes before serving. Then, cool completely before storing in the fridge, in its baking dish covered with a piece of foil for up to 4-5 days.
Serving
Serve cold or lukewarm with a dollop of Greek yogurt or extra almond milk.
Share on Facebook
Pin Recipe
Nutrition
Serving: 1serve | Calories: 356.5kcal | Carbohydrates: 44.9g | Protein: 7.3g | Fat: 18g | Saturated Fat: 8.4g | Polyunsaturated Fat: 2.5g | Monounsaturated Fat: 5.5g | Trans Fat: 0.01g | Cholesterol: 0.8mg | Sodium: 333.8mg | Potassium: 398.1mg | Fiber: 6.9g | Sugar: 17.5g | Vitamin A: 21.1IU | Vitamin B12: 0.1µg | Vitamin C: 1.7mg | Calcium: 169.2mg | Iron: 3.6mg | Magnesium: 104.9mg | Phosphorus: 218.8mg | Zinc: 2.2mg