If you love banana bread for breakfast but are after a healthier version, try these baked oats made with wholesome ingredients.
It tastes like your favorite banana bread but is packed with fiber, proteins, and no refined sugar needed.
I love baked oatmeal for breakfast, but they make large batches that are sometimes too much for a single person. So baked oats are great for preparing smaller batches of baked oatmeal.
They are also blended oats, which means the texture is more like cake, and they hold their shape together very well.
It means you can slice the baked oats and serve them almost like a slice of cake or bread.
How To Make Banana Bread Baked Oats
It's so easy to make this vegan baked oats that you will make this very often for your breakfast.
You don't need eggs or dairy, just a few ingredients you probably already have at home.
Ingredients
All you need to make delicious banana-baked oats are a bunch of simple pantry staples.
Ripe Banana – A yellow banana works great, but it has a less sweet flavor and you may want to add more sweetener to balance the lack of sweetness.
Old-Fashioned Rolled Oats, quick oats, or steel-cut oats – both options work well.
Almond Milk or any non-dairy milk you love including soy milk for a boost of protein in your baked oats recipe.
Coconut Sugar or any crystal sweetener you love like brown sugar, sugar, or allulose.
Ground Flaxseeds or chia seeds
Baking Powder
Salt
Vanilla Extract
Chocolate Chips
Shredded Coconut or nuts like chopped walnuts, pecans, or almonds.
Preparation
Preheat the oven to 350°F (180°C). Spray a small ceramic baking dish with cooking oil – mine is a 6-inch x 6- square ceramic pan (16cm x 16cm).
If you don't have this kind of baking dish you can bake the recipe in small greased ramekins.
The taller the ramekins, the longer it takes to bake, and the more chance the texture will be slightly gummier.
Blending
In a food processor or blender, add all the banana bread baked oatmeal ingredients except the chocolate chips and coconut.
Blend banana, oats, flax meal, almond milk, salt, vanilla extract, baking powder, and coconut sugar. It doesn't have to be super smooth, and it's fine if there are still some bits and pieces of oats in the mixture.
Add chocolate chips and coconut and pulse to just incorporate.
No Blender
If you don't have a food processor, or you don't want to blend the ingredients together you can simply stir the dry ingredients to wet ingredients.
Then, transfer to the baking dish and bake until set and firm.
Baking
Pour the baked oats batter into the prepared small baking dish.
Bake for 15 to 20 minutes at 350°F (180°C) or until just set on top and firm in the center – it shouldn't be wet or jiggly.
Remove from the oven and cool down for 10 minutes before serving.
Serving
You can serve this recipe, lukewarm just after baking it, or cold the next day. It's easy to slice and serve as a square that you can even hold in your hands as brownies.
If serve in a bowl or plate, serve the banana bread baked oats with any of your favorite breakfast toppings like:
Extra Chocolate Chips
Drizzle of almond butter, peanut butter, or sunflower seed butter if nut-free.
Fruits – banana slices, blueberries, or strawberries.
Drizzle of soy milk
A dollop of plant-based Greek yogurt
Pinch of cinnamon or ginger
Drizzle of maple syrup or date syrup for a touch of sweetness
Storage Instructions
This recipe serves one large breakfast or 2 smaller breakfasts.
To store leftovers, film the small baking dish with plastic wrap or a piece of foil.
Refrigerate it for up to 3 days, or freeze it in an airtight container for up to one month. Thaw in the fridge the day before serving.
To rewarm banana-baked oats, place a portion in a shallow microwave-safe bowl with a splash of plant-based milk.
Microwave for about one minute, or until want in the center. Serve with your favorite toppings.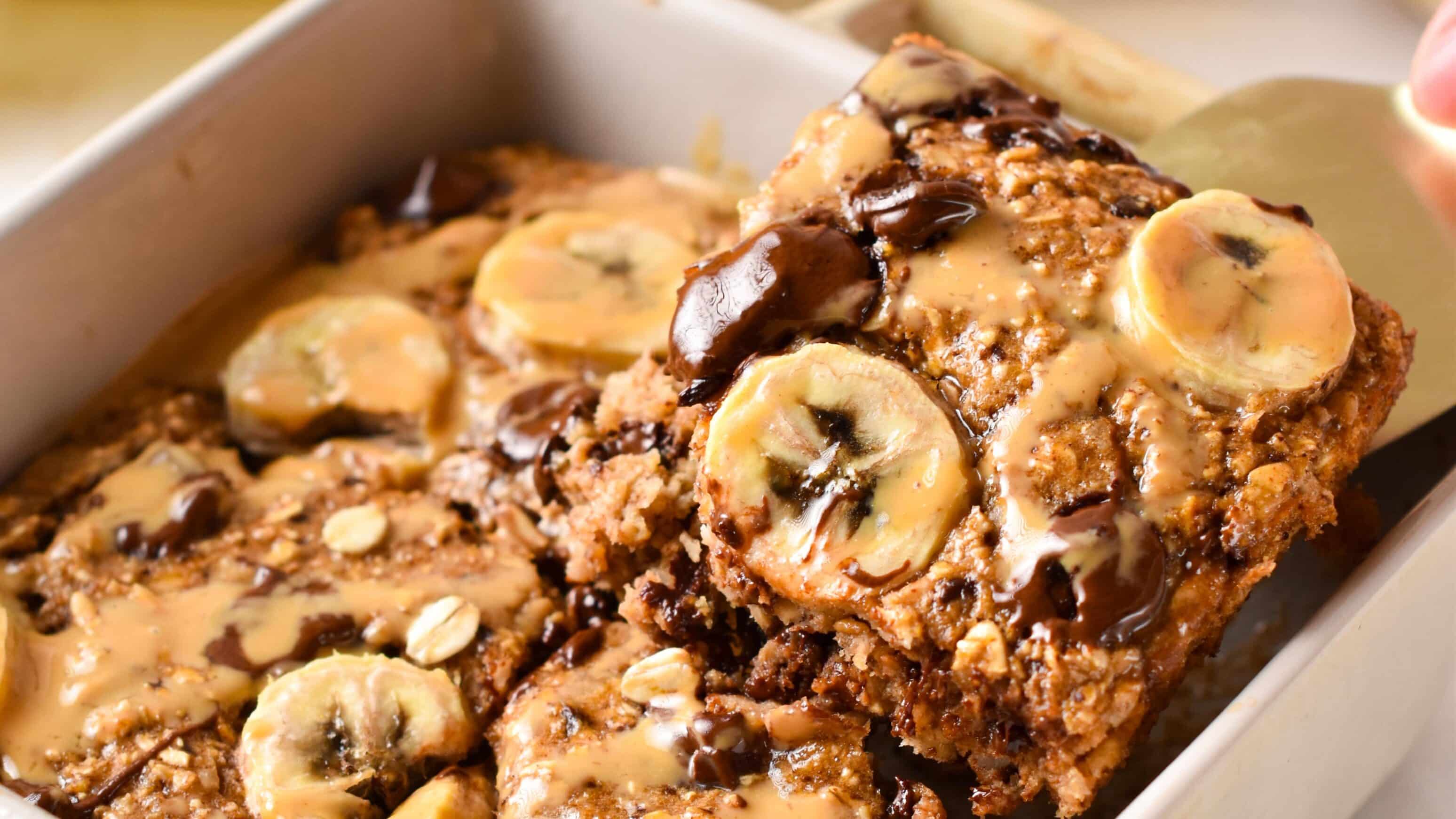 Flavor Variations
You can use this recipe with different add-ons to meal prep a range of healthy breakfasts with different flavors.
Try replacing the shredded coconut and chocolate chips with the same amount of some of the below:
Chopped pecans or walnuts
Shredded carrots
Shredded zucchini – squeeze and remove extra water
Allergy Swaps
If you need some ingredient substitutions to make this healthy breakfast, look at the options below.
Nut-Free – Swap the almond milk for coconut milk or soy milk.
Banana-Free – You can use this recipe with pumpkin puree, sweet potato puree, or apple sauce to create a range of different baked oats flavors.
Gluten-Free – Use gluten-free oats.
Sugar-Free – Use a sugar-free crystal sweetener like allulose and sugar-free stevia-sweetened chocolate chips.
Frequently Asked Questions
Here are the answers to your most common questions about this baked oats with banana recipe.
Are Baked Oats actually healthy?
Baked oats are one of the healthiest breakfast.
Like oatmeal, it's packed with all the natural ingredients you need to have sustain energy in the morning including protein, fibers from wholegrains oats and minimal sugar.
Why Are My Baked Oats Gummy?
Baked oats can be gummy if you don't have baking powder, bake the recipe into a tall ramekin – too thick and end up packed and gummy, or you over-blend the mixture.
If you don't like gummy texture, use a food processor, it won't blend all the oats leaving some bits and pieces that turn the texture into a cake-like texture similar to baked oatmeal.
Also, bake the recipe in a wider, flat baking dish.
More Oatmeal Recipes
If you like this recipe, you'll love these other baked oatmeal: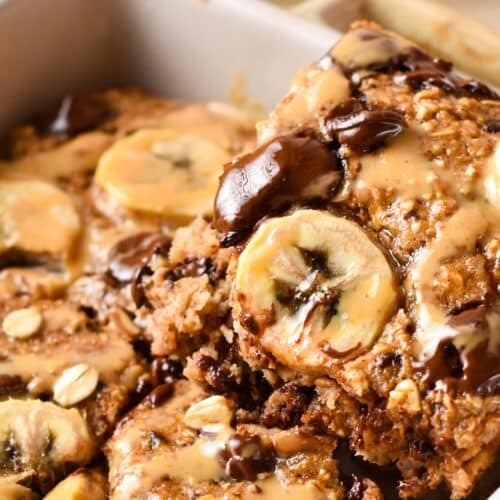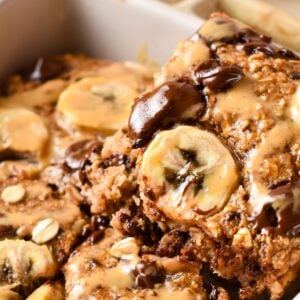 Banana Bread Baked Oats
If you love banana bread for breakfast but are after a healthier version, try these baked oats made with wholesome ingredients. It tastes like your favorite banana bread but is packed with fiber, proteins, and no refined sugar needed.
Pin
Print
Review
Shop My Tools
Instructions
Preheat the oven to 350°F (180°C). Grease a small baking dish – I used a 6-inch x 6-inch ceramic dish. You can also use small ramekins – with cooking oil spray. Set aside.

In a food processor, add banana, oats, almond milk, flax meal, vanilla extract, salt, cinnamon, coconut sugar, and baking powder.

Blend on medium-high speed until smooth – it's ok if there are bits and pieces of oats. This prevents the recipe from being gummy.

Add chocolate chips and shredded coconut or walnuts.

Pulse to incorporate and pour the batter into the prepared baking dish.

Sprinkle chocolate chips and extra banana slices on top if you like.

Bake for 18 to 22 minutes or until set on top and not jiggly in the middle. The baking time depends on how you like your oatmeal texture. Bake it longer for a firm, dry texture or less for a softer oatmeal.
Serving
Cool down in the baking dish for a couple of minutes before serving.

Serve with peanut butter, maple syrup, and extra nuts.
Storage
Store in the fridge after it has cool completely cool at room temperature. Film the dish to keep it moist and refrigerate it for 3-4 days. Freeze in an airtight container for up to 1 month.
Share on Facebook
Pin Recipe
Nutrition
Serving:
1
serving
|
Calories:
320.3
kcal
|
Carbohydrates:
57.6
g
|
Protein:
5.3
g
|
Fat:
9
g
|
Saturated Fat:
4.3
g
|
Polyunsaturated Fat:
1.4
g
|
Monounsaturated Fat:
1.1
g
|
Sodium:
621.1
mg
|
Potassium:
386.8
mg
|
Fiber:
5.2
g
|
Sugar:
26.1
g
|
Vitamin A:
37.8
IU
|
Vitamin C:
5.2
mg
|
Calcium:
225.4
mg
|
Iron:
1.8
mg
|
Magnesium:
64.3
mg
|
Phosphorus:
191.9
mg
|
Zinc:
1.3
mg