This edible chickpea cookie dough dip is the healthiest protein snack.
It's delicious for dipping crunchy apple slices or eating by the spoon on its own, to fix a cookie craving.
Bonus, one serving will bring you 6 grams of protein and only 150 kcal!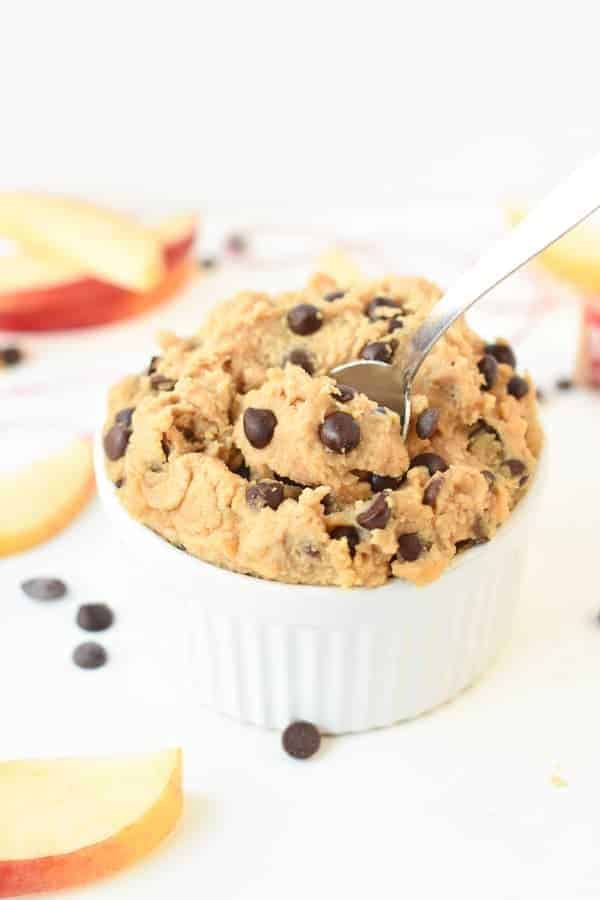 What's A Chickpea Cookie Dough?
Calling all the cookie dough lovers with this healthy cookie dough recipe made of chickpeas! I know you are wondering if chickpea cookie dough actually tastes good, right?
Is it like a sweet hummus kind of recipe? Well, let me reassure you this chickpea cookie dough doesn't taste like chickpea or hummus at all.
Quite the opposite, it tastes sweet and smooth, and chickpeas are only adding a creamy smooth texture and proteins, no flavors!
Why You'll Love This Dessert
This edible Cookie Dough with chickpeas is a delicious, healthy dessert and snack because it is:
Gluten-Free
Made with no eggs
Healthy
Dairy-Free
Vegan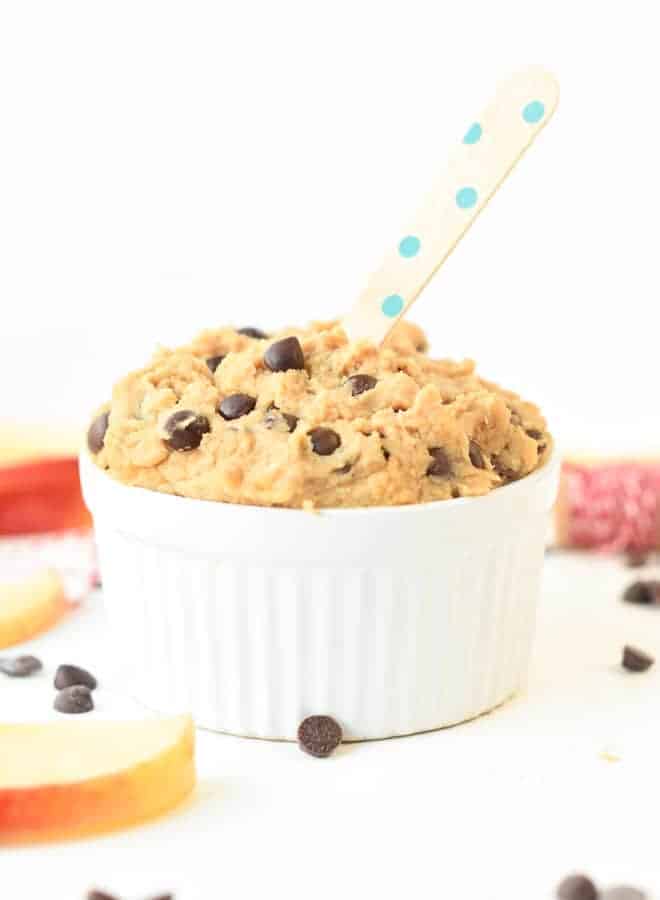 How To Make Chickpea Cookie Dough
It's easy to make this vegan recipe at home. There are only a few little tricks to follow to create the best fluffy, smooth dip.
Ingredients
Canned Chickpeas – Use canned chickpeas also known as canned garbanzo beans, drain them and remove their skin.
Peanut Butter – Or powdered peanut butter, rehydrated for low fat, low calorie, high protein boost. Make sure to use natural peanut butter that is made from only peanuts. For a nut-free alternative, you can also use sunflower seed butter.
Maple Syrup – Any liquid sweetener works, such as coconut nectar, rice malt syrup, or simple syrup. While it's possible to use brown sugar or coconut sugar, it's better to opt for liquid sweeteners.
Sea Salt – Just a pinch for taste.
Vanilla – Vanilla extract adds a delicious taste.
Oat Flour – Oat flour is a healthy flour. You can make your own oat flour.
Almond Flour – Almond flour is a healthy flour that is very low in carbs and can be eaten raw. If you don't have any, you can use more oat flour instead.
Almond Milk – Or any other plant-based milk such as coconut milk, oat milk, or cashew milk.
Vegan Dark Chocolate Chips – You can find dairy-free chocolate chips in most shops.
Let's see the important steps to achieve the best protein chickpea cookie dough dip.
Peeling Off The Chickpeas
The recipe calls for canned chickpeas, which is the fastest and easiest way to make a chickpea cookie dough recipe.
Obviously, canned chickpeas come with a fine, slurpy translucent skin on each bean.
While chickpea skin is edible, it doesn't create a smooth cookie dough dip if you keep it on. That's why you must remove the skin before making this recipe.
In order to peel off the chickpea skin, rub the chickpeas vigorously between your hands, and the skin will fall off effortlessly.
You can also proceed one by one, squeezing the chickpea between your index and thumb, and the skin will go off in a second.
Use A Food Processor
This vegan cookie dough recipe must be made in a food processor. In fact, it's quite a thick dip, not runny or liquid, and it doesn't come together in a blender.
The reason is simple, blender bases are not wide enough, and you need a lot of liquid to blend dry ingredients in a blender.
Therefore, you can't make healthy chickpea cookie dough recipes in a blender.
The chickpea will remain coarse and will never get as smooth as in a food processor.
Blending Chickpea Cookie Batter
You need some patience to turn the chickpea and nut butter into a creamy smooth dough. First, blend at high speed for 30 seconds.
Then, stop the food processor, scrape the sides and bottom of the food processor bowl and finally add the flours. Blend again for up to 1 minute or until the dough is smooth.
Choice of Nut Butter
Depending on the flavor you expect for your cookie dough, you have different nut butter options.
Plain cookie dough: use cashew butter, it is low in flavor, and the dough will taste like plain vanilla cookie dough.
Peanut butter cookie dough: use crunchy or smooth peanut butter.
Almond chickpea cookie dough: use almond butter. This option creates a darker color, but it is higher in healthy fat and lower in carbs.
Adding the chocolate chips carefully
I recommend you store the cookie dough for 10 minutes in the fridge before incorporating chocolate chips.
In fact, the blending process transfers heat to the chickpea batter resulting in a lukewarm dip.
Therefore, if you add the chocolate chips straight away, they could melt, and the dip would turn into a chocolate chickpea dip.
It is still tasty, but probably not what you expect from this chickpea chocolate chip cookie dough!
Chickpea Cookie Dough Nutrition
This is a healthy cookie dough snack high in protein, fiber, and healthy fat.
It is not a high-calorie snack, though, as 1/4 cup of this protein chickpea dip brings you 155 kcal and 6 grams of protein.
One serving of this vegan snack recipe reaches the calorie target and nutrients of a fulfilling, healthy snack.
However, if you are watching your calories, below are my tips to decrease your calories per serving and make this vegan snack low-fat!
Nut Butter – replace nut butter with protein powdered peanut butter or peanut-based protein powder. It contains 70% less fat and therefore fewer calories. Follow the manufacturer's instructions to create the amount of peanut butter required by this recipe and add it to the recipe as a peanut butter replacement. This will also create high-protein chickpea cookie dough!
Chocolate Chips – don't add chocolate chips in your dip or use cocoa nibs for a no-sugar crunchy chocolate addition.
Almond Flour – replace almond flour with homemade oat flour. It is higher in carbs but lower in calories as it contains less fat.
Frequently Asked Questions
Can I Bake This Chickpea Cookie Dough?
Yes, you can bake this recipe to make delicious chickpea cookies.
However, I recommend adding 1/2 teaspoon of baking powder to the recipe to make the cookies fluffier.
Bake the cookie dough at 350°F (180°C) for 12 minutes.
Is Chickpea Dough Healthy?
Chickpea Cookie Dough is very healthy, it's rich in fiber, protein, and vitamins.
Can Chickpeas Be Eaten Raw?
No, chickpeas cannot be eaten raw, but canned chickpeas are pre-cooked!
So while this recipe doesn't require any cooking, the chickpeas can be eaten as they are.
More Protein Snack Recipes
You may also want to try these easy vegan snack recipes loaded with proteins:
Made this chickpea cookie dough dip recipe and want to share a picture of your creation with me? Come on Instagram to share and connect with other TheConsciousPlantKitchen followers and me.
Chickpea Cookie Dough
A healthy vegan snack loaded with protein and delicious to dip any fruit slice.
Pin
Print
Review
Servings: 8 servings (1/4 cup)
Calories: 155 kcal
Instructions
Open a can of chickpea, drain and measure 1 1/8 cup (or weight 200g/7 oz), which is usually what you get for a regular 400g/14 oz can of chickpea.

Place the chickpea on a clean towel and place another towel on top. Massage to dry the chickpea and loosen the chickpea skin.

Peel off the skin of each chickpea, it is time-consuming but believe me, it makes the cookie dough way better. Simply squeeze each chickpea between your thumb and index to easily peel off the skin. Discard all skin.

Place the chickpeas in a food processor with the S blade attachment.

Add peanut butter, maple syrup, vanilla, salt, and almond milk.

Blend on high speed for 30 seconds.

Stop the food processor, scrape the sides and bottom of the food processor bowl with a spatula. Add in almond flour and oat flour.

Process again for 30 seconds – 45 seconds or until the dough is smooth. If not, you can scrape down the bowl again and repeat the processing steps in 30-second bursts. If the dough is too thick to your linking add up to 3 tablespoons of almond milk, always adding 1 at a time, process, taste, and adjust!

Transfer the cookie dough to a serving bowl and stir in vegan chocolate chips. Note that if you blend the chickpea for a long time the batter may be slightly lukewarm and melt the chips. If so, store the dip for 10 minutes in the fridge before stirring the chocolate chips into the batter.
Storage
Serve immediately as a vegan protein snack with slices of apples, pear to dip in, or eat raw with a spoon.

Store up to 4 days in the fridge, in an airtight container.
Notes
Low-fat: use re-hydrated powdered peanut butter
Share on Facebook
Pin Recipe
Nutrition
Serving: 1serve | Calories: 155kcal | Carbohydrates: 18g | Protein: 6g | Fat: 7g | Saturated Fat: 1g | Sodium: 128mg | Potassium: 187mg | Fiber: 3g | Sugar: 7g | Vitamin A: 8IU | Vitamin C: 1mg | Calcium: 34mg | Iron: 1mg