This Homemade high Protein Cookie Dough is a 5-minute protein snack for cookie dough lovers.
Plus, this healthy cookie dough is also refined sugar-free, vegan, and gluten-free, and a low-carb option is provided so everyone can enjoy it.
We love cookie dough, and while our chickpea cookie dough is already high in protein, it's not for everyone.
Some people don't enjoy or tolerate chickpeas very well, so here's a protein powder cookie dough version.
How To Make Protein Cookie Dough
Like any cookie dough recipe, this one is super easy to make with a few basic ingredients, no fancy kitchen equipment needed either.
Ingredients
To make this edible protein cookie dough, you need the wholesome ingredients below:
Natural Peanut Butter or almond butter for less saturated fat. Choose nut butter that is unsweetened and doesn't contain added oil or salt.
Maple Syrup or agave syrup, date syrup, or brown rice syrup. Any liquid sweetener works.
Almond Milk or any plant-based milk you prefer to use.
Protein Powder – I am using almond vanilla protein powder, but any flavor or variety works. Keep in mind that different protein powder brands contain different amounts of protein per serving, and therefore they won't all absorb liquid the same way. It means that you may need to add more milk or more oat flour to the recipe to reach your favorite cookie dough texture.
Oat Flour – Read how to make oat flour to turn your oats into flour.
Vegan Dark Chocolate Chips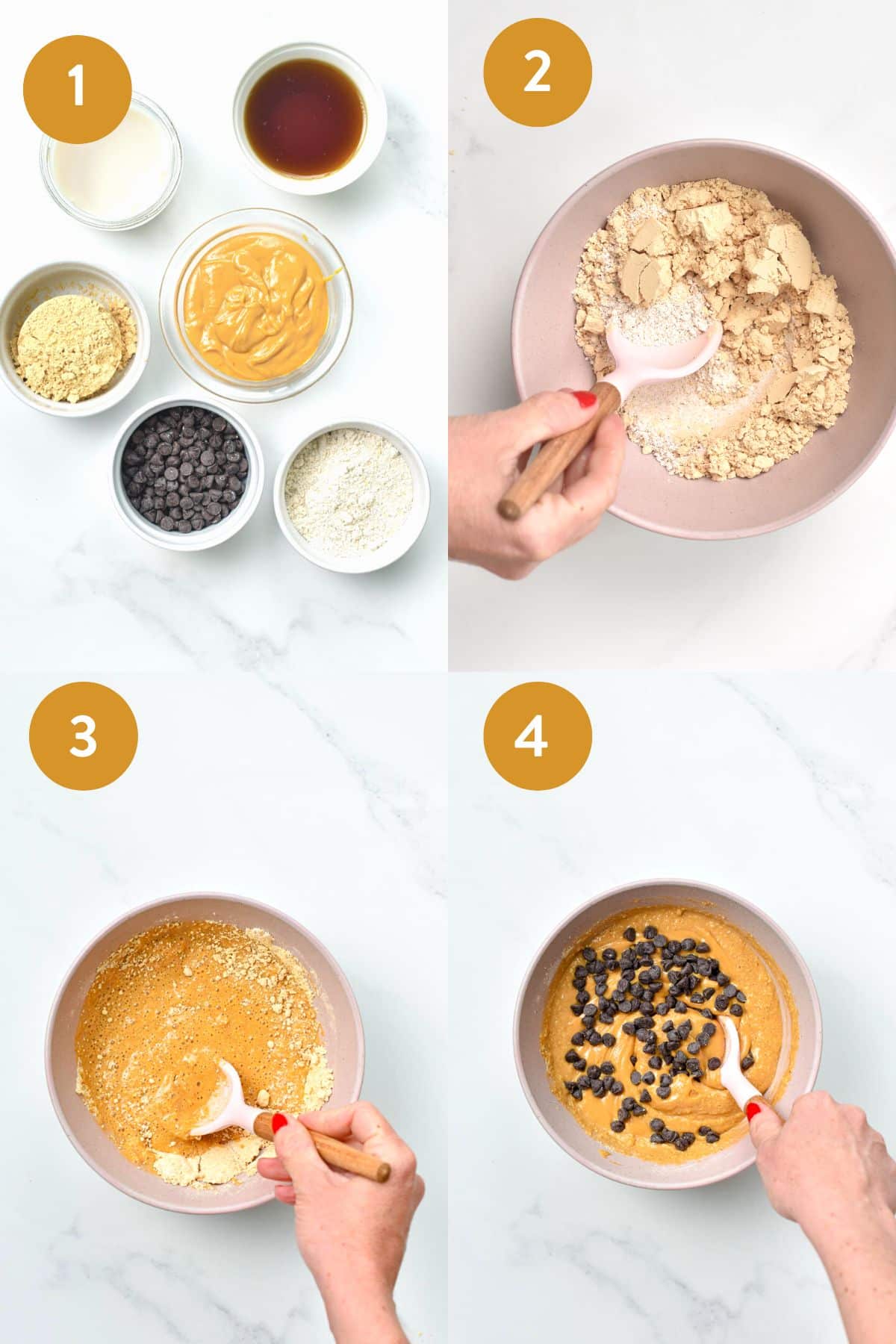 Preparation
In a bowl, stir all the dry ingredients together: oat flour and protein powder.
Then, stir in the almond milk and maple syrup. Next, stir in the peanut butter and chocolate chips.
Adjusting The Texture
If your cookie dough is too thick, add more almond milk, one tablespoon at a time.
If the cookie dough is too wet, add more oat flour or protein powder.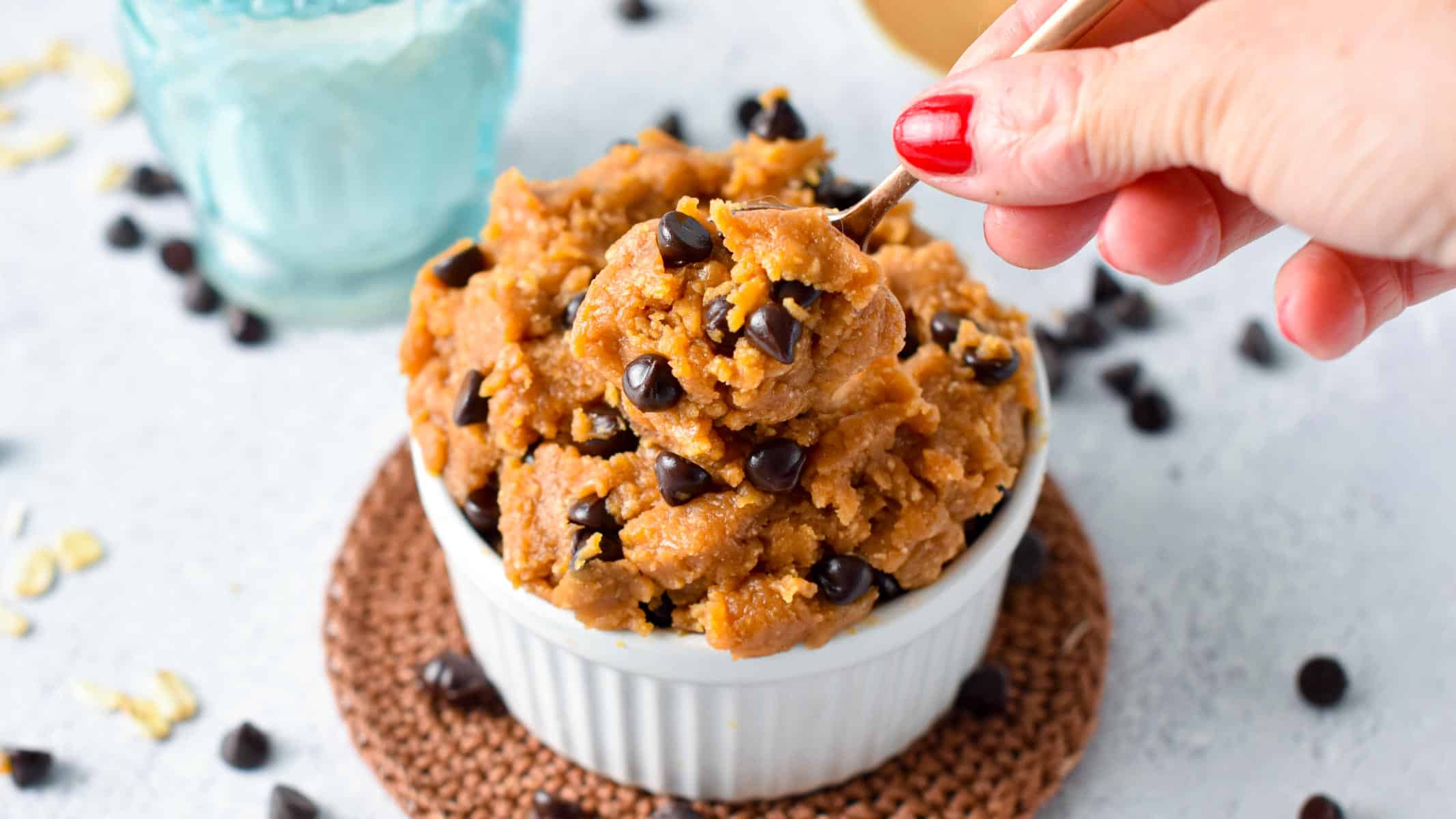 Flavor Variations
You can use this recipe to create a range of protein cookie dough flavors.
Chocolate Protein Cookie Dough – Use your favorite chocolate protein powder and swap the extra tablespoon of oat flour for two teaspoons of unsweetened cocoa.
White Chocolate Cookie Dough – Use cashew butter instead of peanut butter and add white chocolate chips to the dough.
Storage Instructions
Store the protein cookie dough recipe in the fridge in a sealed container for up to 4 days.
You can freeze cookie dough into balls and thaw it at room temperature for 1 hour before eating or overnight.
Serving
This chocolate chip cookie dough is safe to be eaten raw and perfect for fixing your sweet tooth with wholesome ingredients.
You can eat by the spoon as a quick healthy protein snack. Or you can roll the dough into balls to make protein balls.
Allergy Swaps
Below I listed some substitution options you can use if you are allergic to some of the ingredients:
Sugar-Free – Swap the maple syrup for sugar-free monk fruit syrup. This syrup contains more fiber, so it will absorb more liquid, meaning you may need more almond milk in the recipe to avoid a dry cookie dough. Use sugar-free chocolate chips.
Nut-Free – Use oat milk or soy milk and replace the peanut butter with sunflower seed butter and choose a nut-free plant-based protein powder like hemp, soy, or pea protein powder.
Gluten-Free – Select a gluten-free protein powder and use gluten-free certified oats to make oat flour.
Keto Low-Carb – Replace the oat flour with the same amount of almond flour and protein powder that is keto-friendly. Use keto syrup like Monk fruit maple-flavored syrup. Use sugar-free chocolate chips.
Frequently Asked Questions
Find below the answers to the most common questions about this recipe.
Can I Use Any Type Of Protein Powder?
Yes, any variety of protein powder works with this recipe but, depending on its source, the cookie dough texture may vary.
Simply follow the adjust section above to reach the texture you love.
Can I Use Almond Butter?
Yes, you can use any nut butter you love in this recipe.
Create a range of cookie dough flavors using cashew butter, walnut butter, and more!
Can I Use PB2 Peanut Butter?
PB2 peanut butter contains more water than regular peanut butter. This recipe works because peanut butter is sticky and thick, adding texture to the cookie dough.
On the other hand, PB2 is high in moisture and defatted, so if you use it, you will need way more oat flour to turn the recipe into a dough.
More Cookie Dough Recipes
If you like cookie dough, try the other cookie dough recipes:
More Protein Powder Snack Recipes
If you love high-protein snack recipes, try these recipe:
Did you try this easy protein snack recipe? Share a comment or review below.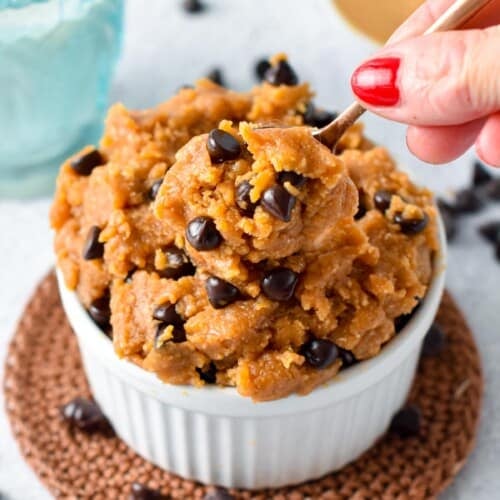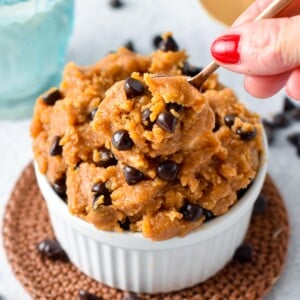 Protein Cookie Dough
This Homemade Protein Cookie Dough is an easy 5-minute protein powder snack for cookie dough lovers.
Pin
Print
Review
Servings: 8 servings
Calories: 187 kcal
Instructions
In a small mixing bowl, stir oat flour and protein powder until well combined.

Stir in almond milk and maple syrup until creamy and smooth.

Next, add fresh drippy peanut butter and chocolate chips, and stir until a cookie dough forms. If too dry, add more almond milk, one tablespoon at a time. If too wet, add more oat flour or protein powder, one tablespoon at a time.
Storage
Store in the fridge for up to 4 days in a sealed container or freeze in balls for up to 1 month. Thaw at room temperature the day before.
Share on Facebook
Pin Recipe
Nutrition
Serving: 1serving | Calories: 187kcal | Carbohydrates: 18.4g | Protein: 9g | Fat: 9.6g | Saturated Fat: 1.8g | Polyunsaturated Fat: 2.5g | Monounsaturated Fat: 4.5g | Sodium: 127.3mg | Potassium: 160.7mg | Fiber: 1.8g | Sugar: 7.8g | Calcium: 42.3mg | Iron: 1.4mg | Magnesium: 48mg | Phosphorus: 142.5mg | Zinc: 1mg