These chickpea blondies with peanut butter are healthy, fudgy, vegan blondies with chocolate chips.
It's a delicious healthy vegan protein dessert or snack ready in 30 minutes!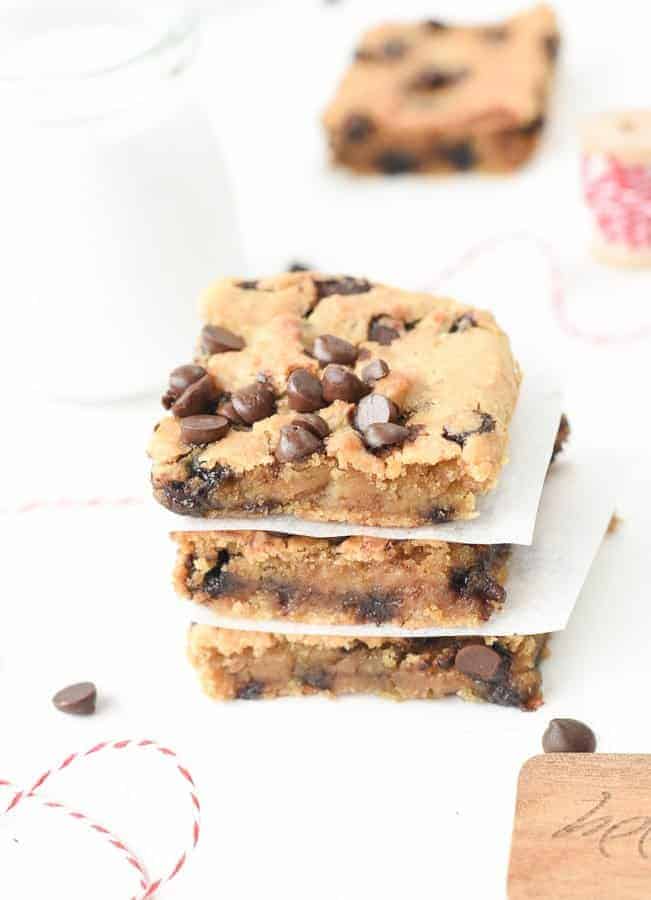 What Are Blondies?
Blondies are like vegan brownies. Well, except for the color, hence their name. Brownies are named for their chocolate color, the same is true for blondies.
They are blonde because of the lack of chocolate in their dough, replaced with vanilla.
How To Make Chickpea Blondies
Chickpea blondies are fudgy healthy blondies bars made in 10 minutes in your food processor using canned chickpeas.
The trick to making a fudgy blondie with chickpea is to drain and towel-dry the chickpea first!
Ingredients
This is the key to making blondies with canned chickpeas. All the other ingredients you need are pretty simple pantry staples:
Flourless Chickpea Blondies
This recipe is flourless, meaning there is no all-purpose flour used in the recipe. Instead, the recipe is using almond flour, which is basically thin blanched ground almonds.
Other options are oat flour that you can make at home by pulsing rolled oats into your blender for 30 seconds.
Allergy Swaps
While I love the combination of chickpea and peanut butter in this recipe, there is a nut-free option too!
First, you can replace peanut butter with sunflower seed butter (careful, as it might turn the batter slightly green).
Next, swap the almond flour with oat flour.
Finally, if you can eat almonds and you are only looking for a peanut-free option, replace peanut butter with any other nut butter, such as almond butter or cashew butter, and keep the almond flour.
Storing Chickpea Blondies
Yes, you can freeze chickpea blondies individually, in ziplock bags, or in an airtight box.
If you are using a box, separate each blondie bar with a piece of parchment paper to prevent them from sticking together.
Defrost your chickpea blondie bars on the counter the day before or at least 3 hours before.
Frequently Asked Questions
Do Chickpea Blondies Taste Like Chickpeas?
Not at all, they have a sweet, chocolatey taste and a very moist texture. It's a delicious treat that everyone will love.
What is the difference between a brownies and a blondies?
Brownies are made with chocolate in the batter, giving them a brown color.
Blondies are made with no chocolate in the batter, so they keep the golden color of the flour and ingredients.
Why is the dessert called a blondie?
Blondies are called this way because of golden blonde color of the batter.
Are blondies supposed to be raw in the middle?
Blondies tend to remain moist and gooey in the middle and this remains true for chickpea blondies.
They're not undercooked, just moist!
Are chickpea blondies good for you?
Chickpea Blondies are a healthier alternative to classic blondies. Chickpeas are rich in fiber, protein, iron, and vitamin.
They are a complete protein source, meaning that they contain all the essential amino acids.
How long to bake chickpea blondies?
Chickpea blondies should be cooked between 25 and 30 minutes.
More Healthy Vegan Dessert Recipes
If you love these healthy vegan blondie bars, you will probably love my vegan brownie recipes!
Made this healthy chickpea blondies recipe yet? Share a picture with me on Instagram.
Chickpea Blondie Recipe
Instructions
Preheat the oven to 350°F (180°C). Line a 9-inch x 9-inch brownie pan with parchment paper. Set aside.

Open the can of chickpeas, rinse, drain and dry/rub the chickpeas in a clean towel to remove all the water or moisture. This is very important, or the blondies will be fragile and too moist.

Place the chickpea in the bowl of a food processor and add peanut butter, maple syrup, vanilla, baking soda, baking powder, and salt.

Blend on high speed for

1 minute

or until smooth, and no big lumps are left.

Add in almond flour and process again at high speed for 15-30 seconds to blend evenly.

Remove the food processor blade and stir in chocolate chips. I recommend keeping 3 tablespoons on the side and sprinkling them later on top of the blondies. This prevents adding too many chocolate chips in the batter that will melt and turn your blondies into brownies.

Spread the blondie batter evenly onto the prepared baking pan and sprinkle the chocolate chips you set aside on top.

Bake

20 – 30 minutes

or until golden and crusty on top. If your pan is wider, it will cook way faster. On the other hand, if your pan is smaller, the blondies are thicker, and it may take more than 30 minutes to set. Always insert a pick in the center of the blondie to check baking. If it comes out clean with little crumbs, it is ready.

Cool

10 minutes

in the pan to firm up the blondies. Don't skip this, or they will break. Then gently loosen the sides with a knife and lift the pieces of parchment paper to easily release the blondies from the pan and transfer it onto a cooling rack. Careful, the blondies will still be soft and fragile. If you feel it is too soft or moist, wait for 10 more minutes before transferring it onto the cooling rack. This prevents the blondies from breaking.

Cool for at least

1 hour

before slicing into 1 bar, or they can be fragile. After 1 hour, you can pop the blondies in the fridge for

1 hour

. It will add an extra fudgy texture and make it easier to slice.
Storage
Store up to 5 days in the fridge in an airtight container.
Notes
Nut-free option: Replace the peanut butter with sunflower seed butter and almond flour with oat flour. Almond flour swap: Use the same amount of oat flour or all-purpose flour. Note that the blondies are fudgier with almond flour. Maple syrup swap: Use the same amount of agave syrup, rice syrup, or date syrup.
Share on Facebook
Pin Recipe
Nutrition
Serving:
1
bar
|
Calories:
125
kcal
|
Carbohydrates:
14
g
|
Protein:
3
g
|
Fat:
7
g
|
Saturated Fat:
2
g
|
Cholesterol:
1
mg
|
Sodium:
168
mg
|
Potassium:
108
mg
|
Fiber:
1
g
|
Sugar:
11
g
|
Calcium:
44
mg
|
Iron:
1
mg