This Vegan Brownie recipe makes tasty gooey brownies with a fudgy chocolate center and perfect crinkles on top.
Plus, it takes under 10 minutes to make this brownie batter, so you can fix your chocolate cravings really easily.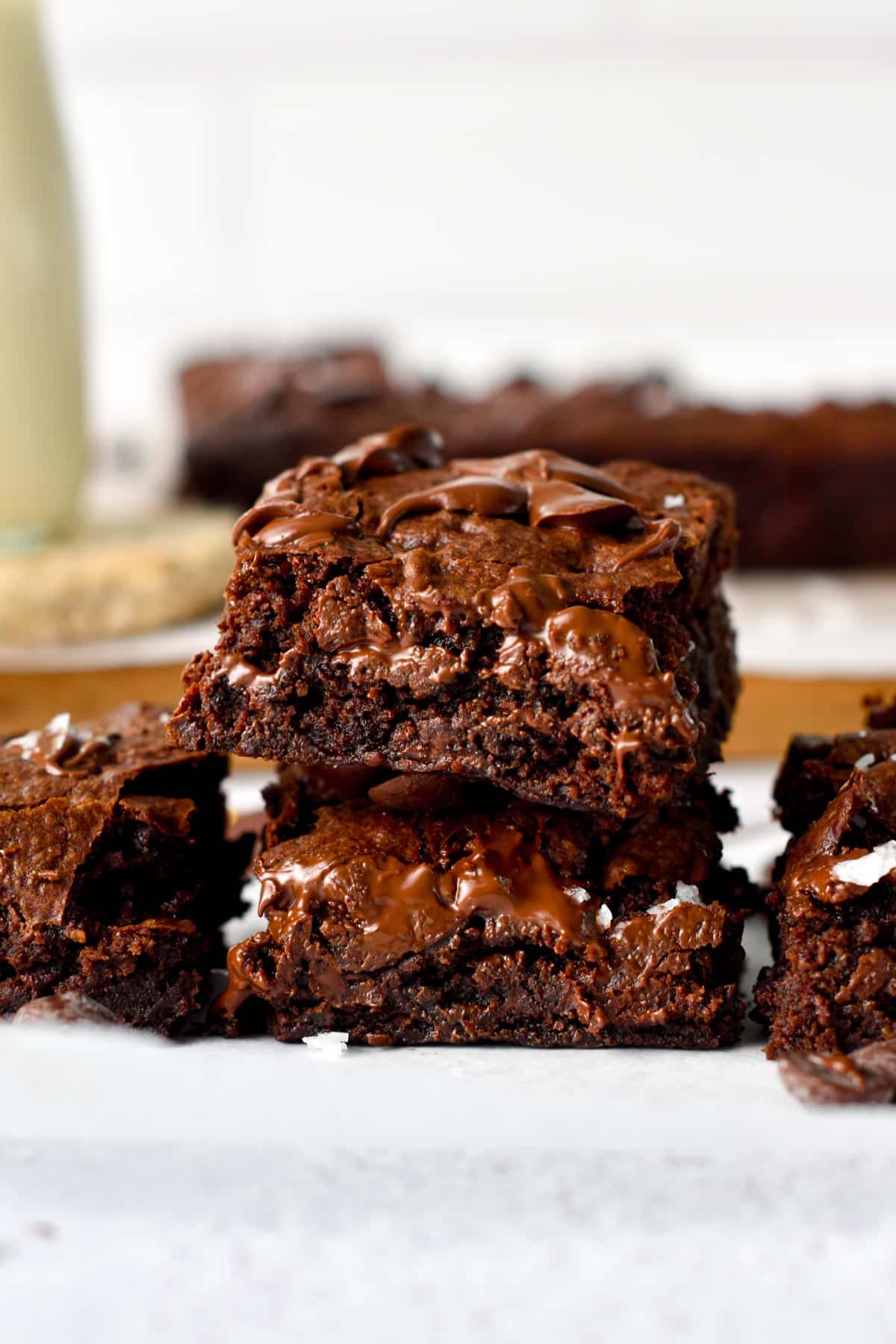 Are All Brownies Vegan?
No, an classic brownie recipe is not vegan-friendly because it contains eggs, butter, and chocolate chips that often contain milk.
But, it's very simple to make homemade vegan brownies. You don't need brownie mix, just 15 minutes and a few ingredients.
Did You Know?
Brownies were invented by drastically decreasing the amount of flour in a cookie recipe.
That's why brownies are so soft, gooey, and fudgy.
How To Make Vegan Brownies
Here's how I make delicious brownies that taste like the real thing.
Ingredients
All you need to make the best vegan brownies are a few ingredients:
All-Purpose Flour – or white spelt flour. I am pretty sure that all-purpose gluten-free flour with added xanthan gum should also work.
Vegan Butter like EarthBalance or Nuttelex.
Unsweetened Dutch Cocoa Powder
Ground Flaxseeds – To make a flax egg.
Water
Baking Powder – Gluten-free if needed.
Granulated Sugar – White sugar or caster sugar.
Brown Sugar or coconut sugar.
Salt
Vegan Chocolate Chips – EnjoyLife has a great range of dairy-free chocolate chips.
Vanilla Extract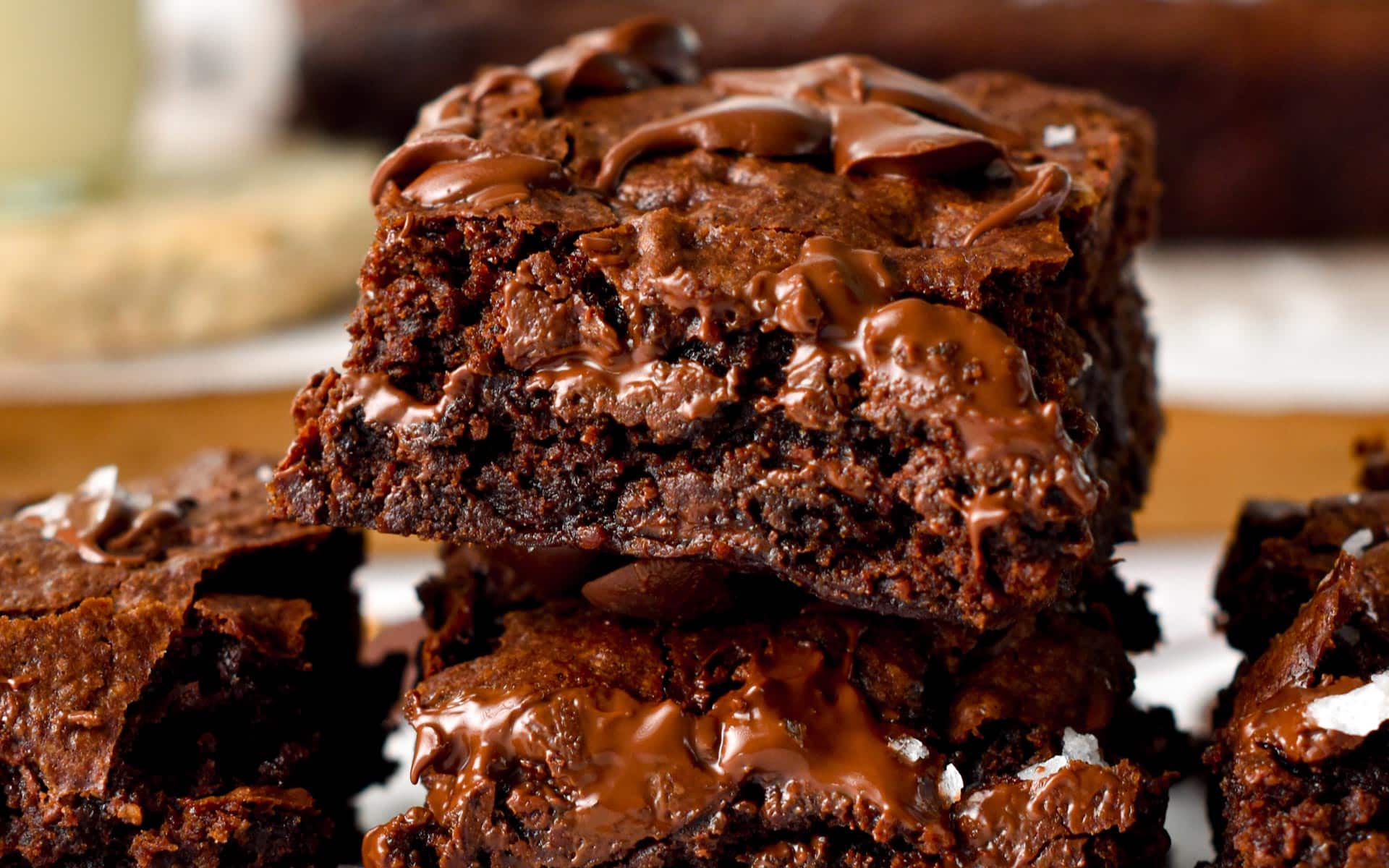 Preparation
First, preheat the oven to 350°F (180°C). Line an 8-inch x 8-inch square brownie pan with parchment paper.
Lightly oil the paper and pan with cooking oil spray. Set aside.
Making Flax Eggs
In a small bowl, whisk the ground golden flaxseeds and lukewarm water together.
Set the mixture aside for a few minutes until the texture is gooey and looks like an egg.
Making The Batter
In a large mixing bowl, add the white sugar, brown sugar, and melted vegan butter. Whisk until the batter is thick before pouring the flax egg.
Don't over-stir the batter. Whisk for just a few seconds then, whisk in the vanilla extract, salt, and unsweetened cocoa powder.
Whisk until all the cocoa has been incorporated and no lumps are seen.
Finally, sift in the flour and chocolate chips. Whisk a few times, until the batter is shiny and smooth.
Don't over-mix the batter to keep the brownies moist and fudgy.
Baking Vegan Brownies
Pour the brownie batter into the prepared pan and bake in the center rack of the oven for 20 to 25 minutes.
When the top of the vegan brownies dry out, and lovely crinkles form on top, insert a toothpick in the center of the brownies.
The toothpick should come out a bit sticky with some batter, meaning the brownies are fudgy. However, the pick shouldn't be wet or it means the batter is still jiggly and not cooked through.
Let the brownies cool down in the pan for 5 minutes, then pull out the pieces of hanging parchment paper to release the brownies onto a cooling rack.
As they cool down, sprinkle some extra dark chocolate chips on top of the brownies. They melt in and add a rich chocolate flavor.
Serve the brownies with a pinch of sea salt flakes to enhance the chocolate flavor.
Add-Ons
You can use this vegan brownie recipe to create different brownies flavors. For example swap the dark chocolate chips for:
Chopped Pecans or Walnuts
Vegan White Chocolate Chips
Raspberries
Unsweetened Shredded Coconut
1/2 teaspoon of Peppermint Extract of chili powder
Serving Brownies
These vegan brownies are delicious desserts on their own. You don't need any toppings to enjoy a piece of this treat.
My favorite pairings to brownies are:
A scoop of dairy-free vanilla ice cream
Whipped coconut cream
A pinch of salt
Fresh berries like strawberries
My Tips And Tricks
While this recipe is quite easy to make, I have a few top tips and tricks to help you get it perfect every time.
When To Cut Brownies
When the brownies are completely cool down, cut with a long sharp knife into 16 squares.
You often asked me how to nicely cut brownies, because if you baked brownies before you know how messy the knife blades come out after one cut.
So my trick is to always wash the knife blade under warm water and dry it in a towel, before cutting again. It's a little time-consuming, but this makes perfect brownies squares every time.
Use Less Flour For Fudgy Texture
The key to fudgy vegan brownies is to use a small amount of flour.
While it's tempting to increase flour in vegan recipes to compensate for the eggs, you really shouldn't if you want your brownies to have the right texture.
In fact, adding more flour turns brownies into cakes with a not fudgy, not chewy texture.
Make Flax Eggs, No Replacer
The other crucial ingredient for making vegan brownies chewy, fudgy, with a crusty top is flax eggs.
Flax eggs are made from high-fiber ground flaxseeds. This golden seed powder brings this chewy texture that one everyone loves in traditional brownies.
If you don't have flax meal at home, try a chia meal to achieve the same texture.
In vegan brownies, avoid other egg replacers like corn flour, applesauce, or store-bought egg replacers because they turn the crumb into a cake-like texture.
Use Plant-Based Butter, Not Oil
I know that vegan butter is not the healthiest, compared to avocado oil, for example. But I believe that sometimes, you deserve a treat.
It's about achieving the perfect taste and texture that delivers an excellent dessert that is good for the mood.
So, choose vegan butter for a shiny brownie crust that crackles and a melt-in-your-mouth soft texture. Brownies made with oil tend to be drier, with a matte color that is less chewy inside.
Don't Over-Mix The Batter
What creates a lovely crinkle on top of the brownies are the air bubbles trapped in the batter that gently rise to the surface as the oven warms the batter.
If you over-mix the batter, you remove all air, and the brownies stay soft on the top.
Use White And Brown Sugar
The combination of white and brown sugar completely changes the brownies' texture.
In fact, brown sugar contains molasse. It's wetter and adds a fudgy texture to brownies.
On the other hand, white sugar is dry (no molasse is added). As a result, it melts and crystallizes, adding a chewy texture and light crisps on the edges of the pan.
If you swap one sugar for the other, you will lose on the texture for sure!
Use Dutch-Processed Cocoa Powder, Not Melted Chocolate
Some vegan brownies recipes call for melted chocolate.
However, the purpose of chocolate in baking is to absorb some of the moisture, not just for the chocolate taste.
As a result, brownies made with melted chocolate are always drier, not fudgy, and gooey. To make the best fudgy brownies without eggs, use high-quality cocoa powder.
Allergy Swaps
Below are some allergy substitution ideas if you need them.
Gluten-Free – Try my vegan gluten-free brownies for a gluten-free recipe.
Sugar-Free – I didn't try sugar-free crystal sweeteners, but erythritol and brown erythritol should work in the same amount. Also, replace the chocolate chips with vegan-friendly stevia-sweetened chips.
Oil-Free – I didn't try an oil-free replacer in this recipe, so I don't recommend making it with an oil-free option.
Storage Instructions
These vegan brownies can be stored well in the fridge, for up to 5 days, in a sealed cookie jar.
You can freeze brownies for later, preferably freeze brownie squares so you can easily thaw one serving at a time.
Thaw your brownies at room temperature 24 hours before serving.
Frequently Asked Questions
Find below my answers to your most common questions about this egg-free brownie recipe.
What Are Vegan Brownies Made Of?
Vegan brownies are made with the same ingredients as regular brownies (flour, sugar, cocoa powder), but the eggs are replaced with flax eggs, the milk with plant-based milk, and the butter with vegan butter.
Is Betty Crocker Brownie Mix Vegan?
The Betty Crocker Brownie Mix only contains plant-based ingredients but it's designed to be made with eggs.
Are Ghirardelli Brownies Vegan?
Ghirardelli Double Chocolate Brownie mix contain chocolate chips made with milk products so they are not vegan.
Is King Arthur Brownie Mix Vegan?
King Arthur's All-American Brownie Mix is made with only plant-based ingredients and is actually quite clean compared to many other mixes. However, it's designed to be used with eggs so while the mix is vegan, the final product wouldn't be.
Are Pillsbury Brownie Mix Vegan?
Pillsbury Dark Chocolate Brownie Mix does not contain any animal product, unlike their Milk Chocolate Brownie Mix.
However, both require an egg for the recipe.
Can I Replace Sugar With Maple Syrup?
Maple syrup is a healthy alternative to sugar since it's a liquid sweetener. It thins out a batter.
It also doesn't crystalize as much in brownies. As a result, if you want to swap the white sugar for maple syrup in this recipe, you need to remove three tablespoons per cup of sugar. Also, expect much softer brownies.
Can I Skip Baking Powder Or Baking Soda?
Baking powder and baking soda are both raising agents, but they have two different purposes in brownies.
They work as a team to create the best texture, chewy and fudgy brownies. You can skip the baking soda, but the brownies will have a cakey, less fudgy texture.
If you remove the baking powder, the brownies will be dense.
What Can I Use Instead Of Egg In A Brownie Mix?
Most brownie mix recipes call for eggs. You can try replacing each egg with a flax egg made of 1 tablespoon of ground flaxseeds with 2.5 tablespoons of water.
More Vegan Brownies
If you like plant-based brownies, I have many other brownies recipes, including oil-free brownies, healthy brownies, and more.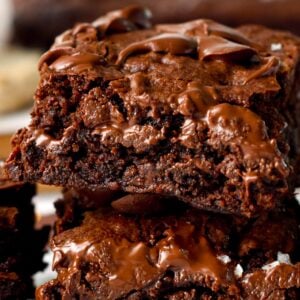 Vegan Brownie Recipe
This Vegan Brownie recipe makes tasty, gooey brownies with a fudgy chocolate middle and perfect, classic crinkles on top.
Pin
Print
Review
Servings: 16 squares
Calories: 168 kcal
Instructions
Preheat the oven to 350℉ (180℃). Grease an 8-inch x 8-inch brownie pan with cooking oil. Set aside.

In a small bowl, make the flax eggs: add ground flaxseeds and lukewarm water. Stir and set aside for 10 minutes until it reaches an egg-like consistency.

In a large mixing bowl, add the lukewarm melted vegan butter, white sugar, and brown sugar. Whisk until the sugar and butter are well combined and creamy.

Pour the flax eggs made in step 1 and vanilla extract.

Whisk in cocoa powder until no more lumps of cocoa can be seen.

Add the sifted flour, salt, chocolate chips, and baking powder until the batter is thick and smooth. Don't over-stir, or the brownies will be dense and packed.

Pour the brownie batter into the prepared pan and add extra chocolate chips on top if desired.

Bake for 20-25 minutes or until the top is dry and crackles, and a pick inserted in the center comes out with some fudgy brownie crumb, not runny batter. This means that the brownies are cooked and fudgy and not dry.

Cool down on a cooling rack for a few hours before slicing.
Storage
Store the brownies in the fridge in a sealed container for up to 5 days, or freeze them for up to 1 month and thaw the day before at room temperature.
Share on Facebook
Pin Recipe
Nutrition
Serving: 1square | Calories: 168kcal | Carbohydrates: 24.7g | Protein: 1.7g | Fat: 7.7g | Saturated Fat: 2.8g | Polyunsaturated Fat: 1.6g | Monounsaturated Fat: 2.7g | Trans Fat: 0.03g | Cholesterol: 0.2mg | Sodium: 111.9mg | Potassium: 100.6mg | Fiber: 2g | Sugar: 17.2g | Vitamin A: 271.9IU | Vitamin B12: 0.02µg | Vitamin C: 0.01mg | Calcium: 28.4mg | Iron: 1.4mg | Magnesium: 31.1mg | Phosphorus: 54.4mg | Zinc: 0.4mg