Vegan Sweet Potato Brownies
This sweet potato brownies vegan recipe is the easiest, healthy gooey chocolate brownies. A healthy sweet potato dessert that everyone loves!
If you love gooey chocolate brownies, you will love those sweet potato brownies! They have an intense soft and sticky fudgy texture coming from the sweet potato puree.
An easy 7-ingredient sweet potato brownies vegan recipe
This is an easy 1-bowl recipe using only 7 ingredients. Let's see what you need and your alternatives.
Sweet potato puree – see below to learn how to make your own puree in 15 minutes.
Coconut sugar – or brown sugar or any unrefined crystal sugar you love.
Maple syrup – or agave, coconut nectar, or brown rice syrup.
Almond flour – or sunflower seed flour if you don't eat nuts.
Oat flour – you can make your own by pulsing rolled oats into a blender for 1 minute on high speed. You can replace this flour with spelt flour, all-purpose flour, or gluten-free flour if needed.
Coconut oil – or light taste oil like almond oil, avocado oil.
Unsweetened cocoa powder
How to make sweet potato puree?
The key to making the most delicious sweet potato brownies vegan recipe is to make a smooth sweet potato puree.
Vegetable steamer – this is my favorite method and the one I recommend the most. It takes only 15 minutes to steam peeled sweet potato cubes, and it will preserve all the vegetable nutrients.
Microwave -while I don't like cooking in my microwave, I want to tell you that yes, you can steam vegetables in the microwave in 6 minutes. See the recipe card for details. Note that you will lose the nutritional value of the vegetables with this method.
How to make gooey chocolate brownies with sweet potato?
The key is to precisely measure the sweet potato puree. In fact, you must measure the puree at room temperature, mashed, and packed in the cups.
Otherwise, weigh the puree for better precision. Never measure the puree hot has some water remained, and it will not be precise.
How to make fudgy brownies?
First, make sure you follow the baking time and check the baking process after 40 minutes. Insert a pick in the center of the brownie. It should come out with a little sticky crumb but not too much.
If you bake your brownie longer, it gets dryer and has a cake-like texture. Next, cool the brownie in the fridge to intensify the fudgy texture. Finally, don't decrease the oil amount. Fudgy brownies have a higher fat to flour ratio.
Less fat means less fudgy texture too.
More vegan gluten-free desserts
If you love vegan, gluten-free desserts, you may also want to try these recipes.
Vegan Gluten-free Peach Cobbler
An easy vegan, gluten-free peach cobbler with almond flour also a great paleo cobbler for people on a grain-free, refined sugar-free diet.
Check out this recipe
Chocolate Chickpea Brownies
A healthy chickpea brownie recipe made with no oil, no dairy, and no eggs. A high-protein vegan brownie recipe very fulfilling and incredibly moist and fudgy.
Check out this recipe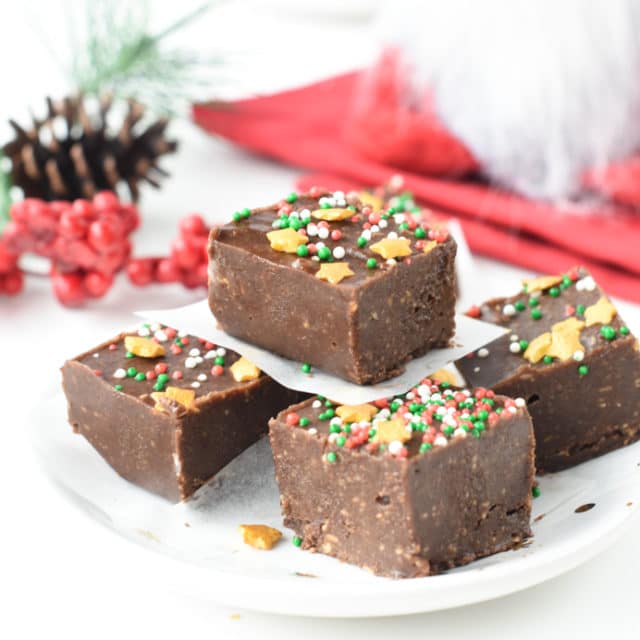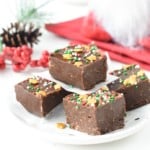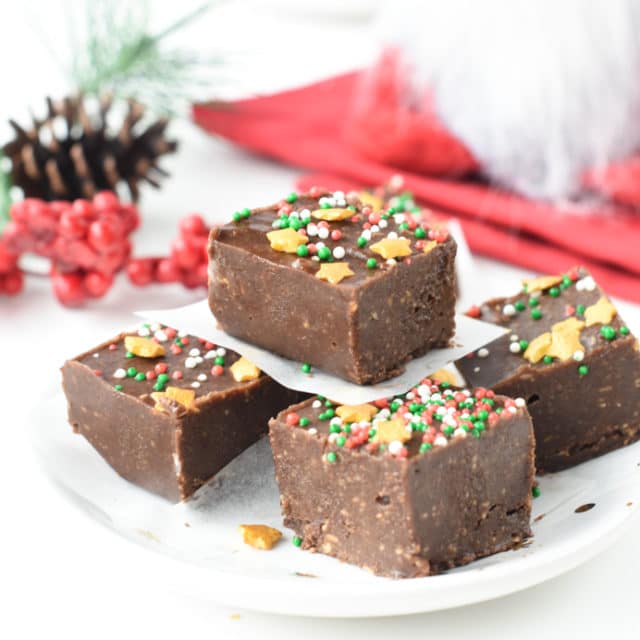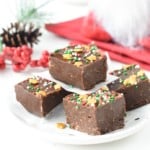 Chocolate Fudge with Almond Butter
A healthier twist on your classic chocolate fudge recipe, this 4-ingredient chocolate fudge is paleo, refined-sugar-free, and vegan!
Check out this recipe
Don't forget to save your recipe on Pinterest to make this later!
Vegan Sweet Potato Brownies
The best vegan sweet potato brownie easy, healthy fudgy recipe with less than 10 ingredients.
Instructions
Preheat oven to 180°C (350°F).
Prepare the sweet potato puree
Peel a large orange sweet potato and dice it into small cubes.

Place the sweet potato cubes into a steamer and cook for

15 minutes

or until the cubes are soft and easy to smash into a puree.

If you don't have a vegetable steamer, you can place the sweet potato cubes in a microwave-safe bowl. Cover it with a plate and microwave

5-6 minutes

until soft. Note that microwave cooking will remove the nutritional value of sweet potato. It is not the method I recommend.

Cool the sweet potato cubes at room temperature. They are ready to be mashed into a puree when no more steam release. It usually takes

10-15 minutes

. Discard any water that may be left in the bowl if you choose the microwave method.

Mash the sweet potato cubes into a puree using a fork or potato masher.

Carefully weigh 12 oz (350 g) of sweet potato puree or 1 1/3 cup of puree. If you use cups, make sure you pack the puree very well in the cups to ensure the measurement is precise.
Brownie Batter
In a food processor, add the sweet potato puree, maple syrup, coconut sugar, melted coconut oil, almond flour, oat flour, and unsweetened cocoa powder.

Blend on high speed for about 30 seconds-1 minute or until all the ingredients are evenly combined. You may have to stop the food processor after 30 seconds, scrape down the sides of the bowl and repeat to ensure that all the ingredients are well combined. It usually takes no more than 1 minute of processing to get a sticky brownie batter.

Add in chocolate chips and pulse 2-3 times to incorporate into the batter. Keep some chips to sprinkle on top of the brownie before baking if desired.

Transfer the brownie batter onto the prepared brownie pan. Sprinkle the extra chocolate chips now if you kept some of them.

Bake

35-40 minutes

or until the top is set.

Cool

10 minutes

in the pan then release the brownie from the pan lifting the pieces of parchment paper.

Cool down for

20-30 minutes

on a cooling rack. After that time, I recommend placing the brownie in the freezer

10-12 minutes

to cool faster and get the most intense fudgy texture. It will also make the brownie easier to slice without falling apart.

Slice the brownie into 16 squares. This is optional but you drizzle some melted dark chocolate on top of the brownie before serving, as seen in the picture above.

Store the brownie in an airtight box in the fridge for up to 4 days. You can store the brownies at room temperature for 2 days.

Freeze in ziplock bags and defrost the day before.
Share on Facebook
Pin Recipe
Nutrition
Serving:
1
brownie
|
Calories:
139
kcal
|
Carbohydrates:
18.5
g
|
Protein:
2
g
|
Fat:
5.9
g
|
Fiber:
2
g
|
Sugar:
10.7
g
|
Vitamin A:
10
IU
|
Vitamin C:
1
mg