Vegan Potato Salad Without Mayo
This Vegan Potato Salad has a creamy healthy cashew sauce with no mayo!
Bonus, the recipe is also gluten-free with an oil-free option and a good amount of plant-based iron!
Are Classic Potato Salads Vegan?
The classic potato salad recipes are not vegan-friendly since they often contain egg mayonnaise and boiled egg white.
So let me show you how you can easily turn this favorite household dish into a delicious vegan recipe.
Why You'll Love This Salad
This Vegan Potato Salad Without Mayo is a delicious summer side dish to serve with corn on a cob or with a smoked cauliflower.
It's also:
Gluten-Free
Grain-Free
Paleo
Dairy-Free
Egg-Free
Vegan
Low-Carb
Oil-Free Option
How To Make Vegan Potato Salad Without Mayo
There are two ways of making vegan potato salads.
First, you can use homemade vegan mayonnaise – called veganaise – which is not my favorite option since it brings a lot of oil into your salad.
Next, you can use dairy-free yogurt combined with lemon juice and vinegar. It is a light and tasty option, but the flavor of dairy-free vegan yogurt is empowering in salads.
Finally, you can make a creamy cashew vegan potato salad dressing!
Let me guide you step-by-step into this healthy version of my vegan potato salad, no mayo is needed!
Step 1: Boiling The Potatoes
Read my next paragraph on how to choose the best potato variety for potato salad. In order to boil potatoes to perfection, always place the potatoes skin-on in a saucepan filled with cold water.
Then, cover and bring water to a boil.
Finally, simmer and cook until the potatoes are fork-tender. Always drain potatoes over the sink in a sieve and let them steam out for 10 minutes.
Step 2: Making The Vegan Salad Dressing
This easy vegan potato salad recipe uses a creamy cashew sauce as a dressing.
First, you need to soak the cashews to soften the nuts. You can soften cashews quickly by covering them with boiling water for 30 minutes.
Otherwise, you can soak them in cold water overnight.
Then, add all the sauce ingredients into a blender and blend until creamy and smooth.
Finally, adjust the texture of the sauce by adding more water if needed to thin the sauce.
Step 3: Assembling The Salad
Peel the potatoes in rough cube shapes and place them in a large salad bowl along with the chopped celery, red onion, and dill pickles.
Pour the sauce onto the bowl, combine and serve as a warm potato salad or refrigerate for a few hours and serve cold.
Frequently Asked Questions
What Kind Of Potatoes Should I Use In A Potato Salad?
What makes all the difference in a potato salad is the texture of the potatoes. Therefore, it is very important to pick the right variety of potatoes for your salad.
You want potatoes that hold their shape when cooked, waxy potatoes that won't turn the salad into a mushy mess when combined with the sauce.
Consequently, the best potato varieties for potato salad are:
Yellow Finn
Yukon Gold – by far my favorite option!
Red potatoes
Should I Keep The Skin On The Potatoes?
As a general rule, we peel the skin off potatoes to make potato salad.
Some cooks love to keep the skin on, which is a nourishing option but not obviously tastier since the skin can form unpleasant lumps in the sauce.
Can I Make Potato Salad The Day Before?
Yes, you can make ahead potato salad and store it in the fridge in an airtight container.
It is totally fine to boil the potatoes the day before and store them in the fridge as well as the sauce.
However, if you want to serve a warm vegan potato salad, store the cooked, chopped potatoes separately from the sauce.
The minute before serving, rewarm the potatoes in the microwave until lukewarm, pour the sauce, and serve immediately.
Best Raw Vegetables For Potato Salads
The most common vegetables added to potato salad are crunchy and not overpowering in flavor. You will often find:
Red onion is the best for potato salads since it is sweet and crunchy. Brown or white onions will empower the salad flavor and add a strong spicy flavor that not everyone will love.
Celery – it is a salty, slightly bitter, and crunchy vegetable that marries well with boiled potatoes and creamy sauce.
Dill pickles – not always present in classic potato salads, but it adds a deliciously sweet, acid flavor to the salad.
Vegan Potato Salad Dressing
Since this is a vegan dill potato salad, it also contains dried dill in the dressing. You can swap dried dill for fresh dill or fresh parsley.
Always double the quantity of fresh herbs.
The salad also uses yellow mustard, a sweet variety of mustard that makes the dressing slightly sweet and not too sour.
There is another option to make the sauce with mustard like American mustard or french Dijon mustard. Since Dijon mustard is spicier and tastes stronger, use only half the amount!
Cashew Salad Dressing Ingredients
The combo of waxy potatoes and cashew dill dressing makes the best vegan potato salad for any occasion. So, to make the vegan dressing, you need:
Soaked Cashew – It's essential to soak the cashew for long enough to make sure they are easier to process.
Yellow Mustard – avoid highly processed mustards or sugar-loaded mustard.
Maple Syrup – or any other liquid sweetener such as coconut nectar or even sugar-free maple syrup.
Garlic Powder
Olive Oil – prefer a locally-sourced extra-virgin olive oil.
Salt – and ground black pepper
Lemon Juice – I prefer using the juice of fresh lemons, but you can use ready-made lemon juice.
Pickle juice or vinegar
Dried dill or fresh dill
Serving Vegan Potato Salad
This vegan dill potato salad is perfect as a side to your vegan summer barbecues.
There are so many delicious vegan foods you can grill in summer, like zucchini, corn, mushrooms, tofu, and tempeh.
In fact, a simple marinade made of olive oil, smoked paprika, garlic, and cumin will turn any of these delicious vegan foods into a tasty vegetable skewer that marries well with your potato salad.
Of course, you can also serve this potato salad as a main dish since the cashews and potatoes are already very nourishing.
More Vegan Salad Recipes
If you love vegan salads, you may also want to try this one:
More Vegan Potato Recipes
Have you made this easy vegan potato salad? Share a picture with me and comment below, or join me on Instagram!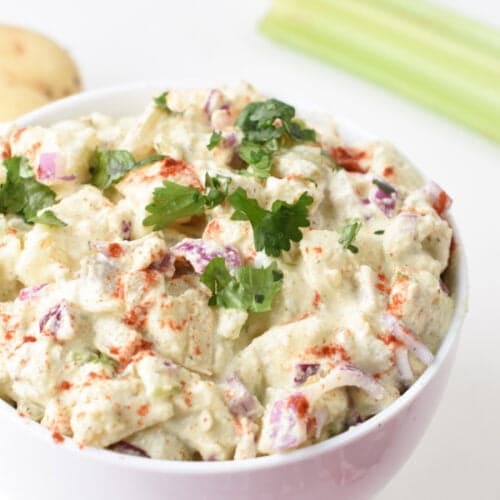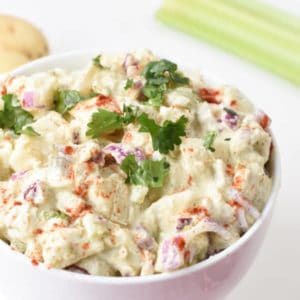 Vegan Potato Salad
A creamy vegan potato salad with creamy cashew cream perfect as a side to vegan summer BBQ.
Pin
Print
Review
Ingredients
Cashew creamy sauce
1

cup

Cashews -

soaked in boiling water for 30 minutes or cold water overnight

½

cup + 2 tablespoons

Water

2

tablespoons

Lemon Juice

2

teaspoons

Pickle Juice

-

or vinegar

1

tablespoon

Oil

-

Avocado or light olive oil

2

teaspoons

Maple Syrup -

or agave syrup

1

tablespoon

Yellow Mustard -

or 1/2 tablespoon French Dijon Mustard

½

teaspoon

Salt

½

teaspoon

Garlic Powder

1

teaspoon

Dried Dill
Instructions
In a medium bowl, add cashews, cover with boiling water, cover the bowl with a plate, and set aside 30 minutes. Otherwise, cover with cold water and soak overnight.
Cook the potatoes
Place the unpeeled potatoes in a large saucepan and cover with cold water. Cover the pan and bring the water to a boil.

Reduce to medium heat and cook for about 10-15 minutes or until a knife inserted in the center of the potatoes easily goes in and out. If you used potatoes of different sizes, the smallest ones would cook faster. Remove these first with a slotted spoon, set them aside in a bowl, and keep cooking the biggest one until they pass the knife test.

Drain the water from the saucepan, pouring the potatoes into a sieve over the sink.

Cool potatoes for 5 to 10 minutes in the sieve to give time for the steam to evaporate. Meanwhile, prepare the sauce.
Cashew sauce
Drain the cashews and place them in a high-speed blender.

Add in all the sauce ingredients in this order: water, lemon juice, vinegar, oil, maple syrup, mustard, salt, garlic powder, and dill.

Blend at high speed until it forms a creamy sauce. You may have to stop the blender, scrape down the sides and repeat until all the ingredients come together into a creamy sauce. If too thick, adjust by adding more water, 1 tablespoon at a time, blending between each addition.
Assemble the potato salad
Peel the potatoes if you like and roughly chop the lukewarm potatoes into 1 cm chunks.

Place the potato chunks in a large salad bowl.

Add in the finely chopped vegetables: celery, dill pickles, and red onion.

Pour the cashew sauce onto the salad bowl and toss the vegetables together.

Refrigerate for a few hours before serving to enhance flavors or serve lukewarm.
Storage
Store in an airtight container in the fridge for up to 4 days, or cover the salad bowl with a silicone lid to seal.
Share on Facebook
Pin Recipe
Nutrition
Serving:
1
serving
|
Calories:
226
kcal
|
Carbohydrates:
26
g
|
Protein:
6
g
|
Fat:
12
g
|
Saturated Fat:
2
g
|
Sodium:
657
mg
|
Potassium:
575
mg
|
Fiber:
3
g
|
Sugar:
5
g
|
Vitamin A:
130
IU
|
Vitamin C:
20
mg
|
Calcium:
49
mg
|
Iron:
2
mg