This Quinoa Chickpea Salad is a delicious high-protein meal or side full of plant-based proteins from quinoa, chickpeas, and refreshing summer vegetables.
Plus, it's also a 30 minutes lunch 100% gluten-free and vegan.
We love quinoa recipes. You might have tried my quinoa spinach salad, a delicious side dish to any grilled tofu or plant-based meat, or my Quinoa Tortillas.
What's A Quinoa Chickpea Salad?
This high-protein quinoa salad recipe is made with two amazing vegan protein sources: quinoa and chickpeas.
Quinoa is a complete plant-based protein full of fiber that keeps you full and satisfied for hours.
Combined with chickpea, another high-protein plant-based ingredient, it creates the most potent protein salad that is 100% vegan.
This salad also includes many Mediterranean flavors, from olives, lemon, olive oil, tomatoes, cucumber, and mint.
It will remind you of Greek flavors typical of the Mediterranean diet.
Let me share the secret to making this perfect chickpea quinoa salad in less than 30 minutes for a delicious family dinner.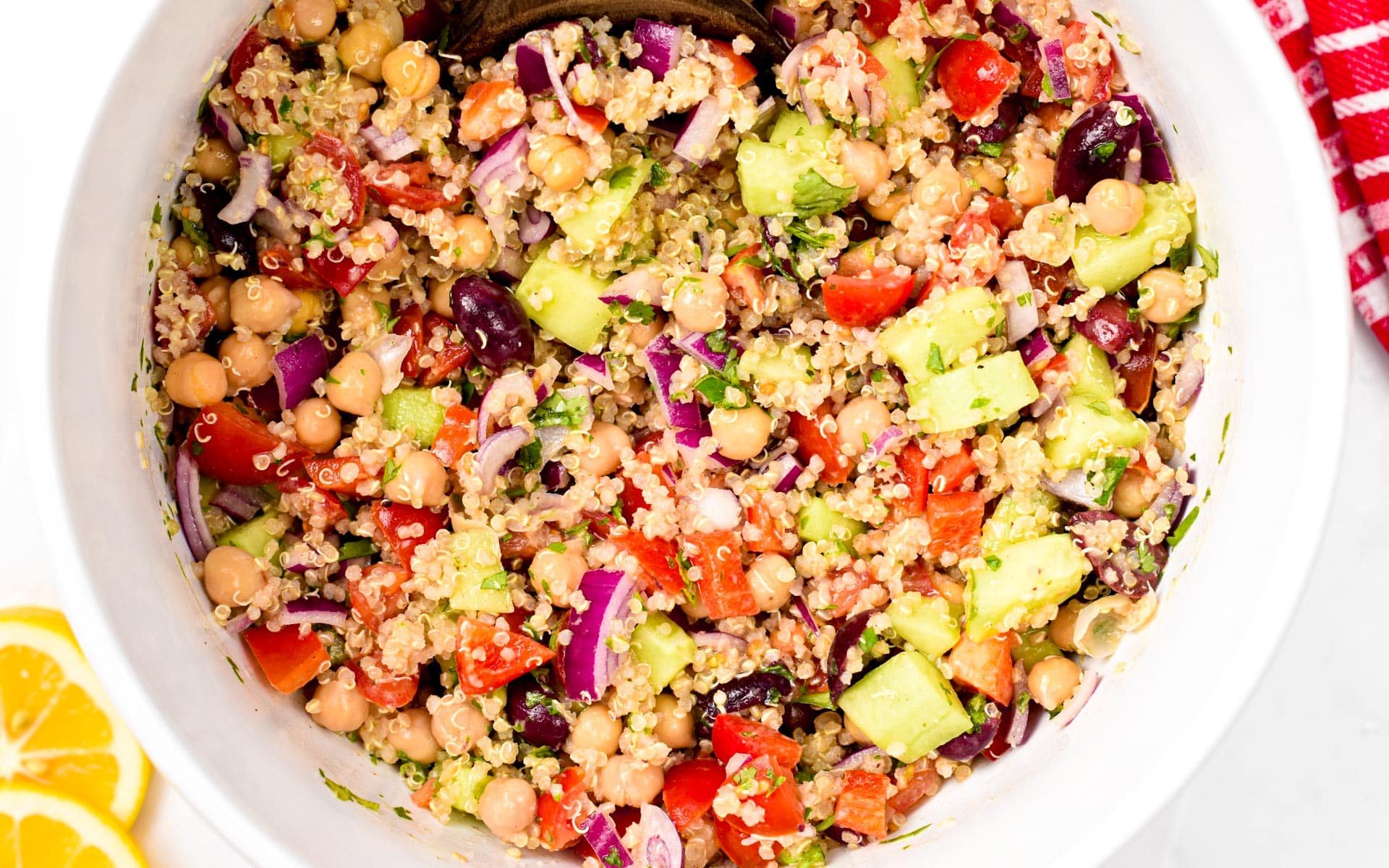 How To Make Quinoa Chickpea Salad
It's so easy to make this Quinoa Chickpea Salad. It takes less than 30 minutes to prepare and is so refreshing and fulfilling.
Quinoa Salad Ingredients
All you need to make this quinoa salad are:
Cooked Quinoa – You can use leftover cooked quinoa or cook the quinoa and cool it down before using it in the recipe. Follow my instructions on how to cook quinoa in a rice cooker for a quick, easy way to make fluffy quinoa.
Canned Chickpeas – Also known as garbanzo beans. Drain and rinse them before use. It doesn't need to be cooked, as canned chickpeas are always pre-cooked.
Cherry Tomatoes – Finely diced.
Cucumber – Peeled or unpeeled, that's up to you. Some people don't digest the cucumber skin very well, so you may want to peel it off. Cut them into cubes.
Red Bell Pepper or any color yellow bell pepper is sweeter and goes well in this quinoa salad.
Red Onion
Kalamata Olives – pitted and halved.
Mint – Or fresh parsley. Pick your favorite herb.
Tahini Lemon Dressing
For the quinoa salad lemon dressing, you need the following:
Olive Oil – I choose locally-sourced extra-virgin olive oil.
Lemon Juice – Either from fresh lemons or store-bought lemon juice.
Maple Syrup – Or any liquid sweetener of your choice, like brown rice syrup or coconut nectar.
Tahini – Hulled tahini is less bitter. Feel free to use almond butter or peanut butter as a swap if you don't have tahini or simply skip the ingredient.
Cinnamon – This is optional, but I love the combination of cinnamon in the dressing and mint in the salad.
Salt and Black Pepper
Garlic Powder
Cooking The Quinoa
I recommend using leftover quinoa for a quick salad.
Since your quinoa is already cold from the days before, you can assemble the salad in less than 20 minutes.
But, if you don't have leftovers, cook the quinoa following the packaging instructions.
One cup of uncooked quinoa makes 2 cups of cooked quinoa.
I like using my rice cooker for cooking the quinoa, but feel free to use any method and any quinoa color.
I found it easier to use a rice cooker as you don't have to reduce the heat or remove the lid.
Cook, drain, and cool the quinoa in the fridge for a few hours before making the quinoa chickpea salad.
Preparing The Vegetables
While the quinoa cooks, wash, dry, and finely chop the veggies. Place them in a bowl and set it aside.
Open the can of chickpeas, rinse, and drain them before using. You can keep the aquafaba to make some delicious dessert recipes later.
Preparing The Dressing
In a small bowl, whisk all the dressing ingredients together until well combined.
Assembling The Salad
In a large bowl, add the cooled cooked quinoa and then top it up with the vegetables and chopped herbs.
Drizzle the salad dressing all over the salad and toss it to coat all the ingredients evenly with the lemon olive oil dressing.
Adjust with salt and pepper as required.
Serving Chickpea Quinoa Salad
Serve the salad as a barbecue side dish, perfect picnic lunch, or high-protein meal.
One serving contains 9 grams of protein, so it's a very fulfilling salad on its own.
You can also serve the salad with extra toppings like:
Chili Flakes – for a boost of spiciness
Tofu – like my Tofu Scramble or my Tofu Marinade.
Edamame
Sliced Avocado – Don't add it to the salad before serving.
Vegan Feta Cheese
Drizzle of Cucumber Dip
Toasted Kale
Nuts like pecans, walnuts, or sliced almonds for a bit of crunch
Fresh Herbs like dill or parsley
Allergy Swaps
Below are some options to make this recipe allergy-friendly:
Gluten-Free – This recipe is naturally gluten-free. Quinoa is a gluten-free grain, and all the other ingredients are also sans gluten.
Onion-Free – You can remove the red onion and swap them for another bell pepper color, like yellow pepper, thinly diced.
Tahini-Free – Tahini is made from sesame seeds and adds a lovely flavor and creamy texture to the dressing. You can replace the tahini with almond butter or skip it from the recipe.
Frequently Asked Questions
Find below the answers to your most common questions about this quinoa chickpea salad recipe.
Can I Use Red Or Black Quinoa?
Yes, you can use any quinoa color.
Red quinoa and black quinoa take slightly longer to cook, so make sure you follow the cooking time provided on your packaging to make fluffy soft quinoa for your salad.
Can I Freeze Quinoa Salad?
Not really. Frozen cucumber gets gummy after freezing, and the taste of the salad won't be good.
You can freeze your dressing in an ice cube tray and thaw it at room temperature the day before using it.
How Long Does Quinoa Salad Last In The Fridge?
This salad must be refrigerated in a sealed container. It can be stored for up to 3 days if the dressing has not been added to the salad or for two days if it is seasoned.
How Can I Add More Protein To My Salad?
There are many ways of adding proteins to this salad.
You can add some high-protein toasted seeds like hemp seeds, sunflower seeds, edamame beans, or some tofu crumbles.
You can also boost the protein of your dressing by adding 1/3 cup of your favorite dairy-free yogurt like soy yogurt, which is high in protein.
More Quinoa Recipes
I love cooking with quinoa, and below are some more quinoa recipe ideas for you:
Have you tried this quinoa chickpea salad recipe? Share a comment or review below to connect with me!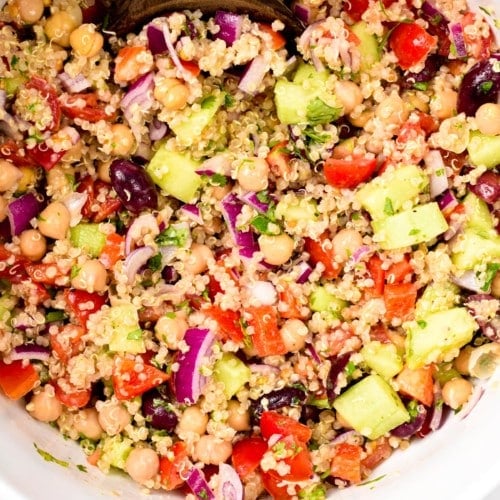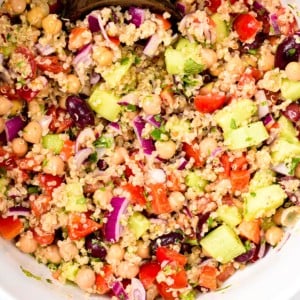 Quinoa Chickpea Salad
This Quinoa Chickpea Salad is a delicious high-protein meal or side full of plant-based proteins from quinoa, chickpeas, and refreshing summer vegetables. Plus, it's also a gluten-free vegan salad.
Pin
Print
Review
Servings: 6 servings
Calories: 289.4 kcal
Instructions
In a medium saucepan, cook the quinoa following the packaging instruction, or use my tutorial on how to cook quinoa in a rice cooker for fluffy quinoa. This step can be made a few days ahead and the cooked quinoa stored in the fridge in a sealed container.

Cool the cooked quinoa down before using the recipe.

In a large salad bowl, add the cooled cooked quinoa, drained canned chickpeas, and chopped vegetables and herbs: tomatoes, red bell pepper, cucumber, olives, red onion, and cilantro. Set aside.

In another bowl, stir all the dressing ingredients together.

Pour dressing on the salad bowl and stir to coat all the ingredients.

Serve immediately with extra chopped herbs on top.
Storage
Store in the fridge in a sealed container for up to 3 days.
Share on Facebook
Pin Recipe
Nutrition
Serving: 1serving | Calories: 289.4kcal | Carbohydrates: 36.4g | Protein: 9.2g | Fat: 12.9g | Saturated Fat: 1.7g | Polyunsaturated Fat: 3.1g | Monounsaturated Fat: 7.3g | Sodium: 528.7mg | Potassium: 483mg | Fiber: 7g | Sugar: 4.5g | Vitamin A: 835.8IU | Vitamin C: 37mg | Calcium: 66.3mg | Iron: 2.8mg | Magnesium: 92.5mg | Phosphorus: 238.1mg | Zinc: 1.7mg