This Quinoa Breakfast Bake is a delicious one-pan gluten-free breakfast casserole packed with vegan proteins from quinoa and a delicious sweet flavor.
If you are gluten-free or bored of vegan baked oatmeal recipes, try this quinoa bake instead.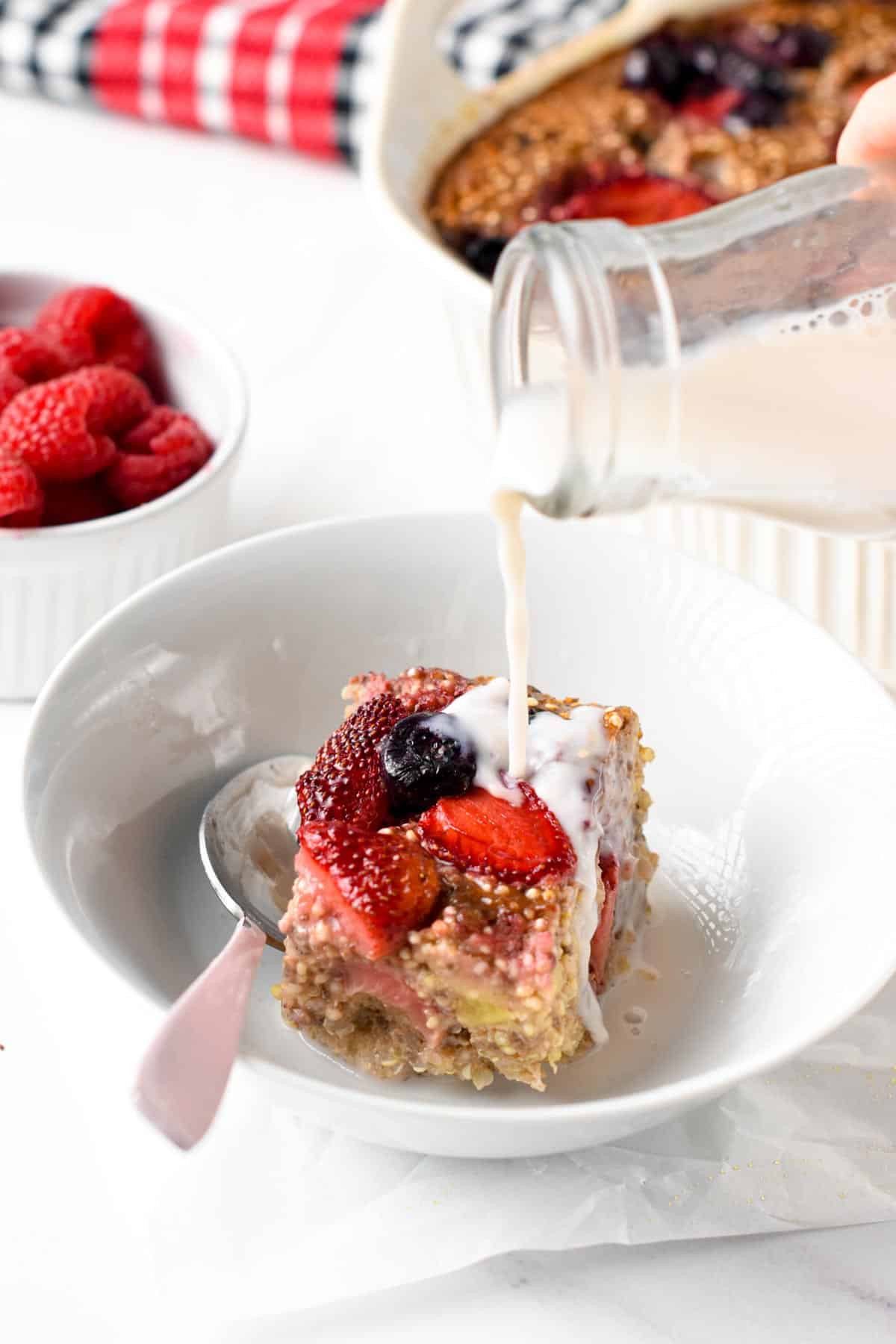 What's Quinoa Breakfast Bake?
A breakfast quinoa bake is a sweet one-pan breakfast made of quinoa, banana, and berries.
Like vegan baked oatmeal, it's packed with protein and slow-release carbs but it's 100% gluten-free.
How To Make Quinoa Breakfast Bake
To make this 1-pan quinoa bake you need:
Ingredients
Uncooked Quinoa – you can use any quinoa variety including white quinoa or red quinoa or a combination of both.
Bananas – ripe bananas add a delicious sweet flavor but yellow bananas work.
Peanut Butter – Use natural peanut butter for added proteins or any vegan yogurt you like. You can also decrease saturated fat by using almond butter or sun butter as a nut-free option.
Chia Seeds
Maple Syrup – I prefer classic maple syrup but any other liquid sweetener such as coconut nectar or brown rice syrup. It's optional if you don't want to add sugar to the baked quinoa oatmeal.
Cinnamon
Salt – optional if peanut butter is salted.
Vanilla Extract
Berries – frozen berries or fresh berries like strawberries, raspberries, blueberries, or boysenberries
Warm Almond Milk – or oat milk for a nut-free option.
Quinoa Preparation
Before you start, rinse quinoa under cold water in a sieve – you don't need to cook the quinoa!
This first step removes any impurities or dust present on the grains.
You can also soak quinoa for 15 minutes up to 2 hours to decrease the bitter flavor of the grains. I didn't soak quinoa for this recipe.
In a large 9-inch x 11-inch baking dish, add the peeled, ripe bananas, and mash them with a fork or potato masher.
Fold in the chia seed, vanilla extract, cinnamon, salt, and peanut butter.
Meanwhile, pop the milk in a microwave-safe bowl and warm it for 2 minutes, or simmer it in a non-stick saucepan over medium heat.
Top the dish with the rinsed quinoa and warm almond milk. Stir in half the berries and stir well to bring all ingredients together.
Top pan with remaining berries, chocolate chips, or extra sliced bananas.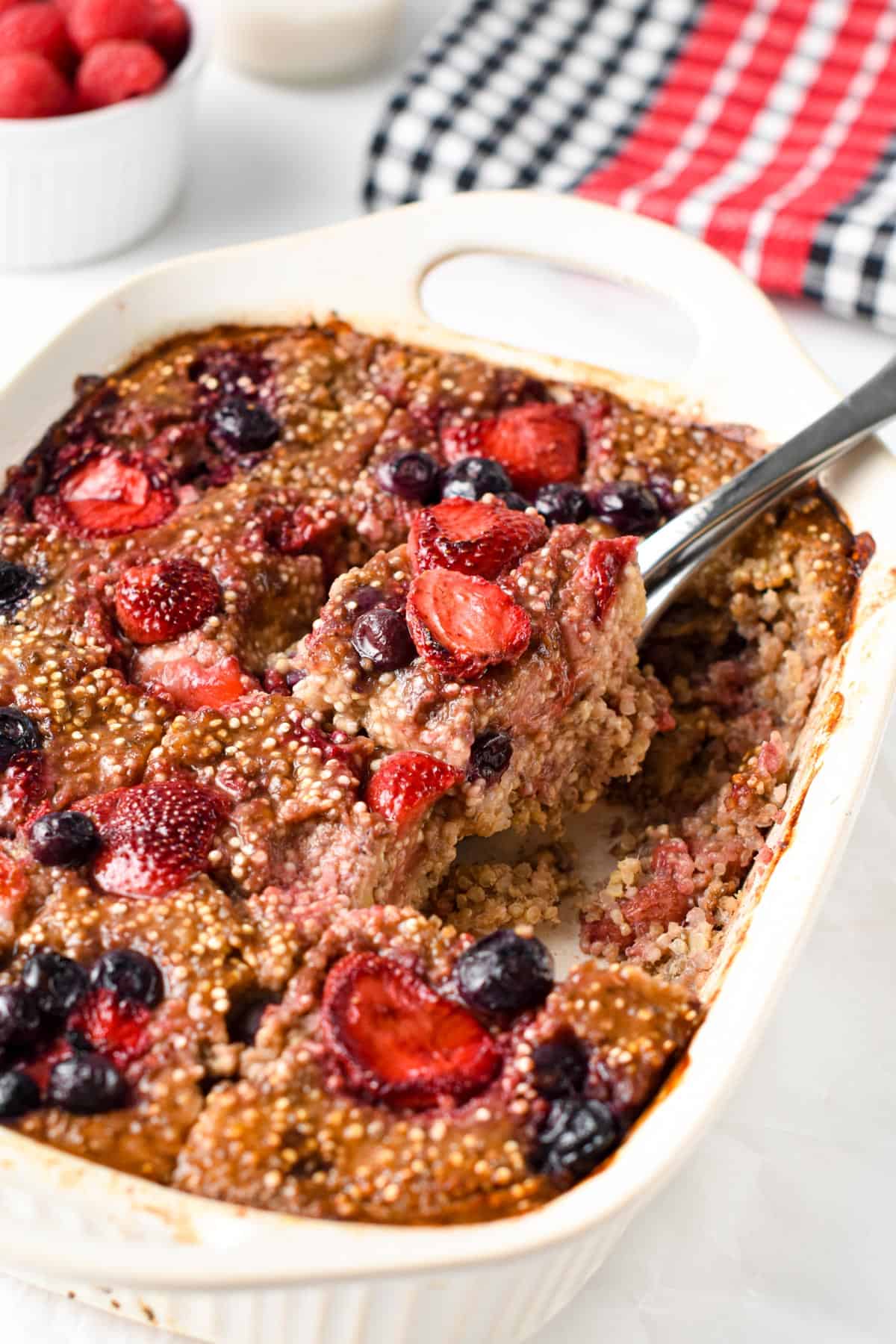 Baking
It's preferable to foil the pan to avoid the baked quinoa to dry out too fast.
Bake the Quinoa Bake at 375°F (190°F) for 45 to 55 minutes or until the quinoa is soft and cooked through.
The baked quinoa oatmeal should look moist, not dry.
Cool down at room temperature for 1 hour.
Add-Ons
You can tweak this recipe to create a range of breakfast flavors by adding some different fruits. For example, swap the berries for:
Diced Mango – and use coconut milk for a tropical breakfast.
Chopped Apples – and boost cinnamon to turn this into an apple cinnamon quinoa bake with fall flavors.
You can also add some of the below ingredients to boost:
Sweetness – stir in 1/3 cup of dark chocolate chips and sprinkle a few more on top of the dish before baking.
Protein – stir in 2 to 3 tablespoons of your favorite plant-based vanilla protein powder or powdered peanut butter.
Texture – stir in 1/3 cup of shredded coconut or chopped almonds or pumpkin seed for a little crunch.
Serving
Slice the recipe into squares and serve in a porridge bowl topped with some of the following topping ideas:
Drizzle of Maple Syrup
Extra Berries
Almond Milk
Chopped Nuts like peanut or almonds
Shredded Coconut
Chocolate Chips
Peanut Butter
Quinoa Bake Taste
This recipe tastes like baked quinoa oatmeal minus the oats, of course, but it has a similar moist texture with fruity flavors that I love in baked oatmeal recipes.
The quinoa is very fulfilling and adds a delicious nutty flavor to the dish.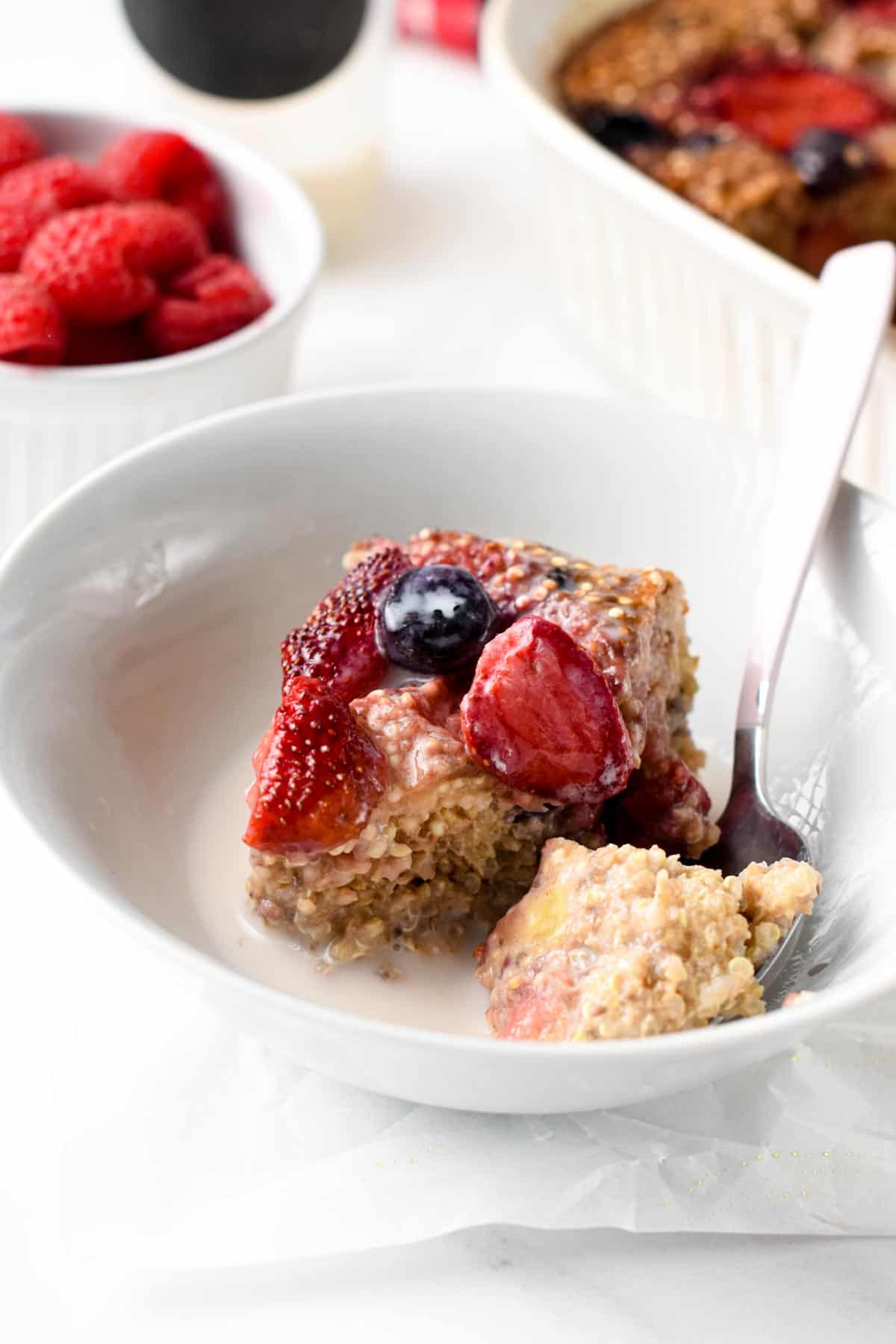 Allergy Swaps
Below I listed some ideas to make this recipe if you have some of the allergies below.
Feel free to adapt this berry quinoa breakfast bake based on your food allergies.
Nut-Free – Swap the peanut butter for vegan yogurt or sun butter. Also, replace the almond milk with coconut milk or oat milk.
Sugar-Free – You can skip the added sweetener and use unsweetened apple sauce instead of banana for lower sugar content. Two mashed bananas are equivalent to about 1/2 cup of unsweetened apple sauce.
Storage
You can store this vegan breakfast casserole for up to 4 days in the fridge, in an airtight container for meal prep days of healthy breakfast.
Another option is to freeze each serving and thaw it in the fridge the day before.
Frequently Asked Questions
Why Adding Quinoa To A Vegan Diet?
In a vegan lifestyle, you need to get your proteins from plants, but not all proteins contain the whole range of essential amino acids.
Only a few grains like quinoa have a complete amino acid profile.
That's why it's a great idea to add quinoa to your vegan meal plan.
Quinoa is a complete plant-based protein that brings you all the necessary amino acids on a vegan diet, and you can use it in many recipes like these quinoa brownies, Quinoa Tortillas, or my spinach quinoa salad.
Can I Make Quinoa Less Bitter?
You can wash the quinoa under cold water and soak it in cold water for 2 hours or overnight. Rinse the next day before using.
Another option to remove the bitter flavor from the quinoa is to toast or roast the quinoa in the oven at 325°F (160°C) or toast it in a large non-stick saucepan.
Is Quinoa Gluten-Free?
Yes, quinoa is a naturally gluten-free grain full of plant-based proteins and a perfect protein, fiber booster for vegan breakfasts.
Can I Add Rolled Oat To Make Gluten-Free Baked Oatmeal?
Yes, but if you are celiac or gluten intolerant, make sure to pick gluten-free certified rolled oats. Not all oats brands are certified gluten-free.
Then, stir in 1/2 cup in the recipe and decrease quinoa to 3/4 cup.
Is Quinoa Bake Healthy
This quinoa bake serves 6 fulfilling breakfast bowls and contains 226 kcal for 7.7 grams of protein and a whopping 5.6 grams of fiber and 24 grams of net carbs.
It's a very fulfilling vegan gluten-free breakfast perfect if you are looking for a simple healthy breakfast to meal prep for the week.
More Vegan Gluten-Free Breakfast Recipes
Below I listed some more vegan gluten-free recipes for you to try:
Have you made this quinoa bake recipe? Share a comment or review below.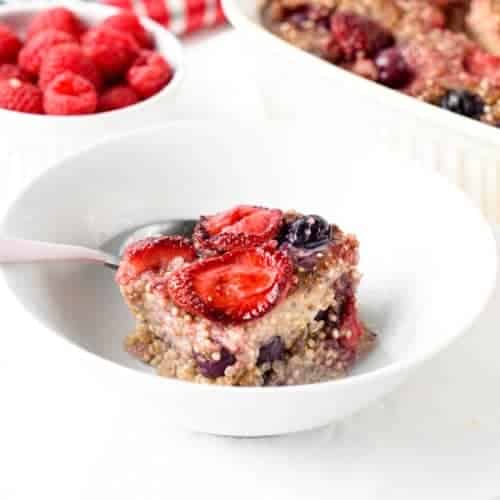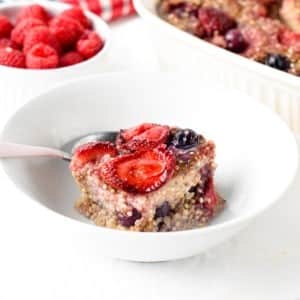 Quinoa Breakfast Bake
This Quinoa Breakfast Bake is a delicious one-pan gluten-free breakfast casserole packed with vegan proteins from quinoa and a delicious sweet flavor.
Pin
Print
Review
Servings: 6 servings
Calories: 226.6 kcal
Instructions
Preheat the oven to 375°F (200°C). Slightly oil a 9-inch x 11-inch baking pan.

Peel the bananas, place them in the baking pan and mash them roughly until they are smooth and a puree-like texture forms.

Add chia seeds, peanut butter, cinnamon, quinoa, and half the amount of frozen berries.

Microwave almond milk for 2 minutes until hot or warm over medium heat in a non-stick saucepan until a light simmer forms.

Pour the hot milk gently all over the pan and stir well to evenly combine all the ingredients into the baking pan.

Sprinkle the remaining frozen berries on top of the pan. Cover pan with foil – optional but this decreases baking time and prevents the recipe from drying out too fast.

Bake for 45-55 minutes or until quinoa is baked. You can bake it longer if you prefer a dryer texture. It's up to you. It should be golden brown on top, slightly moist but not jiggly in the center.

Cool down in the pan for 1 hour then serve lukewarm with a drizzle of maple syrup, a dust of cinnamon, or almond milk/yogurt for extra moisture.
Storage
Store the remaining baked quinoa in the fridge for up to 3-4 days, in its baking pan, wrapped with plastic wrap to prevent the from drying. You can also freeze this in an airtight container and thaw it in the fridge the day before.

Rewarm one serve in the microwave, in a microwave-safe breakfast bowl, until lukewarm.
Share on Facebook
Pin Recipe
Nutrition
Serving: 1serving | Calories: 226.6kcal | Carbohydrates: 29.1g | Protein: 7.7g | Fat: 9.8g | Saturated Fat: 1.4g | Polyunsaturated Fat: 3.8g | Monounsaturated Fat: 3.8g | Trans Fat: 0.01g | Sodium: 157mg | Potassium: 266.2mg | Fiber: 5.6g | Sugar: 5.6g | Vitamin A: 30.6IU | Vitamin C: 1.4mg | Calcium: 149.6mg | Iron: 1.9mg | Magnesium: 90.2mg | Phosphorus: 206.2mg | Zinc: 1.4mg