Chickpea Omelette (Vegan, Gluten-Free)
This Chickpea Flour Omelette is an egg-free vegan omelette recipe perfect for a protein vegan breakfast.
The texture is soft and chewy with a lovely egg flavor from the black salt and yellow color from chickpea flour and turmeric.
It's an easy and healthy 10-minute vegan savory breakfast to start the day!
This vegan omelette recipe is entirely made of chickpea flour, water, and spices. If you are new to chickpea flour in cooking, let me tell you more about it.
What's Chickpea Flour?
Chickpea flour is also known as garbanzo bean flour. It's a fine, yellowish gluten-free flour made of ground white chickpea.
It's not the same as besan flour or gram flour made of ground chana dal or split brown chickpeas.
Chickpea and Besan flours have very similar flavors, and some people find a bitter aftertaste to chickpea flour that is easily overcome with flavoring or toppings in the recipe.
Both flour varieties have different textures, so don't swap chickpea flour with besan flour in a recipe. In fact, besan chickpea flour is much finer and often needs less water than chickpea flour in recipes.
Overall, both flour varieties are quality vegan protein sources to bake or cook with.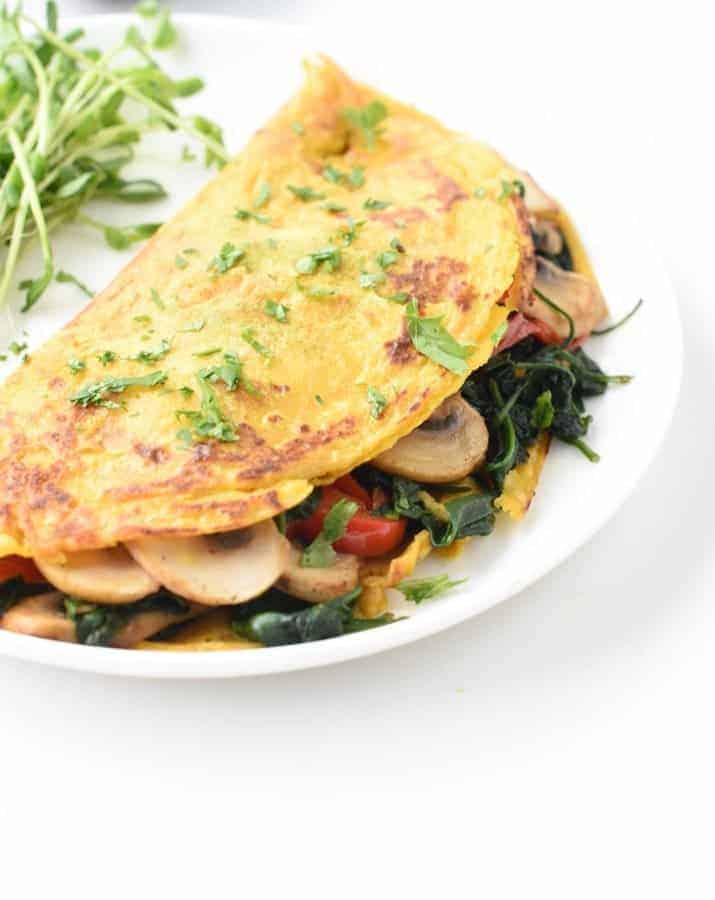 How To Make Chickpea Omelette
This vegan omelette gets its texture and color from gluten-free chickpea flour.
It's a healthy flour often used on a vegan, gluten-free diet to make tofu scramble, pancakes, crepes, or wraps. All you need to make this vegan chickpea flour omelette are:
Chickpea Flour or garbanzo bean flour – don't use besan flour, or you may have to adjust the liquid in the recipe. You can't use wheat flour or any other flour in this recipe. It won't work!
Black Salt – Himalayan black salt known as Kala Namak is an Indian volcanic rock salt that contains traces of elements like sulfates, sulfides, iron, and magnesium, all at the origin of the eggy flavor and smell of black salt. That's why black salt is trendy in vegan recipes that mimic eggs like this vegan omelette.
Water
Turmeric – boosts the yellow color of the omelet.
Nutritional Yeast – a perfectly vegan-friendly ingredient.
Garlic Powder
Olive Oil or avocado oil are both healthy oils to cook your omelette.
Preparing THe Batter
First, add all the ingredients, except the filling, to a medium mixing bowl and whisk until few to no more lumps are visible.
Sometimes, chickpea flour forms lumps that are difficult to remove with a whisk.
If so, you can blend the liquid in a small food processor or blender, but I don't think small lumps are a problem for this omelet recipe.
So don't sweat it too much. Whisk it until smooth!
Cooking The Vegan Omelette
Next, rest the vegan omelette batter at room temperature while you prepare the omelette fillings.
I stir fry mushroom slices, spinach, and red pepper in this vegan omelet recipe for 2 minutes in olive oil. Set aside.
Finally, in the same non-stick pan, add more olive oil and warm under medium heat.
Pour the chickpea batter into the pan and cook for 2-3 minutes or until the sides and center are dry.
Assembling The Vegan Omelette
Spread the cooked omelette filling on half of the omelette, add dairy-free grated vegan cheese too if you like, then fold the omelette to melt.
Serve immediately with an avocado toast or half-baked sweet potato on the side for a fulfilling vegan savory breakfast.
Vegan Omelette Sides
There are so many delicious vegan omelette fillings you can use in this recipe. Let me share with you our favorite:
Vegan protein add-ons – add fried mushrooms, roasted asparagus, sweet peas, kale, oven-roasted cauliflower florets, and baby spinach.
Vegetables – fried onions, red pepper, steamed potatoes, steamed sweet potatoes, corn kernels, broccoli.
Top up – add some sprouted beans, avocado slices, chopped parsley, or cilantro.
More Vegan Chickpea Flour Recipes
If you want to try more recipes using chickpea flour or garbanzo flour, have a look at my other recipes below:
More Vegan Savory Protein Breakfast Recipes
Made this vegan chickpea omelette with vegan filling? Share a picture of your breakfast with me on Instagram, or leave me a comment or review below. I love to connect with you.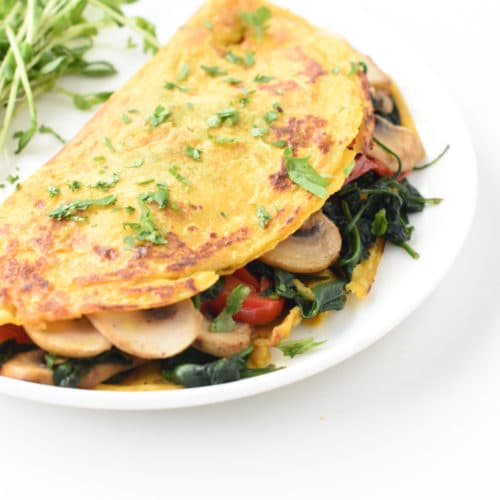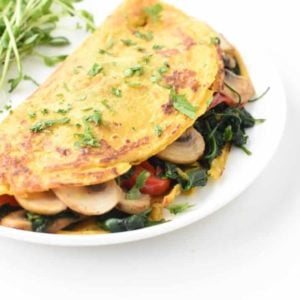 Vegan Chickpea Omelette
This Chickpea Omelette is a delicious savory vegan omelette, perfect for a breakfast rich in protein and vitamins.
Pin
Print
Review
Ingredients
Optional
2

tablespoons

Vegan Cheese
Instructions
Omelette batter
In a small mixing bowl, whisk the chickpea flour, turmeric, nutritional yeast, baking powder, black salt (or salt).

Whisk in the water until smooth, and no to few lumps appears. Set aside while you cook the vegetables.
Sautéed vegetables
In a non-stick frying pan, heat oil over medium heat and sautee the mushrooms slices, spinach, and red bell pepper, until fully roasted. It takes about 2 minutes.

Season the vegetable with salt, pepper, and garlic powder.

Remove the vegetables from the pan and set them aside on a plate.
Cook the vegan omelette
In the same non-stick pan, heat the remaining 1/2 tablespoon of olive oil over medium heat, brushing it all over the pan to prevent the omelette from sticking.

Pour the chickpea omelette batter in the pan, tilting the pan into circular motion to spread it as you will do for crepes.

Cook for 3-4 minutes, the omelette is cooked when the sides are dry and it's not wet in the center.

Cover half of the omelette with the sautéed vegetables, add vegan cheese if desired, loosen up the omelette sides with a spatula and fold in half over the filling.
Share on Facebook
Pin Recipe
Nutrition
Serving:
1
omelette
|
Calories:
183
kcal
|
Carbohydrates:
26
g
|
Protein:
13
g
|
Fat:
4
g
|
Saturated Fat:
1
g
|
Sodium:
1442
mg
|
Potassium:
719
mg
|
Fiber:
7
g
|
Sugar:
6
g
|
Vitamin A:
3901
IU
|
Vitamin C:
59
mg
|
Calcium:
100
mg
|
Iron:
3
mg