This Tofu Scramble recipe is an egg-free scramble made out of tofu with such a deliciously cheesy, eggy flavor that nobody will guess it's eggless.
These eggless scrambled eggs are high-protein, so they are a great daily vegan breakfast.
If you were a big fan of eggs in your pre-vegan days, or if you are an egg-loving ovo-vegetarian looking for a more conscious alternative, this recipe is for you!
Like my chickpea omelette, this tofu scramble recipe gives you the taste of eggs without using any.
This recipe is higher in protein, flavors, and texture, so it's hard not to love this dish.
What's A Tofu Scramble?
Tofu scramble is an eggless vegan dish made from firm tofu that mimics scrambled eggs' taste and texture.
Like scrambled eggs, it's high in protein but low in saturated fat and, therefore, better for you.
How To Make Tofu Scramble
It's super quick and easy to make egg tofu scramble, and your kids can help you make this simple high-protein breakfast.
Ingredients
All you need to make scrambled tofu are:
Extra-Firm Tofu – Don't use silken tofu, or the scramble won't hold its shape. Also, you don't need to press the tofu for this recipe. Remove the block from the packaging, discard the liquid, but keep the block unpressed.
Nutritional Yeast – This adds a cheesy flavor and lovely yellow color to the dish.
Black Salt – It's the secret ingredient that adds an eggy flavor to recipes. It has a strong Sulphur flavor that mimics an egg taste in this recipe.
Pepper
Plant-Based Yogurt or plant-based milk
Avocado Oil
Turmeric – For color only, skip if you don't like its bitter flavor.
Garlic Powder – This is optional. Add if you love a garlic flavor to your plate.
Preparation
First, use your fingertips to rub and scramble the block of unpressed firm tofu into small pieces.
Next, place the pieces into a shallow bowl. You can break the block into any piece size.
The trick to mimic scramble eggs is to break irregular pieces that are not too big.
Sprinkle some nutritional yeast, turmeric, black salt, pepper, and plant-based milk. Stir to combine and coat the tofu scramble evenly with the mixture.
Cooking Egg Tofu
In a large non-stick saucepan over medium, heat warm avocado oil, then add the tofu scramble.
Stir occasionally and cook until most of the liquid has evaporated, and the tofu pieces are warm. It takes 5 to 15 minutes, depending on how wet your tofu block is.
Soft And Creamy
The best part in classic scrambled eggs, is the soft, creamy, and custardy texture the eggs form around the pieces of cooked eggs.
To mimic this in a vegan scramble egg recipe, reduce to low heat and stir in plant-based yogurt or plant-based sour cream.
Cook and stir for an extra minute until warm and creamy.
Serve immediately.
Serving Tofu Scramble
You can serve tofu scrambled eggs hot or cold in salads or sandwiches.
Warm
If served warm, you can eat this recipe plain, as a low-carb, high-protein breakfast with some simple and delicious toppings like:
Fresh chopped herbs like parsley or cilantro
Chili flakes or hot sauce
Salt and black pepper
Drizzle of olive oil
Or you can serve the tofu scramble on top of toasted bread with some vegetables on the sides like:
Tomato slices
Avocado
Cucumber
Cooked mushrooms
Cold
Another option is to use this recipe cold to make a tofu egg sandwich.
Fill two slices of wholemeal bread or use my vegan gluten-free bread recipe.
Spread some vegan mayonnaise on both slices of bread, add lettuce, tofu egg scramble, chopped green onions, and cucumber slices and enjoy
Or make an egg tofu salad by stirring this into chopped lettuce and chopped red onion and cherry tomatoes cut into quarters.
Side Dish For Tofu Scramble
To serve a healthy high-protein breakfast, serve this tofu scramble recipe with some slow carbs.
I love air-frying vegetables for side dishes because it's quick and tastes amazing with this crumbly tofu dish.
Find below some air-fryer side dish suggestions:
Allergy Swaps
Below are some substitution suggestions if you are allergic to some of the ingredients in this recipe. Keep in mind that this recipe is naturally gluten-free, low-carb, and nut-free.
Plant-Based Milk – You can use any dairy-free milk you love as long it's unsweetened. I like oat milk and soy milk for more protein, unsweetened almond milk, or coconut milk if you want a coconut flavor in your dish.
Oil-Free – The oil can be skipped in this recipe for a vegan oil-free breakfast.
Turmeric – You can skip the turmeric, it's used for color only.
Nutritional Yeast – This adds a cheesy flavor and yellow color. You can skip it, but the recipe will be pretty bland.
Storage Instructions
This tofu scramble is a wonderful recipe to meal-prep high-protein vegan breakfast recipes for egg lovers.
It's easy to keep this recipe fresh in the fridge for up to 4 days in a sealed container.
You can also freeze the tofu scramble plain or in breakfast burritos and thaw them in the fridge the day before eating.
Rewarm the scrambled tofu in the microwave, in a warm non-stick saucepan, or in the air fryer if it's in a sandwich or flatbread.
Frequently Asked Questions
Find below my answers to the most popular questions about this recipe.
What's Black Salt?
Black salt, also known as kala namak or Himalayan black salt, is a volcanic rock salt coming from the Himalayan regions of India and Pakistan.
It's natural and has a strong Sulphur smell and taste that mimic eggs in eggless recipes.
Can I Use Any Kind Of Tofu?
No, you must use firm to extra-firm tofu for best results.
For example, silken tofu won't work. It's ultra-soft and custardy. It's great to make a tofu mousse or creamy sauce, but it won't hold its shape to make egg-like dishes.
More Tofu Recipes
If you like to make recipes with tofu, you'll love these other options:
Did you try this tofu scramble? Share a comment or review below to connect with me.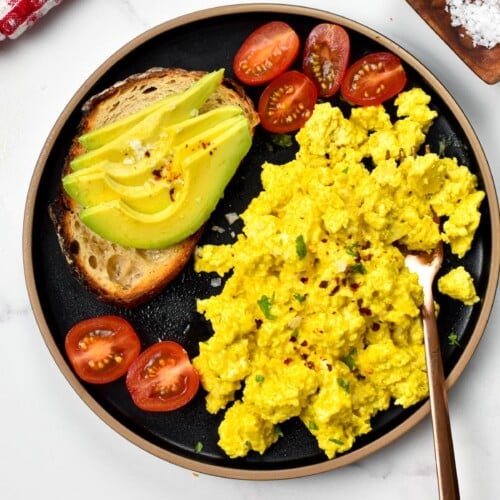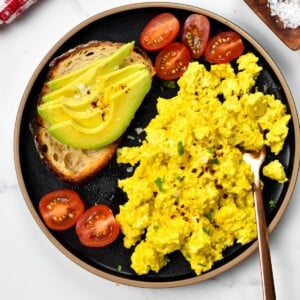 Tofu Scramble
This Tofu Scramble recipe is an egg-free scramble made with tofu with such a delicious, cheesy, eggy flavor that nobody will guess it's eggless.
Pin
Print
Review
Servings: 2 servings
Calories: 115.2 kcal
Instructions
Open the tofu block packaging and discard the water in the pack, but don't press the tofu.

In a shallow bowl, crumble the block of tofu with your fingertips to form irregular shapes – tiny pieces that look like the small egg pieces you have in scrambled eggs.

Add in nutritional yeast, black salt, turmeric, pepper, plant-based milk, and garlic if used.

Stir to combine and evenly cover the pieces of tofu with the mixture.

Over medium heat, warm oil in a large non-stick pan, add the tofu scramble mixture, and cook it while stirring once in a while until almost all the liquid has evaporated and the tofu scramble is warm. It takes 5-15 minutes, depending on how wet the tofu block was.
Extra creamy texture – optional
Reduce to low heat, stir in vegan sour cream or vegan yogurt, and cook for an extra minute until warm.

Taste and add more black salt if your like the egg flavor stronger or more pepper for spicy flavors.

Serve immediately over toasted bread or cool down and use cold in tofu sandwiches.
Storage
Store leftovers in the fridge in an airtight container for up to 3-4 days.
Share on Facebook
Pin Recipe
Nutrition
Serving: 1serving | Calories: 115.2kcal | Carbohydrates: 8.2g | Protein: 4.5g | Fat: 7.6g | Saturated Fat: 1.6g | Polyunsaturated Fat: 2.2g | Monounsaturated Fat: 3.3g | Sodium: 385.8mg | Potassium: 163.3mg | Fiber: 2g | Sugar: 1g | Vitamin A: 0.7IU | Vitamin C: 0.1mg | Calcium: 19.6mg | Iron: 0.6mg | Magnesium: 1.1mg | Phosphorus: 2.9mg | Zinc: 0.03mg