Air Fryer Sweet Potato Cubes
These Air Fryer Sweet Potato Cubes are crispy, slightly sweet, and perfect as a side dish or light dinner.
Plus, these sweet potato cubes in the air fryer require a minimal amount of oil, so they are healthier for you.
Why You'll Love This Recipe
Cutting the sweet potato into cubes is a real game-changer for many reasons.
Faster to air fry
Super crispy
Sweet as they caramelized on the sides
Easy finger foods for kids
How To Make Air Fryer Sweet Potato Cubes
It's super easy to make cubes of sweet potatoes in the air fryer with minimal ingredients.
Ingredients
Plus, you can play with spices to create a range of flavors, so feel free to swap some of the below to use your favorite dried spices.
Red-Skinned Sweet Potatoes – This variety of sweet potatoes is sweet and caramelized in the air fryer compared to purple-skin ones. So while you can absolutely use this air fryer sweet potato recipe for other sweet potato varieties, I tend to prefer the orange flesh sweet potatoes.
Olive Oil or avocado oil.
Paprika or Cayenne Pepper
Salt and Pepper
Garlic Powder
Cumin
Onion Powder
Cutting Sweet Potatoes Into Cubes
This is the most important part of this recipe.
To make the best cubes of sweet potato in the air fryer, I recommend two main things:
Peeling The Skin – While the skin of sweet potatoes contains many nutrients, it doesn't give the best texture to air-fried sweet potato cubes, especially if you have picky eaters. They won't like the skin because it won't crisp as much as in an air fryer potato wedge.
Cutting Into 1/2-Inch Cubes or so but not too small or the flesh of the cubes dry out so much that the cubes end up 'empty' and dry.
Peeling
Peel off the sweet potatoes on a chopping board. Compost the skin.
Rinse the peeled sweet potatoes under cold tap water.
Cutting Lengthwise
Place the sweet potatoes on the side and slice them into 1/2-inch lengthwise slices.
If your sweet potatoes are very long, halve them first, then place the cut side on the chopping board to slice the sweet potatoes.
Cutting Strips
Now, place each slice on the chopping board and slice them into long 1/2-inch sticks.
Making Cubes
Finally, slice all the sweet potato sticks into 1/2-inch cubes.
Coating
Place the air fryer sweet potato chunks in a large bowl.
Drizzle olive oil and spices on top. Use a spoon or your hands to stir and coat each cube with the olive oil mixture.
Air-Frying
Place the cubes in an (almost) single layer on the air fryer basket and air fry at 400°F (200°C) for 15 to 18 minutes, shaking halfway.
Note that even if they overlap in the basket, the sweet potato cubes will cook well as long as you:
Shake the basket every 3 to 4 minutes after 10 minutes of cooking.
Keep air frying until they pass the color test.
Color Test
Stop the air fryer when the sweet potato cubes are golden and brown on the outside.
If you insert a knife or toothpick into the cubes, it should easily go through them with their crispy exterior and tender interior.
Serving
Roasted Sweet Potatoes are the perfect side dish to any meal.
Serve the warm sweet potato cubes with a:
Pinch of salt
Extra ground black pepper for a stronger taste
Fresh chopped herbs like chopped parsley or scallion.
You can serve these sweet potato cubes as a side dish or light dinner or on a salad like in a quinoa spinach salad.
Large batch
If you are air frying a large batch, or your basket can't handle all the cubes at once in a single layer, I recommend:
Preheating the oven to 300°F (150°C).
Placing the air-fried cubes in an oven-safe baking pan.
Keeping them in the oven until the remaining cubes are air fried.
Serving Sauce
Sweet potato cubes are delicious dipped in sauce like: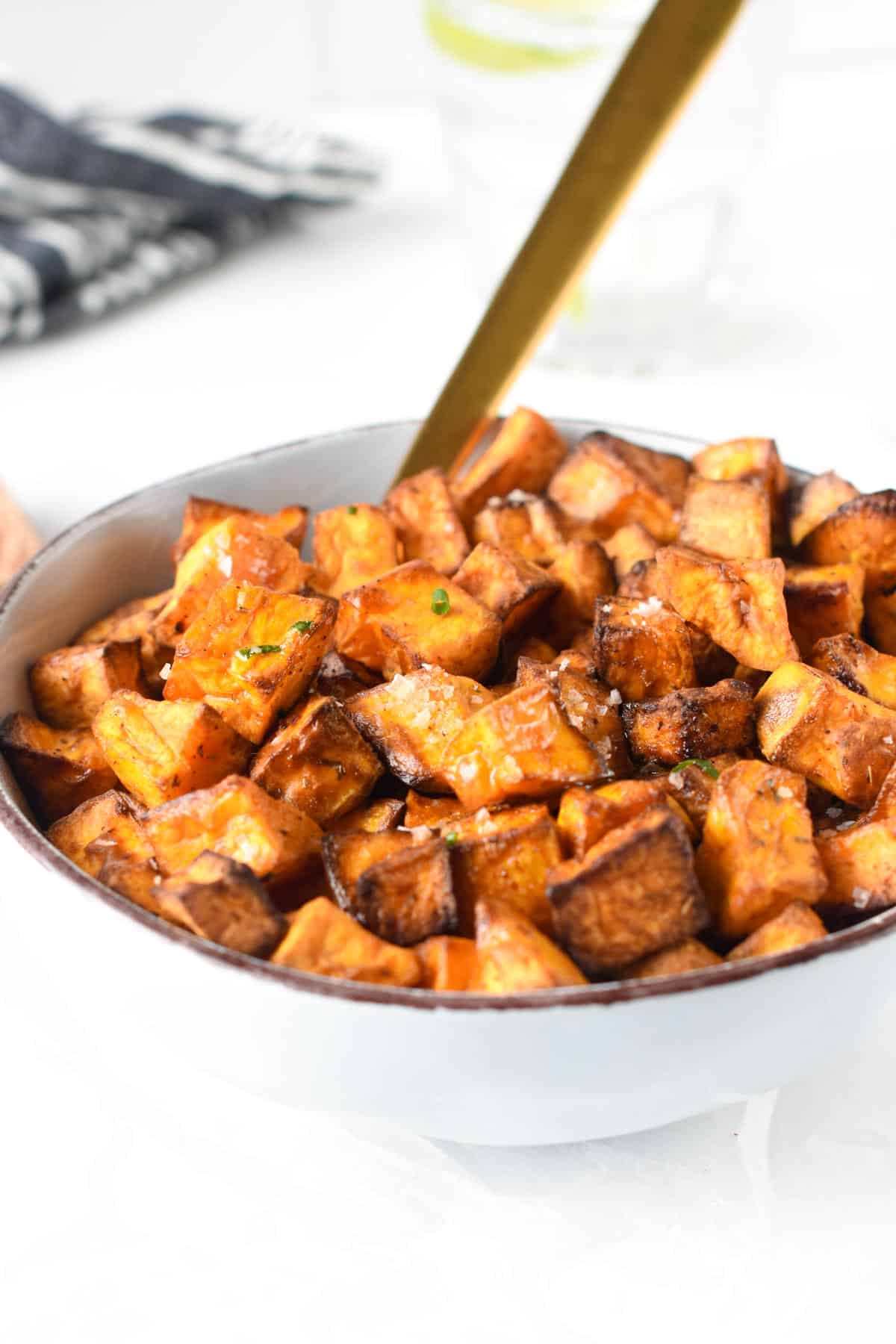 Storage Instructions
Once roasted, these air fryer sweet potato cubes can be stored in the fridge in an airtight container for up to one week.
Rewarm them in the air fryer for a couple of minutes or on a hot frying pan.
You can also freeze leftovers and keep them in the freezer in a sealed box for up to two months.
Frequently Asked Questions
Below are your most frequent questions about this recipe:
Do I Have To Add Spices?
No, you can air fry the cubes with oil only.
All the spices are optional and only here to add a boost of flavor.
Can I Use This Recipe To Make Air Fryer Sweet Potato Fries?
Yes, but cut the sweet potatoes into fries shapes and make sure they don't overlap in the basket, or they won't crisp as much.
Do I Have To Preheat The Air Fryer?
No, I never preheat mine because I prefer to add the vegetable into a cold basket to avoid burning myself.
Preheating air frying doesn't impact the air frying time very much, as an air fryer reaches its set temperature pretty instantly compared to an oven.
Can I Protect The Basket With Parchment Paper?
Yes, you can add parchment paper to the air fryer, but I won't recommend adding any for this recipe, or the sweet potato cubes will not crisp well.
Are The Cubes Very Crispy?
Orange sweet potatoes never crisp as much as potatoes because they contain less starch.
However, if served just after air frying, they do have a pretty decent crisp, higher than roasted sweet potato cubes.
Can I Make Cinnamon Sweet Potato Cubes?
Absolutely! If you don't like savory sweet potatoes, you can make them sweet.
Combine brown sugar and cinnamon in a small mixing bowl, sprinkle it on the sweet potatoes, and toss them for a few seconds.
You can also add a touch of maple syrup for an even sweeter taste.
What Are The Best Sweet Potatoes For Roasting?
Hannah sweet potatoes are the best variety for roasting and air-frying. They have a light color and rich flesh when cooked.
More Air Fryer Recipes
If you love your air fryer, try some of my most popular air fryer recipes:
Did you try air-frying sweet potato cubes? Feel free to leave a comment or review.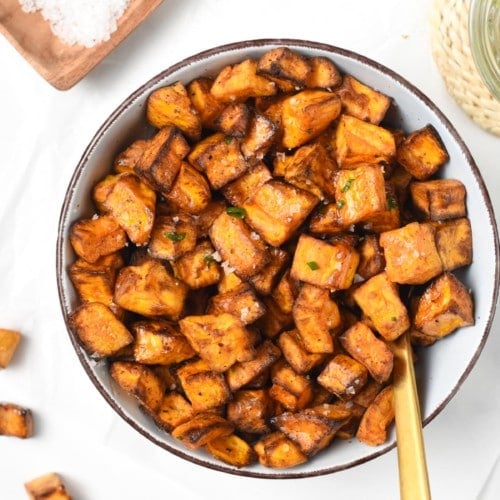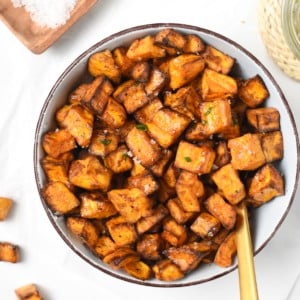 Air Fryer Sweet Potato Cubes
An easy Air Fryer Sweet Potato Cubes recipe with a delicious crispy sweet texture and perfect as a side dish or light dinner.
Pin
Print
Review
Servings: 4 servings
Calories: 268.7 kcal
Instructions
Before you start, scroll up to watch my pictures on how to cut perfect sweet potato cubes.

Peel the sweet potatoes then cut them lengthwise into thick slices. In one medium sweet potato, I get 3 slices.

Cut each slice into 1/2-inch sticks then cut the stick into 1/2-inch cubes.

Place the cubes in a large mixing bowl.

Drizzle olive oil and spices over the sweet potato cubes.

Toss with a spoon to evenly coat the cubes with the olive oil mixture.

Place the cubes in the air fryer basket in a single layer (no need to preheat the air fryer).

Air fry at 400°F (200°C) for 15-18 minutes shaking the basket halfway. Stop when the cubes looks puffed and they have a lightly golden brown color.
Serving/Large batch
Serve immediately with a pinch of salt and freshly chopped herbs like Italian parsley or scallions.

For large batch, preheat oven to 300°F (150°C) and place the cooked sweet potato cubes in a oven-safe pan and keep them warm in the oven while air frying remaining batch store.
Share on Facebook
Pin Recipe
Nutrition
Serving: 1Serving | Calories: 268.7kcal | Carbohydrates: 47.5g | Protein: 4.7g | Fat: 7.4g | Saturated Fat: 1g | Polyunsaturated Fat: 0.9g | Monounsaturated Fat: 5.1g | Sodium: 373.1mg | Potassium: 1087.9mg | Fiber: 7.6g | Sugar: 14.8g | Vitamin A: 43606.6IU | Vitamin C: 45.3mg | Calcium: 88.9mg | Iron: 1.7mg | Magnesium: 62.3mg | Phosphorus: 125.6mg | Zinc: 0.8mg