Cucumber Dip (Dairy-Free)
An easy Creamy Yogurt Cucumber Dip with garlic, mint, and lemon flavor to dip any raw vegetable or air-fried zucchini chips!
Bonus, this easy Tzatziki recipe is also dairy-free and vegan-friendly!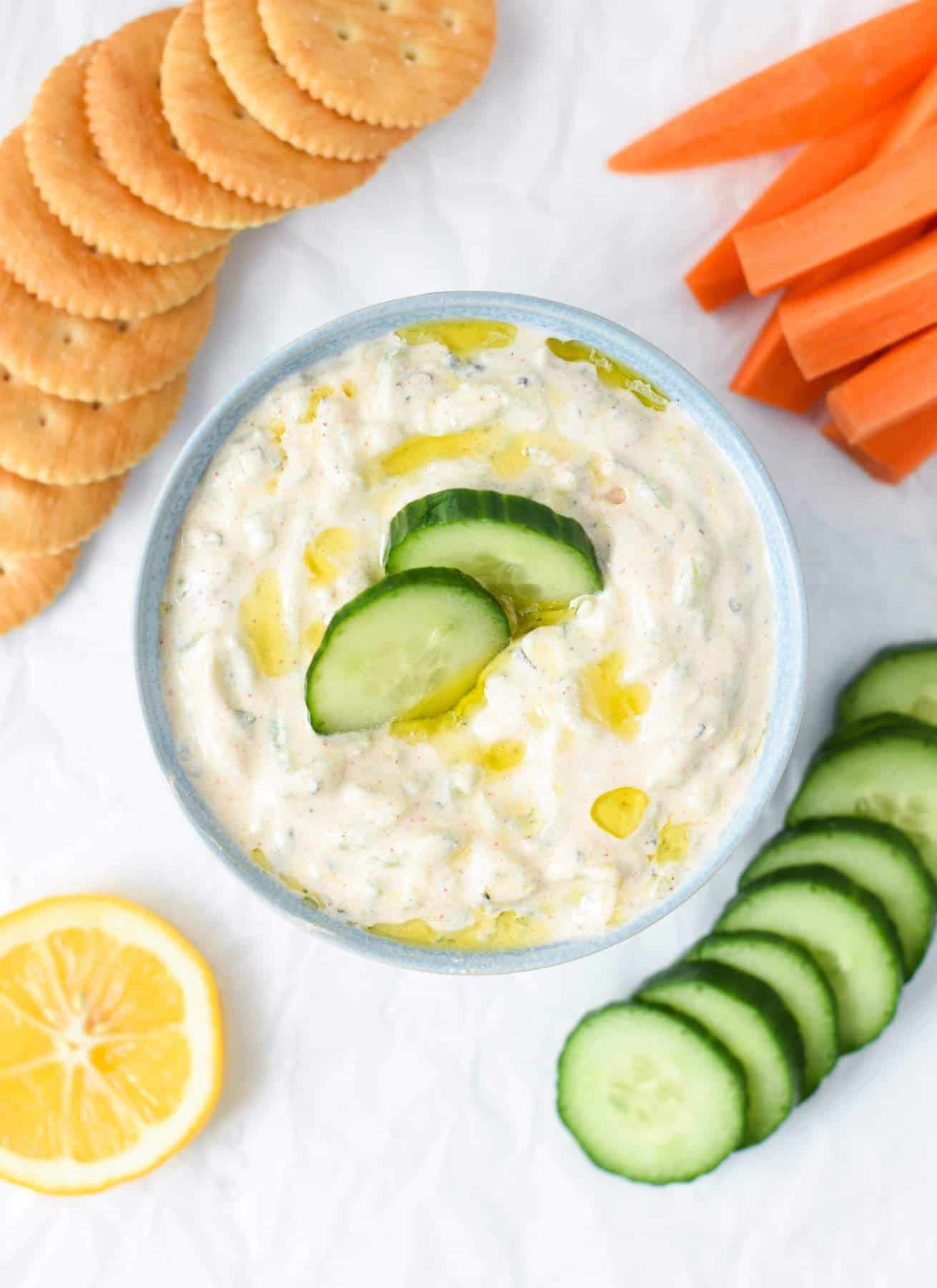 What's Cucumber Dip?
A cucumber dip is a delicious, fresh summer dip with lemon, mint, and garlic flavor.
While many recipes make cucumber dip with cream cheese, and sour cream, our version is dairy-free, made with thick natural Greek Coconut yogurt.
How To Make Cucumber Dip
A cucumber dip is made with only a few basic ingredients, and you can whip this dip in less than 10 minutes.
Ingredients
All you need are:
Cucumber – Shred the cucumber into thin strips and drain them from their excess water.
Greek yogurt – we always use dairy-free products in our recipes, and here we chose a Greek Style coconut yogurt made of 2 ingredients: coconut cream and probiotic. Feel free to use any Greek Yogurt you love if you are not dairy-free. You can also use low-fat yogurt to decrease saturated fat. Some Greek yogurts made of oat milk or almond milk are great for this.
Garlic
Fresh mint or fresh dill – fresh mint tastes the best, I believe, but of course, fresh dill is great too but more garlicky and less refreshing than mint. You can also use dried herbs. If you use only 1/2 teaspoon as it has a much more intense flavor.
Salt
Olive oil – olive oil is generally plant-based, but some olive oil farms or methods are not particularly earth-friendly so choose wisely!
Lemon Juice – from a fresh lemon or from a ready-made lemon juice bottle.
Shredding And Draining Cucumber
First, trim the end of the cucumber, and seed them to avoid a watery dip. Peel the cucumber and discard the peel.
Next, use the thicker attachment of your grater box to shred the cucumber.
Finally, place the shredded cucumber in a clean kitchen towel to squeeze and remove excess moisture.
You can also squeeze by hand, but if so, make sure you work in small batches to very well squeeze all the cucumber water, or the dip end up watery.
Making The Cucumber Dip
Now, simply combine all ingredients in a medium bowl until well combined: cucumber, dill or mint, yogurt of choice, salt, olive oil, lemon juice.
Serve immediately or to blend the flavor better, refrigerate for 1 hour or overnight.
Serving ideas
This creamy cucumber dip is delicious to dip any of the below :
Raw vegetables – carrots sticks, cucumber, radish
Crackers – try our crunchy chickpea chips to dip in this cucumber dip!
Chips and bread – corn chips, pita triangle, baguette slices
It's also a great dip to serve as barbecue side and to enjoy with grilled vegetable skewers or pita bread and Greek food.

Frequently Asked Questions
What Can I Do If I Made A Watery Dip?
If your dip is watery it can be for two reasons:
you didn't drain the shredded cucumber well enough – that's why I highly recommend squeezing water out using a towel and not your hands
you kept the cucumber seeds – this adds lots of water to the dip
used a watery cucumber variety like Lebanese cucumber
What Is The Best Yogurt Choice?
The key to make a thick lightened up cucumber dip using yogurt is to choose a thick and creamy yogurt variety.
We used coconut yogurt because it's :
Thick
Creamy
Dairy-free
Taste amazing with mint, garlic and lemon
If you don't like coconut flavor in your dip choose another yogurt type but make sure it's thick and creamy or the dip is runny. For example, oat yogurt tend to be creamier than almond yogurt and works better in this recipe.
Storage
This cucumber dip store up to 4 days in an airtight container in the fridge.
More Appetizer Recipes
Below I listed some great appetizers recipe you may want to try as well.
Have you made this cucumber dip recipe? Share a comment or review below,
Cucumber Dip (Dairy-free)
A Creamy Cucumber Dip with lemon and mint flavor. An easy Tzatziki dip recipe, ready in 15 minutes for a quick and delicious summer appetizer.
Pin
Print
Review
Servings:
6
servings (1/4 cup)
Shop My Tools
Instructions
Trim the end of the cucumber, peel them, and seed the center before grating them using the thicker grating attachment tool of your hand grater. Place the shredded cucumber in a kitchen towel, squeeze and release the excess water from the cucumbers. Discard the juice. Set aside the shredded, drained cucumber in a bowl.

Stir in Greek Coconut yogurt (or your choice of yogurt), fresh chopped mint, crushed garlic, salt, paprika, lemon juice, and olive oil.

Serve immediately or chill for 1 hour before serving.
Storage
Store in an airtight box in the fridge for up to 4 days.
Share on Facebook
Pin Recipe
Nutrition
Serving:
1
serving
|
Calories:
73.3
kcal
|
Carbohydrates:
2.4
g
|
Protein:
5.2
g
|
Fat:
4.9
g
|
Saturated Fat:
0.7
g
|
Polyunsaturated Fat:
0.5
g
|
Monounsaturated Fat:
3.4
g
|
Trans Fat:
0.1
g
|
Cholesterol:
2.5
mg
|
Sodium:
212.5
mg
|
Potassium:
85.5
mg
|
Fiber:
0.2
g
|
Sugar:
1.7
g
|
Vitamin A:
85.9
IU
|
Vitamin B12:
0.4
µg
|
Vitamin C:
2.2
mg
|
Calcium:
60.3
mg
|
Iron:
0.2
mg
|
Magnesium:
7.2
mg
|
Phosphorus:
69.8
mg
|
Zinc:
0.3
mg