Looking for a healthy and easy hummus recipe? Try this Edamame Hummus! Packed with protein from edamame beans, this hummus is creamy, dairy-free, vegan, and gluten-free.
Perfect for sharing with friends and family.
I have a love for fancy hummus recipes, like my avocado hummus or white bean hummus, the possibilities are endless.
But in a world where we all look for more complete proteins on our plate, then edamame hummus comes in very handy.
What Is Edamame Hummus?
Edamame hummus is a creamy dip that uses all the same basic ingredients as classic hummus, but instead of using chickpeas, it's made from edamame.
Edamame, also called soybeans or soy beans are the seeds that are used to make soy milk and many other soya products.
The food purists will say that this is not traditional hummus, and they'd be right.
But call it as you like, edamame dip or hummus, this is honestly so good and so hard to tell that this recipe is chickpea-free!
I am sure nobody will complain about its name once they've tried it.
How To Make Edamame Hummus
It's super simple to whip up this creamy, garlicky, high-protein edamame hummus recipe.
Ingredients
All you need to make a smooth, creamy hummus is a food processor or Vitamix blender and the ingredients below:
Shelled Edamame – I buy frozen shelled edamame. They look like vibrant-green beans. Thaw them at room temperature in a bowl for a few hours but don't cook them.
Tahini – Feel free to use unhulled tahini or hulled tahini for less bitterness in the hummus.
Extra-Virgin Olive Oil
Garlic Cloves
Salt and Pepper
Freshly Squeezed Lemon Juice
Cilantro – or Parsley, but I love cilantro with edamame.
Ground Cumin
Iced Water – to thin out the dip
Preparation
Remove the frozen edamame from their bag, place them in a bowl, and cover them with cold water to accelerate the thawing process.
Set the bowl aside for a few hours at room temperature. When the edamame beans are defrosted, drain them and set them aside.
Before staring, prepare a bowl with cold water and a few ice cubes. This is your iced water and you may use some at the end of the recipe, to thin out the hummus.
In a food processor or Vitamix blender, add the tahini, lemon juice, and garlic. Blend on low speed – speed 3 of a Vitamix – for about 30 seconds until creamy and smooth.
Next, add the remaining ingredients: edamame beans, cilantro, salt, pepper, and cumin.
Process on low speed again for 1 or 2 minutes. Stop the blender often to scrape down the sides of the bowl with a silicone spatula and bring the mixture back to the blade.
If using a blender, use the tamper attachment to push the food to the blade.
Add the iced water gradually to thin out the hummus. Remember that edamame hummus is also a bit grainy and not as smooth as my avocado hummus recipe.
Finally, serve the homemade hummus in a shallow bowl with a drizzle of olive oil, sesame seeds, and a pinch of chili pepper on top.
Tips For Adjusting The Hummus
You can't fail hummus because you can always adjust it by adding more of the below ingredients to adjust its taste.
Iced Water – to thin out
Ice Cubes – surprisingly, adding an ice cube in hummus gives it a lovely creamy texture.
Tahini – to add a smooth, rich texture.
Greek Yogurt – To lighten it up, increase the smooth texture, and add proteins.
Allergy Swaps
If you have food allergies, feel free to use the tips below.
Tahini-Free – Replace the tahini with plain Greek-style yogurt. Feel free to use a dairy-free option if needed.
Citrus-Free – Skip the lemon juice and add 1-2 teaspoons of apple cider vinegar.
Olive Oil – It can be replaced with avocado oil or flavorsome oils, like peanut or sesame oil, if you like their flavor.
Storage Instructions
This edamame dip can be stored for up to 4 days in a sealed container in the fridge.
You can't freeze edamame hummus, because it's a raw dip made from frozen edamame.
The USDA advises against freezing already defrosted food as it can promote bacteria growth in your food.
Serving
This dip is a high-protein healthy snack or appetizer perfect for dipping raw veggies like:
Celery
Cucumber
Radish
Carrots
You can also use this as a high-protein spread into sandwiches or wraps for a tasty vegetarian lunch.
You can also serve it with:
Crackers
Corn Chips
Grissini
Frequently Asked Questions
Find below my answers to your most common questions about this dip recipe.
Should I Cook The Edamame?
You don't have to cook the frozen edamame for this recipe. However, if you intend to freeze the recipe, then yes, cook them in boiling water, following the packaging instruction.
Then, let them cool completely before blending with the remaining ingredients.
Where Can I Buy Edamame?
Edamame are sold in the frozen aisle of your grocery store, next to frozen vegetables.
More Healthy Dip Recipes
If you like simple, healthy dips, you'll love these other recipes: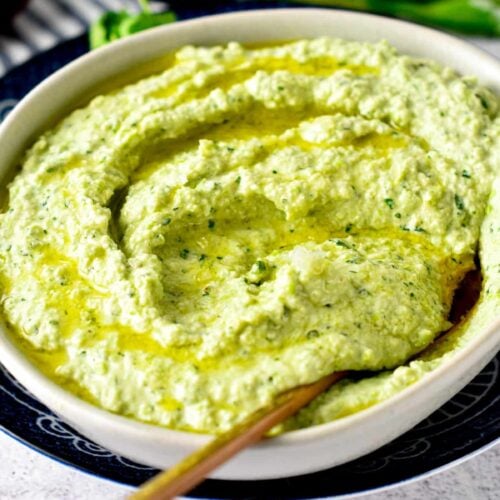 Edamame Hummus
This Edamame Hummus is a high-protein dip made from edamame beans instead of chickpeas.
Pin
Print
Review
Shop My Tools
Instructions
In a small bowl, add water and ice cubes. This is the iced water you will use at the end.

In a food processor or high-speed blender, add the olive oil, tahini, lemon juice, and garlic. Process/blend on medium speed (speed 3 of a Vitamix blender) for 30 seconds until creamy.

Add thawed edamame, salt, pepper, cumin, and cilantro or Italian Parsley.

Process on medium-high speed until smooth. Stop the blender/food processor a few times if needed, scrape down the sides of the jug/bowl, and repeat. If using a blender, use the tamper attachment to push the mixture to the blade.

If too thick to your liking, keep processing while adding some of the iced water gradually.

I always add 3-4 tablespoons, but you can add more or less depending on how thick you like your edamame hummus. Stop when the texture fits your liking.
Storage
Store the edamame hummus in the fridge in a sealed container for up to 4 days.
Serving
Serve with a drizzle of olive oil, fresh herbs, and vegetable sticks to dip in.
Share on Facebook
Pin Recipe
Nutrition
Serving:
3
tablespoons
|
Calories:
1402.2
kcal
|
Carbohydrates:
47.1
g
|
Protein:
40
g
|
Fat:
124.8
g
|
Saturated Fat:
17.1
g
|
Polyunsaturated Fat:
31
g
|
Monounsaturated Fat:
70.2
g
|
Trans Fat:
0.02
g
|
Sodium:
1211.8
mg
|
Potassium:
1508.8
mg
|
Fiber:
16.4
g
|
Sugar:
6.7
g
|
Vitamin A:
425.4
IU
|
Vitamin C:
44.5
mg
|
Calcium:
285
mg
|
Iron:
9.8
mg
|
Magnesium:
233.8
mg
|
Phosphorus:
1044.4
mg
|
Zinc:
7
mg