Vegan Spinach Artichoke Dip
Vegan spinach artichoke dip is a delicious and easy-to-make appetizer that is perfect for any party. This dip is made with vegan cream cheese, artichoke hearts, spinach, and other flavorful ingredients. It is sure to be a hit with your guests!
This dip is also very healthy. It is made with whole, plant-based ingredients and is free of dairy and gluten. It is also a good source of fiber and protein.
If you are looking for a delicious and healthy appetizer, then you should definitely try this vegan spinach artichoke dip!
Is Spinach Artichoke Dip Vegan?
A classic hot spinach dip contains dairy such as mozzarella, sour cream, or cream cheese.
So it's not vegan-friendly, and you need to tweak the original recipe to create your own vegan spinach artichoke dip recipe.
How To Make Vegan Spinach Artichoke Dip
It's actually pretty easy to make a healthy spinach artichoke dip vegan-friendly!
All you need are a combination of a few simple and wholesome ingredients to create a smooth and hot cheesy dip without dairy. Let's see what you need!
Ingredients
To make a vegan spinach dip, you need the ingredients below. If you can't find some of the ingredients, I've included some possible swaps.
Spinach – I love to use fresh spinach in this recipe, but frozen spinach works perfectly as well. You don't need to thaw your frozen spinach before using it in this recipe.
Artichoke hearts – store-bought canned artichoke hearts are easy to use. I love the ones marinated in olive oil, but plain ones are great too.
Pine nuts – if you don't like pine nuts, you can use finely chopped walnuts or almonds.
Raw cashews – this is the key to creating a creamy smooth hot spinach dip without dairy. Make sure you soak the raw cashews for at least 8 hours in cold water or 30 minutes in boiling water. It's easier to actually soak your raw cashews overnight, the day before making the recipe.
Arrowroot flour, tapioca flour, or corn starch – all of these starchy flours create a cheesy texture and a vegan, gluten-free spinach artichoke dip.
Vegetable broth
Water
Hot sauce
Worcestershire sauce
Nutritional yeast – this plant-based ingredient is the key to bringing out the cheese flavor of your dip. You can also replace this with dairy-free vegan parmesan if preferred.
Dried parsley
Garlic powder
Onion – flakes or powder
Apple cider vinegar
Salt
Cooking The Spinach And Nuts
First, heat a large skillet over medium heat with olive oil. Cook the spinach with garlic and pine nuts until the spinach wilted.
Then, add the chopped artichokes, season with salt, cover, and set aside while making the cheese sauce.
Make The Vegan Cheese Sauce
To make the vegan cheese dip, you must use a high-speed blender.
Add all the cheese sauce ingredients into the blender's jug: soaked, drained cashews, vegetable broth, water, spices, and arrowroot flour.
Blend until smooth and transfer into the pan with the cooked spinach.
Thickening The Dip
Finally, return the skillet to medium heat, stir to combine, and cook until the sauce thicken and form a cheesy texture
Serve immediately in the skillet, with fresh herbs on top and bread pieces to dig in
Tips For Making The Best Dip
Here are some additional tips for making a great vegan spinach artichoke dip:
Use only high-quality ingredients. The quality of the ingredients you use will make an immense difference in the taste of your dip. In particular when it comes to the spinach and artichoke. Use very fresh spinach and discard all wilted leaves.
Serve Hot Or Cold. This dip is delicious hot, but it's a tad runnier than when it's cold. Chilling it in the fridge can be a great way of getting a thick dip. This will help it to set and prevent it from being too runny.
Serve the dip with fresh bread or chips. You can also use it as a topping for pizza or pasta.
Serving Vegan Spinach Artichoke Dip
Whether you're making this vegan spinach artichoke dip for Christmas, for a game night, or for a simple finger food night, it's satisfying anytime!
The best food to dip into this hot vegan dip are:
Making A Large Batch
Most classic spinach dip recipes require an oven, but this vegan spinach dip only needs a stove and a blender.
It means you can prepare this recipe quickly, in less than 20 minutes, and serve straight away.
This recipe makes a large batch to serve 8-10 guests.
It's an easy make-ahead vegan appetizer that you can freeze or store in the fridge and rewarm the next day.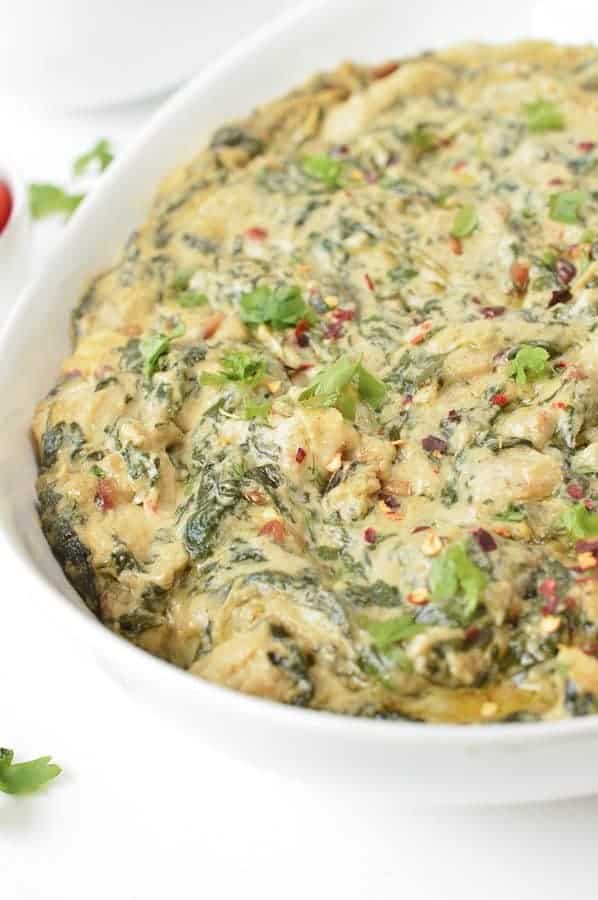 Frequently Asked Questions
Find below my answers to the most common questions about this recipe.
Can I use vegan cream cheese instead of the Cashew Sauce?
You can use a variety of ready-made vegan cream cheese alternatives, such as vegan cashew cheese, vegan tofu cream cheese, or vegan coconut cream cheese.
How many artichoke hearts should I use?
You can use as many or as few artichoke hearts as you like.
The more hearts you use, the more flavorful the dip will be.
Can I use frozen spinach?
Yes, you can use frozen spinach instead of fresh spinach. You don't even need to thaw the spinach before adding it to the dip.
Can I Bake The Dip?
You don't have to bake this recipe, but you can, if you want to thicken the dip even more, and make a vegan baked spinach artichoke dip.
Sprinkle 1/2 cup store-bought vegan Parmesan cheese on top of the cooked dip and bake 10 minutes at 350°F (180°C) until bubbly on the sides.
More Vegan Dip And Appetizer Recipes
If you love this simple vegan spinach artichoke dip recipe, I have plenty of similar vegan recipes for you to try below as dips or appetizers.
Enjoy the recipe and share a picture of your creation with me on Instagram if you give it a try!
Vegan Spinach Artichoke Dip
This Super Cheesy Vegan Spinach Artichoke Dip is an easy vegan appetizer to feed a crowd for a party, a celebration, or Christmas!
Pin
Print
Review
Servings: 8 people
Calories: 242.4 kcal
Ingredients
Spinach artichokes
2 tablespoons Olive Oil
4 cloves Garlic - crushed
½ cup Pine nuts
5 oz Baby Spinach Leaves - or 5 oz, 240g frozen spinach, thawed, liquid removed
1 cup Artichokes hearts - , roughly chopped
1 teaspoon Salt
Instructions
Spinach artichoke mix
Heat a large skillet over medium heat with olive oil and add crushed garlic.

Saute garlic for 30 seconds then add pine nuts, stir and roast for 1 minute.

Add the spinach leaves to fill the skillet. Stir, turn the leaves in warm garlic and roasted pine nuts until the spinach has wilted.

Add more spinach to the skillet and repeat previous steps until all spinach leaves have wilted. You can cover the pan between each addition to wilt the spinach faster, don't forget to stir often to prevent the spinach from burning.

Stir in chopped artichokes hearts and salt.

Cover, cook for 1-2 minutes then remove from heat. Set aside.

Meanwhile, prepare the cheese sauce.
Cheese dip
In a blender, add all the sauce ingredients: soaked cashews, vegetable stock, water, onion flakes, garlic powder, hot sauce, parsley nutritional yeast, Worcestershire sauce, apple cider vinegar, and arrowroot flour.

Blend until smooth.

Pour the sauce onto the pan with the cooked spinach artichokes mixture.

Cook over medium heat, constantly stirring, until the sauce gets bubbly, thickens, and creates a cheesy texture.

Serve immediately in a large serving dish, add chili flakes and fresh parsley on top before serving.

Serve with rice crackers, seed crackers, or toasted slices of French baguette.
Optional
Add a handful of vegan mozzarella or vegan cheddar cheese.

Turn the oven to broil and cook for 2-3 more minutes or until the cheese starts to brown.
Storage
You can make ahead your dip, store it in an airtight box, and rewarm in a saucepan until hot. Store up to 3 days in the fridge or freeze.
Share on Facebook
Pin Recipe
Nutrition
Serving: 1serving | Calories: 242.4kcal | Carbohydrates: 19.1g | Protein: 6.7g | Fat: 16.5g | Saturated Fat: 2.2g | Polyunsaturated Fat: 4.5g | Monounsaturated Fat: 8g | Sodium: 719.7mg | Potassium: 343.6mg | Fiber: 3.3g | Sugar: 2.4g | Vitamin A: 1730.7IU | Vitamin C: 6.7mg | Calcium: 35.2mg | Iron: 2.4mg | Magnesium: 84mg | Phosphorus: 158.6mg | Zinc: 1.6mg