An easy 4-ingredient Chickpea Chip Recipe for a healthy snack swap to potato chips, packed with plant-based protein and fiber.
Bonus, these vegan, gluten-free chickpea flour chips are perfect for dipping into guacamole or vegan nacho cheese sauce and making your party platter healthy and tasty.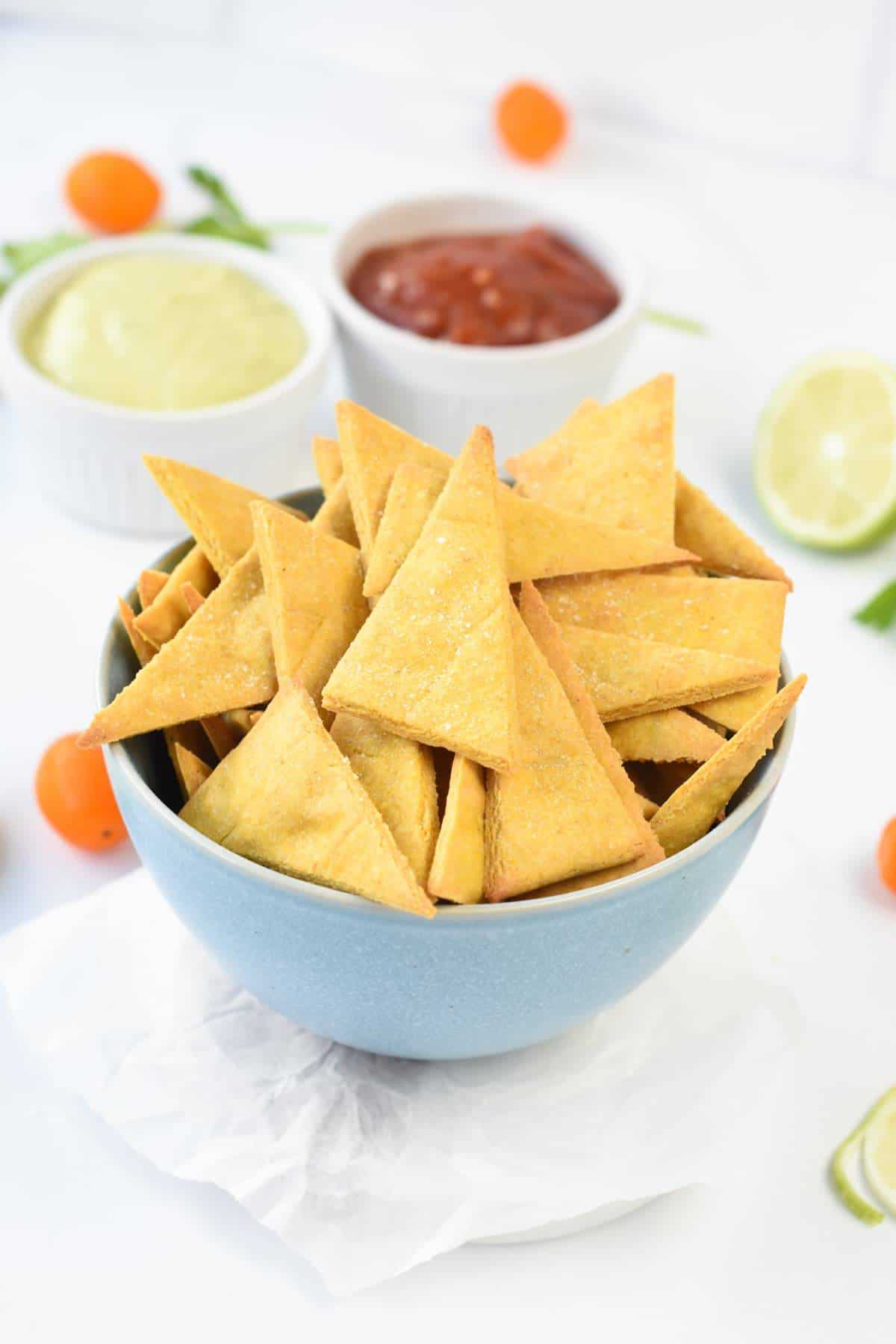 What Are Chickpea Chips?
Chickpea chips, also known as chickpea flour chips or chickpea flour crackers, are crunchy thin crackers made of garbanzo flour or besan flour.
They are nutritious vegan snacks loaded with plant-based protein and gluten-free, and egg-free.
How To Make Chickpea Chips
It's very easy to make your own chickpea chips at home using three simple ingredients.
Ingredients
All you need to make crunchy besan crackers are:
Chickpea flour, also known as besan flour or garbanzo flour. While besan flour and garbanzo flour are not exactly the same thing, both having different amounts of fiber and water absorption in recipes, they both work to make chickpea chips.
Lukewarm water
Olive oil or neutral oil like almond oil or melted coconut oil.
Favorite spices – optional, you can make plain chickpea chips, but we love adding garlic powder, salt, pepper, cumin, and a pinch of turmeric to boost their yellow color and make them look like chickpea flour tortilla chips.
Sifting The Flour
First, sift the chickpea flour with a fine sieve mesh.
This is very important because chickpea flour always clumps up into lumps, and there always are small pieces that you don't want to add to chickpea chips.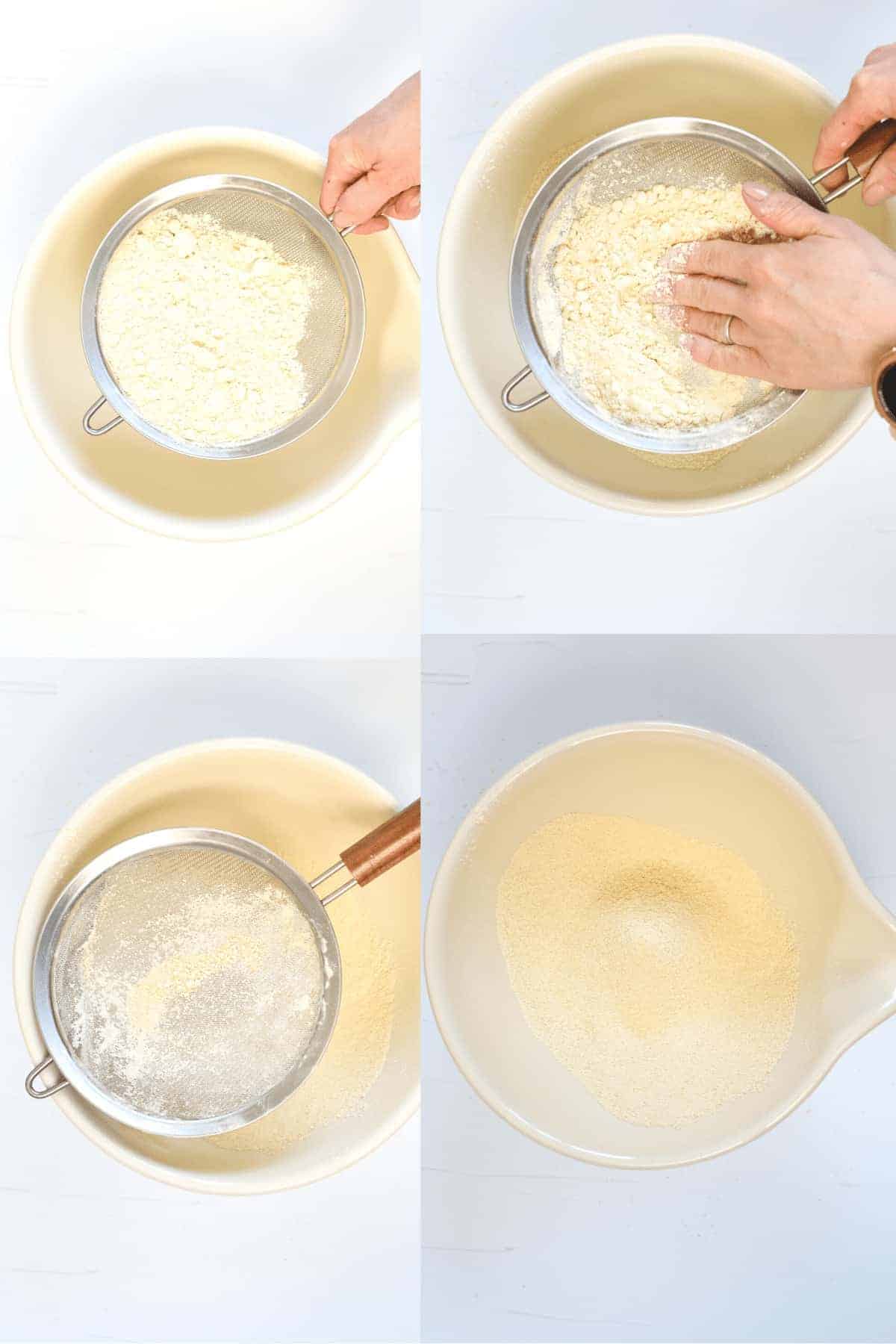 Kneading The Dough
Stir in the remaining ingredients, including lukewarm water, olive oil, sea salt, garlic powder, and turmeric.
Stir the ingredients with a spoon first, then mix with your hand to knead the dough and form a ball.
The dough is tough but should come together. If too dry, add 1 tablespoon more lukewarm water. If too wet, add extra chickpea flour.
You should obtain a small dough ball, the size of an orange, with a tough texture, not dry or wet.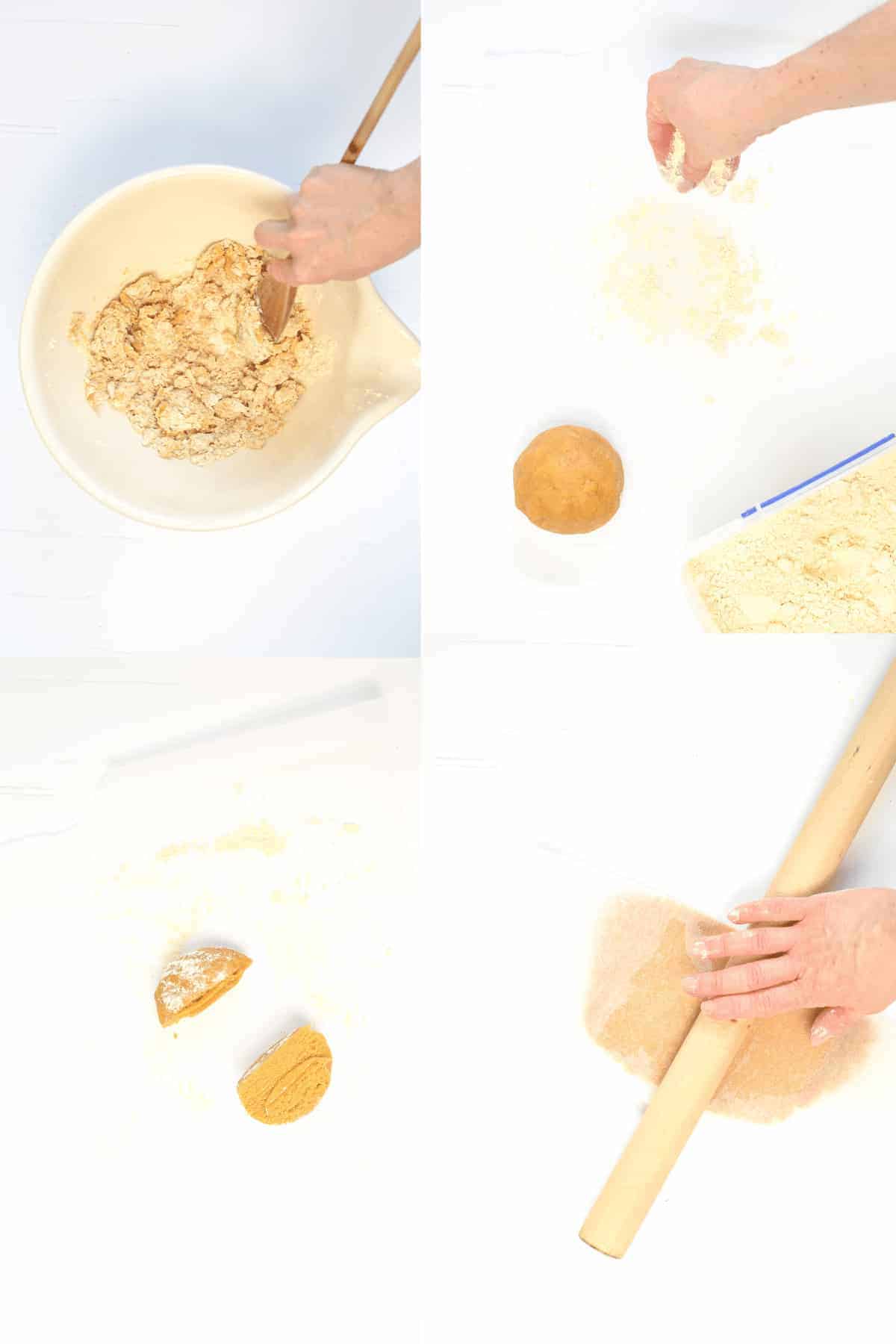 Rolling The Dough
Sprinkle chickpea flour onto a large piece of parchment paper. Place the dough ball in the center of the piece of paper and slice the ball in half.
Set aside half of the dough for later. Press the over half into a rectangle shape, then place another piece of parchment paper on top of the dough ball.
Press with the palm of your hands to flatten and start rolling with your rolling pin.
To make a nice rectangle and shape triangle chickpea tortilla chips, fold the parchment paper into a rectangle shape, as seen in the pictures below.
Roll into a 5-inch x 9-inch (12-cm x 24-cm) rectangle.
This garbanzo bean chip recipe is slightly tough to roll, but press hard and roll thinly to make crunchy chickpea chips.
Cutting Triangles
Next, peel off the top piece of parchment paper and use a sharp knife or pizza cutter to cut the dough into triangles.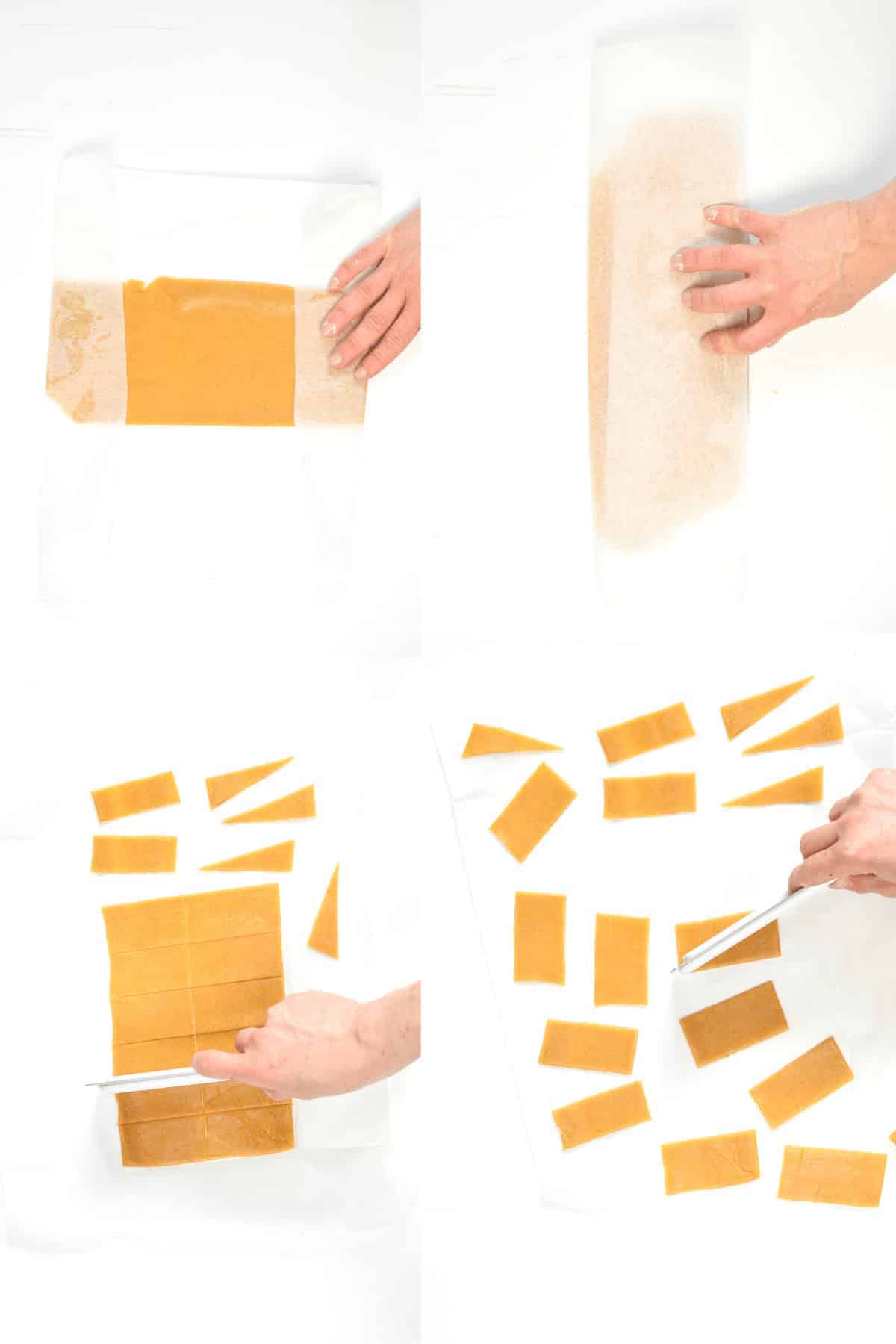 Baking The Chickpea Chips
Now, set the tortilla chips apart onto the parchment paper to ensure they don't stick to each other.
This makes the sides of your homemade chickpea chips bake properly. If they touch each other, the sides stay soft.
Slide the piece of parchment paper with chips on it onto a baking sheet.
Bake in preheated oven at 350°F (180°C). Bake for 6 to 8 minutes or until golden brown on sides and crispy.
Remove from the oven and cool down on a cooling rack.
Which Chickpea Flour For Chickpea Chips?
You can use any sort of chickpea flour but keep in mind that variety impacts water absorbance.
There are two types of chickpea flour available at the grocery store:
Besan flour or gram flour is made from brown roasted chickpea, and it's much finer. It needs less water.
Chickpea flour or Garbanzo bean flour is made from white roasted chickpeas. This is coarser than besan flour and needs more water to come together.
That's why this chickpea cracker recipe provides a range of water that you will have to adjust depending on the type of chickpea flour you used.
Serving Chickpea Chips
These chickpea chips are delicious on their own as a healthy snack food but even better dipped in:
Another great idea is to make a platter of loaded nachos using your chickpea tortilla chips as a healthy nacho replacement.
Spread a layer of chickpea chips on a baking sheet and top with a layer of lentil taco meat, and vegan cheese and bake 6-8 minutes until the cheese is melted.
Serve the chickpea chips topped with salsa sauce, coconut cream, mashed avocado, and cilantro.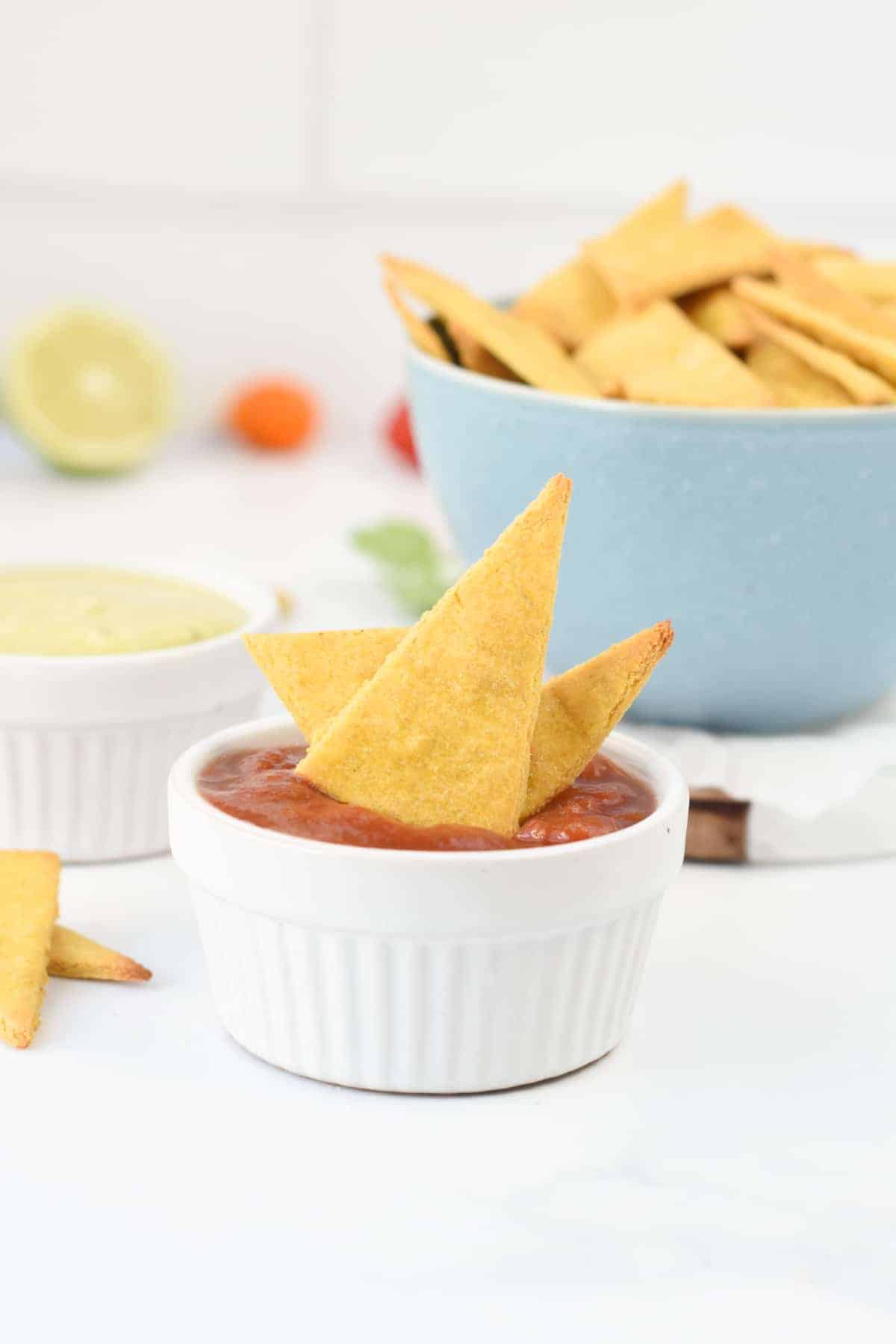 Storing Chickpea Crackers
These chickpea flour crackers store very well at room temperature in a sealed container.
Place the container in a dark place, not hot, and you can keep these chickpea tortillas chips fresh and crunchy for up to 2 weeks.
You can freeze the chickpea chips in zip-lock bags and thaw them at room temperature the day before.
More Chickpea Flour Recipes
I love to bake with chickpea flour because it makes delicious healthy vegan, gluten-free recipes.
Below I listed more chickpea flour recipes for you to try.
Made these chickpea flour chips recipe? Share a comment or review below to connect with me,
Your friend, Carine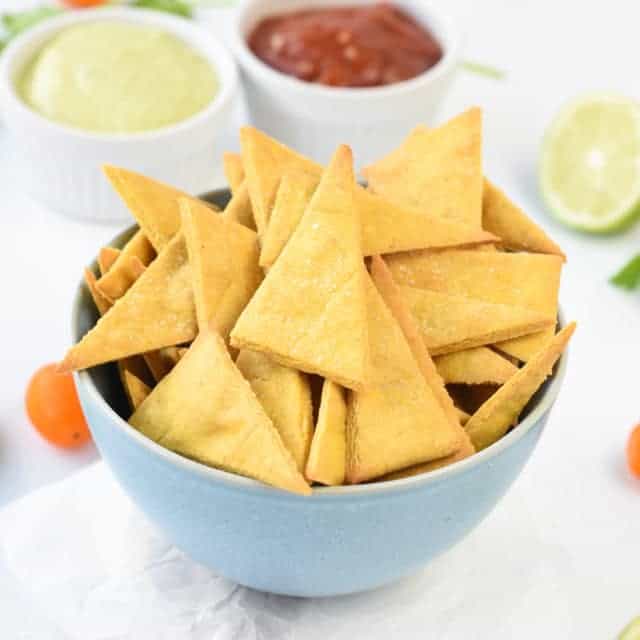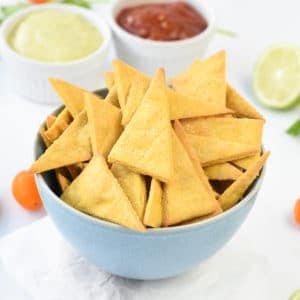 Chickpea Chips
An easy and healthy chickpea chips recipe made from chickpea flour.
Pin
Print
Review
Servings:
4
serving (14 chips each)
Instructions
Preheat oven to 350°F (180°C).

Measure your flour and sieve with a fine-mesh sieve. Press the flour lumps onto the mesh to get the thin particle of flour to go through. Discard the small impurities left inside the sieve.

Stir in spices, olive oil, and lukewarm water. Start mixing with a spoon, then knead with your hands. Depending on the type of chickpea flour you used, you may have to add more water or flour. If too dry, add more water, 1 tablespoon at a time, until you can form a ball the size of an orange. The dough is tough but not wet or sticky. If sticky or wet, add sifted flour.

Divide the dough in half. Place half of the dough between two pieces of parchment paper – you can sprinkle some chickpea flour on the paper to prevent the dough from sticking to your paper.

Press dough with your hand, start to roll as thin as possible – the thinner, the crispier! I recommend rolling the dough into a 5×9-inch rectangle (12×24 cm) to make 28 thin, crunchy chips. Watch my picture above in this post to see how I fold my paper to encase the dough into a rectangle shape and make perfect triangle tortillas.

Peel off the top piece of parchment paper, cut out triangles. I get 28 tortilla chips from half the dough and spread them apart to prevent the chips from touching each other.

Slide the piece of parchment paper with the chickpea tortilla chips onto a baking sheet.

Bake on the center rack for 6 minutes or until golden brown and crispy.

Meanwhile, repeat the same process to roll the leftover dough and create more chips.

Serve on its own or with guacamole, hummus, or as a base to loaded nachos.

Store for up to 2 weeks in a dark, dry place in a sealed container.
Notes
The nutrition panel is for 1 serving of 14 chips equivalent to 1/4 of the recipe. The recipe makes 56 chickpea crackers.
Share on Facebook
Pin Recipe
Nutrition
Serving:
1
serving (1/4 of the recipe, 14 chips)
|
Calories:
180
kcal
|
Carbohydrates:
18
g
|
Protein:
7
g
|
Fat:
9
g
|
Saturated Fat:
1
g
|
Polyunsaturated Fat:
2
g
|
Monounsaturated Fat:
6
g
|
Sodium:
601
mg
|
Potassium:
262
mg
|
Fiber:
3
g
|
Sugar:
3
g
|
Vitamin A:
14
IU
|
Vitamin C:
1
mg
|
Calcium:
15
mg
|
Iron:
2
mg
|
Magnesium:
51
mg
|
Phosphorus:
97
mg
|
Zinc:
1
mg