Chickpea Flour Banana Bread no oil, no eggs, no dairy
This chickpea flour banana bread is a healthy vegan, gluten-free banana bread recipe with a moist crumb and delicious crunchy chocolate chips. Bonus, this chickpea version of the vegan banana bread is also oil-free!
How to make banana bread with chickpea flour?
Chickpea flour, also known as garbanzo flour, is a healthy, yellowish gluten-free flour made of roasted ground chickpeas. It's a great flour to make healthy baked recipes, high in plant-based proteins and without using flax eggs.
In fact, chickpea flour gathers ingredients very well, making it possible to make egg-free banana bread recipes.
For a different perspective on this recipe, watch my detailed step-by-step story about making this vegan banana bread!
Ingredients
The main ingredients you need to make this easy gluten-free, vegan chocolate chips banana bread are:
Chickpea flour – also known as garbanzo flour. Make sure you are using a fresh bag of flour with no lumps. In fact, chickpea flour is very sensitive to humidity and easily forms lumps. If your flour has lumps, you will end up with bitter, flours lumps in your bread.
Ripe bananas – overripe bananas with many dark spots on the skins are the best for this banana bread recipe. It increases the sweetness of your bread.
Baking powder
Apple cider vinegar
Maple syrup – or any refined sugar-free liquid sweetener like brown rice syrup or agave syrup. Don't use a crystal sweetener in this recipe, or your bread will be dry.
Vanilla extract
Vegan dark chocolate chips – chickpea flour can have a slightly bitter aftertaste, and adding chocolate chips to your banana bread is a great option to avoid this flavor.
Mash the bananas
First, peel and mash the bananas with a fork or potato masher. Measure the amount of banana required in the recipe using measuring cups or a kitchen scale.
It's essential to measure the amount of mashed banana in your recipe precisely, or the bread can come out dry or too moist.
Combine liquid to dry ingredients
Then, in a large bowl, combine the mashed ripe bananas, maple syrup, baking powder, apple cider vinegar, and vanilla. Next, gradually stir the chickpea flour into the bowl to create a smooth bread batter.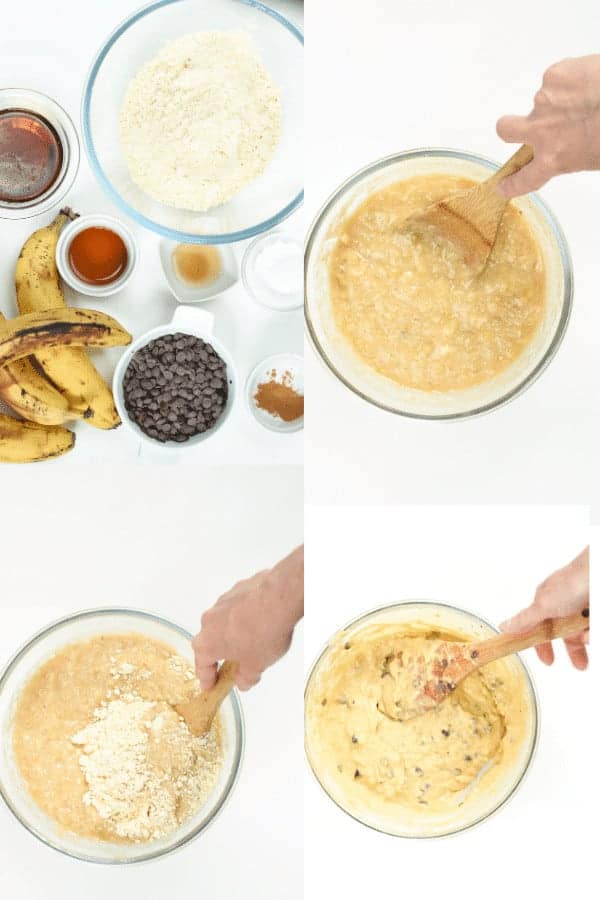 Finally, stir in the vegan dark chocolate chips. Don't over-stir the batter to avoid heavy, dense bread.
Bake
Preheat the oven to 350F (180C). Line a 9-inch x 5-inc loaf pan with oiled parchment paper.
Pour the bread batter into the loaf pan and place it in the oven's center wire rack. Bake the bread for 50-65 minutes or until a skewer inserted in the center of the bread come out clean or with a little to no crumb on it.
Tent the loaf pan
I recommend you tent the loaf pan with a large piece of foil after 40 minutes of baking time. This vegan chickpea flour banana bread is long to bake, which prevents the top from browning too fast.
Cooling down
Remove from the oven and cool on a cooling rack for 2 hours before slicing. You can sprinkle extra chocolate chips on top of the bread as it cools down. The chips will melt and add a delicious extra chocolate flavor to your bread.
Can I use other flour?
No, this recipe has been created to use chickpea flour. Therefore, the recipe won't work with almond flour or oat flour, or coconut flour. If you want to use other flours, use one of my other vegan banana bread listed below.
How does chickpea flour banana bread taste?
This is a moist, fluffy banana bread recipe with a crusty outside, strong banana flavor, and crunchy bites of chocolate chips. Chickpea flour has a slightly bitter, earthy flavor that most people won't notice.
Even my kids loved this recipe and won' notice the healthy flour used in this bread.
How to store your banana bread?
This chickpea flour banana bread store up to 4 days in the fridge, in a sealed cake box. I recommend slicing the bread just before serving to keep it moist.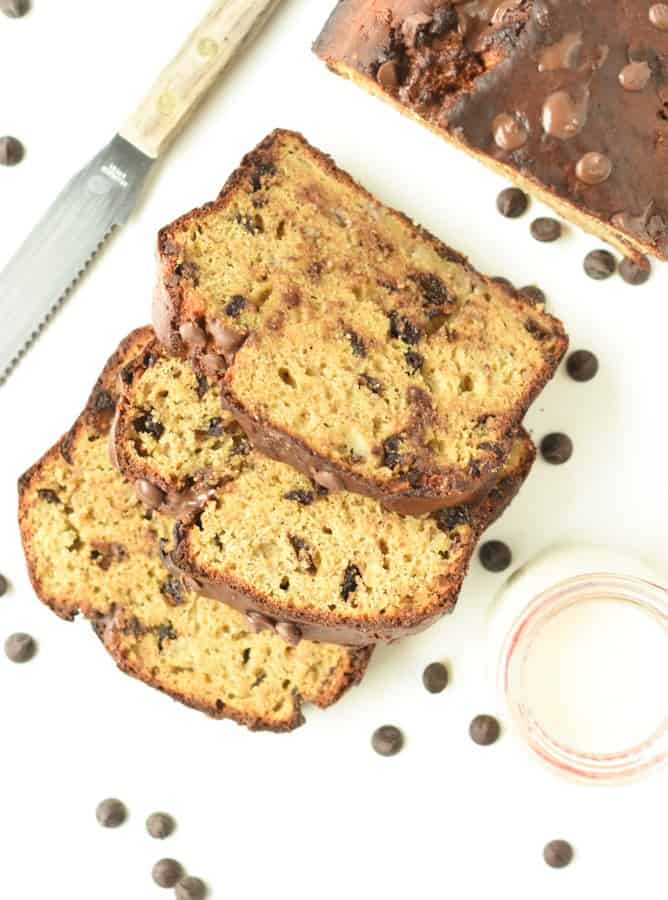 Otherwise, you can freeze the bread slices in a sealed container and thaw the day before serving at room temperature.
How to serve?
This chickpea flour banana bread is delicious plain, for breakfast or as a snack. You can also spread some peanut butter on your bread slice and serve with an almond milk hot chocolate for a delicious vegan breakfast.
More vegan banana bread recipes
I love ripe banana recipes and especially banana bread. It's a great recipe to make ahead healthy breakfast bread or snack. Below I listed my other vegan banana bread recipes for you to try
Don't forget to check all my Ripe Banana Recipes ideas for more ways to use those ripe bananas!
Made this banana bread recipe with chickpea flour? Share a review or comment below! I love to hear your feedback on my recipes.
Your friend, Carine.