5-Ingredient Vegan Banana Bread
This 5-ingredient vegan banana bread is the easiest banana bread recipe ever, perfect to use the ripe bananas sitting on your kitchen counter.
Plus, this quick bread is also healthy and refined sugar-free.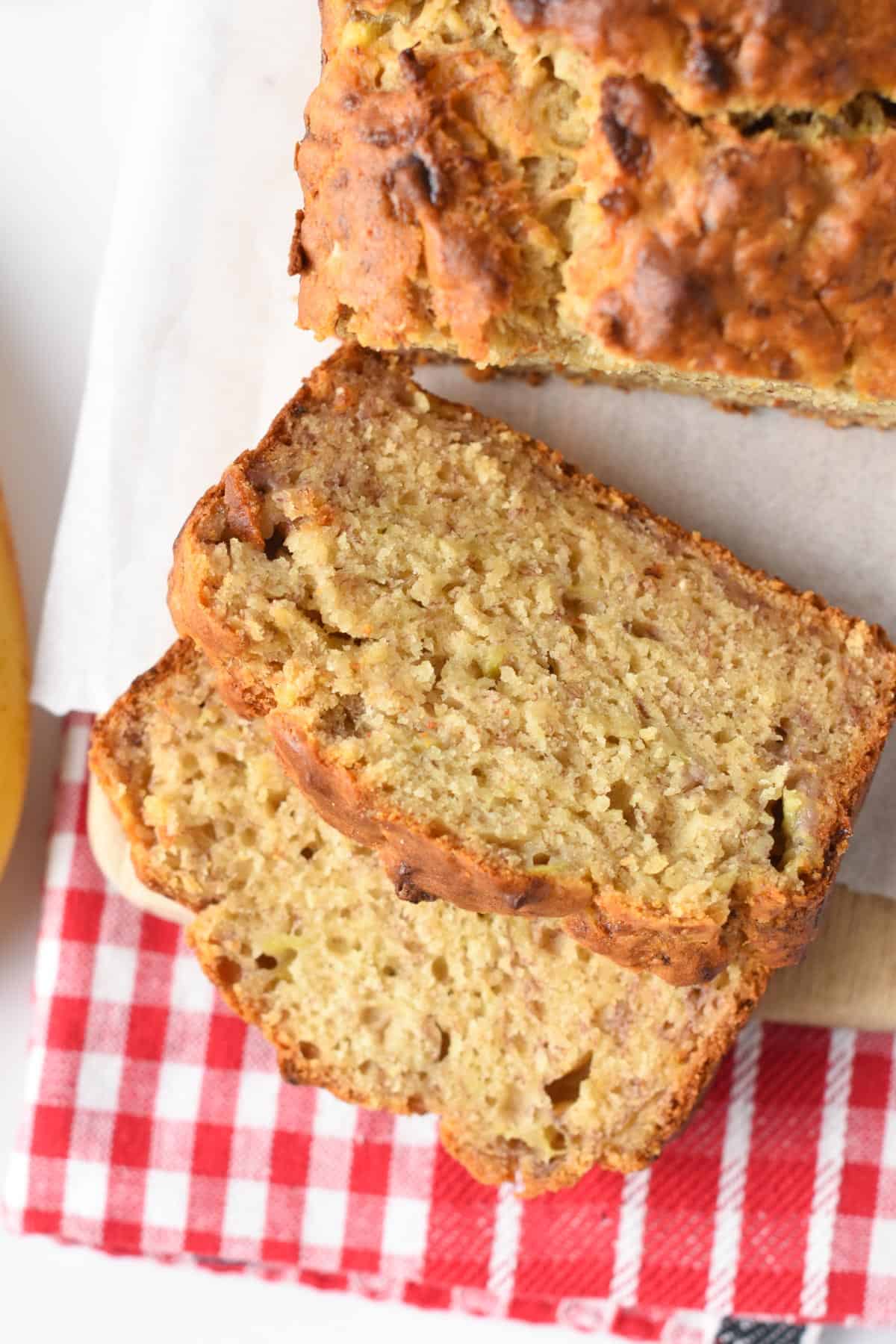 How To Make 5-Ingredient Vegan Banana Bread
Most vegan banana bread recipes use at least 7 ingredients or more, so let me show you how you can make delicious, healthy banana bread with 5 ingredients only!
Ingredients
Of course, since the recipe uses only 5 ingredients, you must stick to these ingredients. No swaps or the result will be very different.
Mashed bananas – the recipe works with any banana ripeness. The more dark spots on the skins, the sweeter the bread will be, so choose wisely based on your sweet tooth.
Olive oil or melted coconut oil – you can use refined coconut oil to avoid the coconut flavor of unrefined coconut oil. Or use canola oil.
All-purpose flour or spelt flour – you can't use almond flour, coconut flour, or oat flour for this recipe. The bread crumb would fall apart from any other flour. You must stick to wheat flour or spelt flour.
Maple syrup – or any liquid sweetener like agave syrup or brown rice syrup. Don't swap the liquid sweetener for a crystal sweetener like coconut sugar or brown sugar. This swap would make the bread very dense and dry.
Baking powder – this is your raising agent. You need that tablespoon for a fluffy bread that rises well. Don't use baking soda in this recipe, or the bread would have a bitter flavor.
Weighing Mashed Bananas
First, peel and mash the bananas on a plate or chopping board until it forms a sticky puree.
Now, measure the mashed bananas packed in measuring cups or weight.
This recipe uses about 6 medium-sized bananas, but you must be precise because adding too many bananas make the bread gummy or heavy.
Transfer the mashed bananas to a mixing bowl. Set aside.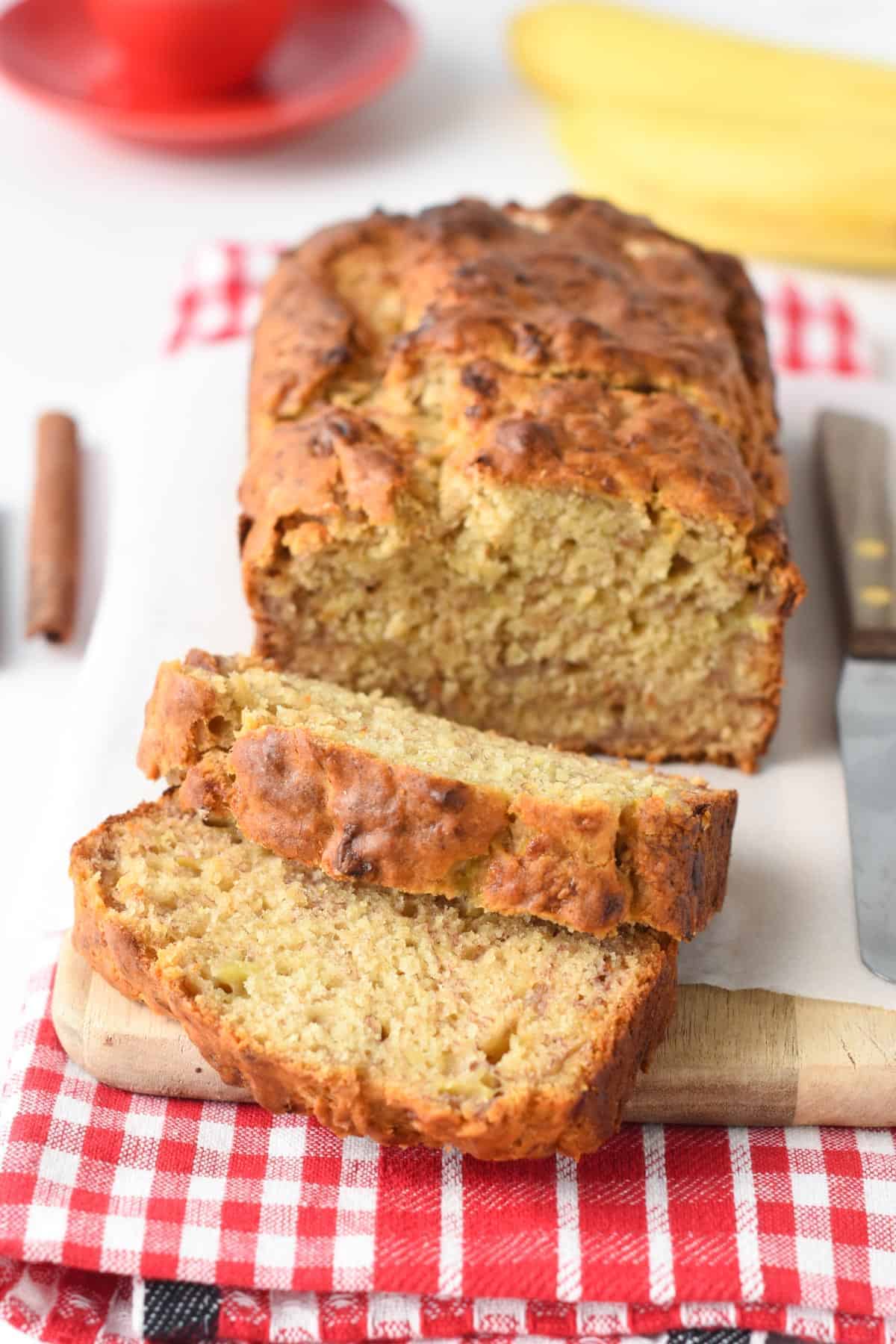 Combining Ingredients
Next, add the melted coconut oil and maple syrup to the mashed bananas. Stir to combine well, and then stir in baking powder.
Finally, stir in baking powder. When it's well incorporated, stir in the flour. Don't over-stir the flour. This would make the bread heavier, and denser.
Baking The Bread
Prepare a 9-inch x 5-inch loaf pan by covering the pan with oiled parchment paper.
Then, transfer the banana bread batter into a loaf pan and bake this 5-ingredient vegan banana bread for 45 to 55 minutes in the center rack of the oven preheated to 350°F (180°C).
Insert a skewer in the center of the bread to test the baking. If it comes out wet, it means the bread needs more baking.
Your banana bread is ready when the skewer comes out clean or with a few crumbs on it.
Cooldown
Finally, cool down your loaf for 5 minutes in the loaf pan. Then, lift the pieces of parchment paper to release the banana bread onto a cooling rack. Cool for at least 1 hour before slicing.
Frequently Asked Questions
Can I make this banana bread gluten-free?
Yes, technically, you can swap the all-purpose flour for all-purpose gluten-free flour, but the texture will be very dense, chewy and the bread won't rise.
Therefore, I don't recommend this option for the best results.
How Can I Add Flavors To The Bread?
Of course, you can add some other ingredients to this banana bread to boost its flavors. My recommendation is to add some or one of the add-ons below:
1/2 cup of chocolate chips or finely chopped nuts like walnuts. Stir these in the batter at the very end.
1 teaspoon vanilla extract – add with the liquid ingredients.
1/2 teaspoon ground cinnamon – add with the dry ingredients.
Can I make the bread oil-free?
No, you must use oil in this recipe. This is egg-free banana bread, and the coconut oil not only adds moisture to the bread but also acts as an egg replacer.
Storage Instructions
This easy banana bread with 5 ingredients stores very well in an airtight container in the fridge for up to 4 days.
I recommend slicing the bread on demand to keep it moist and fresh. However, if you prefer to freeze the bread, slice it first.
Make sure you don't overlap the slices in the container, or the slice would stick to each other, and it becomes difficult to thaw only one slice.
More Vegan Banana Recipes
I love creating easy vegan banana recipes to use my ripe bananas or to make delicious pre-workout food or vegan snacks for the kids.
Below I listed my favorite vegan banana recipes for you to try.
Don't forget to check all my Ripe Banana Recipes ideas for more ways to use those ripe bananas!
Have you made this dairy-free banana bread recipe? Share a comment below or review. I love to hear your feedback on my recipes.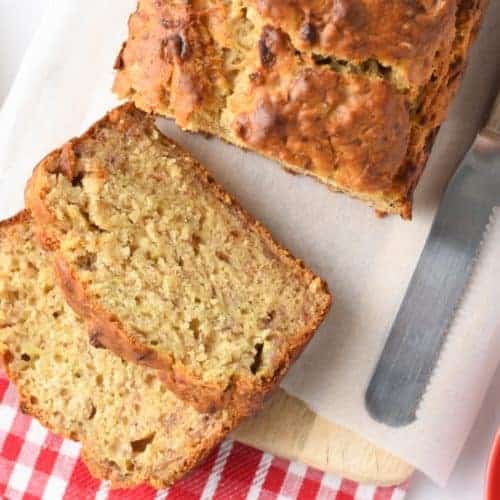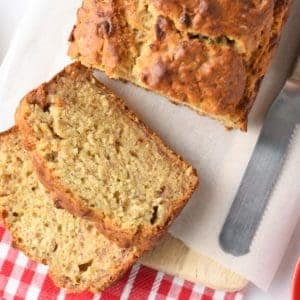 Easy 5-ingredient Banana Bread
This easy, healthy banana bread is made with only 5 ingredients, vegan, dairy-free and egg-free.
Pin
Print
Review
Servings: 12 slices
Calories: 214 kcal
Instructions
Preheat the oven to 350°F (180°C). Line a 9-inch x 5-inch loaf pan with parchment paper. Oil the paper and pan with coconut oil. Set aside.

Peel and mash the bananas using a fork on a flat surface. Measure the exact amount required by the recipe 1 cup + 3/4 cup of mashed bananas.

In a large mixing bowl, combine mashed bananas, maple syrup, light olive oil, and baking powder until well combined.

Stir in all-purpose flour and any optional ingredients like vanilla, cinnamon, or nuts. Stir gently, just until combined. Don't over mix or the bread can be gummy.

Transfer the batter to the loaf pan and bake for 50-55 minutes.

Cool 5 minutes in the pan, then lift the parchment paper to release the bread onto a cooling rack.

Cool completely before slicing – about 1 hour.

Store in an airtight cake box for 4 days in the fridge or freeze. Thaw the day before at room temperature.
Share on Facebook
Pin Recipe
Nutrition
Serving: 1slice | Calories: 214kcal | Carbohydrates: 32g | Protein: 3g | Fat: 9g | Saturated Fat: 7g | Cholesterol: 1mg | Sodium: 116mg | Potassium: 206mg | Fiber: 2g | Sugar: 12g | Vitamin A: 22IU | Vitamin C: 3mg | Calcium: 96mg | Iron: 1mg