4-Ingredient Banana Bread (Vegan)
This easy 4-Ingredient Banana Bread with self-raising flour is made without eggs or dairy and is suitable for a vegan diet.

How to make 4-Ingredient Banana Bread
This 4-ingredient banana bread is a simpler version of the all-time favorite classic vegan banana bread.
Ingredients
All you need to make this easy 4-Ingredient Banana Bread are:
Self-raising Flour – if you only have all-purpose flour at home, use the amount of flour called by the recipe and add 3 teaspoons of baking powder.
Liquid Sweetener – we used coconut nectar or maple syrup, but any liquid sweetener works in this banana bread recipe. Don't use crystal sweetener, or the bread will be too dry.
Melted Coconut Oil or canola oil for fluffier banana bread.
Mashed Bananas – preferably ripe, to increase the sweetness of the bread.

Preparation
Mash banana
First, peel and mash the ripe bananas on a chopping board. Make sure you mash the banana really well. The fewer banana bites, the moisture the bread will be.
Next, measure the amount of mashed banana called by the recipe, in measuring cups or weight. Since the recipe uses only 4 ingredients, it's important to give precision in the way you measure each of them. Too much banana makes the bread longer to bake and too wet.
On the other hand, too much flour dries out the banana bread.
Preheating oven
Preheat the oven to 350°F (180°C) and line a 9-inch x 5-inch loaf pan with parchment paper. Slightly oil the paper.
Set aside on the benchtop while preparing the bananas bread batter.
Make the bread batter
In a large mixing bowl, combine the wet ingredients: mashed bananas, maple syrup, and oil.
Stir in the self-raising flour until just combined. Don't over mix, or the bread can come out gummy at the bottom of the pan.
Baking the vegan banana bread
Transfer the banana bread batter into the prepared pan. Bake in the center rack for 50-60 minutes or until a toothpick inserted in the center come out dry or with a little to no crumb on it.
Cool the bread down at room temperature on a wire rack for about one hour before slicing.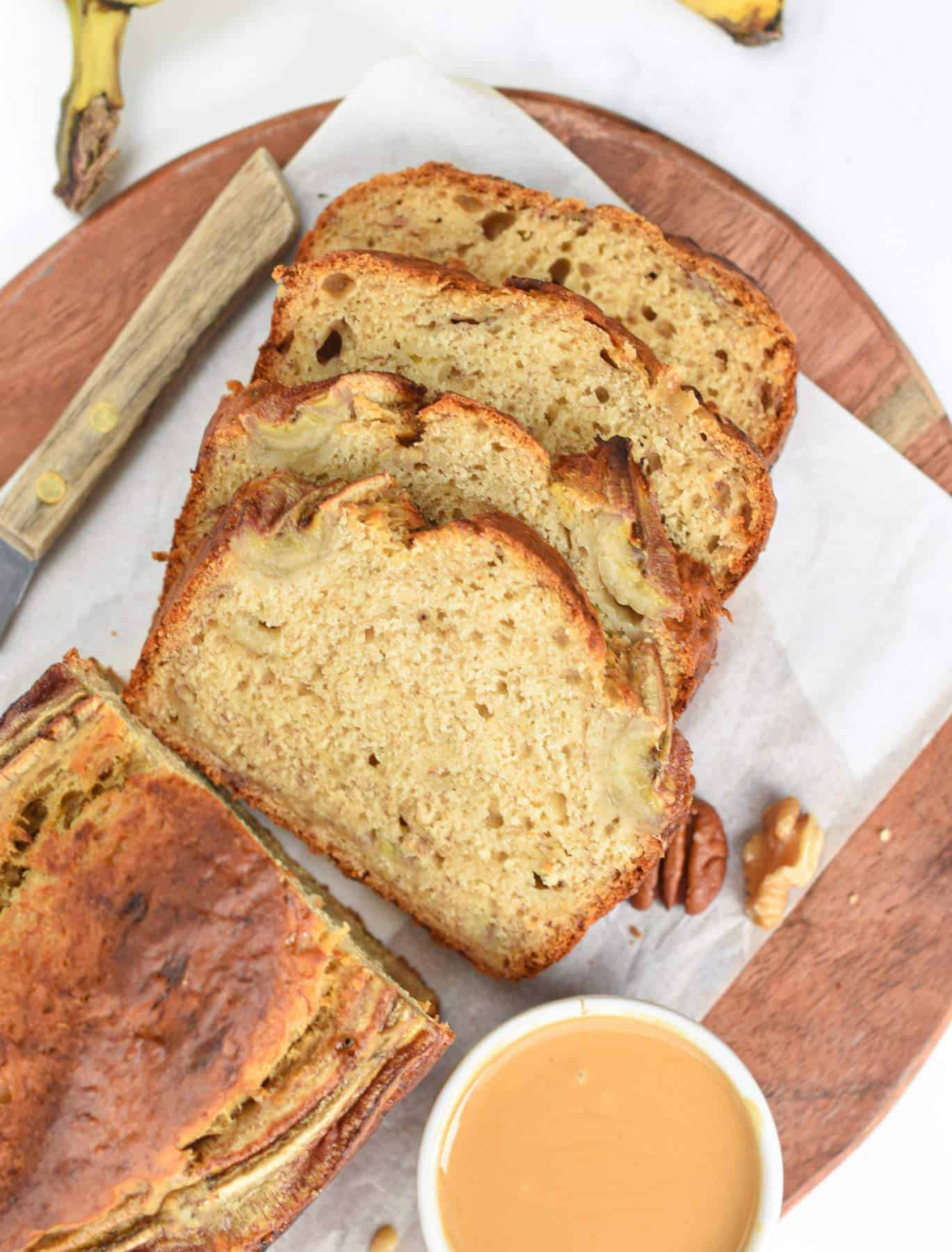 Storage
You can store this healthy 4-Ingredient Banana Bread for up to 4 days in the fridge using an airtight cake box.
It's preferable to slice the bread just before serving to keep it moist. Another option is to freeze banana bread slices and thaw them on a wire rack or a plate the day before serving.
Serving ideas
This 4-ingredient Banana Bread is delicious on its own, but of course, some spreads are always delicious to add to your slice of banana bread.
The best spreads to pair with this banana bread are:
Self-raising flour substitute
If you don't have self-raising flour at home, I listed below the basic ratio to replace the self-raising flour but flour and baking powder.
1 cup of self-raising flour equals 1 cup of all-purpose flour + 1 ½ teaspoon baking powder
So for this recipe, replace the self-raising flour with 2 cups of flour. It can be white wholewheat flour, all-purpose, or spelt flour and 3 teaspoons of baking powder.

Allergy Swaps
This recipe is naturally:
Dairy-free
Vegan
Egg-free
Nut-free
You can use an all-purpose gluten-free flour mix like Bob Red Mill's 1:1 flour mix for a gluten-free version. Your gluten-free flour must contain gum, or the recipe won't work. Then, add 3 teaspoons of baking powder and 1 teaspoon of baking soda.
For sugar-free banana bread, replace the liquids sweetener with sugar-free maple syrup.

More banana bread recipes
I love to create ripe banana recipes to use all my overripe bananas. Below I listed more delicious banana recipes for you to try.
Have you made this 4-Ingredient Banana Bread recipe? Share a review or comment below to let me know how it was!
Your friend, Carine