The crispiest Air Fryer Zucchini Chips as a healthy alternative to potato chips and delicious dipped into tomato passata, salsa, or cucumber dip for a healthy summer appetizer.
Bonus, these are vegan zucchini chips made without eggs or dairy.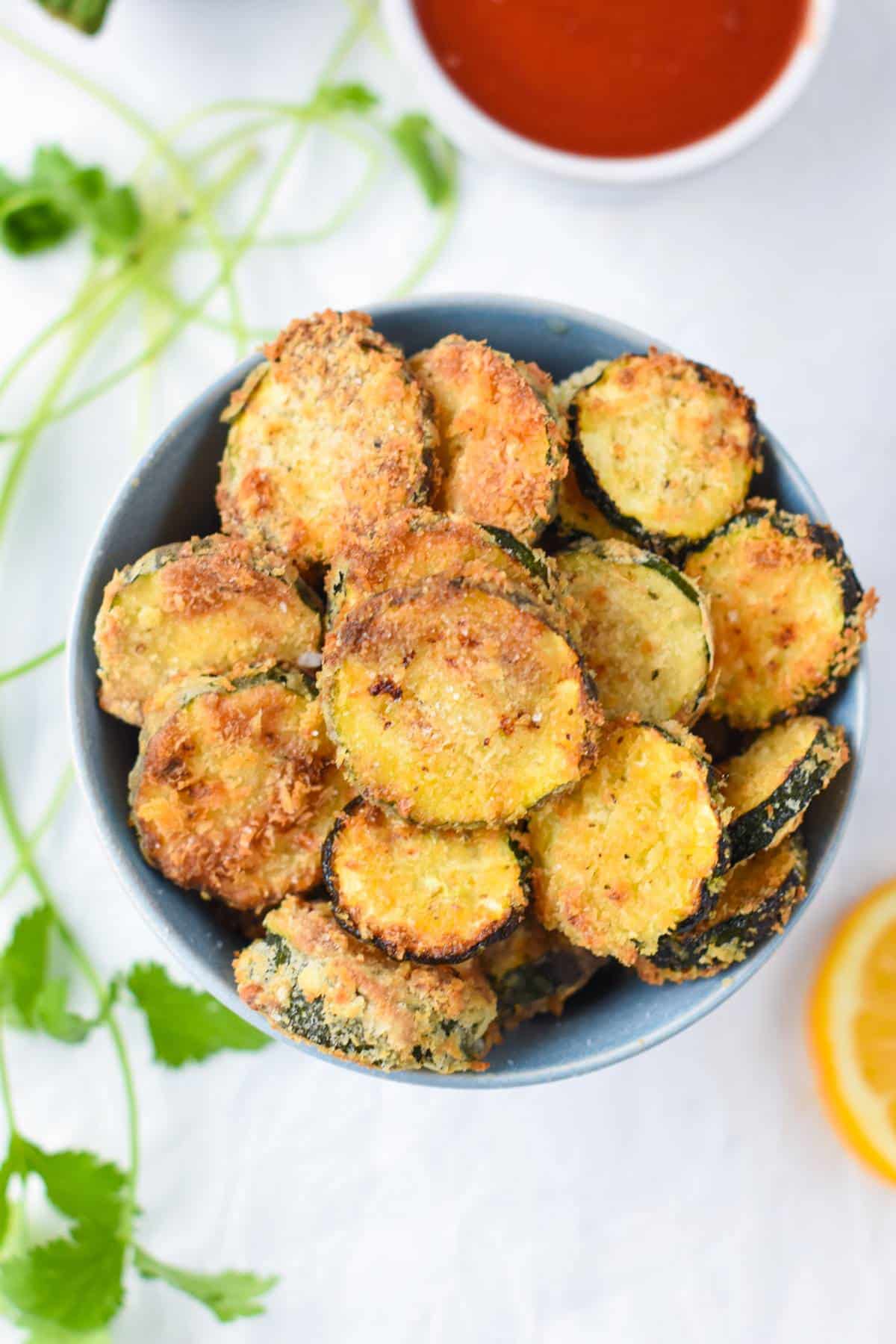 What Are Air Fryer Zucchini Fries?
I became a huge fan of air fryer recipes. It makes delicious dinner super quickly and without frying in oil.
Lately, these air fryer zucchini chips have been on the menu on the weekend as fun party food and kids love them.
So let me share with you how to turn your zucchinis into crispy zucchini chips that everyone loves.
How To Make Air Fryer Zucchini Chips
Most recipes use eggs to coat the zucchini slices, but you can make even crispier chips of zucchini without eggs.
To make these vegan zucchini chips you need:
Ingredients
Zucchinis – the recipe is for 1 large zucchini simply because you can't fit more than that in an air fryer basket. But feel free to double up the recipe or repeat to make more zucchini chips.
Flour – use any flour gluten-free, all-purpose, or spelt flour.
Flax egg – this acts as an egg replacer. We made our flax egg by whisking 1/3 cup almond milk with 1 tablespoon of golden flaxseed meal, stirring and setting aside for 10 minutes until an egg-like texture forms. Note that brown flaxseed meal works as well but the chips will be less golden.
Unsweetened Almond milk or any dairy-free milk you love.
Onion powder
Garlic powder
Dried Oregano
Salt
Panko crumbs – if gluten-free, make sure you choose gluten-free panko crumbs. Regular panko contains wheat and it's not gluten-free.
Nutritional yeast or dairy-free parmesan cheese – totally optional, but it adds a great cheesy flavor to the zucchini chips. Nutritional Yeast is perfectly vegan-friendly.
Kitchen tools
Since we are going to air fry zucchinis in this recipe you need:
An air fryer – it doesn't matter if yours have a preheating function or not, any air fryer will do.
Oil spray – I recommend using an oil spray dispenser and filling it up with a high-smoke point oil like avocado oil. High-smoke point olive oil resists higher temperatures. Also, commercial cooking sprays contain additives that often damage the non-stick coating of air fryer baskets, so it's better to avoid them.
Dipping Zucchini
First, trim the zucchini ends, keep their skin on to give more texture to the chips, and preserve nutrients in zucchinis.
Then, slice into zucchini rounds 1/4-inch thick.
Finally, prepare 3 shallow small bowls with the below mixture:
Bowl 1: flour.
Bowl 2: flaxseed egg – whisk almond milk and flaxseed meal.
Bowl 3: panko mixture – mix panko crumbs, spices, and optional cheesy addition – vegan parmesan or nutritional yeast.
First, spray the air fryer basket with oil. This prevents the zucchini chips from sticking to the basket. Set the basket aside.
Then, dip the zucchini rounds into flour. Shake to remove excess, then dip it in flaxseed egg and remove excess.
Finally, dip and press each side of the zucchini rounds into the panko crumb mixture.
Place the dipped zucchinis in the basket and repeat the above step until all zucchini rounds have been coated.
Arrange zucchini in the air fryer basket. Make sure you leave some space between each zucchini round so they don't touch each other.
If they do, the chips won't cook properly and they won't crisp well on the sides.
Air Frying Parameters
Close the basket, start the air fryer to 400°F (200°C), and set the timer to 6 minutes.
Air fry the zucchini chips, then open the basket and using tongs or two forks, flip each zucchini round on its other side.
Spray a small amount of oil on the rounds.
Close the air fryer basket and air fry for an extra 6 minutes or until golden and crispy. It takes about 12 minutes in total to make crispy air-fried zucchini chips.
Place the air fryer zucchini chips on a plate covered with some paper towel to absorb any oil.
Should I use foil or parchment paper with my air fryer?
You don't need to use foil or parchment paper for these zucchini fries as they are easy to transfer.
Read when to use parchment paper in an air fryer and whether using foil is safe with an air fryer.
Meal Prepping Zucchini Chips
This recipe serves only a small batch of zucchini chips because you can't fit more than 1 zucchini in a single air fryer basket.
But feel free to double up the recipe and make more zucchini chips for later.
You can meal prep some of these up to 1 hour in advance. I don't recommend meal preparing zucchini chips much earlier because the panko crumb softens.
This results in soft zucchini chips.
So if you prepare more than one batch of these vegan zucchini chips, place the prepared coated zucchini rounds on a wire rack at room temperature.
Set aside until the air fryer is ready. Always spray oil at the bottom of the air fryer basket before adding a new batch of zucchini chips.
Serving Suggestions
These zucchini chips are crispy and they are delicious served as a side dish or fun finger food dipped in creamy sauce like:

Storing Zucchini Chips
I don't think there will be leftovers after you make this recipe.
It's very tasty and addictive and hard to stop eating these crispy zucchini chips. But, if you have some left for any reason, you can reheat them later on in the air fryer.
Store the leftover air-fryer zucchini chips in an airtight container in the fridge. They will soften and that's normal.
The next day, spray the air fryer basket with oil, lay the zucchini round in a single layer in the basket, and air fry at 150°C (300°F) for 4 minutes, open, flip on together side, and air fry a few more minutes until crispy.
More Healthy Zucchini Recipes
I love to cook zucchinis to create tasty, nourishing meals or bread. Below I listed more zucchini recipes for you to try:
Have you made these zucchini chips? Share a comment or review below to connect with me and let me know if you love them!
Air Fryer Zucchini Chips
This easy, ultra-crispy air fryer zucchini chip recipe is perfect to serve as a fun appetizer or snack.
Pin
Print
Review
Servings:
4
servings (1/4 cup each)
Instructions
Preheat the air fryer to 400°F (200°C). If your air fryer doesn't have a pre-heating mode, that's ok. Skip this step. The recipe will still work perfectly. It requires a few more minutes to air fry to get crispy chips.

Trim the end of the zucchinis. Keep their skin on and slice the zucchini in 1/4-inch (0.6 cm) thick rounds. Set aside in a bowl.

Prepare 3 shallow bowls: Bowl 1: add flour. Bowl 2: whisk almond milk and golden flaxseed meal and set aside for 10 minutes until an egg-like texture forms. Bowl 3: add panko crumbs, salt, garlic powder, oregano, onion powder, and nutritional yeast.

Spray the air fryer basket with an oil spray filled with avocado oil. Set aside.

Work with one zucchini round at a time. First, dip it into the flour and shake it to remove excess. Then dip into the egg-replacement mixture and stay above the bowl for a few seconds to remove any excess. Finally, dip and press both sides of the zucchini round into panko crumbs.

Place the covered zucchinis into the air fryer basket and repeat the steps above for the remaining zucchini rounds.

Place each covered zucchini round in a single layer in the air fryer basket, leaving some spaces between each round so they don't touch each other. Don't overlap the zucchini chips, or they won't cook properly.

Spray oil over the zucchini chips and air fry for 5-6 minutes at 400°F (200°C), then open the basket and flip over each slice using tongs or two forks.

Spray oil on top of the flipped zucchini slices, close the basket, and air fry for an extra 5-6 minutes or until crispy.

If not crispy enough for you, keep air frying.
Notes
*Flax egg: whisk 1/3 cup almond milk (or any non-dairy milk you like) with 1 tablespoon of flaxseed meal, stir, and set aside for 10 minutes until egg-like texture forms.
Share on Facebook
Pin Recipe
Nutrition
Serving:
1
serving
|
Calories:
82.9
kcal
|
Carbohydrates:
15.2
g
|
Protein:
3.8
g
|
Fat:
1
g
|
Saturated Fat:
0.2
g
|
Polyunsaturated Fat:
0.3
g
|
Monounsaturated Fat:
0.2
g
|
Sodium:
352.7
mg
|
Potassium:
279.2
mg
|
Fiber:
2
g
|
Sugar:
2.5
g
|
Vitamin A:
165.8
IU
|
Vitamin B12:
0.1
µg
|
Vitamin C:
14.5
mg
|
Calcium:
33.1
mg
|
Iron:
1.3
mg
|
Magnesium:
20.6
mg
|
Phosphorus:
53.5
mg
|
Zinc:
0.4
mg