This Vegan Egg Salad is a high-protein meal packed with 15 grams of plant-based proteins and perfect for making a tofu sandwich or filling lettuce cups for a low-carb vegan meal.
Most people become vegan for animal welfare, their health, or the environment. However, it doesn't mean we don't like the texture and flavors of eggs.
So, if you miss eggs on your vegan journey, try this vegan egg salad recipe or our chickpea omelette.
It not only tastes like the real thing. It also has a lovely egg flavor from the black salt and a chunky chewy texture like boiled eggs.
It also contains as much protein as an egg salad but is naturally made from plant-based ingredients and is also gluten-free.
What Is A Vegan Egg Salad?
A vegan egg salad is a tofu salad that mimics the classic egg salad but is made with firm tofu instead of eggs.
It's a vegan recipe alternative to eggs, high in protein, and perfect to make sandwiches or as a light meal.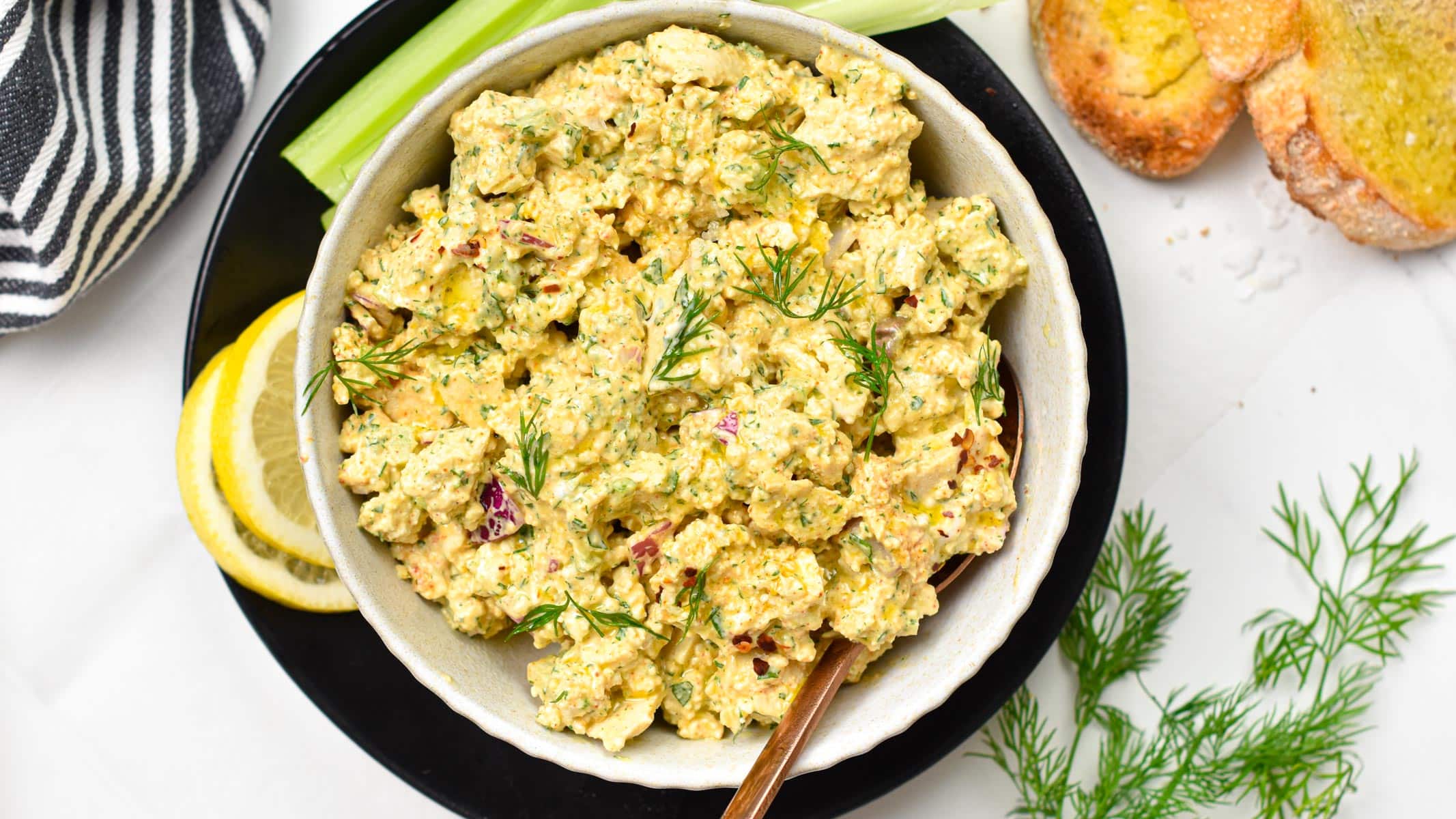 How To Make Vegan Egg Salad
There's nothing easier than tofu salad, and if you are after a high-protein lunch to meal prep, this recipe is a must-try!
Ingredients
All you need to make a vegan tofu egg salad are only a few simple ingredients.
The salad contains almost the same egg salad ingredients, except that eggs are replaced by firm tofu. And some extra ingredients are added to bring a lovely egg flavor.
Extra-Firm Tofu Block – Pressed to remove extra moisture, crumbled by hand into rough, small pieces.
Celery – Finely chopped
Red Onion
Onion Powder
Dill
Chives – You can also use parsley or green onions.
Vegan Mayonnaise – Store-bought or homemade vegan mayo.
Lemon Juice
Dijon Mustard
Nutritional Yeast
Black Salt, also called kala namak. This is salt from the Himalayan volcanic region, which naturally contains a lot of Sulphur that mimics egg flavor in vegan recipes.
Paprika
Garlic or replace the garlic clove with 1/4 teaspoon of garlic powder.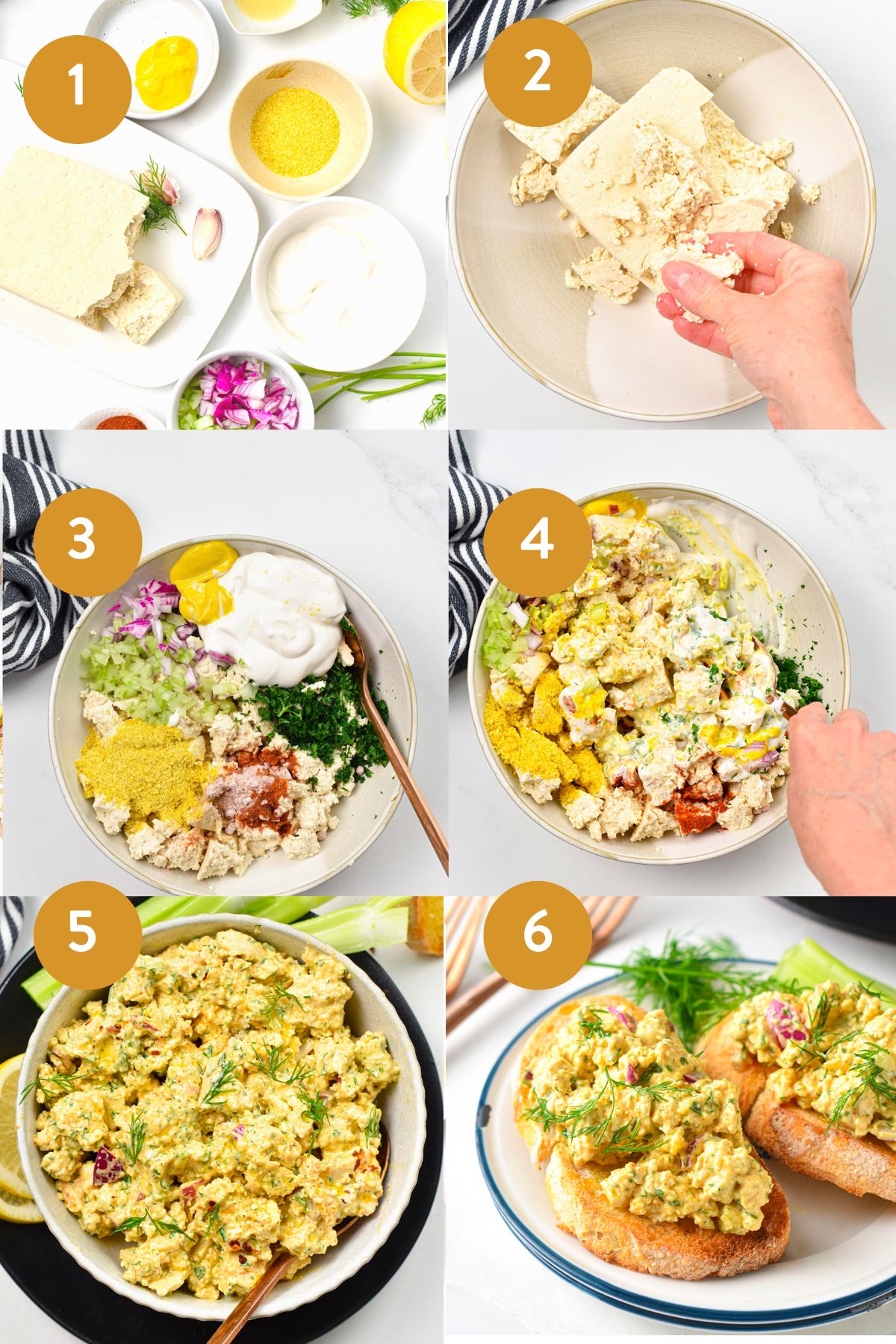 Preparation
First, wrap the firm tofu block in a clean kitchen towel. Next, place the block on the benchtop and place a heavy cookbook or any heavy item on top to press the tofu and make it release its moisture.
After 10 minutes, unwrap the tofu block. It should be dry and firm.
Use your hands and fingertips to roughly crumble the block into small pieces of different sizes.
Place the tofu crumble in a large mixing bowl.
Next, finely chop the herbs, celery, and red onion and place them on top of the crumbled tofu.
Add in vegan mayonnaise, lemon juice, Dijon mustard, black salt, pepper, onion powder, paprika, nutritional yeast, and garlic.
Stir to coat the tofu pieces with the mayonnaise mixture. If too dry, add 1-2 extra tablespoons of vegan mayonnaise.
Add-Ons
Of course, you can adapt this recipe adding more vegetable like:
1/2 avocado – diced
1/4 cup of chopped Gherkins
1/2 tomato finely diced
Serving
Serve the tofu egg salad as a light meal with:
Toasted baguette or toasted sourdough bread slices. Make toast, and top the toasted bread with the tofu salad, and extra dill on top.
Lettuce cups for a low-carb meal.
You can also use this recipe to make a vegan egg salad sandwich.
Tofu Egg Sandwich
Select two slices of bread that you love. Whole meal is a great choice for extra fiber and proteins.
Spread some hummus, vegan mayonnaise, or vegan pesto on the bread slices.
Next, add lettuce, tomato slices and fill with the tofu salad.
Storage Instructions
This vegan egg salad is perfect for meal-prepping high-protein vegan lunches.
Stir the tofu salad in the fridge in an airtight container for 3 to 4 days.
Allergy Swaps
If you are allergic to some of the ingredients, you can try the following substitutions:
Oil-Free – For an oil-free option, try vegan yogurt made from soy milk or oat milk and stir in apple cider vinegar to give a tangy flavor similar to mayonnaise.
Vegan Mayo – You can replace the mayo with vegan sour cream or vegan yogurt.
Black Salt can be replaced with regular salt but it won't add a egg flavor at all.
Nutritional Yeast can be skipped. You can add 1/4 teaspoon of turmeric to add a yellow color to the salad.
Low-FODMAP – Skip the onion and garlic.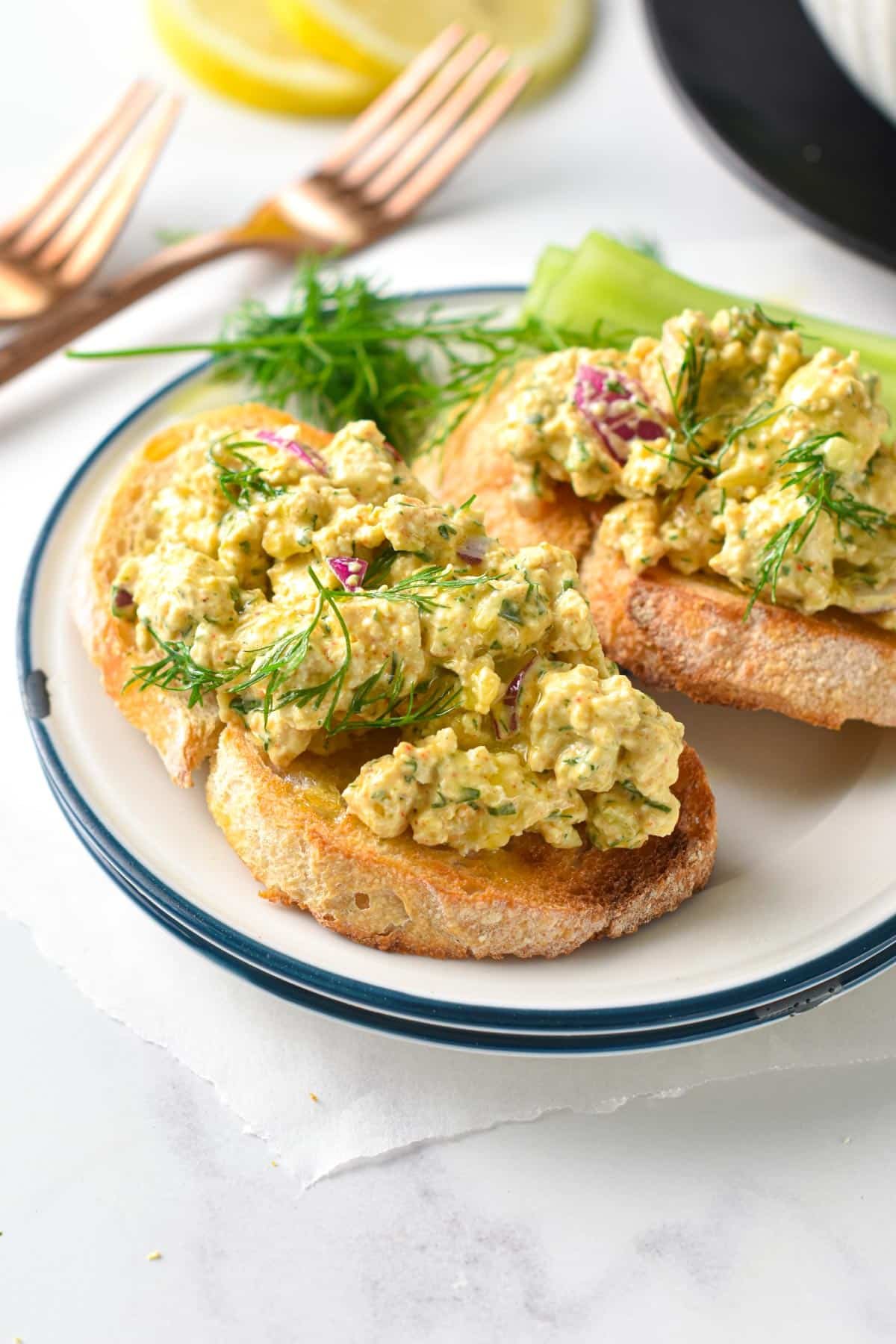 Frequently Asked Questions
Below are my answers to your most common questions about this recipe:
Can I Use Silken Tofu?
You can't make egg salad from silken tofu.
Silken tofu is silky and turns into a smooth puree quickly. It's not firm enough to make a salad.
Can I Skip The Nutritional Yeast Or Black Salt?
Nutritional yeast gives the salad a light cheesy flavor. You can absolutely skip it without losing much flavors.
However, black salt is the magic ingredient that adds an eggy flavor to this recipe. Without black salt, it will taste good but not have the sulphur egg flavor you are after.
More Vegan Tofu Recipes
Below are some more vegan tofu recipe for you to try:
Have you tried this vegan tofu salad recipe? Share a comment or review below to share your feedback with me.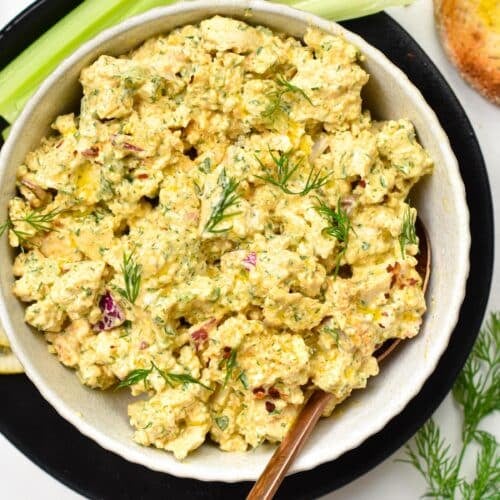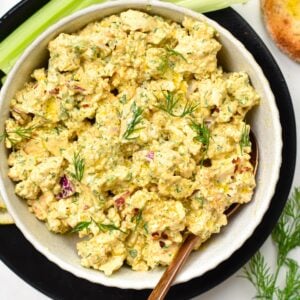 Vegan Egg Salad
This Tofu Egg Salad is a high-protein meal perfect to make a tofu sandwich or fill lettuce cups for a low-carb vegan dinner.
Pin
Print
Review
Save
Saved Recipes
Shop My Tools
Instructions
Wrap the tofu block in a clean kitchen towel. Place it on a work surface with a heavy weight on top. Set aside for 10 minutes.

Unwrap the tofu block. It should be firm and dry.

Use your fingertips to crumble the block into small rough pieces of different sizes and place them in a large mixing bowl.

Add all the remaining ingredients on top of the tofu: diced celery, diced red onion, chopped herbs, vegan mayonnaise, lemon juice, Dijon mustard, black salt, pepper, onion powder, paprika, garlic, and nutritional yeast.

Stir to coat the tofu pieces with the mayo mixture. If too dry, add an extra 1-2 tablespoons of vegan mayo.

Serve with extra fresh dill on top of toasted sourdough bread or to make vegan tofu sandwiches.
Storage
Store leftovers in an airtight container in the fridge for up to 4 days. Don't freeze.
Share on Facebook
Pin Recipe
Nutrition
Serving:
1
serve
|
Calories:
388.6
kcal
|
Carbohydrates:
10.4
g
|
Protein:
15.2
g
|
Fat:
30.7
g
|
Saturated Fat:
3.4
g
|
Polyunsaturated Fat:
3.9
g
|
Monounsaturated Fat:
1.8
g
|
Sodium:
1041.7
mg
|
Potassium:
165.5
mg
|
Fiber:
3
g
|
Sugar:
1.6
g
|
Vitamin A:
249.9
IU
|
Vitamin C:
7.2
mg
|
Calcium:
204
mg
|
Iron:
2.2
mg
|
Magnesium:
7.9
mg
|
Phosphorus:
18.5
mg
|
Zinc:
0.1
mg