This Tofu Marinade is a delicious and easy marinade that gives the tofu a deep flavor and turns any recipe into a delightful meal.
Plus, this marinade takes less than 5 minutes to whip up and is naturally gluten-free, dairy-free, and vegan.
Tofu is an amazingly versatile ingredient that you can use in many tofu recipes. You can do pretty much everything with it, from vegan cottage cheese to vegan egg salad or a tasty tofu red curry.
But, on its own, form tofu is very bland in flavor, and if not marinated, it can be relatively tasteless.
So here's an idea on how you can marinate your tofu and a few tips to cook it to perfection and enjoy crispy tofu every time.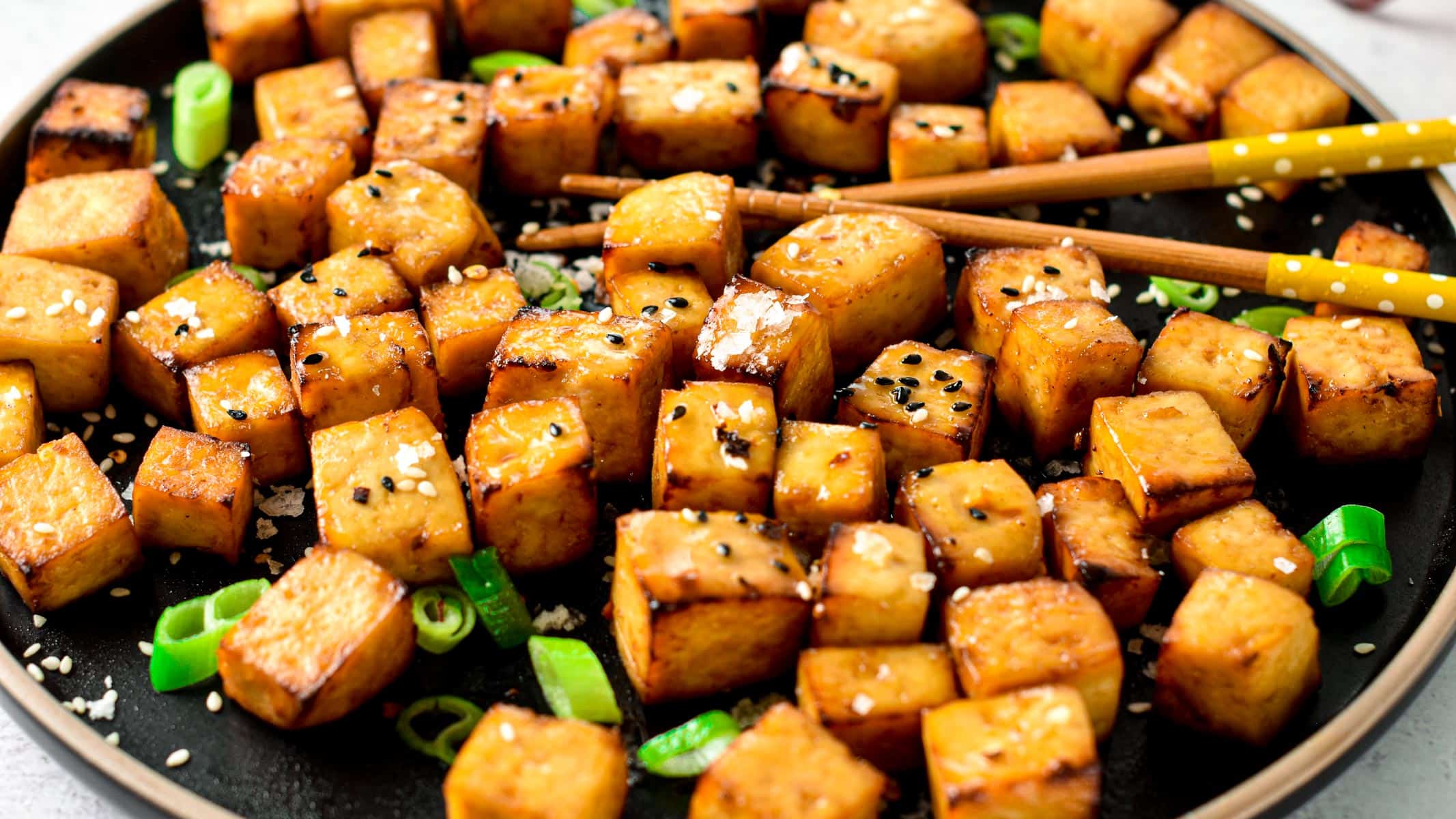 How To Make Tofu Marinade
There are many ways of making a tasty marinade for tofu, but this one is our favorite.
Ingredients
All you need to make this Asian inspired tofu marinade recipe are:
Firm Tofu – While you can take any kind of firm tofu, extra firm tofu works best. Soft tofu tends to crumble apart and doesn't absorb the marinade very well. Also, silken tofu is too soft and jelly-like to be marinated.
Tamari Sauce – You can also use coconut aminos or light soy sauce. Avoid regular soy sauce as it's too salty and not always gluten-free.
Maple Syrup
Rice Vinegar
Mirin or sake wine if you are making a Japanese-inspired recipe.
Garlic – Minced or crushed
Ground Ginger
Red Pepper Flakes
Sesame Seeds to serve
Pressing Tofu
The secret of tasty, crispy tofu is first to press the tofu block. If you don't press the tofu, you keep all of its moisture, and the tofu pores won't be able to absorb the marinade as well.
You don't need a tofu press or fancy tools to press tofu.
Wrap the block in a clean kitchen towel, place it on your work benchtop, and place a heavy weight on top, such as cookbooks.
Now, set it aside for a few minutes until the towel is wet and the block is dry.
If using absorbent paper, you will have to change the paper a few times as it gets full of humidity very fast.
Cutting Tofu
Now, depending on the recipe, you intend to make, cut the tofu into 1-inch cubes or slices.
For stir-fries and curries, it's better to cut the tofu into cubes, but for sandwiches or wraps, slices are more convenient.
Next, add all the marinade ingredients to a shallow bowl and whisk with a fork to bring them together. Place the tofu cubes in the bowl and stir to combine.
Now, if your bowl is too wide, not all the cubed tofu will be soaked by the marinade. So you have two options:
Option 1 – my favorite way to marinate tofu is to transfer the marinade and tofu to zip-lock bags. There are many earth-friendly bag options out there or silicone bags.
Option 2 – keep it in the bowl, cover it with plastic wrap, and place it in the fridge. But then, stir the tofu every 10 minutes to cover and soak all its sides.
Marinating Time
Place the tofu and its marinade in the fridge for at least 30 minutes and up to 24 hours.
The ideal soaking timing for tofu is 2 hours. After that time, it gets darker with a very strong marinade flavor. It's up to you to pick the time based on your liking.
Draining
Remove the tofu from the fridge, place a sieve over a bowl, and drain the marinated tofu.
This keeps the marinade for later. Note that it's not safe to eat raw marinade after it has been soaked with tofu.
Even if tofu doesn't easily carry bacteria like raw meat, it's still better to avoid eating raw marinade. Keep it for cooking later in the recipe.
Marinade Flavors
You can use this marinade recipe as a base to create a range of marinade flavors.
For example, stir some of the below ingredients to create other flavors:
Thai Flavors – Use lime juice to replace the rice vinegar. Stir one tablespoon of peanut butter, add one tablespoon of vegan oyster sauce and stir in finely chopped Thai chili. Then, serve the cooked tofu with crushed peanuts and chopped cilantro.
Japanese Flavors – Add 2 teaspoons of sake, and serve with red chili flakes.
Chinese Flavors – Replace the rice vinegar for Chinese wine or black vinegar.
Korean-Style – Stir in a few teaspoons of Gochugaru, also called Korean chili paste.
Cooking The Tofu
You can cook marinated tofu 3 ways.
Air-Fryer Tofu
This is my go-to option. It's fast. It puffs up the tofu and crisps the sides to perfection.
Preheat the air fryer to 400°F (200°C), place the marinated tofu cubes in a single layer in the air fryer basket, and air fry the tofu for about 12 minutes while shaking the basket halfway.
The tofu is ready when warm, golden-brown, and crispy on the edges.
If you like, after 10 minutes in the air fryer, brush the tofu with some leftover marinade for extra flavor.
Pan-Frying Tofu
This is not my favorite option because it will never crisp the tofu as much as baking or air-frying the cubes.
However, you can warm olive oil or avocado oil in a large non-stick skillet. Then, add the drained marinated cubes to the pan over medium-high heat.
Stir fry on all sides for 15 minutes until golden brown.
Add the end of the cooking, you can deglaze the tofu with a bit more leftover marinade.
Oven-Baked Tofu
Like air-fried tofu, this option is great to crisp the cubes.
Line a large baking sheet with parchment paper and slightly oil it with cooking oil spray.
Preheat the oven to 400°F (200°C).
Line the tofu cubes in a single layer on the baking sheet and place them in the center rack of the oven.
Bake the tofu for 25 to 35 minutes, flipping the cubes halfway with kitchen tongs or two forks. At this time, you can also brush the cubes with some left marinade to add flavor to the cubes.
Keep baking until golden and crispy in the sides.
Allergy Swaps
Here are some options to swap the ingredients in this marinade if you have some food allergies.
Low-Sodium – Use light soy sauce or salt reduced soy sauce.
Low-FODMAP – Skip the garlic.
Gluten-Free – Use tamari sauce or check that your soy sauce is wheat-free.
Frequently Asked Questions
My answers to your most common questions are listed below:
How Can I Spice Up My Marinade?
You can stir in a few teaspoons of spicy Gochugaru, also called Korean chili paste, sriracha sauce, or a pinch of red chili pepper.
Can I Marinate Tofu Overnight?
You can marinate the tofu for up to 24 hours for a stronger flavor.
Can I Freeze The Marinade?
Yes, you can freeze the marinade, but don't freeze the marinated tofu.
When tofu is frozen, its pores and flesh explode and get spongy. It does increase the tofu's meaty texture, but it won't soak the marinade as well if frozen in its marinade.
The best is to freeze the tofu, thaw it, and remove the liquid that comes out. Then, marinate the frozen, thawed tofu.
More Tofu Recipes
If you are a tofu lover, try some of the inspiring tofu recipes below.
Have you tried this marinade for your next tofu recipe? Share a comment or review below to connect with me.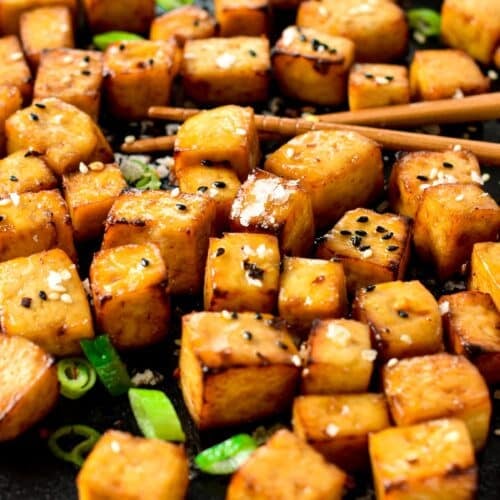 Tofu Marinade
This Tofu Marinade is an easy marinade to give tofu deep flavors and turn any tofu recipe into a delicious meal. Plus, this marinade takes under 5 minutes to whip up, and it's naturally gluten-free, dairy-free, and vegan.
Pin
Print
Review
Shop My Tools
Instructions
Wrap the tofu block in a clean kitchen towel and place it on the work surface. Add heavy weights on top, like cookbooks, and set aside for 10 minutes until the towel is wet and the block of tofu is dry.

Cut tofu into cubes of about 1 inch (2.5 cm). Set aside into a dish that is not too large so the cubes can soak well in the marinade in the next step, or use an environmentally-friendly zip-lock bag to store.

In a mixing bowl, whisk all the marinade ingredients together. Taste the marinade and adjust with more maple syrup for a sweeter marinade or more chili for a spicy sauce.

Pour the marinade over the tofu cubes, cover the dish with plastic wrap, and set it aside for 2 hours in the fridge or overnight for the best flavors. I recommend flipping the cubes or shaking the bowl after 1 hour so all sides are well marinated, especially if the dish is slightly too wide. If in a bag, you don't have to do anything.

Remove the tofu from the marinade and keep the leftover marinade for later in the recipe. Don't eat raw marinade.
Baking Tofu
Preheat the oven to 400°F (200°C). Line a large baking sheet with parchment paper and spray cooking oil on the paper.

Spread the cubed tofu in a single layer in the pan and bake for 30-35 minutes, flipping halfway and brushing some leftover marinade. Bake until golden and crispy.
Pan-Fry Tofu
Warm two teaspoons of sesame oil in a non-stick pan over high-medium heat.

Add the cubes next to each other, don't overlap them. Cook for 10-15 minutes until it gets dark brown, and it dries out on the sides.

Rotate the cubes with kitchen tongs and keep cooking on the other sides. Add a bit more oil if it sticks too much. Cook for 2-3 minutes or until all sides are golden and crispy.

At the end of the baking, splash some marinade on the hot pan. It will sizzle and add flavor and a sort of caramel-like sauce to the tofu.
Share on Facebook
Pin Recipe
Nutrition
Serving:
1
serving
|
Calories:
187
kcal
|
Carbohydrates:
14
g
|
Protein:
12.3
g
|
Fat:
10.2
g
|
Saturated Fat:
1.8
g
|
Polyunsaturated Fat:
3.9
g
|
Monounsaturated Fat:
3.3
g
|
Sodium:
761.9
mg
|
Potassium:
303.1
mg
|
Fiber:
0.3
g
|
Sugar:
6.3
g
|
Vitamin A:
18.9
IU
|
Vitamin B12:
0.04
µg
|
Vitamin C:
0.7
mg
|
Calcium:
91.3
mg
|
Iron:
2.1
mg
|
Magnesium:
58.2
mg
|
Phosphorus:
179
mg
|
Zinc:
0.9
mg