Peanut Dipping Sauce Recipe
This Peanut Dipping Sauce Recipe is a delicious Asian style peanut sauce for dipping spring rolls, tempeh tofu, or roasted vegetables.
Plus, this sauce is vegan, gluten-free, and low-carb friendly, so everyone can enjoy it.
Everybody loves peanut butter, and not only in dessert! This peanut butter sauce is the best dipping sauce for spring rolls, dumplings, or marinated tempeh.
It's creamy, smooth with a perfect balance of sweet and sour flavor.
If you are throwing an Asian-inspired vegan dinner, this peanut butter dipping sauce is a must, along with our orange tofu recipe.
How To Make This Peanut Dipping Sauce Recipe
It's so easy to make your peanut sauce recipe! Believe me, after trying this simple recipe. You won't use any store-bought dipping sauce.
Ingredients
All you need are:
Natural Smooth Peanut Butter – With no added salt, no added sugar, or oil.
Rice Vinegar or try lime juice for a Thai-inspired sauce.
Soy Sauce or tamari sauce
Maple Syrup or any liquid sweetener you love. If you prefer to use a granulated sweetener, like brown sugar, bring the ingredients to a small saucepan, and warm all ingredients together, stirring gently until creamy, smooth, and the sugar is melted.
Freshly Grated Ginger
Red Chili Pepper
Garlic Powder or freshly crushed garlic clove for a potent garlic flavor in the sauce.
Water or coconut milk for a Thai peanut sauce.
Preparation
If your peanut butter is fresh and drippy and the water-maple syrup is not too cold, then you can mix the sauce directly in a bowl.
In a mixing bowl, add all the ingredients starting with the minimum recommended soy sauce and water.
Stir with a fork until the ingredients come together into a smooth, creamy sauce.
Otherwise, bring all the ingredients into a small saucepan over medium-low heat and stir all the ingredients together until melted and fully combined.
Tasting And Adjusting
We all have different tastes when it comes to dipping sauces. Some people love their sauce ultra-thin, while others prefer a sauce that is thick and creamy.
Gradually add more water or coconut milk if you intend to serve the sauce with Thai dishes.
Add one tablespoon at a time, and stir after each addition until fully incorporated.
Taste and add more soy sauce to boost the savory note of the dipping sauce.
Serving
This dipping sauce is delicious served with a few crushed peanuts and cilantro on the top.
It's the perfect dip to any air-fried vegetables or food like:
Or use as a sauce on top of salad like in our vegan broccoli salad or roasted cauliflower salad.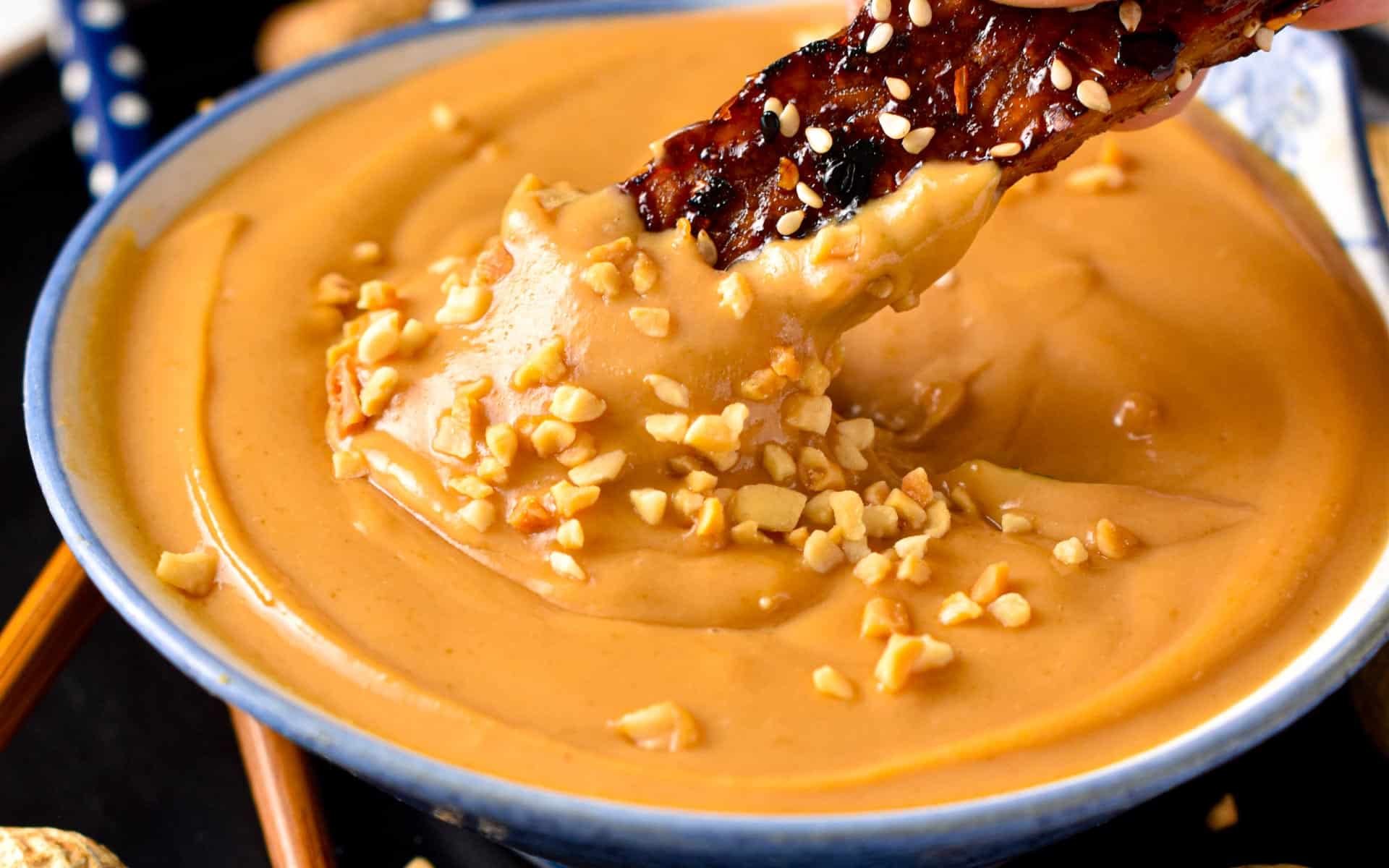 Add-Ons
You can flavor to this peanut sauce by adding some herbs and spices, like:
1 teaspoon of sesame oil
Cilantro – 1-2 teaspoons finely chopped
Spring onion – on top of the dip
Sesame seeds or bagel seasoning on top of the dipping sauce
Storage Instructions
This peanut sauce can be stored for 3 to 4 days in a glass mason jar in the fridge.
The sauce thickens in the fridge. You can warm the jar up in a hot bath or microwave to thin out the sauce before serving.
The sauce freezes very well in an airtight container. Thaw the peanut sauce in the fridge the day before using.
Allergy Swaps
Below are some ideas to adjust the peanut recipe if you are allergic to some of the ingredients.
Nut-Free – If you have a peanut allergy, you can make the peanut-like sauce by replacing the peanut butter with unsweetened sunflower seed butter.
Gluten-Free – Replace the soy sauce with tamari sauce.
Sugar-Free – Any liquid sugar-free sweetener works in this recipe to make a keto-friendly peanut sauce.
Frequently Asked Questions
Below are my answers to your most frequent questions about this dipping sauce recipe.
Can I Use This Sauce To Make A Curry?
Yes, thin out the sauce with more water, and drizzle on top of your cooked tofu, chicken-free meat, and stir to warm and coat.
You can add some chili garlic sauce to the mix to enhance the spicy flavor of the curry.
What Can I Do If My Ingredients Are Difficult To Mix?
If your peanut butter is not smooth or if you use very cold milk, water, or maple syrup, then the ingredients are difficult to bring together in a bowl.
To fix that, transfer all ingredients to a small saucepan, bring over low-medium heat, warm, and stir until creamy and smooth.
You can also microwave the mixture in a microwave-safe bowl in 30-second bursts, stir, and repeat until creamy.
Can I Use Almond Butter?
Absolutely, you can replace this peanut butter with smooth, unsweetened almond butter.
Almond butter is a bit grainy, so the texture won't be as smooth, but the flavor is delicious, and the dip lower in saturated fat.
More Sauce Recipes
Below are some more dip and sauce recipes for you to try:
Best Dishes With Peanut Sauce
Below are some recipes ideas to serve along this sauce:
Did you try this creamy peanut butter sauce? Share a comment or review below.
Peanut Dipping Sauce Recipe
This Peanut Dipping Sauce Recipe is a simple and delicious Asian-style peanut sauce to dip spring rolls, tempeh tofu, or roasted vegetables.
Pin
Print
Review
Shop My Tools
Ingredients
½

cup

Peanut Sauce

2

tablespoons

Rice Vinegar

2-3

tablespoon

Soy Sauce

3

tablespoon

Maple Syrup

½

teaspoon

Freshly Grated Ginger

3-5

tablespoon

Water

-

or coconut milk carton, or more to thin out sauce as you like

¼

teaspoon

Chili Flakes

½

teaspoon

Garlic Powder -

or fresh garlic clove, crushed
Instructions
If your peanut butter is not ultra smooth, place all the ingredients in a small saucepan over low-medium heat. Stir constantly until smooth and creamy.

Or, add all ingredients to a small bowl and use a fork to stir them into a creamy sauce.

Taste the dip, add more soy sauce to increase the savory flavor, or more water or coconut milk to thin out the sauce to your liking.
Storage
Store up to 4 days in the fridge in a sealed glass mason jar.
Share on Facebook
Pin Recipe
Nutrition
Serving:
2
Tablespoons
|
Calories:
127.2
kcal
|
Carbohydrates:
17.9
g
|
Protein:
2.8
g
|
Fat:
4.2
g
|
Saturated Fat:
0.003
g
|
Polyunsaturated Fat:
0.01
g
|
Monounsaturated Fat:
0.01
g
|
Sodium:
924.6
mg
|
Potassium:
59.9
mg
|
Fiber:
0.1
g
|
Sugar:
14.4
g
|
Vitamin A:
37.1
IU
|
Vitamin C:
0.01
mg
|
Calcium:
19.7
mg
|
Iron:
0.3
mg
|
Magnesium:
7.4
mg
|
Phosphorus:
13.9
mg
|
Zinc:
0.2
mg