This homemade Vegan Cottage Cheese is creamy and refreshing with all the texture and flavors you used to love in regular cottage cheese minus the dairy.
Plus, this vegan cottage cheese recipe is also high in protein.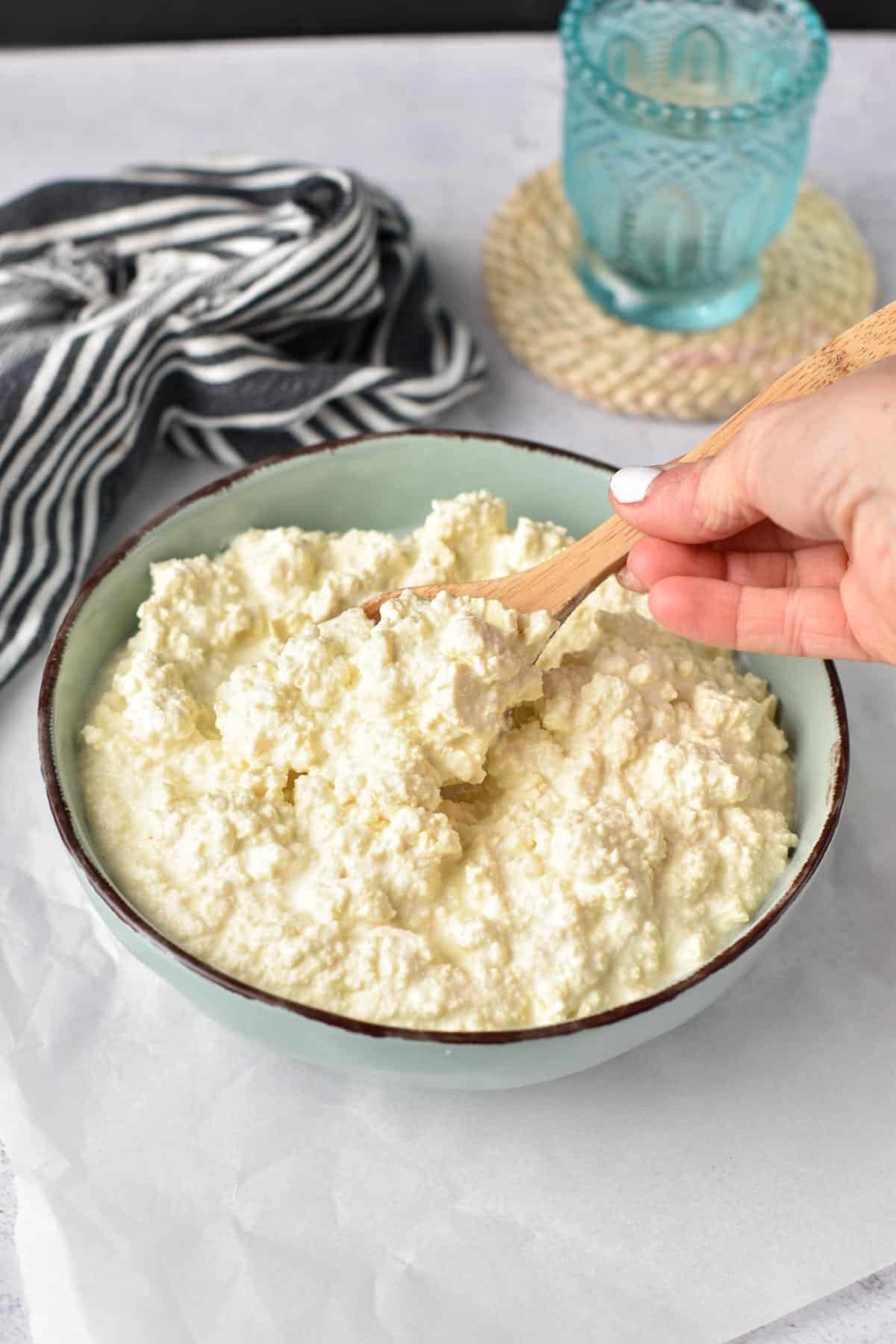 I used to love traditional cottage cheese, the fresh creamy texture, and its nutrition profile.
However, finding a store-bought plant-based cottage cheese is almost impossible, so what's better than making your own?
This recipe is also naturally:
Gluten-free
Dairy-free
Nut-free
Oil-free
Keto-friendly
Low-carb
Grain-free
Is Cottage Cheese Vegan?
No, cottage cheese is made from milk and therefore, it's vegetarian but not vegan.
How To Make Vegan Cottage Cheese
Great news, it takes just a few minutes to whip a batch of dairy-free cottage cheese at home.
It's probably the easiest vegan cheese recipe because cottage cheese is milk curd with a light, salty flavor.
It's easy to reproduce its texture and taste without going through a process like soaking cashews or waiting for the cheese to set and harden.
Ingredients
All you need to make vegan cottage cheese are:
Firm Tofu Block – Crumble by hand into small chunks. Cottage cheese is more like a curd than cheese or spread. As a result, crumbled tofu resembles cheese curd and adds the same protein as regular milk.
Unsweetened Yogurt – You can use plain soy or oat yogurt to reduce saturated fat. However, I found that coconut yogurt provides the best cream texture however, it does taste coconutty.
Apple Cider Vinegar – This add a subtle tang to the mix.
Probiotic Capsule – Totally optional, but I found that adding probiotics brings not only gut-friendly bacteria but also a nice flavor to the cheese.
Sea Salt
Preparing The Tofu
First, remove the block of tofu from its packaging and press it in a tofu press.
If you don't have a tofu press, wrap the block in a clean kitchen towel and press between two chopping boards, placing heavy weight on top of the top board.
Next, wait 10 minutes or until the tofu water has been fully extracted. Meanwhile, in a medium bowl, stir the plant-based yogurt, apple cider vinegar, salt, and the content of a probiotic capsule.
Set it aside in the fridge while the tofu is pressed. Now, unwrap the tofu block and crumble it into tiny pieces using your fingers.
Stir the pieces of tofu into the dairy-free yogurt mixture. Depending on the size of your tofu block, the ratio of tofu to yogurt can be slightly off.
If too dry, add more yogurt, adding an extra tablespoon one at a time.
Cover the bowl with plastic wrapping or a lid and store it in the fridge for one hour to enjoy its best flavor and texture.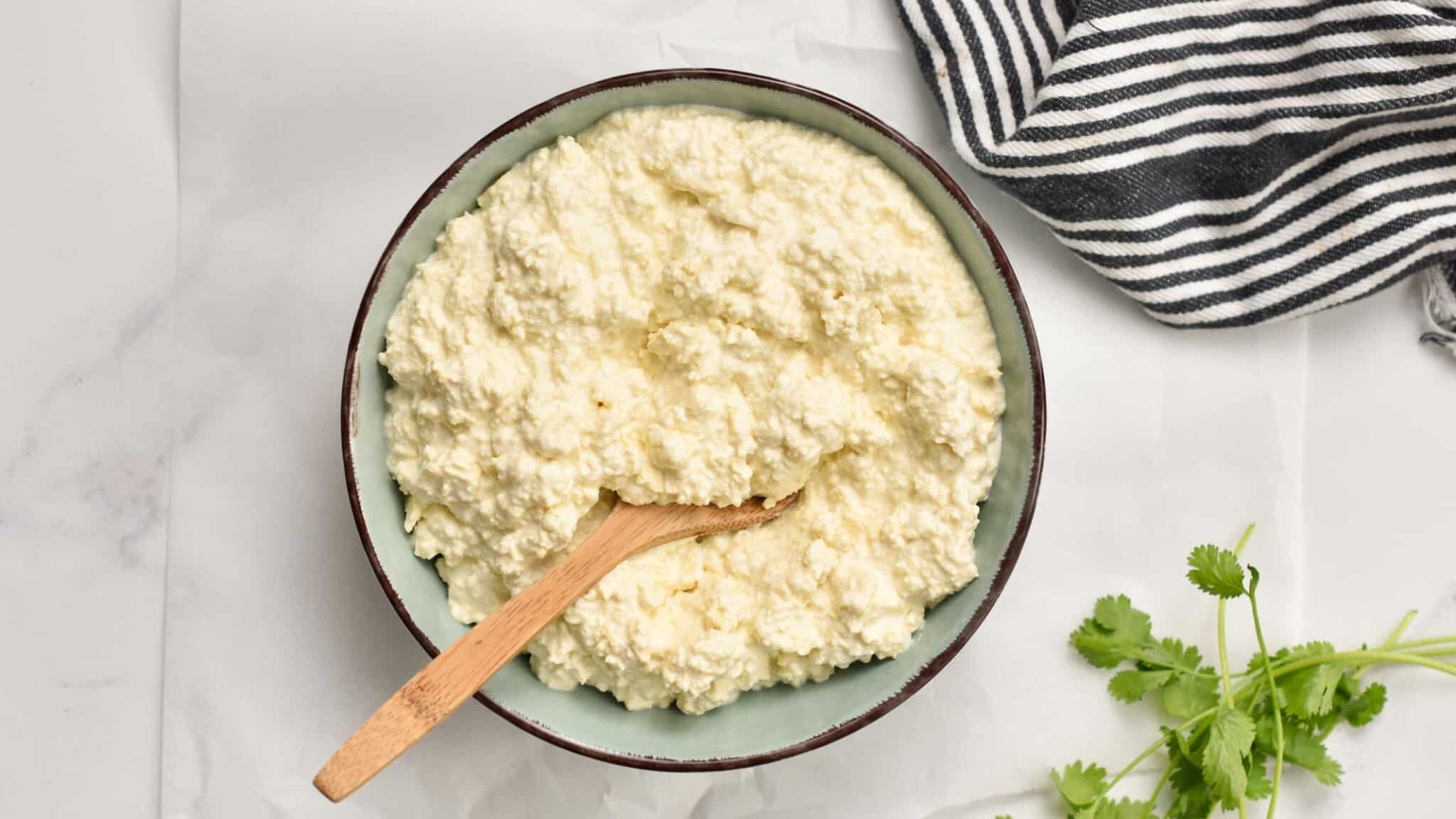 Flavors
Of course, you can add flavors to this recipe like regular cottage cheese.
For example you can add:
1 teaspoon of crushed garlic or 1/2 teaspoon of garlic powder.
Fresh chopped dill
1/2 teaspoon of onion powder
1 teaspoon of dried chives
1-2 tablespoons of nutritional yeast
Serving Ideas
This plant-based cottage cheese has a bland flavor. Therefore, it goes well with sweet or savory food.
You can use this recipe as you would use regular cottage cheese from the store.
It means you can:
Spread on toast as a base for savory or sweet toast. For example, it goes well with strawberry slices and a drizzle of peanut butter and maple syrup. Or a savory toast topped with avocado slices, cucumber, or arugula, and a drizzle of olive oil.
Use in lasagna as a vegan protein white sauce.
To fill my vegan eggplant rollatini.
In a bowl topped with fruits, nuts, and maple syrup.
In a bowl topped with raw vegetables and bagel seasoning.
Allergy Swaps
Below are some ideas to make this recipe, even if you have missing ingredients or an allergy.
Apple cider vinegar – lemon juice or white vinegar also works.
Probiotic – this is optional, the recipe works very well without it.
Coconut-free – try plain soy yogurt or plain oat yogurt.
Frequently Asked Questions
Below are the answers to your most frequent questions about this recipe.
How Does Vegan Cottage Cheese Taste?
This recipe has a very mild flavor, just like classic cottage cheese.
It's mostly salty like regular cottage cheese with a fresh creamy texture and pieces of soft tofu that mimic curdle cheese.
Can I Use Silken Tofu?
You can but the texture will be very watery and the curd softer. It won't taste as similar as cottage cheese
Can I Freeze Vegan Cottage Cheese?
Yes, this cottage cheese keep well in the freezer.
Place in a airtight container and freeze up to one month. Thaw in the fridge the day before.
More Tofu Recipes
Below are some more tofu recipes ideas for you to try.
Did you try this vegan cottage cheese recipe? Share a comment or review below.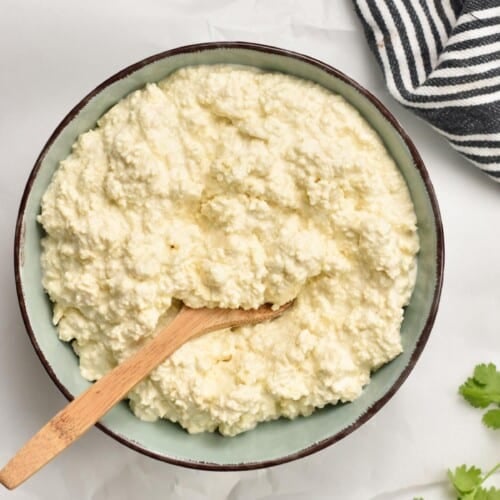 Vegan Cottage Cheese
This homemade Vegan Cottage Cheese is creamy and refreshing with all the texture and flavors you used to love in regular cottage cheese minus the dairy. Plus, this vegan cottage cheese recipe is also high in protein.
Pin
Print
Review
Servings:
10
servings (2 tablespoons)
Shop My Tools
Instructions
Wrap the block of firm tofu in an absorbent paper towel and press between two chopping boards, applying weight on top of the top board – I use cookbooks. Wait for 10 minutes until the tofu releases its water.

In a mixing bowl, mix vegan yogurt, salt, apple cider vinegar, pepper, and any additional flavor you love in cottage cheese. Set aside.

Crumble the tofu block on a chopping board and use a fork to press and crumble it into small lumps that look like cottage cheese.

Stir the tofu to crumble into the yogurt and serve as cottage cheese on top of toasted bread, salads, or sandwiches.
Storage
Store in the fridge in a sealed glass mason jar for up to 3 days.
Share on Facebook
Pin Recipe
Nutrition
Serving:
1
serving
|
Calories:
44.8
kcal
|
Carbohydrates:
2.6
g
|
Protein:
4.3
g
|
Fat:
2
g
|
Saturated Fat:
0.2
g
|
Polyunsaturated Fat:
1.1
g
|
Monounsaturated Fat:
0.5
g
|
Sodium:
236.3
mg
|
Potassium:
26.6
mg
|
Fiber:
0.6
g
|
Sugar:
0.7
g
|
Vitamin A:
17.6
IU
|
Vitamin C:
1.6
mg
|
Vitamin D:
0.1
µg
|
Calcium:
70.1
mg
|
Iron:
0.7
mg
|
Magnesium:
1.5
mg
|
Phosphorus:
2
mg
|
Zinc:
0.01
mg