This Vegan Stir Fry is an healthy quick and easy dinner packed with more than eight plants.
Plus, it's a very fulfilling diner packed with plant-based proteins from tofu.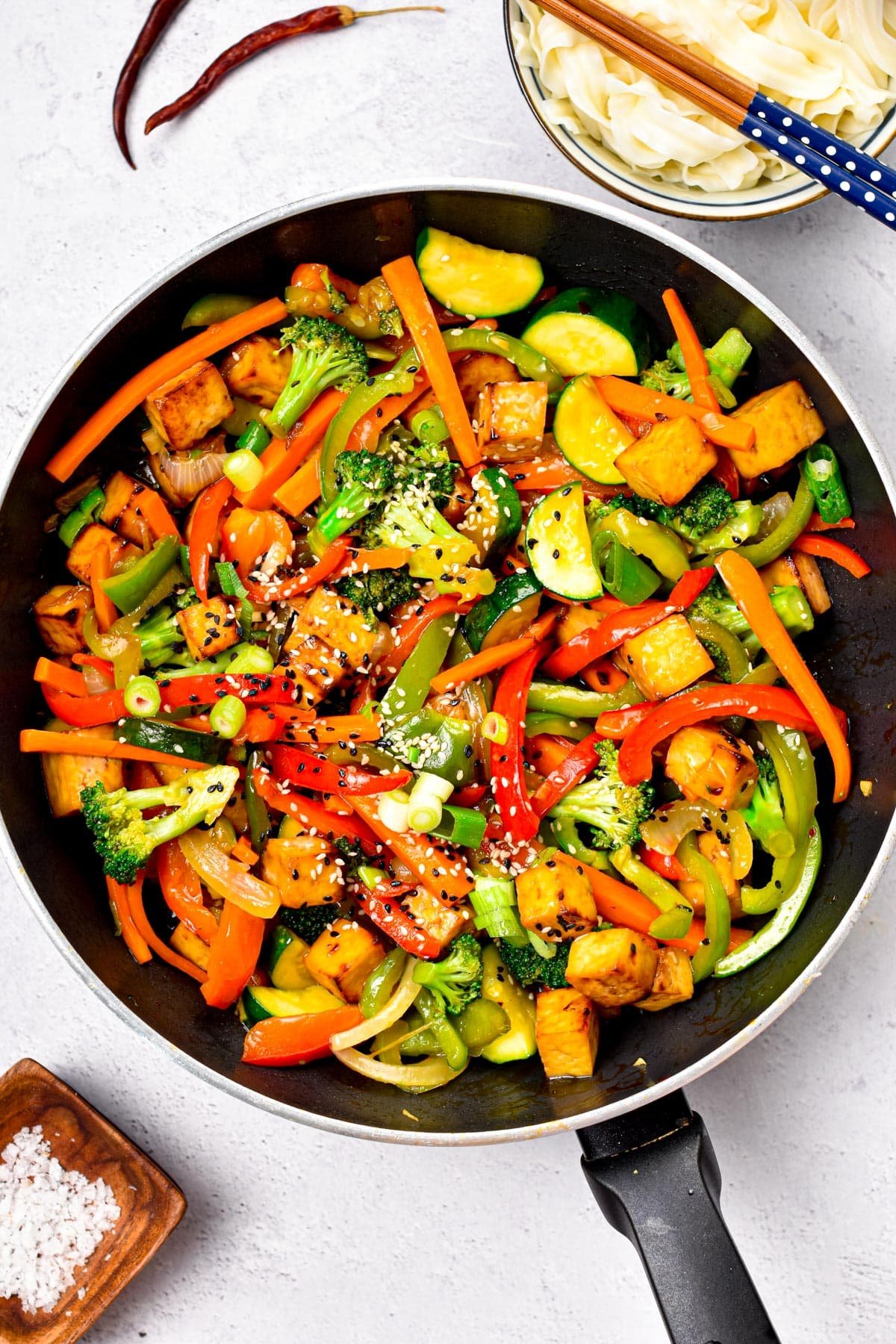 A recent study showed that we should try to eat a variety of 30 different plants over a week.
While this sounds like many, it's actually easy when making your own food, and even easier with this stir-fry recipe.
This stir fry is the easiest dinner recipe to add vegetables and plants to your plate with amazing flavors.
In this recipe, you will get nutrients from 8 plants and such a wonderful flavorsome dish.
So let's see how you can make an easy stir at home that tastes like your favorite takeout.
How To Make Vegan Stir Fry
There are many ways to make a plant-based stir fry. Feel free to swap the vegetables and proteins suggested in this recipe to adapt to what's in season.
However, the key to a great and tasty stir-fry recipe is the sauce. So stick to the stir-fry sauce ingredients below.
Stir-Fry Sauce Ingredients
Light Soy Sauce – You can also use tamari sauce or coconut aminos if gluten-free.
Vegan Oyster Sauce
Mirin
Maple Syrup or agave syrup
Cornstarch
Stir-Fry Ingredients
As mentioned, use the vegetables that are in season.
Zucchini is a summer vegetable and can be swapped with mushrooms, bok choy, or snap peas.
Broccoli can be swapped with cauliflower or eggplants.
Avocado Oil or any low-flavor oil like light olive oil. Note that sesame oil or peanut oil work as well, but they add more flavors.
Onion – Cut into small slices.
Green Bell Pepper
Red Bell Pepper
Broccoli Florets
Zucchini – You can swap it for snap peas or green beans. Use any green vegetable that is in season.
Carrots – Peeled and sliced diagonally.
Water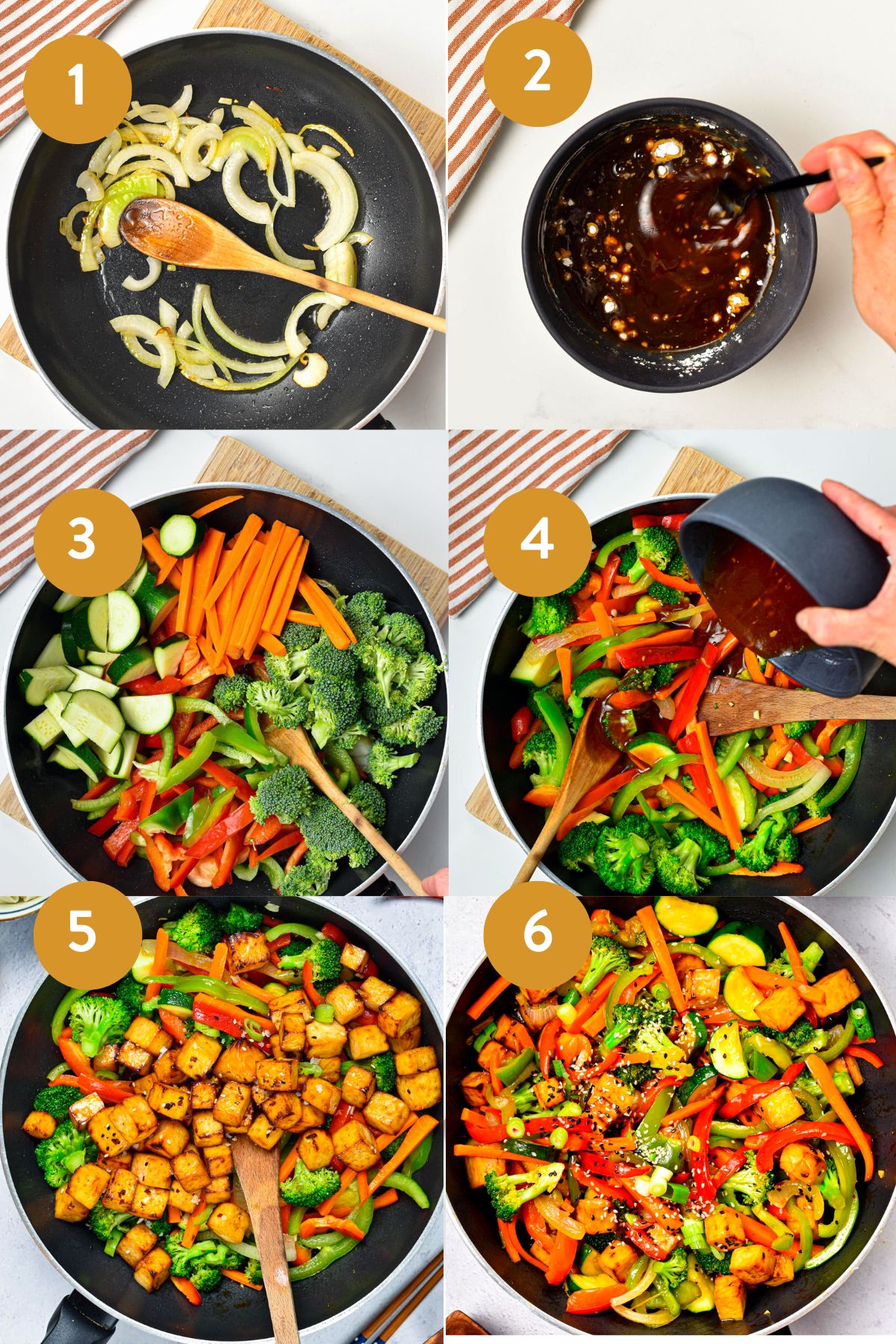 Cutting The Vegetables
To be quick and efficient, wash and chop all your vegetables first.
Cut the broccoli into small florets, and peel and slice the carrot diagonally into thin strips, as these are a hard root vegetable and won't cook as fast.
For fast-cooking vegetables, cut into thicker pieces, including zucchinis that we cut in half moons, skin on for a firmer texture. Or red bell pepper sliced in large long strips.
Making The Stir-Fry Sauce
Whisk all the stir-fry sauce ingredients in a small bowl until it thickens slightly. Add the tamari sauce or light soy sauce, vegan oyster sauce, mirin, maple syrup, and cornstarch.
If the cornstarch doesn't dissolve well, don't worry too much about it. Seeing a few lumps of cornstarch in the sauce is fine. They will dissolve later in the recipe.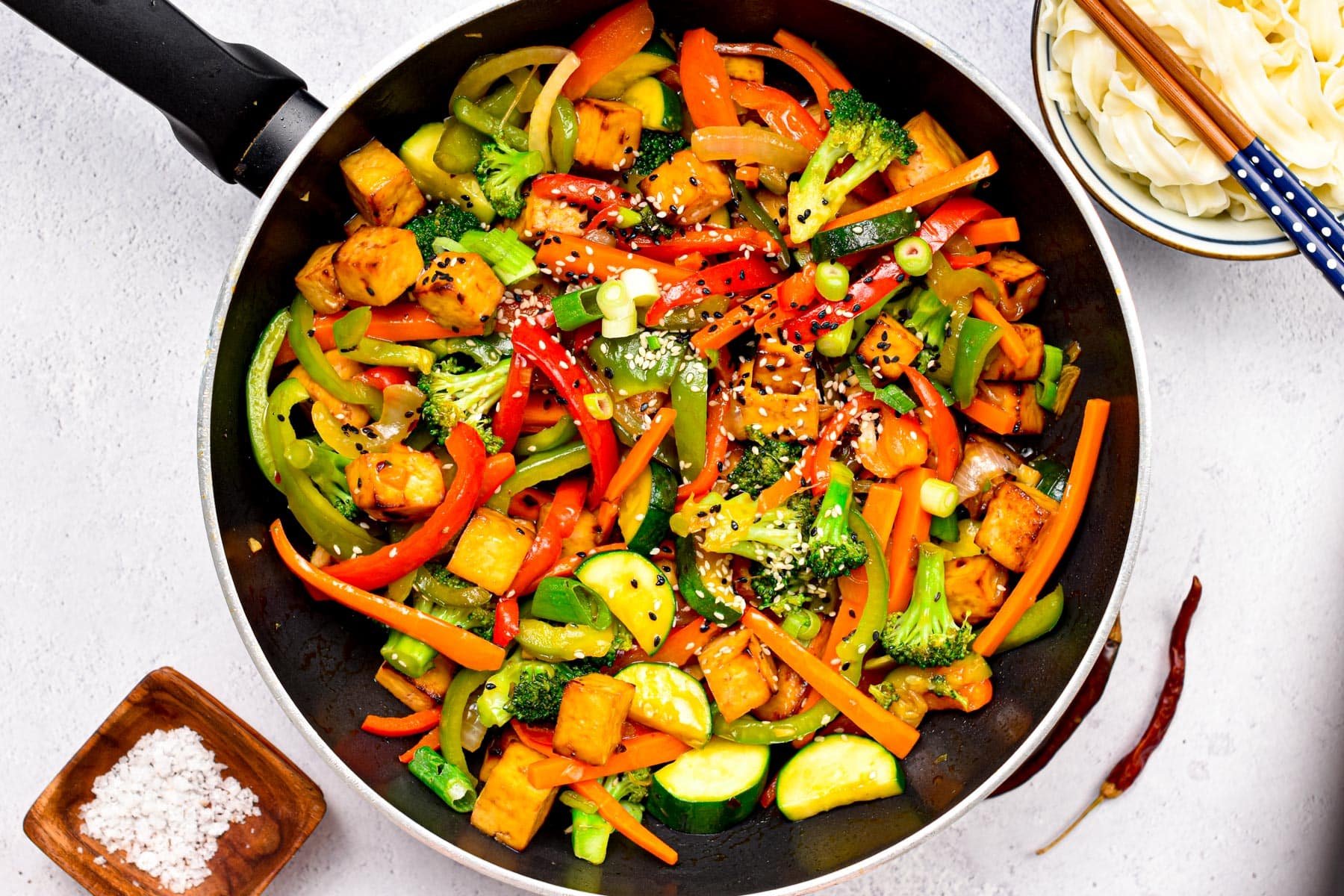 Cooking The Tofu
Now, wrap the tofu block in a clean kitchen towel and place it on the kitchen benchtop. Place a heavy weight on it, like books, and set it aside for 10 minutes until the tofu is dry and the towel wet.
Next, cut the tofu into 1-inch cubes, and set it aside in a bowl.
If you like, you can marinate the tofu using my tofu marinade, but it's not necessary.
In fact, the stir fry sauce will add a great flavor to the dish already, so you don't have to worry too much about marinating tofu cubes.
This adds an extra boost of flavor, but it's also time consuming. So if you want to have this recipe in under 30 minutes, skip the marinade.
Air Frying
To cook tofu in less than 15 minutes, air fry at 440°F (200°C).
Place the cubes in the air fryer basket in a single layer. Air fry for 10 to 15 minutes, the shaking basket halfway.
Baking The Tofu
Preheat the oven to 400°F (200°C). Line a large baking sheet with parchment paper and lightly oil it with cooking oil spray.
Place the tofu cubes on the baking sheet in a single layer and bake for 30 minutes, flipping them halfway, until golden and crispy on the sides.
Remove the tofu from the oven and place it in a bowl while cooking the vegetables.
Frying Vegetables
Now, warm some oil in a large non-stick wok or frying pan. Add the onion slices and stir fry for a few minutes until fragrant and golden brown.
Next, add the garlic, carrot sticks, broccoli florets, zucchini pieces, and bell pepper slices.
Stir fry for 3 to 4 minutes or until the broccoli has a nice vibrant green color.
Now, stir in the stir-fry sauce. You may have to whisk it again for a few seconds as the cornstarch sometimes gravitates to the bottom of the bowl.
Pour the stir-fry sauce, water, and cooked tofu cubes.
Stir and cook for 1 or 2 minutes until the sauce thickens, and the stir fry looks glossy and sticky.
Serving
This vegetable stir fry is delicious on top of coconut jasmine rice, brown rice, or soba noodles, or served plain with some toppings, like:
Green onion slices
Red chili flakes
Sesame seeds
You can also add a splash of my Miso Tahini Dressing.
Storage Instructions
You can store leftover stir fry in the fridge in an airtight container for up to 4 days.
This recipe can also be used to meal prep a week of healthy dinners. Store the recipe with some rice, noodles, or cooked quinoa.
Check my tutorial on how to quickly cook quinoa in a rice cooker.
Also, you can freeze this vegan stir fry recipe for up to 1 month in a sealed, airtight glass container and thaw it in the fridge the day before.
Allergy Swaps
Find below some options to replace ingredients in this tofu stir-fry recipe if you can't find or eat some of the ones used.
Gluten-Free – Use tamari sauce, coconut aminos, or light soy sauce, checking that no wheat is listed as an ingredient.
Vegan Oyster Sauce – If you can't find this ingredient in your store, you can use Hoisin sauce (ost of them are vegan friendly), teriyaki sauce, vegan mushroom sauce, or black bean sauce.
Soy-Free – Use coconut aminos instead of soy sauce and replace the tofu with mushrooms or canned and drained chickpeas.
Oil-Free – You can stir-fry the vegetables with water, but they won't crisp as much. Remove the oil in the stir fry sauce and use tahini instead.
Frequently Asked Questions
Below are my answers to your most common questions about this easy stir-fry recipe.
How Can I Add More Proteins To A Stir-Fry?
You can swap some of the vegetables for high-protein mushrooms or edamame or serve the recipe with high-protein grains like quinoa, bulgur, or buckwheat.
Can I Spice Up The Stir-Fry?
The best way to spice up your veggie stir fry is to add a few teaspoons of sriracha sauce or Korean chili paste.
What's The Best Way To Rewarm Stir Fry?
The best way to keep a stir-fry crunchy and is to rewarm it in a hot non-stick saucepan.
While it's tempting to rewarm the stir fry in the microwave, I don't recommend this option because it overcooks the vegetables and turns them soft and mushy.
A good stir-fry should have half-cooked, crunchy vegetables.
More Vegan Dinner Recipes
If you like this recipe, you'll love these other easy vegan dinners.
Did you try this easy vegan stir fry recipe? Share a comment or review below to connect with me.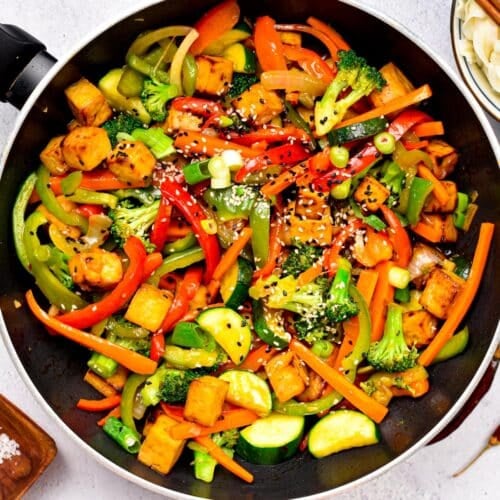 Vegan Stir Fry
This Vegan Stir Fry is a healthy, quick, and easy dinner packed with more than 8 plants. Plus, it's a very fulfilling dinner packed with plant-based proteins from tofu.
Pin
Print
Review
Instructions
Preheat oven to 350°F (180°C). Line a large baking sheet with parchment paper. Slightly oil paper with cooking spray. Set aside.
Bake Tofu
Wrap the tofu block in a clean kitchen towel and place it on the work surface. Add heavy weight on top like cookbooks, and set aside 10 minutes until the towel is wet and the block of tofu is dry.

Cut the tofu into 1-inch cubes. Spray a bit of oil on the cubes, then spread them in a single layer on the prepared baking sheet.

Bake the tofu for 25-30 minutes, flipping the cubes halfway to make all sides crispy and golden.
Stir Fry
In a small bowl, whisk all the stir-fry sauce ingredients until the corn flour is well combined. It's fine if you still see a few lumps. Set aside.

In a wok, or large non-stick frying pan, warm avocado oil over medium heat.

Stir in onion slices and cook until the onion is fragrant and golden. It takes about 2 minutes.

Stir in crushed garlic, carrot sticks, bell pepper slices, broccoli florets, and zucchini, and stir fry for 2-3 minutes until the broccoli florets are vibrant green.

Stir in some water to deglaze, then add the stir-fry sauce and crispy baked tofu cubes.

Toss and cook for 1-2 minutes until the ingredients are coated with the sauce, and it turns thicker and glossy.
Serving
Serve with coconut jasmine rice.
Storage
Store leftovers in the fridge in an airtight container for up to 4 days or freeze for up to 1 month and thaw the day before.
Share on Facebook
Pin Recipe
Nutrition
Serving:
1
serving
|
Calories:
1048.7
kcal
|
Carbohydrates:
119.4
g
|
Protein:
64.8
g
|
Fat:
43
g
|
Saturated Fat:
5.6
g
|
Polyunsaturated Fat:
15.1
g
|
Monounsaturated Fat:
20.2
g
|
Sodium:
4999.5
mg
|
Potassium:
3108.9
mg
|
Fiber:
28
g
|
Sugar:
44.8
g
|
Vitamin A:
8375.4
IU
|
Vitamin B12:
0.2
µg
|
Vitamin C:
825
mg
|
Calcium:
932.4
mg
|
Iron:
12.8
mg
|
Magnesium:
226.1
mg
|
Phosphorus:
645
mg
|
Zinc:
4.2
mg