How To Cook Quinoa In A Rice Cooker
Learn how to cook any quinoa variety in a rice cooker to its perfect fluffy texture and no sticking guarantee.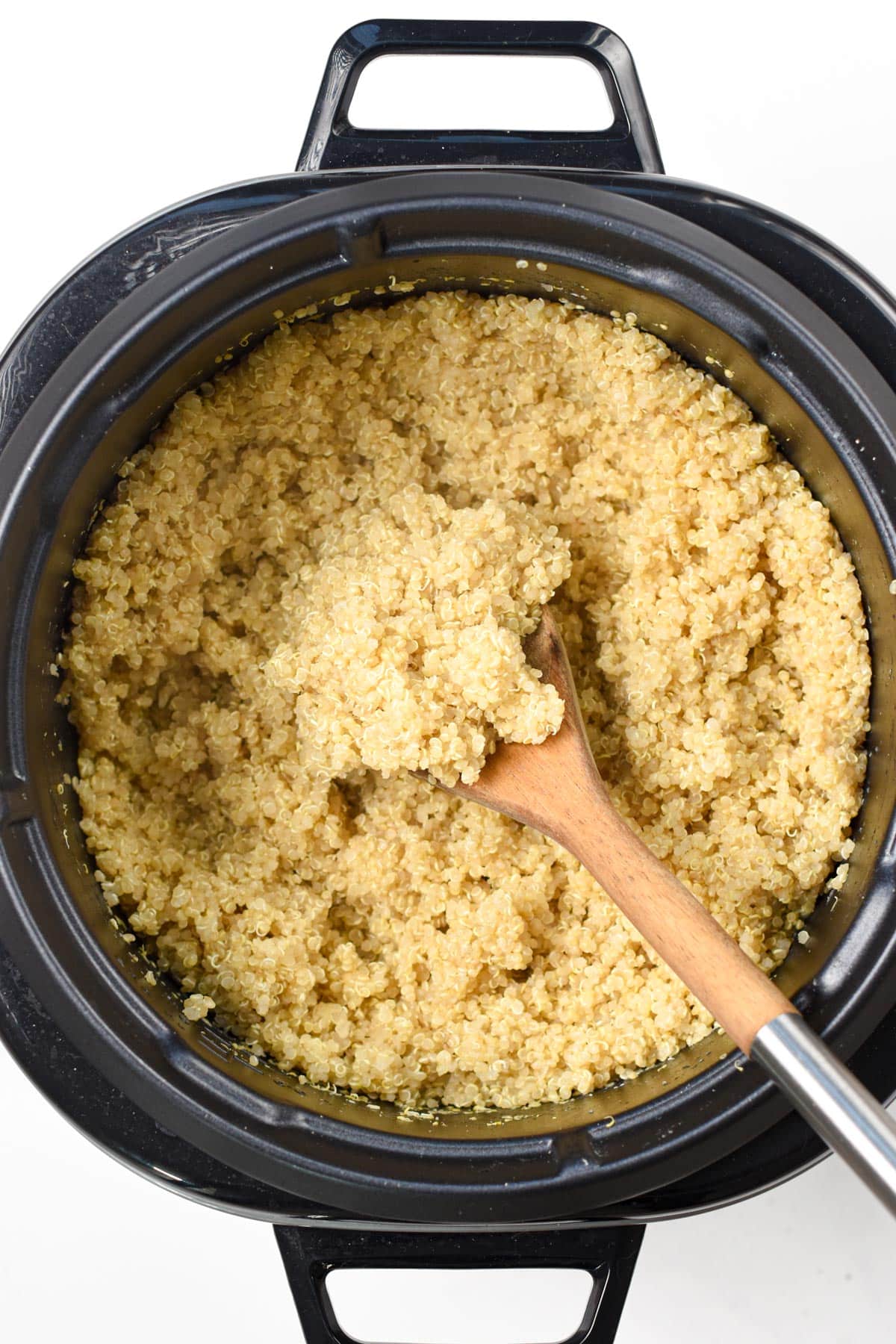 I am a big fan of quinoa recipes, and when I need to cook quinoa for a quinoa salad, I love my rice cooker.
Why Should I Cook Quinoa In A Rice Cooker?
Of course, you can also cook quinoa in a instant pot or regular saucepan.
But a rice cooker is pretty close to your saucepan, except it makes rice and quinoa perfect every time.
It comes out not too wet, not too dry, and it never sticks to the bottom of the rice cooker.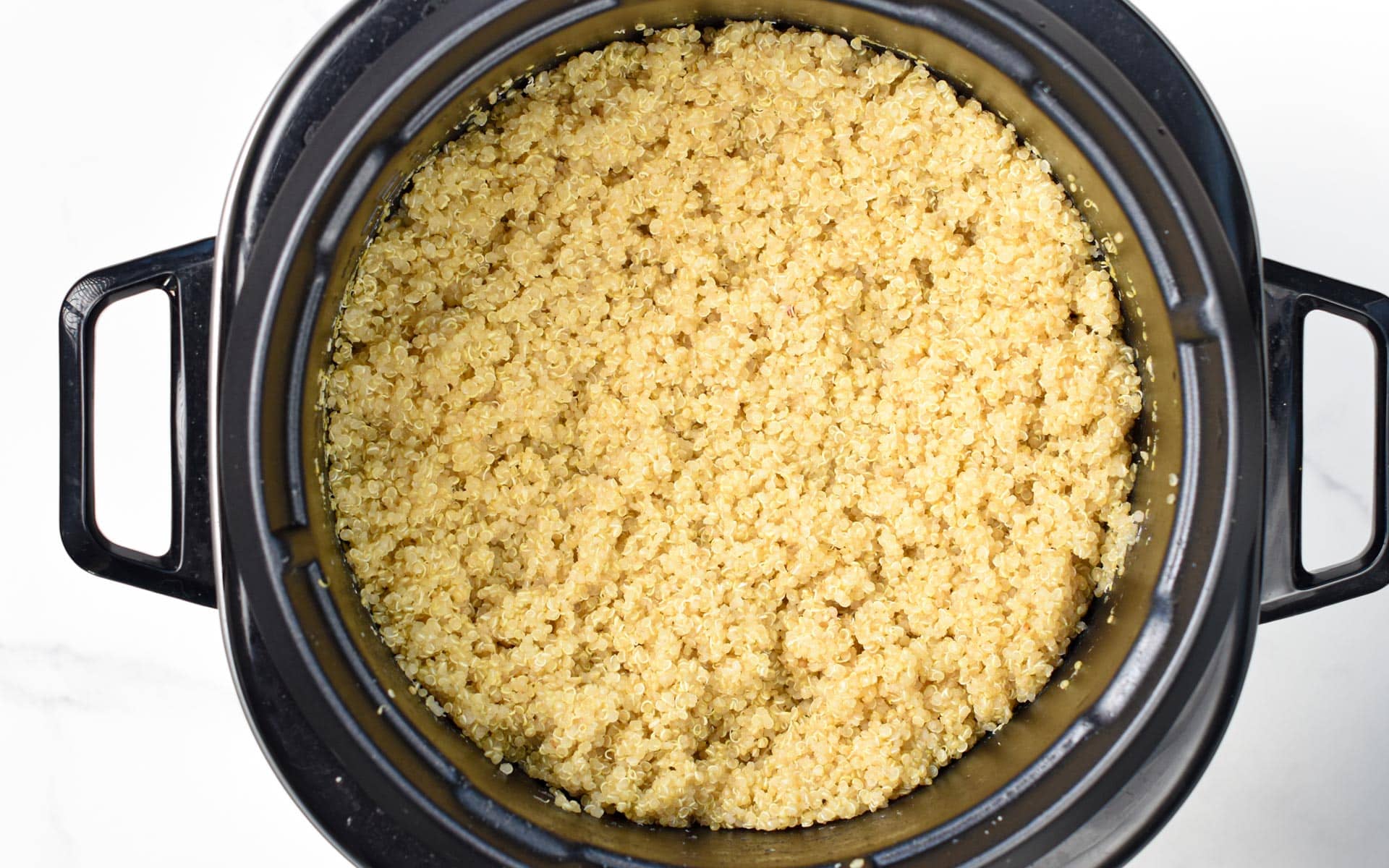 How To Cook Quinoa In A Rice Cooker
So let me share with you how I make the best quinoa, perfectly cooked in a rice cooker.
Ingredients
Raw White Quinoa – Red and black quinoa won't cook at the same speed but use the same method and ratio of liquid to solid.
Water – You can also use vegetable stock for a different taste.
Olive Oil – Use extra-virgin olive oil or coconut oil to grease the rice cooker bottom and side. This is optional, but the quinoa will come out to its best every time with this little trick.
Optional Ingredients
You can add the optional ingredients below after cooking the quinoa in the rice cooker:
Washing Quinoa
Place the quinoa in a sieve and rinse the quinoa under cold water. This removes all the quinoa impurities and dust.
You have two options for cooking your Quinoa. You can either cook the quinoa directly in the rice cooker or soak it before cooking.
Soaking quinoa enhances its properties. It also makes it easier to digest if you have a sensitivity to quinoa and removes some of the bitterness.
Greasing The Rice Cooker
Now use coconut oil or olive oil and rub the rice cooker cavity.
This is optional, but it guarantees that the quinoa won't stick to the walls.
Adding Cold Water
Place 1 cup of quinoa with 2 cups of cold liquid. It can be water or vegetable broth.
Close the lid of the rice cooker and push the rice button.
If your rice cooker has a rice mode, it will start and stop by itself.
Mine doesn't have this option, so I set a timer to 15 minutes as soon as I start the rice cooker.
Cooking Time
Like brown rice and white rice, black quinoa and brown quinoa take a little bit longer to cook in a rice cooker than white quinoa.
This is because the darker flavors have a thicker hull.
However, the quinoa to water ratio is the same in the rice cooker.
The ideal time based on quinoa color are listed below:
White Quinoa in a rice cooker is 15 minutes, not more, not less.
Brown Quinoa needs another 3 to 4 minutes, so 18 to 19 minutes in total.
Black Quinoa requires 5 to 6 minutes more or 20 to 21 minutes in total.
When the rice cooker stop, remove the lid, and the steam comes out.
Then, fluff the quinoa with a fork and transfer it to a large serving dish to cool down, about 30 minutes, before using it in any quinoa recipes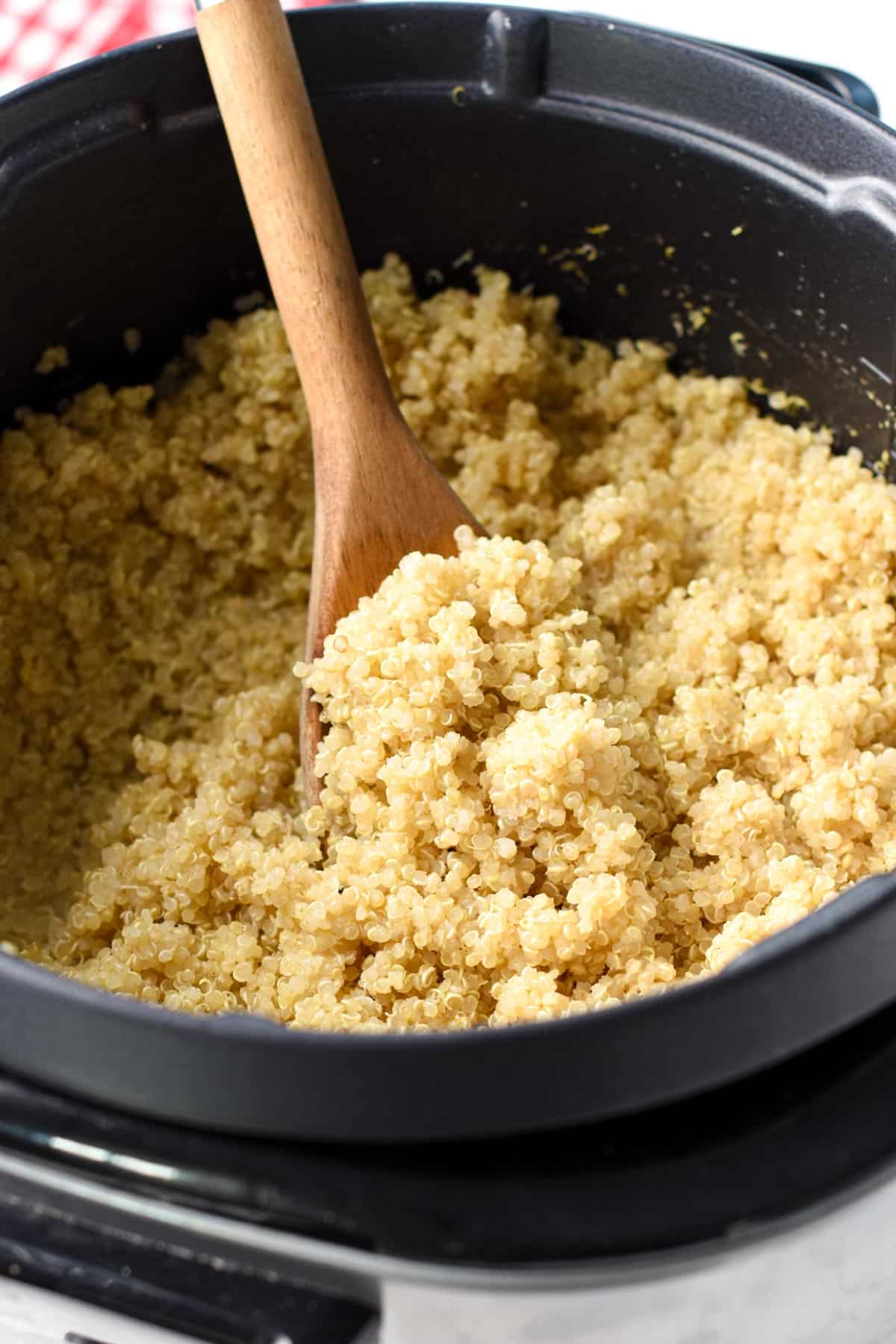 Quinoa Quantity
One cup of uncooked quinoa makes 3 cups of cooked quinoa.
How To Make Quinoa Taste Good
Quinoa has a strong earthy flavor that some people don't appreciate.
Before you cook quinoa, you can soak it in cold water for 3 hours. It removes some of its bitter flavors.
Then, cook the quinoa in a flavored liquid like vegetable broth or add tomato paste or seasoning to your water.
You can also stir quinoa with a flavorsome salad dressing or add quinoa into a sauce-based recipe like in my Vegan Spaghetti Squash With Alfredo Sauce.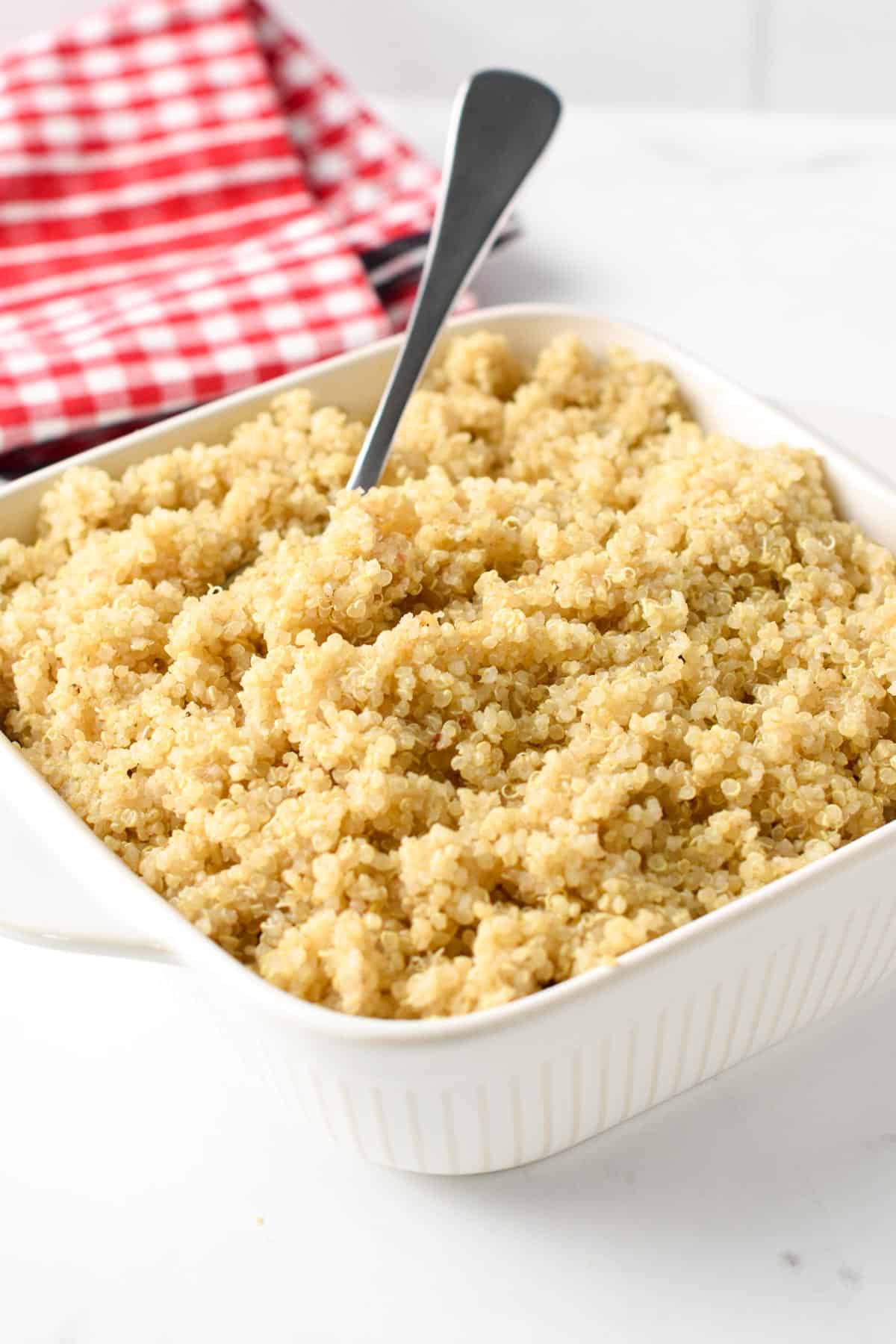 Best Meals For Quinoa
Quinoa is delicious as a higher-protein and high-fiber side swap to jasmine coconut rice.
The recipes below marry very well with quinoa as a side:
Storage Instructions
Cooked quinoa is perfect to meal prep a week of healthy meals.
You can store cooked quinoa in a sealed container in the fridge for up to 4 days or freeze it for up to 3 months.
Frequently Asked Questions
Below are the most common questions about cooking quinoa in a rice cooker.
Can I Use Any Quinoa Color?
Yes, brown or red quinoa will cook with the same instructions. They just require a slightly different cooking time.
Can I Flavor Cooked Quinoa?
You can add a pinch of salt and pepper, or stir in some dry spices like 1/2 teaspoon garlic powder, paprika, or Italian seasoning.
What Color Quinoa Is The Healthiest?
All quinoa colors are very healthy grains, but red quinoa has a slightly stronger nutritional profile with more antioxidants.
Is Brown Or White Quinoa Better?
The best of all quinoa colors is red, but between brown and white, the healthiest option is brown.
However, even white quinoa is a very healthy choice.
Is Quinoa Healthier Than Rice?
Quinoa is a complete protein, meaning it includes all the essential amino acids. This makes it a very useful ingredient on a vegan diet.
It's also richer in fiber, protein, and antioxidants than rice.
Do You Need To Soak Quinoa Before Cooking?
It's not necessary to soak quinoa but doing so makes it easier to digest and helps remove the bitter flavors.
Is Quinoa Anti-Inflammatory?
Quinoa contains many anti-inflammatory phytochemicals (source), so it could help combat inflammation.
How Do You Get Rid Of Bitter Quinoa Taste?
The essential step to reduce the bitterness of quinoa is to rinse it before cooking it. You can also let it soak for a few hours to have almost no bitterness.
More Quinoa Recipes
If you like to use quinoa in your recipes, try some of my recipes with Quinoa!
Did you try this tutorial to cook quinoa in a rice cooker? Share a comment below to tell me which recipe you made with it.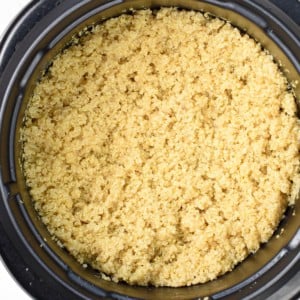 How To Cook Quinoa In A Rice Cooker
Learn how to cook quinoa in a rice cooker to its perfect fluffy texture and no sticking guarantee.
Pin
Print
Review
Save
Saved Recipes
Servings:
12
servings (1/4 cup)
Ingredients
1

cup

Quinoa -

White, uncooked

2

cup

Cold Water

-

or broth
Instructions
Rub the rice cooker cavity bottom with coconut oil. Set aside.

In a sieve, add uncooked quinoa and rinse under cold water to remove any dust and impurities.

Place the rinsed quinoa in the rice cooker, top with cold water, close the rice cooker lid, and push the rice cooker start button.

If your rice cooker doesn't have a timer and doesn't stop by itself, set a timer.

Cook White Quinoa for 15 minutes, Brown Quinoa for 18-19 minutes, or Black Quinoa for 20-21 minutes.

When the timer stops, remove the lid let the steam evaporate then use a fork to fluff the quinoa.

Transfer to a large 9-inch x 11-inch baking dish and cool down at room temperature for 30 minutes.
Storage
Store the quinoa for up to 4 days in a sealed container in the fridge or up to 3 months in the freezer. Thaw in the fridge the day before.
Share on Facebook
Pin Recipe
Nutrition
Calories:
54.9
kcal
|
Carbohydrates:
9.1
g
|
Protein:
2
g
|
Fat:
1.2
g
|
Saturated Fat:
0.4
g
|
Polyunsaturated Fat:
0.5
g
|
Monounsaturated Fat:
0.2
g
|
Sodium:
49.2
mg
|
Potassium:
79.8
mg
|
Fiber:
1
g
|
Vitamin A:
2
IU
|
Calcium:
6.7
mg
|
Iron:
0.6
mg
|
Magnesium:
27.9
mg
|
Phosphorus:
64.7
mg
|
Zinc:
0.4
mg