This Miso Tahini Dressing is an easy, healthy dressing for salads or roasted vegetables.
It's packed with high-protein tahini paste and has a delicious umami flavor from the miso paste that makes any vegan salad even better.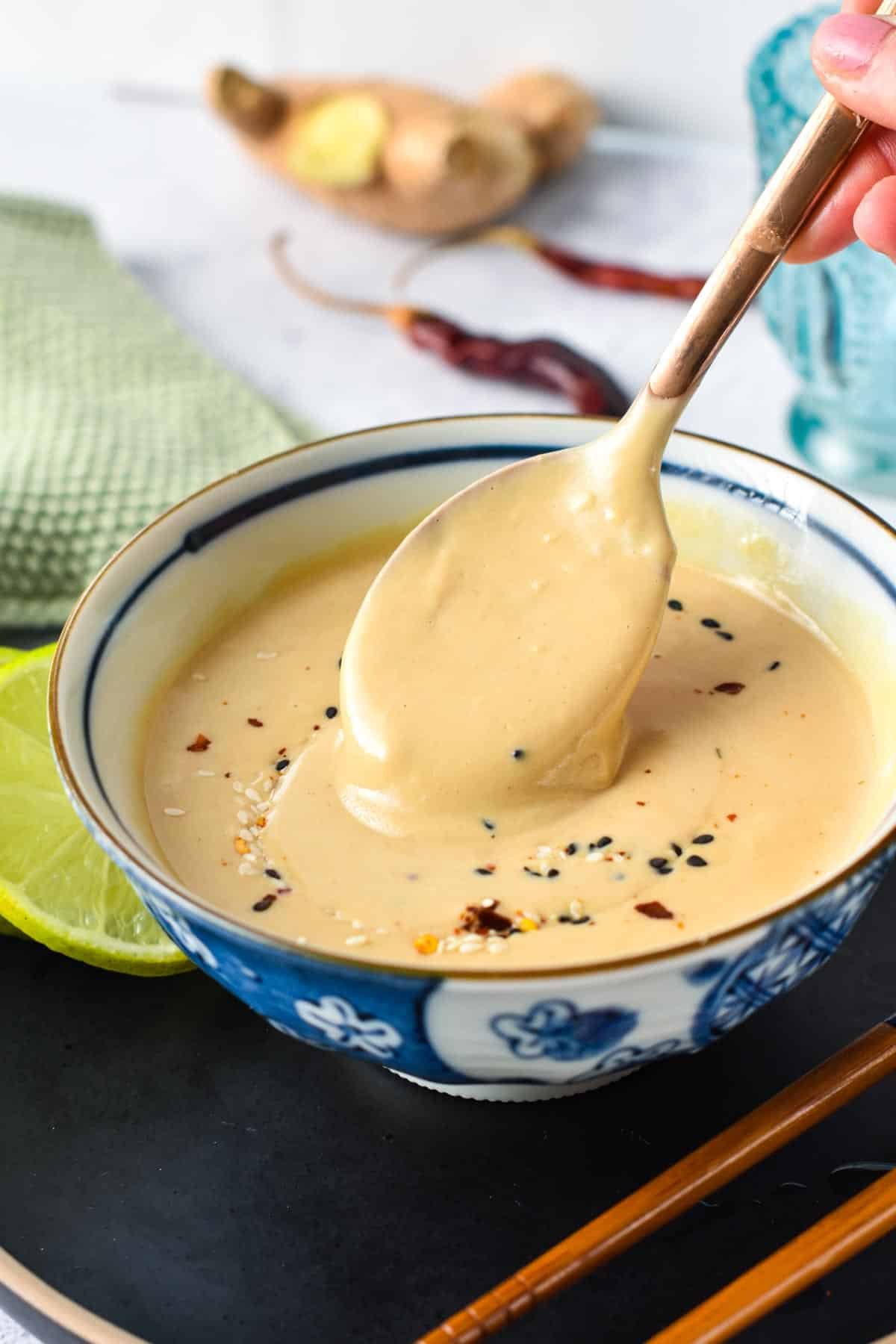 I started using tahini dressing in my roasted cauliflower salad until I discovered that adding miso to tahini was a game-changer.
Why Adding Miso?
Miso paste has an umami flavor, a meat-like flavor that gives a savory, salty touch to dressing sauce recipes.
Plus, miso has many health benefits, such as improving digestion. As it's made from fermented soybeans, it contains many probiotics.
But it's also high in many vitamins and minerals that support bone health, like zinc, calcium, and manganese.
So let's see how you can make this tahini miso dressing to add flavors and a healthy touch to any salad and vegetables.
How To Make Miso Tahini Dressing
It's very easy to make your dressing for salads. Plus, it lasts for weeks in a glass jar in the fridge which is very convenient for meal prep.
Ingredients
All you need to make a flavorsome miso tahini sauce are:
Hulled Tahini Paste – I don't recommend unhulled tahini unless you love it. I find it slightly too bitter.
White Miso Paste – This is the lighter miso paste available on the market. You can use brown miso, but it's super strong and salty. It means you need to decrease the soy sauce or tamari sauce if used.
Tamari Sauce or soy sauce
Sesame Oil
Freshly Squeezed Lime Juice or lemon juice
Sake or more lime juice
Mirin
Fresh Ginger
Crushed Garlic Cloves
Water
Preparation
First, pour the tahini paste, white miso paste, tamari sauce, sesame oil, sake, lime juice, and mirin into a medium bowl.
Next, use a fork or small whisk to stir the ingredients. It will turn very thick. Start adding water and keep whisking to combine.
Stop adding water when it reaches your favorite consistency. The more water you add, the thinner it turns.
Finally, stir in some flavor boosters, like grated fresh ginger or crushed garlic.
You can use 1/4 teaspoon of garlic powder and ground ginger if you don't have fresh ingredients available.
To serve the dressing, you can add some sesame seeds on top and a drizzle of sesame seeds.
Tasting And Adjusting
Like any salad dressing, you can play with flavor, adding a more salty, tangy, or spicy flavor to the dressing.
Fell free to add:
A pinch of red chili pepper or cayenne pepper for a spicy Asian salad dressing.
More lime juice instead of water to thin out the sauce and increase the tangy flavor.
A drizzle of maple syrup for a boost or sweetness.
Storage Instructions
Store the Miso Tahini Dressing in a sealed airtight glass mason jar in the fridge for up to 1 week.
The dressing thickens in the fridge and that's normal. To thin out, add a bit of water, close lid and shake to combine.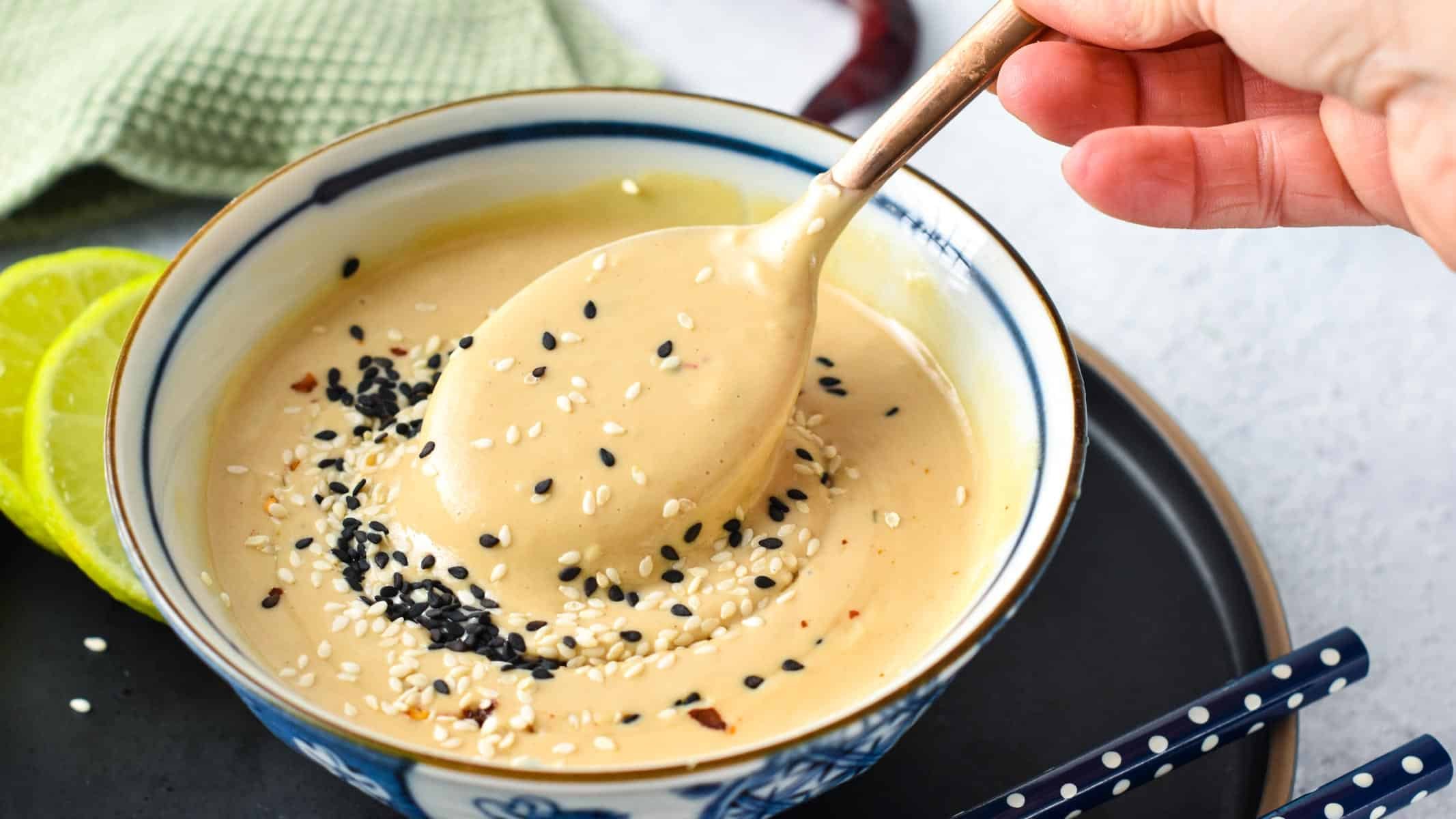 Serving
This miso dressing is delicious on top of your favorite salad like some listed below
Or, you can use this dressing to dip or drizzle on top of roasted vegetables, like:
Finally, since the dressing has delicious Asian cuisine flavors, you will love drizzling this on top of my: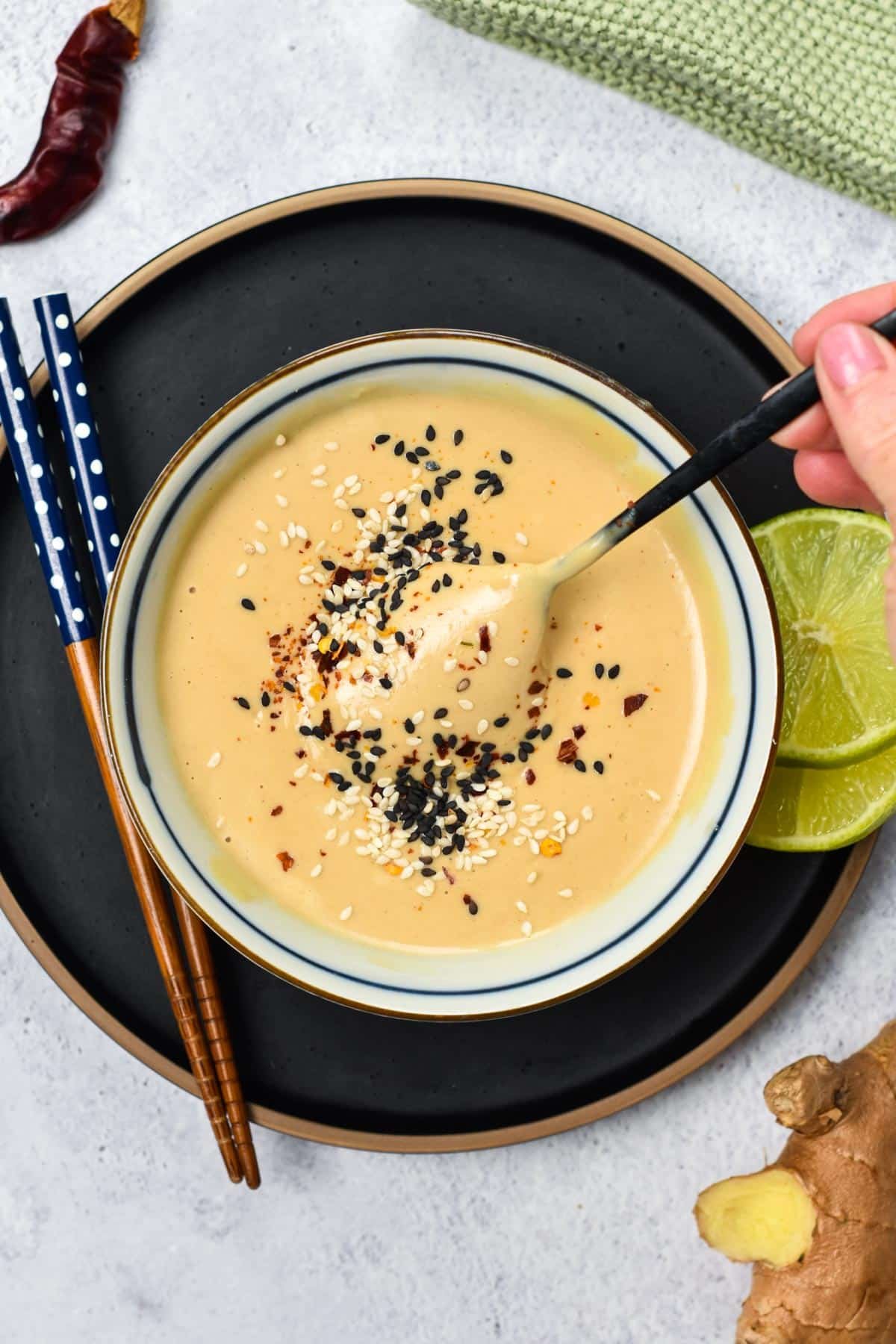 Allergy Swaps
If you need to replace ingredients for allergy reasons or availability issues, try some of the options below.
Citrus-Free – Replace the lime juice with apple cider vinegar.
Alcohol-Free– Replace the sake with more vinegar or lime juice, and look for an alcohol-free tamari sauce. Swap the mirin for half maple syrup and half rice vinegar.
Gluten-Free – All the ingredients are gluten-free, as long as you use tamari sauce or coconut aminos and not soy sauce that may contain wheat.
Frequently Asked Questions
Find below my answers to your most common questions about this recipe.
Can I Replace The Tahini For Nut Butter?
You can use this recipe with any nut butter, including peanut butter, cashew butter, and almond butter.
Can I Freeze The Dressing?
You can freeze this miso dressing in ice cube tray and thaw a single serve in the fridge, the day before using.
Have you tried this delicious miso tahini dressing recipe? Share a comment or review below.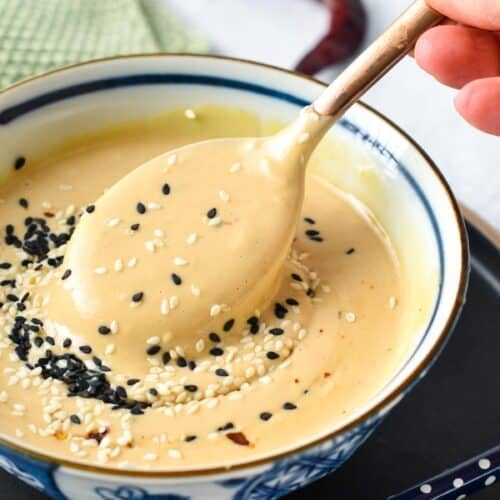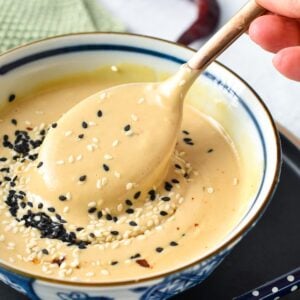 Miso Tahini Dressing
This Miso Tahini Dressing is an easy, healthy dressing for salads or roasted vegetables. It's packed with high-protein tahini paste, and a delicious umami flavor from miso paste that makes any vegan salad even better.
Pin
Print
Review
Shop My Tools
Instructions
In a bowl, stir all the ingredients except water. Stir until well combined and thick.

Gradually add the water and stop adding until the dressing reaches your favorite texture.

Serve as a salad dressing or for dipping vegetable sticks.

Store in the fridge in a glass mason jar for up to 1 week.
Share on Facebook
Pin Recipe
Nutrition
Serving:
2
tablespoons
|
Calories:
146.7
kcal
|
Carbohydrates:
7.8
g
|
Protein:
4.5
g
|
Fat:
11.6
g
|
Saturated Fat:
1.6
g
|
Polyunsaturated Fat:
5.1
g
|
Monounsaturated Fat:
4.3
g
|
Sodium:
350.3
mg
|
Potassium:
119.8
mg
|
Fiber:
1.3
g
|
Sugar:
1.1
g
|
Vitamin A:
20.9
IU
|
Vitamin B12:
0.01
µg
|
Vitamin C:
2.7
mg
|
Calcium:
35
mg
|
Iron:
1.1
mg
|
Magnesium:
23.6
mg
|
Phosphorus:
172.1
mg
|
Zinc:
1.1
mg