Almond Ricotta Recipe – Ready in 5 Minutes!
A simple, fresh vegan ricotta cheese recipe with a fresh, thick, and creamy texture and tiny granules of curds like classic milk-based recipes!
Is Ricotta Cheese Vegan?
No, classic ricotta cheese is not vegan as it's made of cow products, including heavy cream and whole milk curd in lemon juice.
How To Make Vegan Ricotta
There are many ways to make vegan ricotta recipes, including nut-free tofu ricotta cheese or cashew ricotta cheese.
Here I am sharing an almond ricotta cheese recipe that tastes like the real thing.
Step 1: Use white, slivered almonds
To make a white ricotta cheese without soaking your almonds, you must use:
Slivered almonds – white in color, they don't contain the almond skin, and they are small, so you can easily blend them into a creamy, cheesy texture without pre-soaking.
For this recipe, do not use
Whole almonds – with or without skin. They are too hard to break into a creamy cheese without soaking them.
Sliced almonds with skin – if you want to use sliced almonds, make sure they are blanched. You will also need to watch out for the blending time! They turn really fast into a creamy paste, and you will lose some grainy texture.
Step 2: Use a blender
I highly recommend using a high-speed blender rather than a food processor to make vegan cheese from nuts.
In fact, nuts are strong and hard to break and turn into a creamy texture.
As a result, the tall and narrow jug of a blender is much more powerful, keeping the nuts close to the blade all the time, turning them into cheese in less than 3 minutes.
A food processor has a wide bowl and a less powerful blade. It makes it very difficult to get the creamy, fluffy ricotta texture you see here using a food processor.
Step 3: Blending, scraping the jug, and repeat!
This is not a complicated recipe, but you must be patient and repeat the same steps a few times to achieve the right ricotta texture.
First, add the ingredients below into the blender:
Slivered almonds – it means thin pieces of blanched almonds with no almonds skin and golden-white color.
Water – tap filtered water, no need to use hot water.
Unsweetened almond milk – I found that the best vegan ricotta is made from a combination of water and unsweetened almond milk. The touch of almond milk adds the light sweet taste that mimics the classic ricotta cheese even more!
Salt
Lemon juice
Nutritional yeast – for a light cheesy flavor, but you can omit this ingredient as ricotta is mild in flavor, and you don't expect a strong cheese flavor. Nutritional Yeast is a vegan-friendly ingredient.
Blend all the ingredients for 30 seconds, stop the blender, scrape down the sides of the jug with a silicon spatula and repeat!
You will have to repeat these steps 3-5 times until it forms a fluffy, creamy ricotta cheese with a grainy texture.
Step 4: adjusting the amount of water
I usually start the recipe using 3/4 cup of liquid – 1/2 cup of water and 1/4 cup of unsweetened almond milk. Then, I add more water, up to 1/4 cup of extra water, to achieve fluffy, creamy ricotta.
But again, this is up to you! If you want thicker ricotta with more texture like in the picture below, don't add more water.
How does it taste?
This vegan almond milk ricotta recipe is the best gluten-free, vegan alternative to ricotta!
It has all the texture and flavor you expect from ricotta, including the light nutty, sweet flavor specific to classic ricotta.
It's fresh, thick, creamy vegan ricotta cheese with a mild cheese taste and light nutty flavor.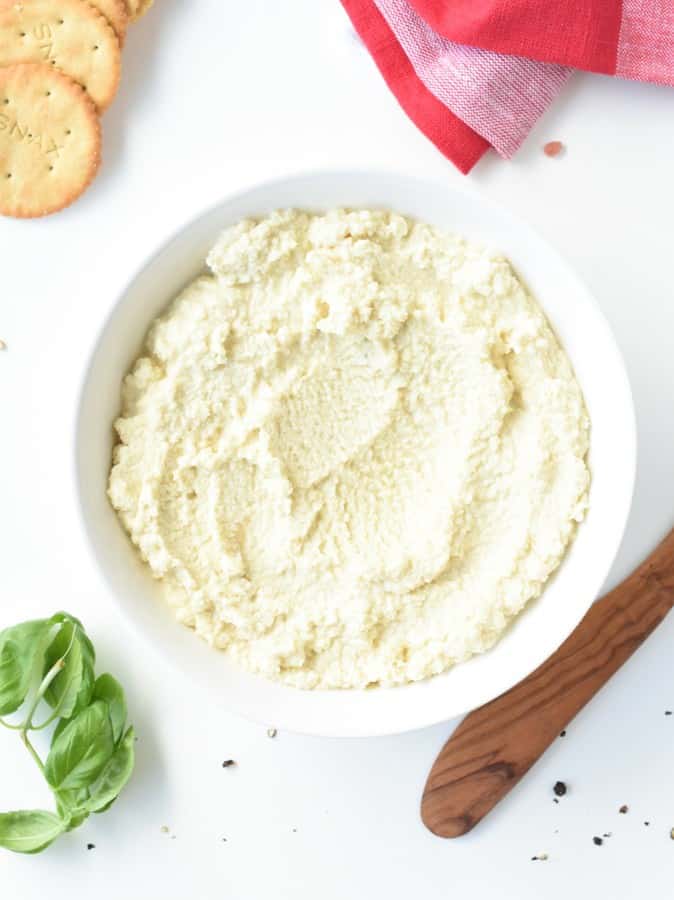 Flavoring Options
You can play with this dairy-free ricotta recipe and create a range of different flavors by adding some of the ingredients below to the end product.
Fresh chopped herbs – add up to 1/3 cup of basil, cilantro, or dill.
Fresh chopped garlic – 1 or 2 garlic cloves finely crushed.
Nutritional yeast – the original recipe uses some, but you can enhance the cheesy flavor of this ricotta by adding 1-2 extra teaspoons. Nutritional yeast is a great source of plant-based iron.
Pepper – add 1 teaspoon of crushed pepper or chili flakes to make it spicy.
Serving Vegan Ricotta
You can eat this raw almond ricotta recipe as:
A spread similar to cream cheese spread it onto toasted bread.
A vegan appetizer to dip raw vegetables, crackers, or pita triangles.
The best is to serve the ricotta in a wide bowl with a drizzle of fresh olive oil, ground pepper, and fresh chopped basil.
You can also use this recipe as a vegan substitute for ricotta cheese in any plant-based recipe, including:
Vegan Lasagna
Stuffed Pasta Shells – this is the perfect recipe for stuffed shells! Simply spread the cold ricotta in the pasta shell and bake the shells in tomato sauce.
Vegan roll up
Storing Vegan Ricotta
You can store this ricotta in the fridge in a sealed container for up to 5 days. Also, this recipe freezes very well in a zip-lock silicone bag.
Thaw the ricotta in the fridge the day before and use it in any vegan recipe as a vegan replacement for ricotta like in vegan lasagna.
More Vegan Appetizer Recipes
If you love vegan dips or appetizers, I listed some of my other recipes to try:
Have you made this vegan ricotta substitute for a recipe? Share your feedback with me below, or join me on Pinterest for more vegan recipe inspiration.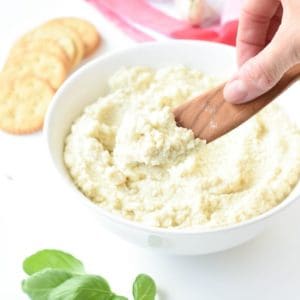 Almond Ricotta Recipe
A creamy vegan ricotta recipe for lasagna or to spread on Almond ricotta cheese recipe crackers.
Pin
Print
Review
Servings: 8 servings (1/4 cup)
Calories: 161 kcal
Ingredients
Optional – to create different flavors
Instructions
Place all the ingredients into a food processor: slivered almonds, lemon juice, water, almond milk, and salt.

Blend until almost smooth. You will have to stop the blender, scrape down the sides of the bowl and repeat until all ingredients are evenly combined. It can be difficult to blend or too thick, so you can add extra water, up to 5 tablespoons. You want to form a thick, fluffy mixture with almost no bites of almonds, just a grainy texture as regular ricotta. Blend between each addition and stop when it reaches a fluffy and creamy, slightly grainy texture. The whole process of blending, scraping the bowl takes about 2-4 minutes.

Taste and adjust by adding some of the recommended flavorings. Add more nutritional yeast to enhance the cheese flavor, more salt for savory cheese, and more lemon for tangy ricotta.
Share on Facebook
Pin Recipe
Nutrition
Serving: 1serving (1/4 cup) | Calories: 161kcal | Carbohydrates: 7g | Protein: 6g | Fat: 13g | Saturated Fat: 1g | Sodium: 157mg | Potassium: 209mg | Fiber: 4g | Sugar: 1g | Vitamin C: 2mg | Calcium: 81mg | Iron: 1mg