This creamy Vegan Potato Soup is a delicious, comforting dinner ready in 30 minutes and loaded with vegan bacon and herbs.
That's the best comfort food to rewarm and feed the family this winter.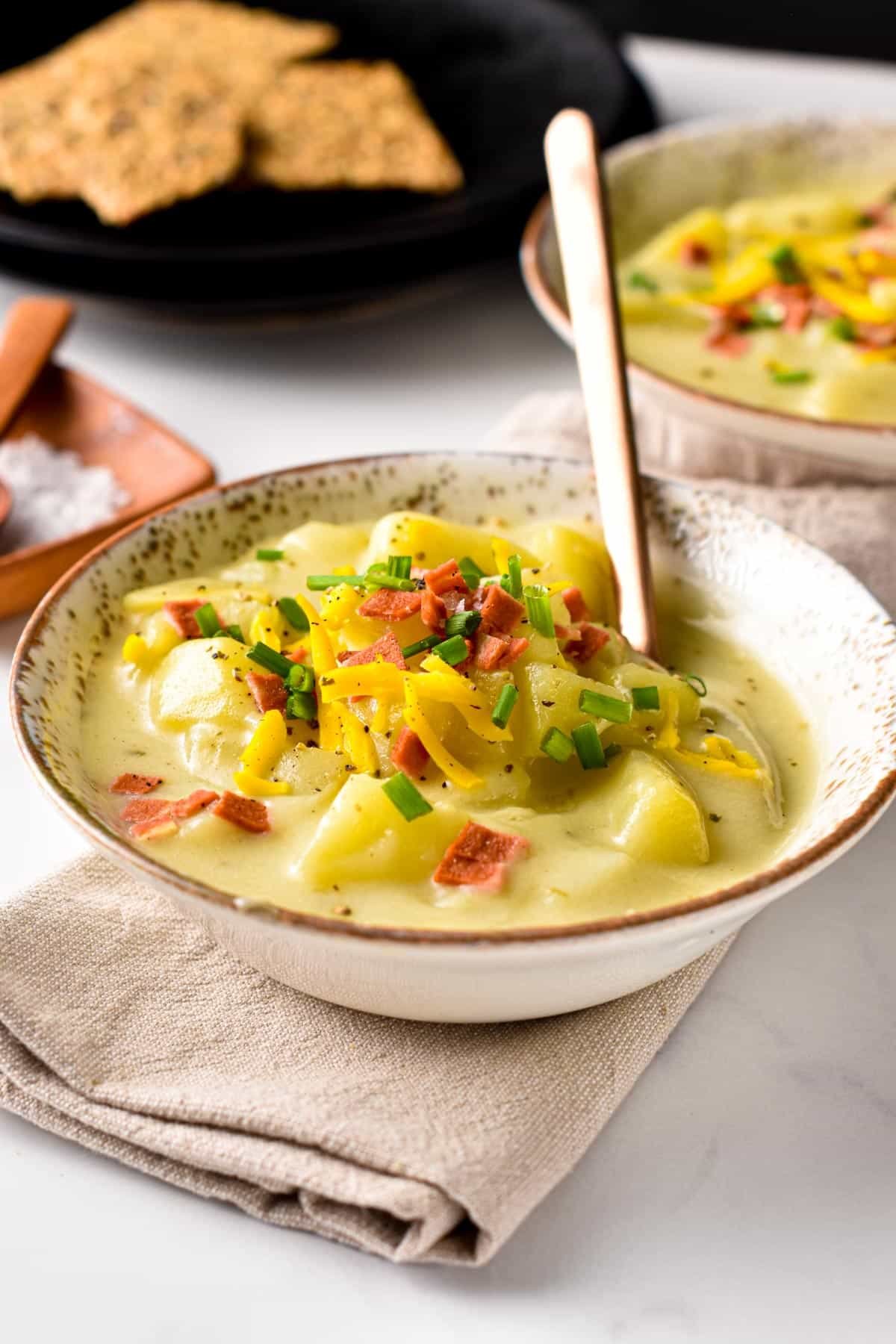 If you are a potato lover, you might have tried my vegan scalloped potatoes. And so you need another winter meal with potatoes—my potato soup.
These dishes are classic Eastern France recipes that I used to have as a kid. Of course, authentic potato soup is not vegan for a few reasons: butter, dairy milk, and cream.
But it's pretty easy to adapt the classic soup recipe to a vegan diet using wholesome plant-based ingredients.
Why You'll Love This Recipe
Let me share with you this easy vegan potato soup recipe.
This potato soup recipe is naturally:
Dairy-free
Egg-free
Gluten-free – no flour or wheat is necessary to thicken the soup as some recipes call for.
Vegan
Is Potato Soup Vegan?
No, classic potato soup contains milk, butter, and chicken stock.
Plus, the potato soup toppings are often cheese and bacon, which makes potato soup not vegan-friendly.
How To Make Vegan Potato Soup
It's so simple to make your own potato soup that after trying this recipe, it will become a staple in your house for colder days,
Ingredients
All you need to make this Vegan Potato Soup are:
Golden Potatoes – Chop the potatoes into 0.6-inch cubes (1.5 cm). I recommend using waxy, starchy potatoes to make a thick creamy potato soup. This recipe doesn't use a flour slurry to thicken the soup, unlike most potato soups. As a result, the waxier the potatoes are, the creamier the soup will be.
Vegan Butter or avocado oil, or olive oil.
Onion – prefer white or yellow onions.
Garlic Cloves
Carrots
Celery
Vegetable Broth
Unsweetened Almond Milk or soy milk or any dairy-free milk you love.
Dairy-Free Cream like soy cream, coconut cream, or full-fat coconut milk.
Dried Thyme
Salt
Ground Pepper
Nutmeg
Bay Leave
Peeling The Potatoes
First, wash and peel the potatoes and cut them into small cubes.
Since you will make chunky potato soup with this recipe, make sure you cut the cubes into bite-sized pieces, not too big, or it won't taste as good.
See the picture above for the actual size.
Cooking The Soup
First, melt the vegan butter or warm oil over medium heat in a large pot.
Stir in the diced onion and garlic and cook for 2 to 3 minutes, occasionally stirring until they are golden and fragrant.
Next, stir in the potato cubes, and cook them for a few minutes until they are evenly coated with the onion-butter mixture.
Add the vegetable stock, almond milk, thyme, nutmeg, salt, and pepper.
Cover the pan and bring it to a boil, then reduce it to a low boil and cook for 10 minutes until the potatoes are fork-tender.
Blend Half The Soup
Remove about 4 cups of the soup and place it in a blender. Make sure your blender bowl can handle high temperatures.
If you don't have a blender or you are unsure if your blender can blend soup, place 4 to 5 cups of soup in a large glass bowl.
You can blend as much as you like. It really depends on how chunky you love your potato soup.
Next, add the dairy-free cream and blend the soup until smooth using an immersion blender.
Return the mixed potato soup to the saucepan, stir and, cook it for an extra 8 to 10 minutes before serving.
Optional flavors
If you like your soup cheesy, feel free to stir in 1/4 cup of nutritional yeast. You can also stir in nutmeg or turmeric for a lovely yellow color.
Serving
An authentic potato soup is often a loaded soup, meaning it's served with bacon, cheese, and herbs.
Our favorite vegan soup toppings for this potato soup are:
Vegan Bacon Pieces
Dill or Green Onion
Croutons
Vegan Cheese like smoked vegan cheddar
Storage Instructions
You can keep this soup in the fridge for up to 4 days in an airtight container.
You can freeze potato soup in a sealed jar, airtight silicone bags, or a bottle. Thaw in the fridge the day before and rewarm it in a saucepan or microwave.
Allergy Swaps
Below are some ingredient swaps to make this vegan soup even if you are allergic to some of its ingredients:
Vegan Butter – Replace the vegan butter with any oil, including healthy avocado oil or olive oil.
Onion – Onion and garlic can be skipped for a low-FODMAP option.
Cream – You can also add more almond milk if you don't have dairy-free cream.
Nut-Free – Pick any dairy-free milk made without nuts, including oat milk, soy milk, or hemp milk.
Gluten-Free – This soup is naturally gluten-free if you make sure your vegetable stock and dairy-free cream don't contain wheat-based ingredients.
Frequently Asked Questions
Below are my answers to your most frequent questions about this potato soup recipe.
Can I Use Any Potato Type For This Recipe?
Yes, you can technically use any potato variety to make potato soup, but the best will be high-starch and low-moisture potatoes.
It means potato varieties like Russet potatoes, golden potatoes, or red potatoes provide the best creamy texture.
Can I Add Celery And Carrots?
Yes, you can finely chop 1/2 cup of celery and 1/2 cup of carrots and stir fry with the onion before adding potato cubes.
Can I Make The Recipe In An Instant Pot?
Absolutely, potato soup in an instant pot is very easy to make.
Stir fry the onion and garlic in oil, then add the remaining ingredients except the cream.
Cook it over high pressure for 10 minutes. Release the pressure then add the cream.
Blend 5 cups from the soup, return to the instant pot, and cook on sauté mode for five more minutes until warm and thick.
Can I Keep Potato Skin On?
Yes, you can wash the potato skin and keep it on, but it turns the soup into a darker color.
Plus, the extra fiber of the skin makes the soup gritty, so be aware of that.
Can I Thicken The Potato Soup?
If you used low-starch potatoes, your soup might be on the runnier side. To thicken potato soup, you need to make a slurry from flour and water.
In a small bowl, whisk one tablespoon of all-purpose flour with two tablespoons of cold water.
Stir in the warm potato soup at the end and keep cooking until the soup thickens.
If you are gluten-free, make a cornstarch slurry by mixing 1 tablespoon cornstarch with 2 tablespoons cold water.
What Can I Serve With Potato Soup?
The best sides to potato soup are bread like baguette, croutons, homemade Irish soda bread, or vegan gluten-free bread.
Other tasty sides to potato soup are crackers like homemade sunflower seed crackers or roasted pumpkin seeds.
Did you try this vegan soup recipe? Share a comment or review below to connect with me.
Vegan Potato Soup
This creamy Vegan Potato Soup is a delicious, comforting dinner ready in 30 minutes and loaded with vegan bacon and herbs. That's the best comfort food this winter to rewarm and feed the family.
Pin
Print
Review
Servings: 6 servings
Calories: 270.4 kcal
Instructions
In a large pot, warm the oil or melt the vegan butter, add the onion and garlic, and cook until fragrant and translucent – about 2-3 minutes.

Stir in cubed potatoes, vegetable stock, almond milk, thyme, nutmeg, salt, and pepper.

Cover, bring to a boil, and cook for 10 minutes until the potatoes are fork tender – easy to pierce with a fork.

Reduce to a simmer, and remove about half the potato soup – liquid and cubed potatoes – about 4 to 5 cups. The more soup you remove, the less chunky the soup will be.

Place in a high-speed blender – make sure your blender can handle the heat – or place it into a glass bowl if you intend to use an immersion blender.

Add cream in the blender or bowl and blend or use an immersion blender to blend the soup until creamy and smooth.

Return the pureed potato soup to the pot with the soup. Stir and simmer for 8-10 minutes or until warm to serve.

Serve with vegan cheddar, croutons, vegan bacon, and dill.
Share on Facebook
Pin Recipe
Nutrition
Serving: 1serving | Calories: 270.4kcal | Carbohydrates: 39.9g | Protein: 4.9g | Fat: 10.9g | Saturated Fat: 1.6g | Polyunsaturated Fat: 1.3g | Monounsaturated Fat: 7.6g | Sodium: 1033.5mg | Potassium: 883.7mg | Fiber: 4.8g | Sugar: 6.1g | Vitamin A: 178.9IU | Vitamin C: 39.3mg | Calcium: 135.4mg | Iron: 1.7mg | Magnesium: 46.3mg | Phosphorus: 133.6mg | Zinc: 0.6mg