Irish Soda Bread Without Buttermilk
This easy Irish Soda Bread Without Buttermilk has a heavy, dense, but soft crumb and crispy thick golden crust.
Bonus, this Irish soda bread is egg-free, dairy-free and vegan approved.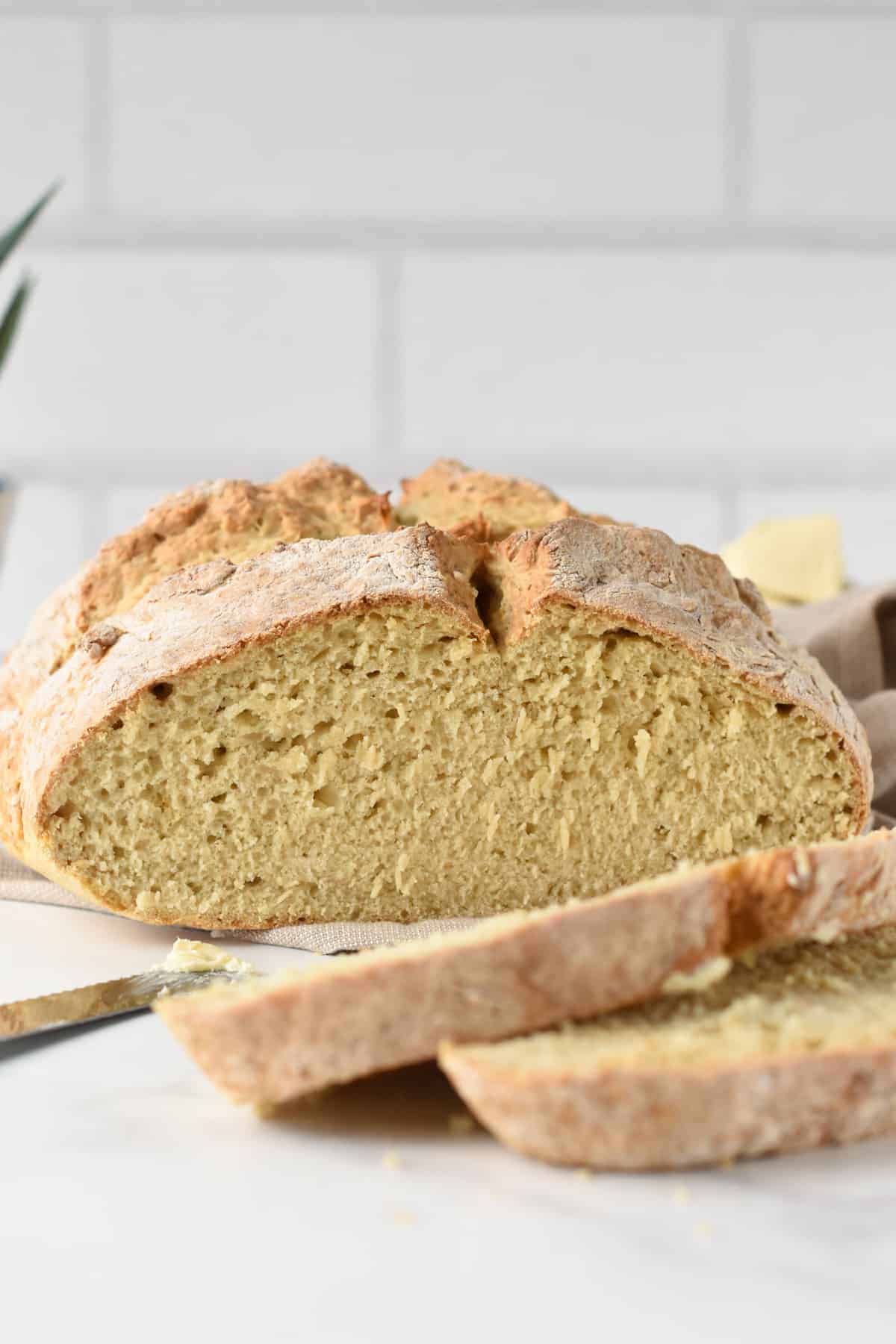 Last year I shared my vegan Irish soda bread recipe, which is very similar except it combines two types of flour for a more earthy flavor.
So let's learn how you can make this easy, plain Irish soda bread, no buttermilk needed, I promise.
How To Make Irish Soda Bread Without Buttermilk
Irish soda bread is traditionally made with buttermilk, curdled full-fat milk.
So here I will show you how you can make the best Irish bread ever, creating your own vegan mock buttermilk with two ingredients and no effort.
Ingredients
To make your homemade vegan buttermilk, mix the milk you have on hand and acid ingredients. I used:
Soy Milk – but any milk, even almond milk or oat milk, works well. I am using protein-fortified soy milk that is slightly dark in color and gives a lovely golden color to the bread crumb.
Lemon Juice or vinegar, apple cider vinegar, or lime juice.
Stir both ingredients and set aside 10 minutes to curdle.
The remaining ingredients you need are:
All-purpose flour
Baking soda – that's why the bread is called soda bread, it's a yeast-free bread, and the raising agent is simply baking soda.
Salt
Optional Ingredients
Some Irish soda bread recipes cut some soft butter into the flour mixture like in a scone recipe, while some add sugar or raisins.
I personally don't use any add-ons in my Irish soda bread recipe but feel free to do so – I will add a note and tips below.
Combining Dry Ingredients
First, whisk flour, salt, and baking soda until well combined in a large mixing bowl.
Stir in liquid until the dough is shaggy, which means no more dry spots of flour can be seen, but the dough is rough, not soft but comes together.
You may have a little buttermilk left, depending on how you measure the flour.
If it's too is too wet and liquid or runny, add more flour a few tablespoons at a time, up to 1/2 cup max!
Transfer on a floured surface and fold the dough on itself a maximum of 8 times – don't overwork Irish soda bread dough, or the bread comes out dense, gummy, and packed.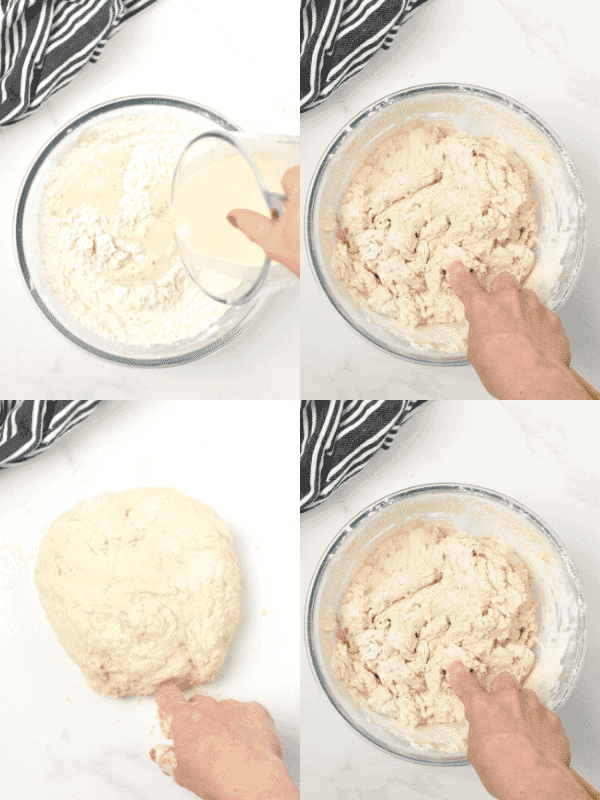 Add-ons
If you feel like adding dried raisins or caraway seeds like some old-fashioned Grandma recipe loves, fold in the dough now.
Baking
Preheat the oven to 425°F (220°C). Line a baking tray with parchment paper.
Place the dough ball onto the tray and flatten it into a 3 cm thick disc. This is very important because the bread has no yeast, and if it's too high, it won't cook through or rise.
Draw a 1cm-deep cross on top of the bread using a sharp knife.
You can brush the top of the bread with water to smoothen the dough or keep it rough.
Then, feel free to sprinkle seeds or oats or keep it plain.
Bake in the center rack of the oven for about 20 minutes or until crusty and golden.
Cool it down on a cooling rack for 1 hour before slicing.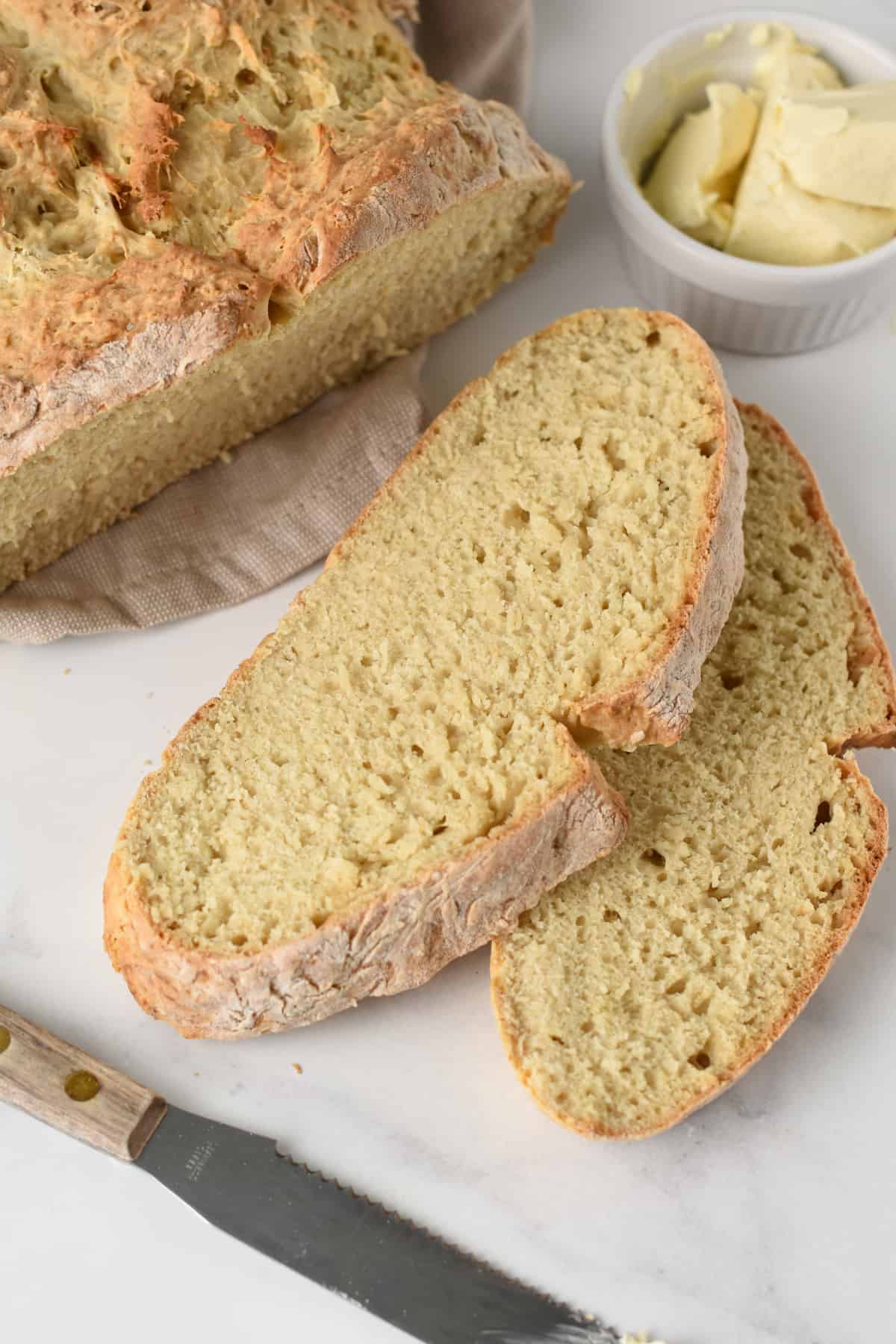 Serving
You can use this Irish soda bread recipe as a base for toasts and sandwiches, or as a side to soup and stew.
Some of the great toppings you can add are:
Dairy-free butter
Marmite or vegemite
Hummus
Guacamole
Or for a sweet topping, try some of the below
Frequently Asked Questions
How Long Can I Store Irish Soda bread?
The bread is good for 2 to 3 days when stored at room temperature, but because it has no yeast, it becomes dense and dryer after a few days.
Can I Use Gluten-free Flour?
I didn't try this option, but I am pretty confident that a gluten-free all-purpose flour blend with added guar gum will work with the same ratio as all-purpose flour.
Have you made this easy Irish soda bread recipe? Share a comment or review below if you tried the recipe and connect with me,
Your friend, Carine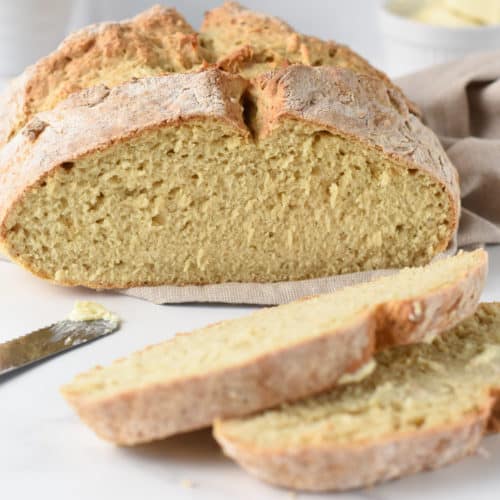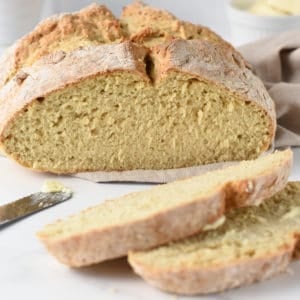 Irish Soda Bread Without Buttermilk
This easy Irish Soda Bread Without Buttermilk is a vegan Irish Soda Bread recipe with a heavy, dense, but soft crumb and crispy thick golden crust.
Pin
Print
Review
Servings: 20 slices
Calories: 91.7 kcal
Instructions
Preheat oven to 430°F (220°C). Line a baking tray with a lightly greased piece of parchment paper. Set aside.

In a medium-size mixing bowl, whisk soy milk with lemon juice. Set aside for 10 minutes until it thickens to a buttermilk-like consistency.

In another large mixing bowl, whisk together flour, baking soda, and salt.

Gradually add the milk mixture and stir the dough with a spatula at first until dough is shaggy but not too wet or dry – it means no dry spots of flour it should be a cohesive ball but not smooth – you may need to add the extra 1/4 cup flour to achieve this texture.

Place the dough onto a lightly floured surface and fold it on itself – maximum 8 times – don't overdo it! The ball should be very rustic and look raggedy, not smooth.

Transfer the dough ball onto the prepared baking tray and flatten the dough into a thin disc of a maximum of 3 cm (1.5 inches) in height. This is extremely important, or the bread won't rise at all.

Cut a deep cross (1 cm deep, 0.4 inches) on top of the bread and sprinkle/pat some extra white flour on top of the bread.

Bake at 430°F (220°C), middle rack, for 20-30 minutes or until the outside is crusty.

Transfer to a cooling rack for 1 hour before slicing.

Store the bread at room temperature for up to 3-4 days, wrapped into a clean towel to keep its moisture.

Can be eaten plain or toasted with jam or mashed avocado. Or it can be served as a quick side to soup and salads.
Notes
Plant-based milk: This recipe reaches the best bread texture using regular soy milk rather than low fat or any other plant-based milk. White whole-wheat flour: you must use fine white whole-wheat flour, not coarse whole-wheat flour. Coarse whole-wheat won't absorb the liquid enough, and the bread dough will be very sticky, and you will have to add a lot more white flour to achieve the same result. Seeds and nuts: you can add up to 1/2 cup of seeds or chopped nuts in the bread dough like sunflower seeds, pumpkin seeds, linseeds, sesame seeds, chopped walnuts, pistachios, or almonds. Sweetbread: you can also add up to 1/3 cup of dried fruits like apricots, cranberries, raisins, or dates to this bread.
Share on Facebook
Pin Recipe
Nutrition
Serving: 1slice | Calories: 91.7kcal | Carbohydrates: 18.2g | Protein: 2.9g | Fat: 0.6g | Saturated Fat: 0.1g | Polyunsaturated Fat: 0.3g | Monounsaturated Fat: 0.1g | Sodium: 180.3mg | Potassium: 51mg | Fiber: 0.7g | Sugar: 0.5g | Vitamin A: 69.7IU | Vitamin B12: 0.2µg | Vitamin C: 1.9mg | Vitamin D: 0.2µg | Calcium: 28.4mg | Iron: 1.2mg | Magnesium: 5.1mg | Phosphorus: 24.9mg | Zinc: 0.2mg