Roasted Pumpkin Seeds are delicious appetizers or snacks made from the leftover seeds of your pumpkin squash.
They are crunchy, sweet, or savory depending on the spices you choose, and nourishing too packed with vitamins.
Have you ever roasted your pumpkin seeds?
You should! Because it's not only tasty and nourishing but also a great way to use the seeds from your pumpkin carving and jack-o-lantern activities.
This recipe works with any type of pumpkin or winter squash and can be made sweet or savory.
Are Pumpkin Seeds Healthy?
Yes, pumpkin seeds are high in magnesium, zinc, and anti-inflammatory nutrients.
So this fall season, don't throw the seeds from your pumpkin and save them from making this healthy snack.
Plus, they are naturally gluten-free, vegan, and low-carb.
Let me share with you how to prepare your pumpkin seeds for roasting.
How To Make Roasted Pumpkin Seeds
First, you need a pumpkin squash; any variety works, including butternut squash or pumpkin, or acorn squash.
Ingredients
Cut the pumpkin and, using a spoon, scoop the seeds out from the pumpkin flesh.
Cleaning The Seeds
You will end up with squash seeds that are slimy and attached to a sort of orange string.
In order to remove the seeds from the strands, place the seeds in a colander and run cold water over them to rinse them off.
Then, the easiest way to separate the seeds from their slimy orange stringy part is to use your hands.
Simply rub and go through them to remove as many strands as you can and discard them.
Keep cleaning the seeds until they are all cleaned up.
Letting The Seeds Dry
Now, spread the seeds onto a nice clean towel, spread them out a little bit, and let them dry overnight.
This is very important because if not dry enough, they are not gonna crisp in your oven.
Flavoring Options
The next day, place the dry seeds in a small mixing bowl and add the spices you want. Below are some ideas.
Spice Blend 1: Spicy Mexican Style
2 teaspoons of avocado oil
1/8 teaspoon of garlic powder
1/2 teaspoon of smoked paprika
1/4 teaspoon of cumin
1/8 teaspoon of chili powder
1/8 teaspoon of salt
Spice Blend 2: Sweet Seeds
2 teaspoons of melted coconut oil
1/2 teaspoon of cinnamon
1/4 teaspoon of vanilla extract
1 tablespoon of maple syrup
Spice Blend 3: Indian Flavors
2 teaspoons of avocado oil
1/8 teaspoon of garlic powder
1/2 teaspoon of curry powder
1/4 teaspoon of garam masala or turmeric
1/8 teaspoon of fenugreek
1/8 teaspoon of salt
Toss the seeds with spices and oil. Preheat the oven to 350°F (180°C). Place the seeds into a single layer on a baking tray.
Roast the seeds until golden brown and fragrant, which takes 12 to 15 minutes.
Remove them from the oven and place in a bowl. Eat straight away or save up to 2 weeks in the pantry in a sealed glass jar.
Storage Instructions
You can store your roasted pumpkin seeds in the pantry in an airtight container like a mason jar for 1 week or freeze them for up to 1 month in zip-lock bags.
How To Eat Roasted Pumpkin Seeds
You can eat these seeds as a nutritious snack or serve them as a fun appetizer.
But the seeds are also delicious on top of salads or a bowl of soup to add some crunchy texture.
Frequently Asked Questions
Below are the answers to your most common questions about roasting pumpkin seeds at home this fall.
How Many Seeds Are In A Pumpkin?
It depends on the size of your squash. A medium-sized pumpkin contains about 1/2 cup to 3/4 cup of seeds.
Can I Use Any Squash Seeds?
Absolutely, any winter squash seed varieties can be used with this recipe, including butternut squash, acorn squash, or the one you use to make Jack-o'-Lanterns for Halloween.
What Are The Best Oils To Roast Seeds?
The best oils for roasting are high-smoke point oils because they are stable at high temperatures.
Avocado oil is the best choice, but it can be flavorsome with sweet toppings.
So if you make the sweet version of this recipe, use a high smoke point oil low in flavors like canola oil or sunflower seed oil.
Can I Air-Fry Pumpkin Seeds?
You can cover the air fryer basket with foil and place the seeds on top in a single layer.
Air fry pumpkin seeds at 325°F (160°C) for 8 to 10 minutes shaking the basket halfway. The seeds get lighter as they dry out and sometimes fly in the air fryer hot part, so watch them out closely.
More Fall Recipes
Below are some inspirational fall recipes for you to try.
Did you try this roasted pumpkin seed recipe? Share a comment or review below to connect with me.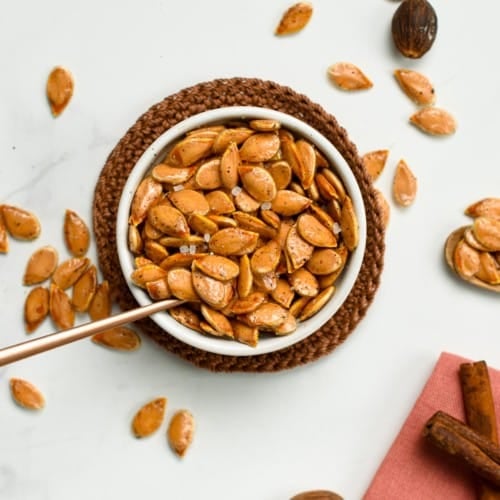 Roasted Pumpkin Seeds
Instructions
Scoop out the seeds from a medium pumpkin squash – any variety works but you will have fewer seeds from a small squash like butternut squash.

Place the seeds and their slimy orange stringy parts in a colander.

Run cold water over the seeds, and, using your hands, rub the seeds to remove the slimy orange parts. Discard the stringy orange parts. Keep cleaning the seeds until white and not slimy or orange.

Place the clean seeds onto a large clean towel and let dry overnight or for 2-3 days at room temperature until no more moisture remains in the seeds.

The day you roast seeds, preheat the oven to 350°F (180°C).

Place dry seeds in a bowl with oil and spices and toss to cover seeds with a spice blend.

Line the seeds in a single layer onto the baking sheet and bake for about 12 minutes or until golden brown.

Serve as snacks, appetizers, or toppings to salads and soups.
Storage
Store in the pantry in an airtight glass mason jar for 1 week or freeze for up to 1 month in zip lock bags.
Share on Facebook
Pin Recipe
Nutrition
Serving:
1
serving (1 tablespoon)
|
Calories:
43
kcal
|
Carbohydrates:
3.1
g
|
Protein:
1.2
g
|
Fat:
3.1
g
|
Saturated Fat:
0.5
g
|
Polyunsaturated Fat:
1
g
|
Monounsaturated Fat:
1.4
g
|
Trans Fat:
0.003
g
|
Sodium:
37
mg
|
Potassium:
42.4
mg
|
Fiber:
0.4
g
|
Sugar:
2.3
g
|
Vitamin A:
11
IU
|
Vitamin C:
0.5
mg
|
Calcium:
8.4
mg
|
Iron:
0.4
mg
|
Magnesium:
24.6
mg
|
Phosphorus:
49.6
mg
|
Zinc:
0.3
mg