These Vegan pumpkin cupcakes are easy moist pumpkin cupcakes packed with pumpkin pie spice flavors.
Plus, these egg-free pumpkin cupcakes are frosted with the tastiest dairy-free frosting.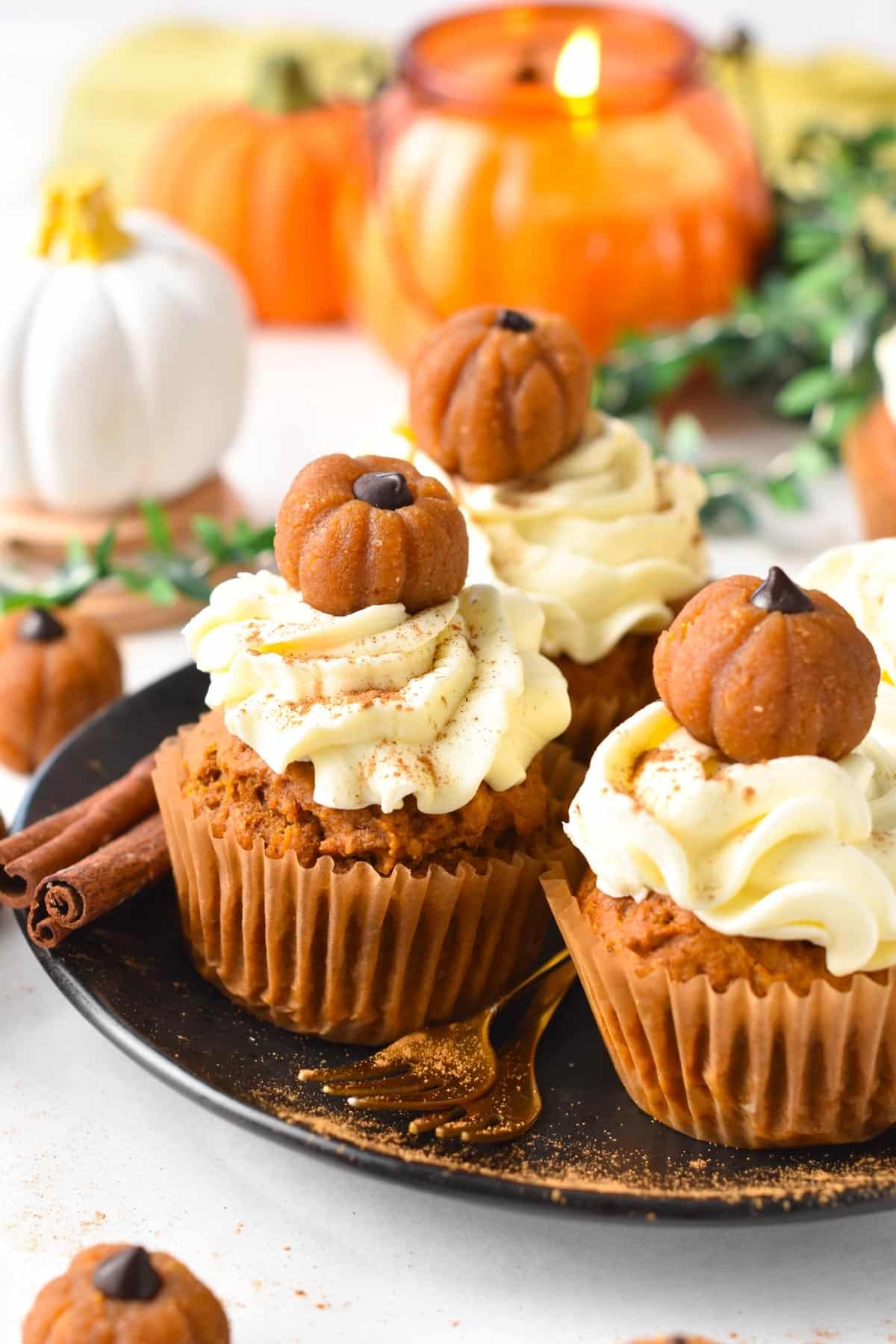 When the Fall season starts, it's time to bake some delicious fall cupcakes to celebrate.
How To Make Vegan Pumpkin Cupcakes
Most pumpkin cupcakes contain eggs, dairy, and cream cheese on their frosting. Therefore,
these vegan pumpkin cupcakes are the best if you are after a plant-based cupcake recipe to celebrate fall.
Ingredients
These pumpkin cupcakes are very easy to make using many wholesome ingredients.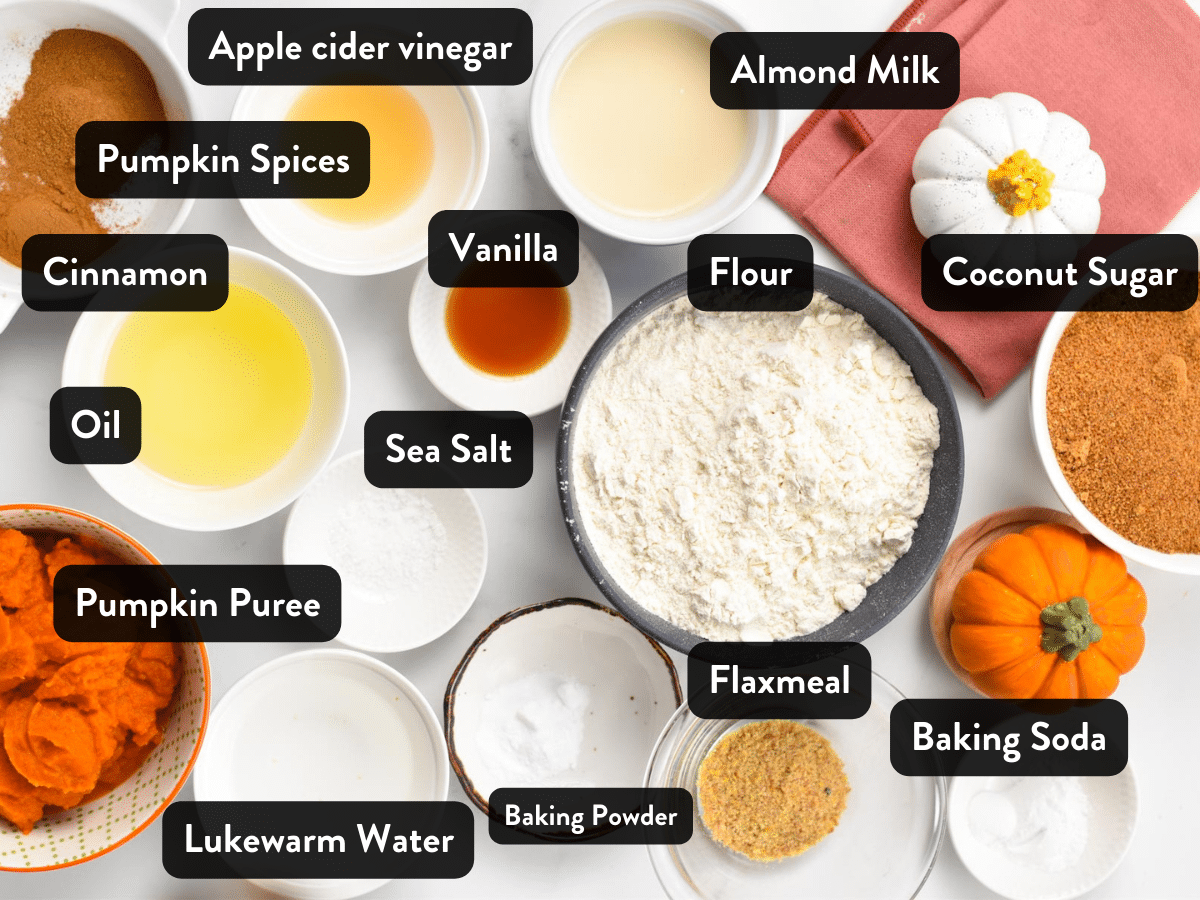 All-Purpose Flour – You can also use white spelt flour or white wholewheat.
Canned Pumpkin Puree – This is not a pumpkin pie filling that contains added sugar, and therefore, it's not made for baking cupcake recipes that already have sugar. You can also use homemade pumpkin puree. I use organic canned pumpkin puree made from 100% from pumpkins with no additives.
Pumpkin Pie Spices – It's a combination of cinnamon, ginger, nutmeg, all spices, and ground gloves that give the particular flavors to these pumpkin cupcakes.
Coconut Sugar or soft brown sugar.
Ground Flaxseeds
Apple Cider Vinegar or lemon juice.
Almond Milk or any non-dairy milk you love.
Vegetable Oil – You can use light olive oil or melted coconut oil.
Water
Vanilla Extract
Sea Salt
Baking Soda
Baking Powder
Preparation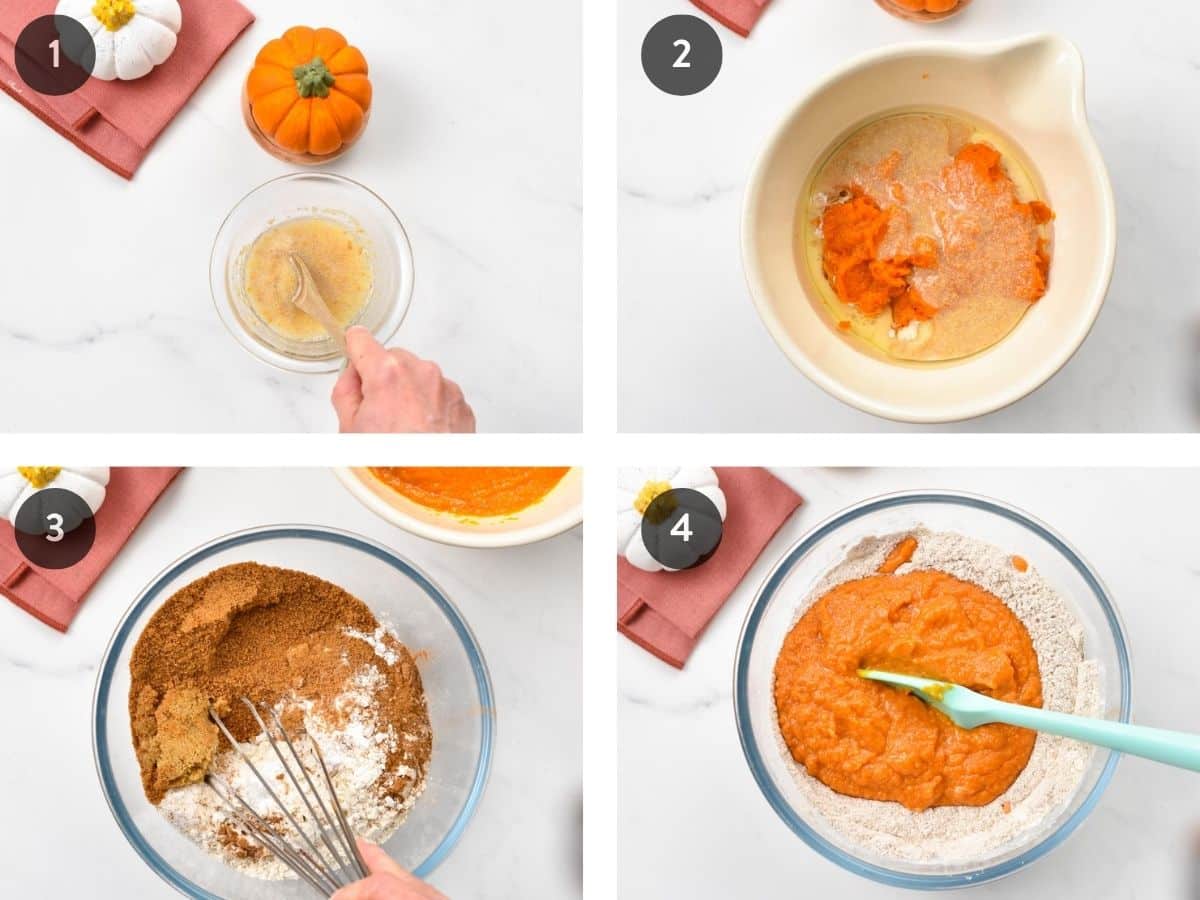 In a small bowl, prepare the flax egg by stirring ground flaxseeds and lukewarm water. Set it aside for 5 minutes until it reaches an egg-like texture.
In a large bowl, stir the wet ingredients together: soy milk, apple cider vinegar, pumpkin puree, vanilla extract, and oil.
Meanwhile, in a large bowl, whisk all the dry ingredients together: flour, pumpkin spices, salt, coconut sugar, baking powder, and baking soda.
Next, add the flax egg into the bowl with the liquid ingredients and stir well to combine.
Finally, pour the wet ingredients onto the dry ingredients and, using a spatula, stir to combine and form a thick cupcake batter.


Preheat the oven to 350°F (180°C). Line a 12-hole muffin tin with cupcake liners. Use cooking oil spray to lightly oil the paper cases.
Fill each paper liners up to 3/4 of their level.
Bake the vegan cupcakes in the center rack of the oven for 20 to 25 minutes or until a toothpick inserted in the center of the cupcake comes out clean.
Cool down on a cooling rack before frosting. It takes 1-2 hours to cool completely at room temperature.
Frosting
For these vegan cupcakes, I am using my vanilla frosting recipe. I doubled the batch and frosted the cupcakes with a piping bag.
To make the frosting you will need:
Vegan Butter – softened or a combination of softened vegan butter and vegan cream cheese if you want to make a vegan cream cheese frosting.
Powdered Sugar
Almond Milk, soy milk, or any plant-based milk you love.
Vanilla Extract
In the bowl of a stand mixer, using the paddle attachment or with a hand mixer, beat vegan butter until pale and soft.
Add the powdered sugar, a bit of almond, and vanilla extract. Beat again until creamy and easy to pipe on top of the cupcakes.
Homemade Pumpkin Cupcake Toppers
You can decorate these cupcakes with the most adorable pumpkin cupcake toppers.
I used my pumpkin truffle recipe without the chocolate shell. It's a very simple recipe that you can make in a few minutes.
Make small balls of pumpkin truffles.
Then, lightly flatten each ball into oval shapes. Finally, use a toothpick to press the sides and form rims all around the oval.
Top up each little pumpkin decoration with a chocolate chip.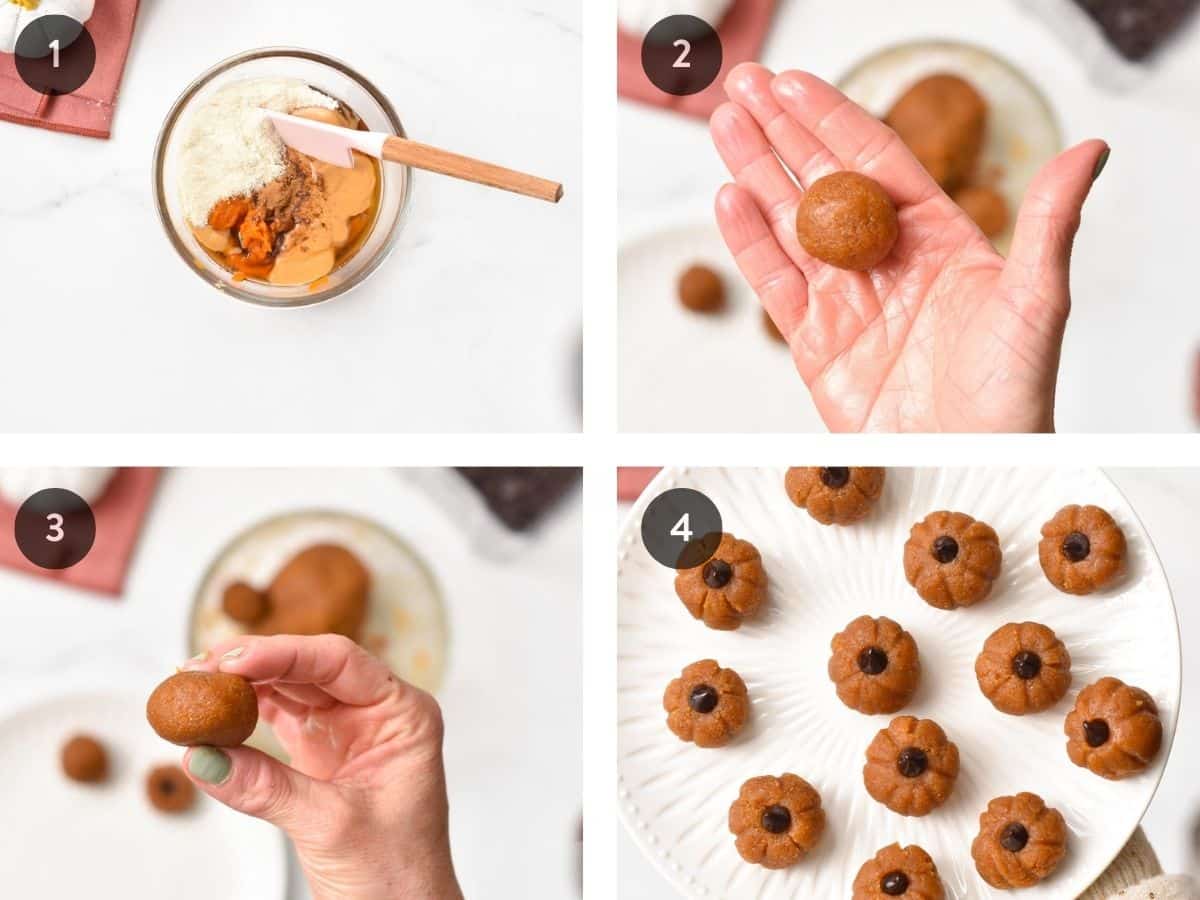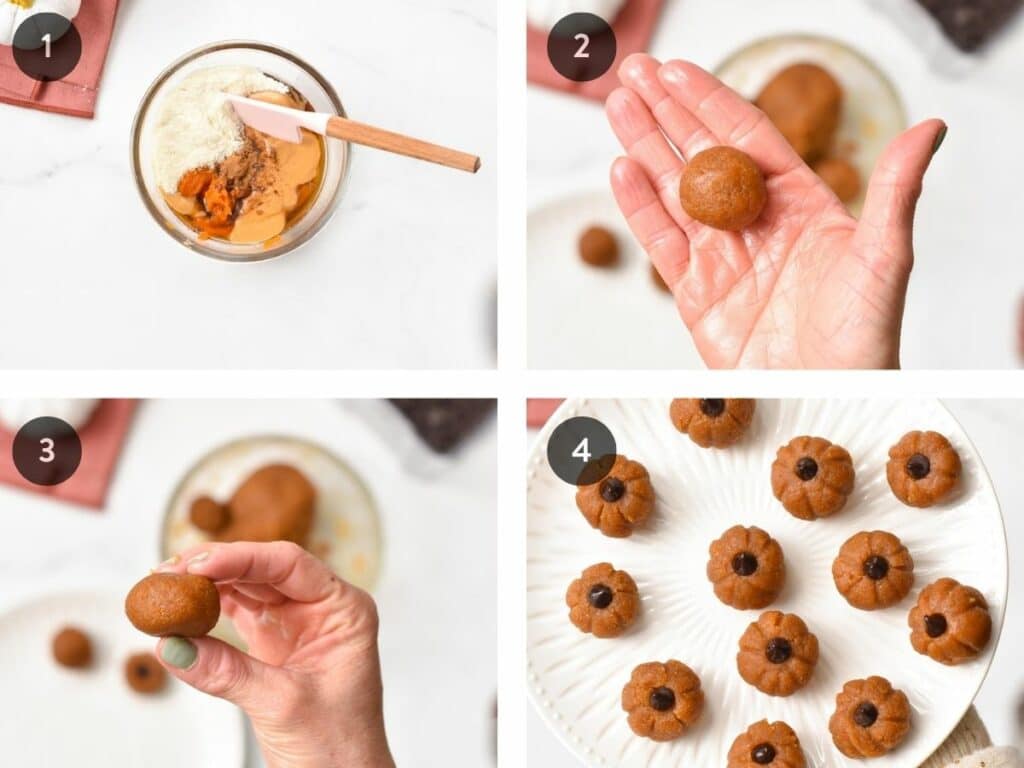 Decorating The Cupcakes
Decorate the vegan pumpkin cupcakes with a pinch of pumpkin spices, and add the lovely homemade pumpkin cupcake decor on top.
If you don't have time to prepare the pumpkin decoration, you can add some of the below cupcake toppings. They all taste amazing with pumpkin flakes.
Storage Instructions
Store the vegan pumpkin cupcakes in the fridge for up to 4 days in an airtight container
Freeze the cupcakes for up to one month in an airtight box.
Homemade Pumpkin Spices
For this recipe I am using ground cinnamon and a blend of store bought pumpkin pie spices.
If you don't have pumpkin spices replace both of these ingredients with the amount of the spices below.
3/4 teaspoon of ground ginger
1 1/2 teaspoons of ground cinnamon
1/2 teaspoon of ground nutmeg
1/2 teaspoon of ground cloves or allspice
Allergy Swaps
Below are some ingredients substitution ideas if you need them.
Nut-Free – Swap the almond milk for soy milk, oat milk, or coconut milk.
Sugar-Free – A sugar-free crystal sweetener like erythritol or allulose works well.
Gluten-Free – I didn't try all-purpose gluten-free flour, but some brands are 1:1 replacements for wheat flour and should work well here. Always remember that gluten-free flour turns vegan baked goods denser and a gummy in the center.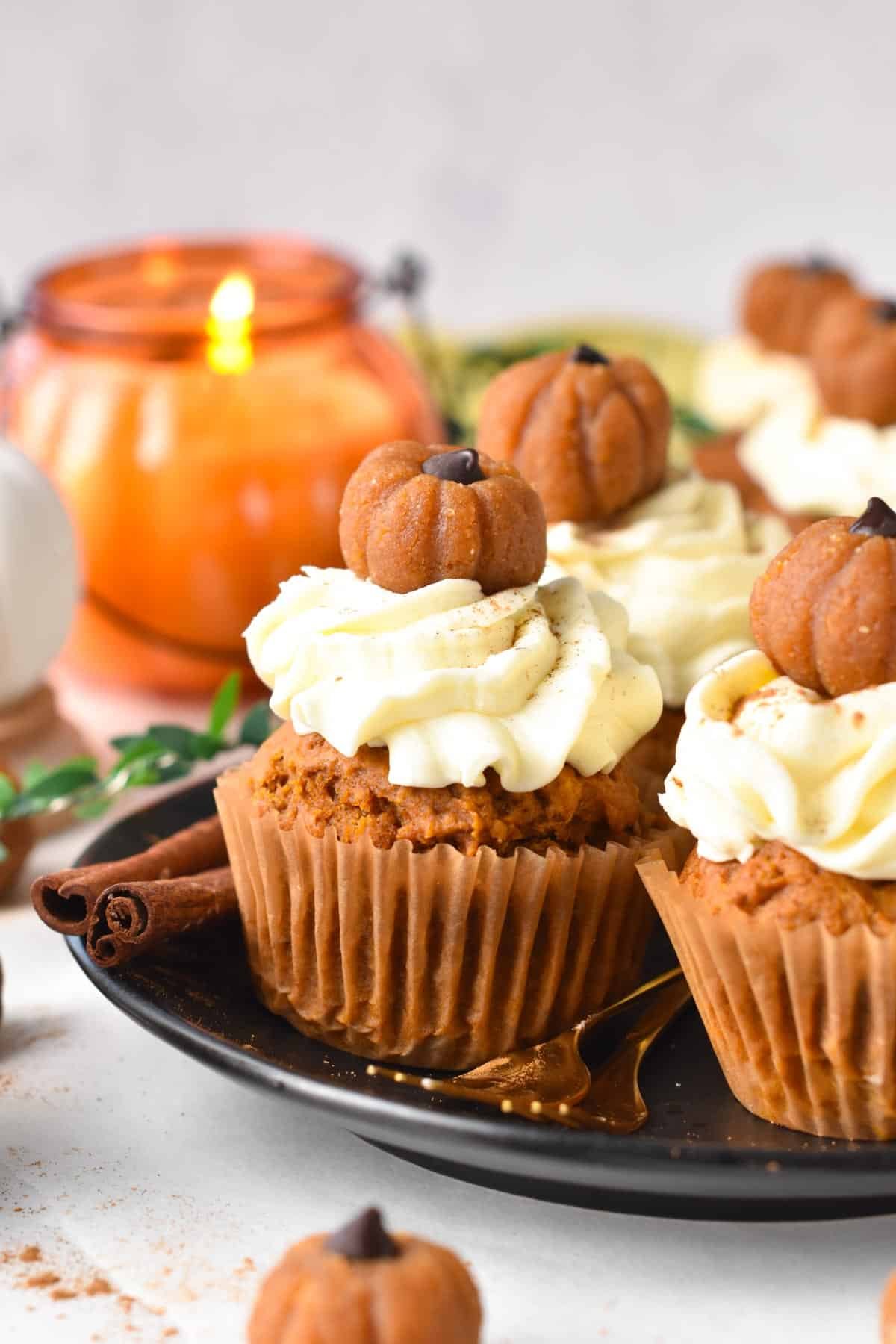 Frequently Asked Questions
Below are my answers to your most common questions about this recipe.
Can I use homemade pumpkin puree to make pumpkin cupcakes?
Yes, you can use cooled, homemade pumpkin puree to bake cupcakes.
How much do I fill mini cupcakes?
To fill mini cupcakes with this cupcake recipe, fill up to halfway.
Bake for 18 to 22 minutes or until a toothpick inserted in the center comes out clean. The recipe will make 36 mini pumpkin cupcakes.
More Pumpkin Baking Recipes
If you like baking with pumpkin, you'll love the following recipes: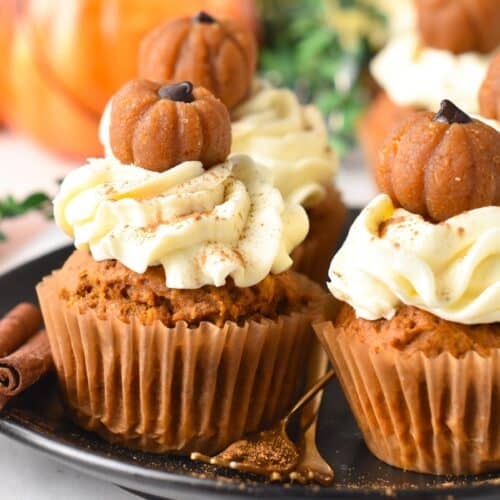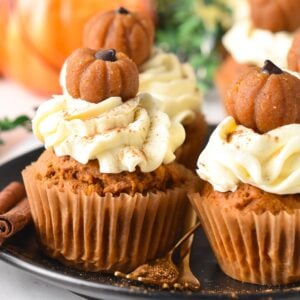 Vegan Pumpkin Cupcakes
These Vegan pumpkin cupcakes are easy moist pumpkin cupcakes packed with pumpkin pie flavors.
Pin
Print
Review
Servings: 12 vegan cupcakes
Calories: 331 kcal
Instructions
Preheat the oven to 350°F (180°C) and line a 12-hole muffin pan with paper liners. Set aside.

In a bowl, stir soy milk, pumpkin puree, oil, vanilla extract, and vinegar. Set aside.

In another bowl, make the flax egg, stir ground flaxseed and lukewarm water. Set it aside for 5 minutes.

In another large mixing bowl, whisk flour, coconut sugar, pumpkin pie spices, baking soda, salt, and baking powder for 40 seconds until evenly combined.

Pour the milk-pumpkin mixture onto the flour.

Stir with a spoon until just combined; don't overmix.

Divide the batter evenly into the 12 cupcake liners, filling up to 2/3 full, not more!

Bake at 350°F (180°C) on the center rack of your oven for 20-23 minutes or until a toothpick inserted in the center of the cupcakes comes out clean.
Decoration
To decorate and make the pumpkin toppers, use a batch of my pumpkin truffle recipe, minus the chocoalte shell. Shape little cyclinder and use a toothpick to form marks on sides. Add a chocolate chip on top to decorate the pumpkin.

Place the pumpkin on top of the frosted cupcake with a pinch of extra cinnamon if desired.
Notes
The nutrition panel includes the frosting.
Share on Facebook
Pin Recipe
Nutrition
Serving: 1cupcake | Calories: 331kcal | Carbohydrates: 54g | Protein: 2g | Fat: 13g | Saturated Fat: 7g | Sodium: 144mg | Potassium: 17mg | Fiber: 1g | Sugar: 41g | Vitamin A: 360IU | Calcium: 58mg | Iron: 1mg