Vegan Chocolate Frosting – Dairy-free
An easy 4-ingredient Vegan Chocolate Frosting recipe smooth, silky, creamy, and perfect to pipe on top of vegan cupcakes or frost a chocolate cake.
You'll love its milk chocolate buttercream flavor, and nobody will guess it's actually dairy-free!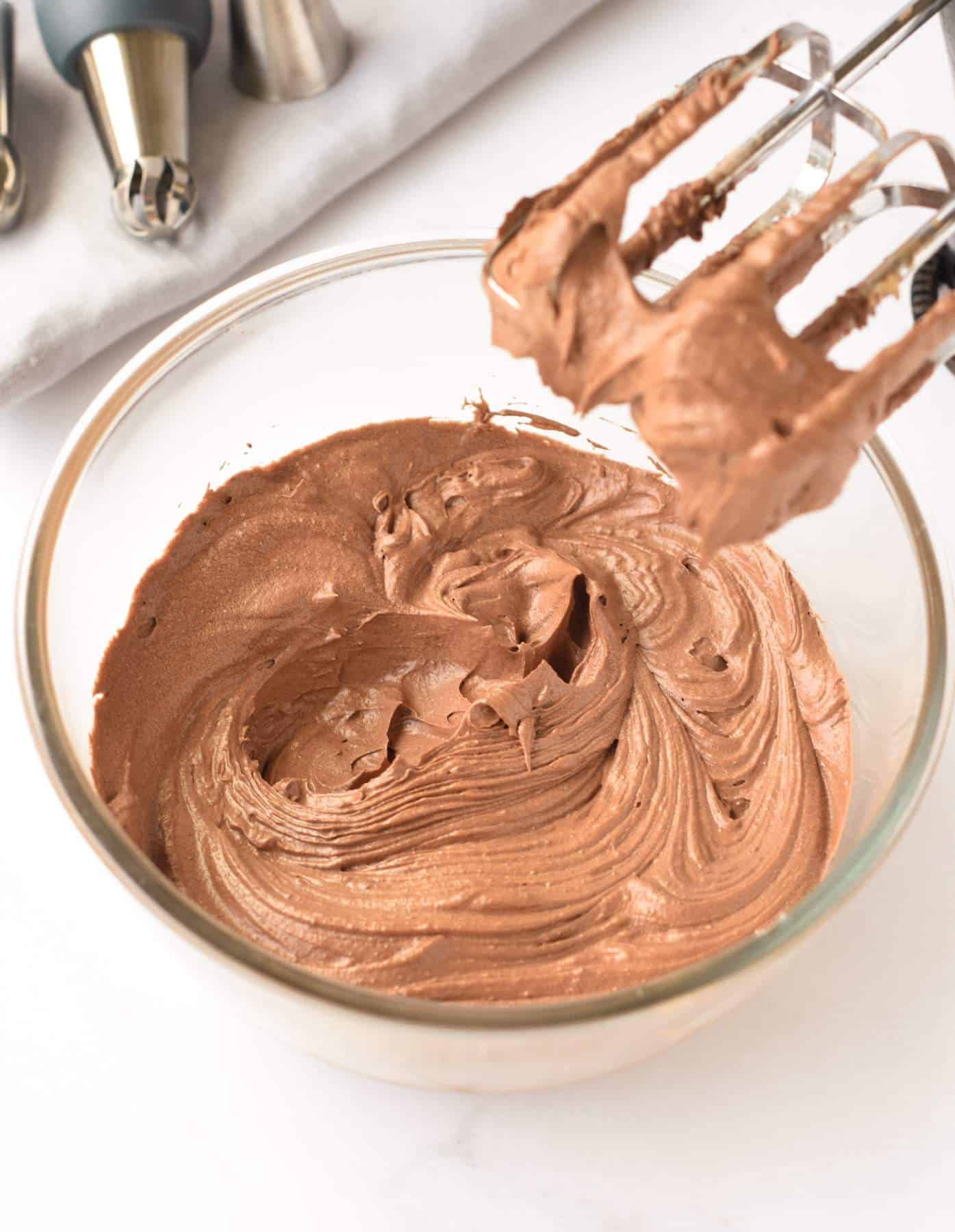 Here we go! After sharing my vegan vanilla frosting recipe, it's time to share our best dairy-free chocolate frosting for cake and cupcakes.
It's such an easy, delicious recipe that you will probably even make this to lick the spoon and snack on!
Let me share with you how to make this delicious vegan chocolate buttercream frosting recipe.
What's Vegan Chocolate Frosting?
It's a chocolate frosting for vegan chocolate birthday cake and vegan chocolate cupcakes that is naturally:
dairy-free
egg-free
gluten-free
soy-free
Dairy-Free Frosting Ingredients
So first, you need to gather four simple ingredients.
The key to making a good creamy and silky dairy-free frosting is the choice of good quality unsweetened cocoa powder and good dairy-free butter.
Best Dairy-free butter for frosting
The choice of dairy-free butter is the key to making the frosting tasty and creamy.
There are plenty of brands on the market, and there are two sorts of dairy-free butter, let me explain.
Dairy-free spread – also known as dairy-free margarine. Dairy-free spreads are soft from the pot. They are great to spread on toast or bread but not the best choice for frosting because they stay very soft. Also, some are made from highly flavored oil like pressed olive oil or avocado oil, and it ruins the frosting flavor. So to make this vegan chocolate frosting recipe, stay away from vegan spread! The spread brands I don't recommend are Earth Balance spread, Nutellex spread, Vutter.
Dairy-free baking stick – this kind of dairy-free butter looks exactly like real butter. It's hard in texture when bought from the grocery store, and like butter, it needs some time out of the fridge to soften. This is the one you need to make a good vegan frosting recipe! I love Earth Balance stick or Naturali Vegan Block. Of course, to use them in a frosting recipe, you need to take them out of the fridge for at least 30 minutes to soften.
Can I Use Coconut Oil?
No, you can't use coconut oil in a dairy-free frosting.
It must be a vegan butter stick or a light flavor vegan butter spread if you don't mind the frosting staying soft.
Unsweetened Cocoa Powder Or Cacao Powder
Both products work very well to make a tasty vegan chocolate frosting recipe.
Cacao is darker in color and stronger in flavor. It makes a dark chocolate frosting with an earthy cocoa bean flavor, less sweet.
Cocoa is lighter in color and makes the frosting taste more like a milk chocolate frosting.
Dairy-free Milk
You can use any non-dairy milk in this recipe, like coconut milk, soy milk, oat milk, or almond milk.
I recommend using milk at room temperature, or the frosting forms lumps or hardens in contact with cold milk.
Powdered sugar
Also known as icing sugar, it's the light powdery version of crystal sugar. It adds a delicious sweet flavor to the frosting and thickens the mixture too.
For a sugar-free vegan chocolate frosting, replace powder sugar with powder allulose or powder erythritol. Both are sugar-free, natural, and diabetic-friendly.
Vanilla extract
It's optional to add vanilla extract to a chocolate frosting, but who doesn't like a touch of vanilla in frosting!
You can also play with different flavor extracts using caramel extract, chocolate extract, or almond extract, depending on the cake or cupcakes you intend to frost with this recipe.
How To Make Vegan Chocolate Frosting
First, remove the dairy-free butter from the fridge at least 30 minutes before using it in your vegan chocolate frosting recipe.
You can also cut it into small cubes to make it soften faster.
Next, place in a large mixing bowl or in the bowl of a stand mixer.
It's great to use a tall bowl simply because the frosting sweetener and cocoa powder are very volatile and burst out of the bowl easily.
Then, use the paddle attachment of your stand mixer or a hand mixer and beat butter and vanilla extract for about 1 minute on high speed until fluffy and whiter in color.
Finally, stop the batter, add unsweetened cocoa powder, dairy-free milk of choice, and powdered sugar, and beat again until well incorporated.
Troubleshooting
If your frosting gets too thick, add one tablespoon of extra dairy-free milk and beat until incorporated. Repeat this until it reaches your favorite frosting texture
If too thin, add more powdered sweetened up to 1/2 cup in total for this recipe.
Storage
This dairy-free chocolate frosting can be stored for up to 3 days in an airtight container in the fridge.
It hardens in the fridge, so it's recommended to pipe the frosting on the cupcakes before storing them in the fridge, or it became difficult to place in a piping bag.
You can also freeze your frosting. Thaw overnight in the fridge, then bring to room temperature for 1 hour before pipping.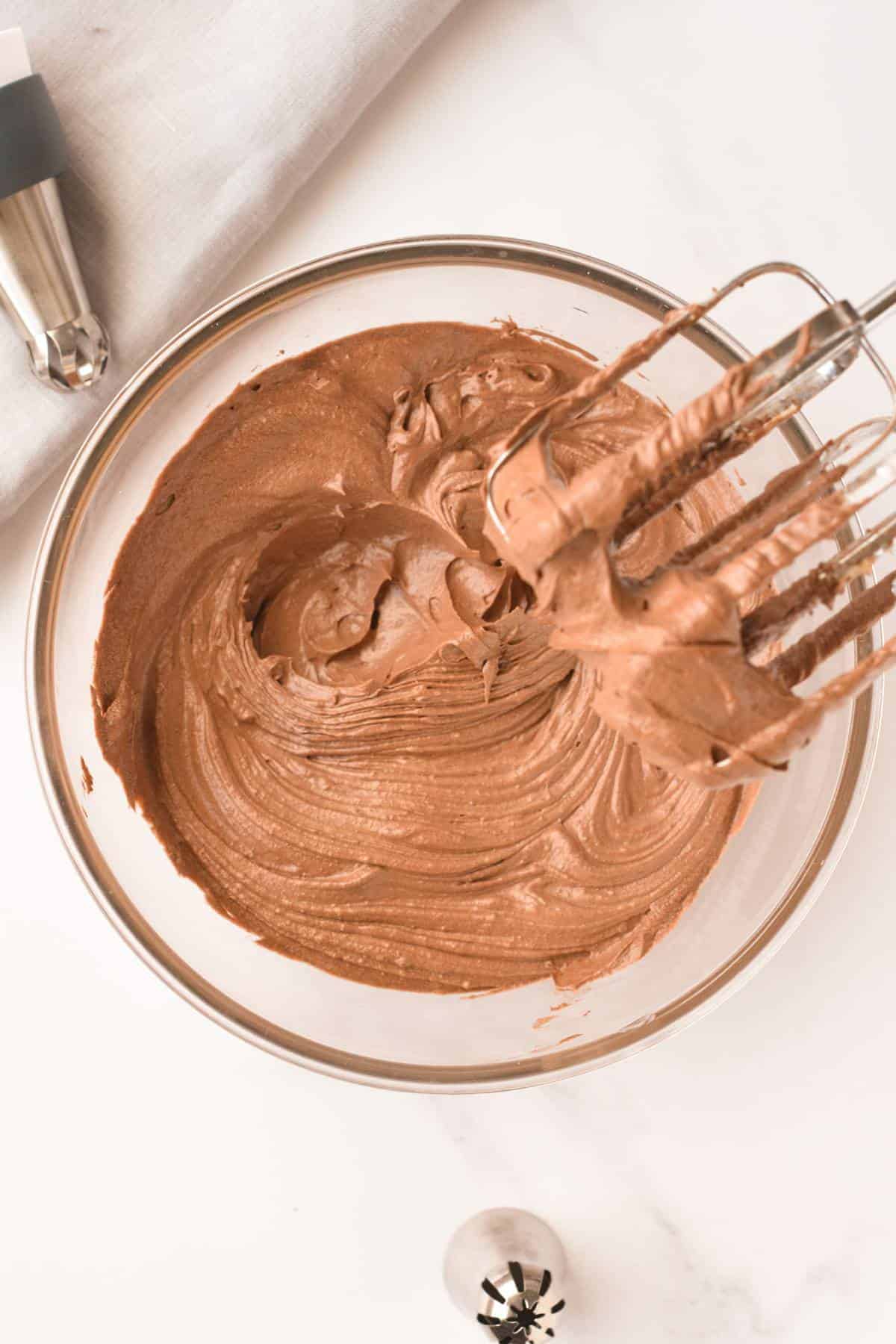 Using Vegan Chocolate Frosting
This vegan chocolate frosting recipe is easy to pipe on top of cupcakes or to decorate layer cakes.
You can use this recipe to make my vegan chocolate cupcakes, vegan German chocolate cake, or crazy chocolate cake.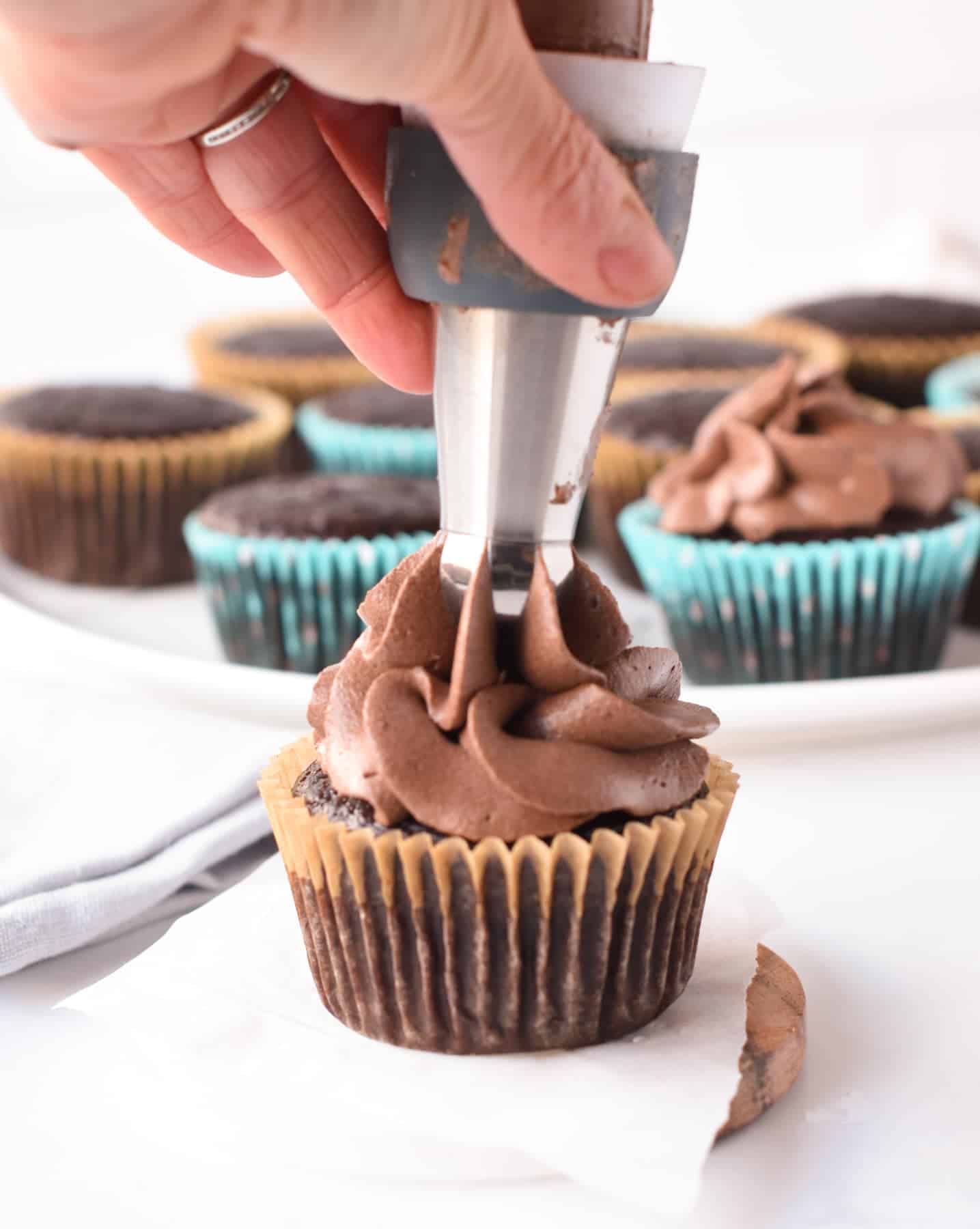 More Vegan Frosting Recipes
I love baking cakes and vegan frosting to add on top of them. Below I listed more vegan frosting recipes for you to try!
Have you made this vegan dairy-free chocolate frosting recipe? Share a review or comment below, or join me on Instagram to share a picture of your creation in your story!
Your friend, Carine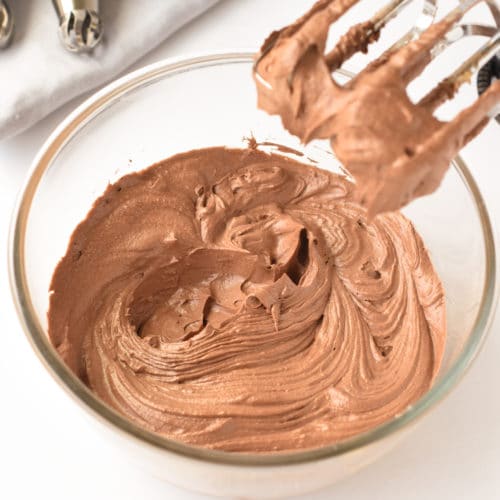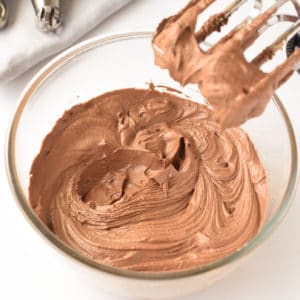 Vegan Chocolate Frosting recipe
An easy 4-ingredient vegan chocolate frosting recipe smooth, silky, creamy, and perfect to pipe on top of vegan cupcakes or frost a chocolate cake. You'll love its milk chocolate buttercream flavor, and nobody will guess it's actually dairy-free!
Pin
Print
Review
Servings:
12
serve (cupcakes frosting)
Shop My Tools
Instructions
In a large mixing bowl, beat soft dairy-free butter and vanilla extract for 1-2 minutes until light and fluffy.

Stop beater, add unsweetened cocoa powder, icing sugar, and 2 tablespoons of milk.

Beat again until smooth and well combined. If too thick add more milk, one tablespoon at a time. If too thin, add up to 1/2 cup extra powdered sugar, 1/4 cup at a time. Beat between each addition to check the texture and stop adjusting when it's to your liking.

Use this dairy-free chocolate frosting to frost 12 cupcakes or one 8-inch cake pan. Spread with a spatula or piping bag.

Store the frosting in an airtight container in the fridge for up to 3 days or freeze it.
Share on Facebook
Pin Recipe
Nutrition
Serving:
1
serving
|
Calories:
70.3
kcal
|
Carbohydrates:
17.1
g
|
Protein:
0.5
g
|
Fat:
7.5
g
|
Saturated Fat:
1.5
g
|
Polyunsaturated Fat:
2.2
g
|
Monounsaturated Fat:
3.6
g
|
Trans Fat:
1.3
g
|
Sodium:
63.2
mg
|
Potassium:
38.5
mg
|
Fiber:
0.8
g
|
Sugar:
0.1
g
|
Calcium:
7.9
mg
|
Iron:
0.3
mg
|
Magnesium:
12
mg
|
Phosphorus:
18
mg
|
Zinc:
0.2
mg