These Vegan Chocolate Cupcakes have a rich, moist, and fudgy chocolate texture perfect for celebrating a kid's birthday or any occasion.
Plus, these vegan cupcakes are also refined sugar-free, and gluten-free options are provided so everyone can enjoy one!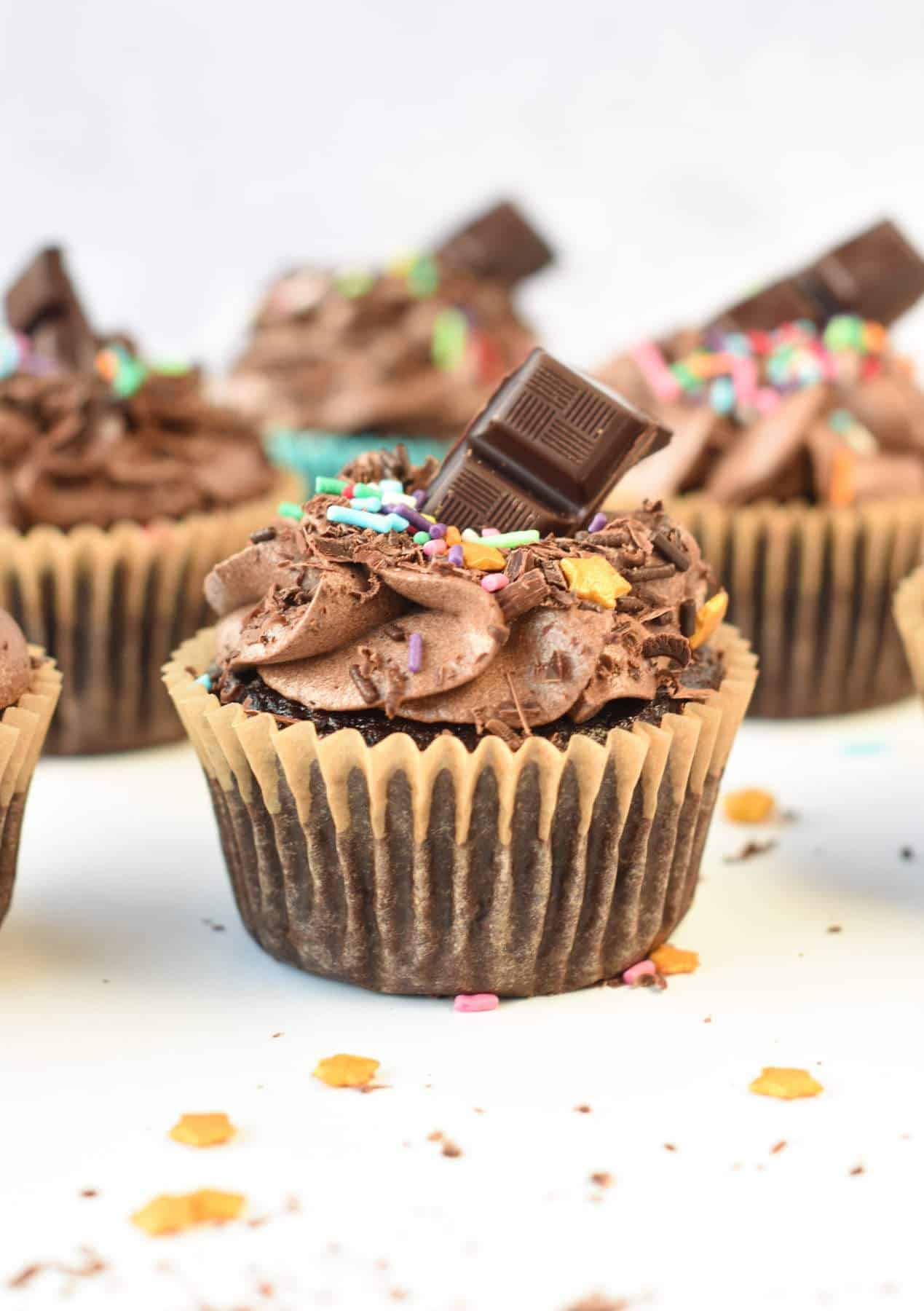 Vegan cupcakes are life. I shared with you my vegan vanilla cupcakes recipe last year, so it's time for more vegan cupcakes recipes on the blog, starting with chocolate!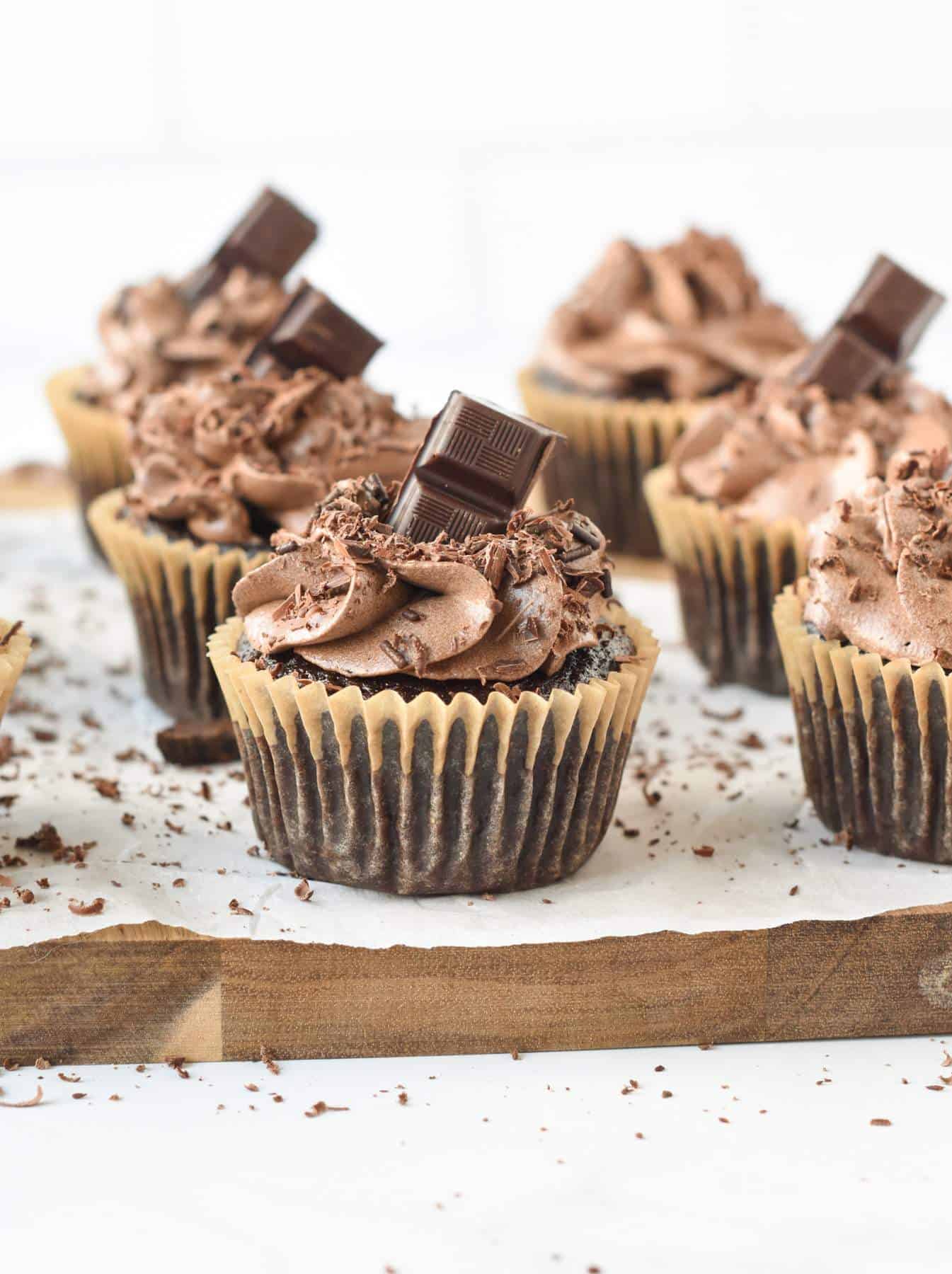 How To Make Vegan Chocolate Cupcakes
It's easier to make your own vegan chocolate cupcake at home.
It's also a healthy way to bake one of the most popular desserts or celebration cakes.
In fact, these dairy-free cupcakes are also refined sugar-free and contain half fat than regular recipes.
Let me share how I make the most delicious vegan chocolate cupcakes with a few simple pantry staples.
Ingredients
As mentioned above, all you need to make vegan cupcakes are very simple, inexpensive ingredients.
Unsweetened soy milk – or any non-dairy milk of choice, including almond milk, coconut oil, or oat milk. I prefer soy milk because it makes the cupcake crumb light and fluffy, less dry than almond milk.
Apple cider vinegar – or any acid that curdles your milk and creates a nice, thick plant-based buttermilk, which can be lemon juice or white vinegar.
All-purpose flour or all-purpose gluten-free flour – make sure it includes gum in the blend.
Sugar – I used unrefined cane sugar, but sugar-free erythritol works too for a diabetic-friendly vegan cupcake recipe. Other options are regular sugar or coconut sugar.
Unsweetened cocoa powder – or cacao powder for stronger cocoa flavor.
Vanilla extract
Baking soda
Baking powder
Salt
Canola oil or light olive oil. You can also use melted coconut oil, but I found the cupcakes heavier with this type of oil.
Unsweetened applesauce – that's the magic ingredients I love to add to so many of my vegan baked goods. It not only acts as a great egg replacer, but it also adds the best moist texture to the cupcake crumb. Other options are mashed bananas or sweet potato puree.
Making Vegan Buttermilk
The trick to making delicious light, fluffy and moist vegan cupcakes is to first prepare your own vegan buttermilk. Don't worry. It's super easy.
All you have to do is whisk apple cider vinegar or lemon juice with your plant-based milk. Set aside the mixture for about 5 minutes until it curdles and resembles buttermilk.
Combining Ingredients
Meanwhile, whisk all the dry ingredients: flour, sugar, baking powder, baking soda, unsweetened cocoa powder.
The mixture should be evenly combined with no lumps.
Now that the vegan 'buttermilk' is ready, stir in applesauce, canola oil, and vanilla extract.
Stir Ingredients
The key to making the batter light with no lumps is to add the dry ingredients to the wet ingredients in three addition. Don't pour all the dry ingredients immediately.
Instead, work by batch, add 1/3 of the mix, stir in and when the dry ingredients are almost entirely combined to the wet, add more.
Repeat until all the dry ingredients are incorporated into the liquid ingredients and the batter is fairly liquid.
Baking Cupcakes
Preheat oven to 350°F (180°C). Line a 12-hole cupcake tray with cupcake liners. It's up to you, but I like to spray some oil in my cupcake liners.
It makes it easier to release the cupcakes later. I mean that the paper won't stick to the crumb.
Bake until a toothpick inserted in the center of one of the vegan chocolate cupcakes comes out clean.
Cool down on a cooling rack for at least 2 hours if you want to frost them with my vegan chocolate buttercream frosting recipe.
Vegan Frosting
For the frosting, you have three options. You can make one of my three vegan frosting recipes below depending on the flavor you love:
Vegan chocolate frosting – using vegan butter, cocoa powder, and powdered sugar.
Vegan coconut frosting – a great option made without vegan butter and using canned coconut cream and sweetener.
Vegan vanilla frosting – made of vegan butter, vanilla, and powder sugar.
Whatever you choose, make sure you cool the cupcakes completely before pipping any frosting on top. If the cupcakes are at room temperature, the frosting holds its shape perfectly and won't melt.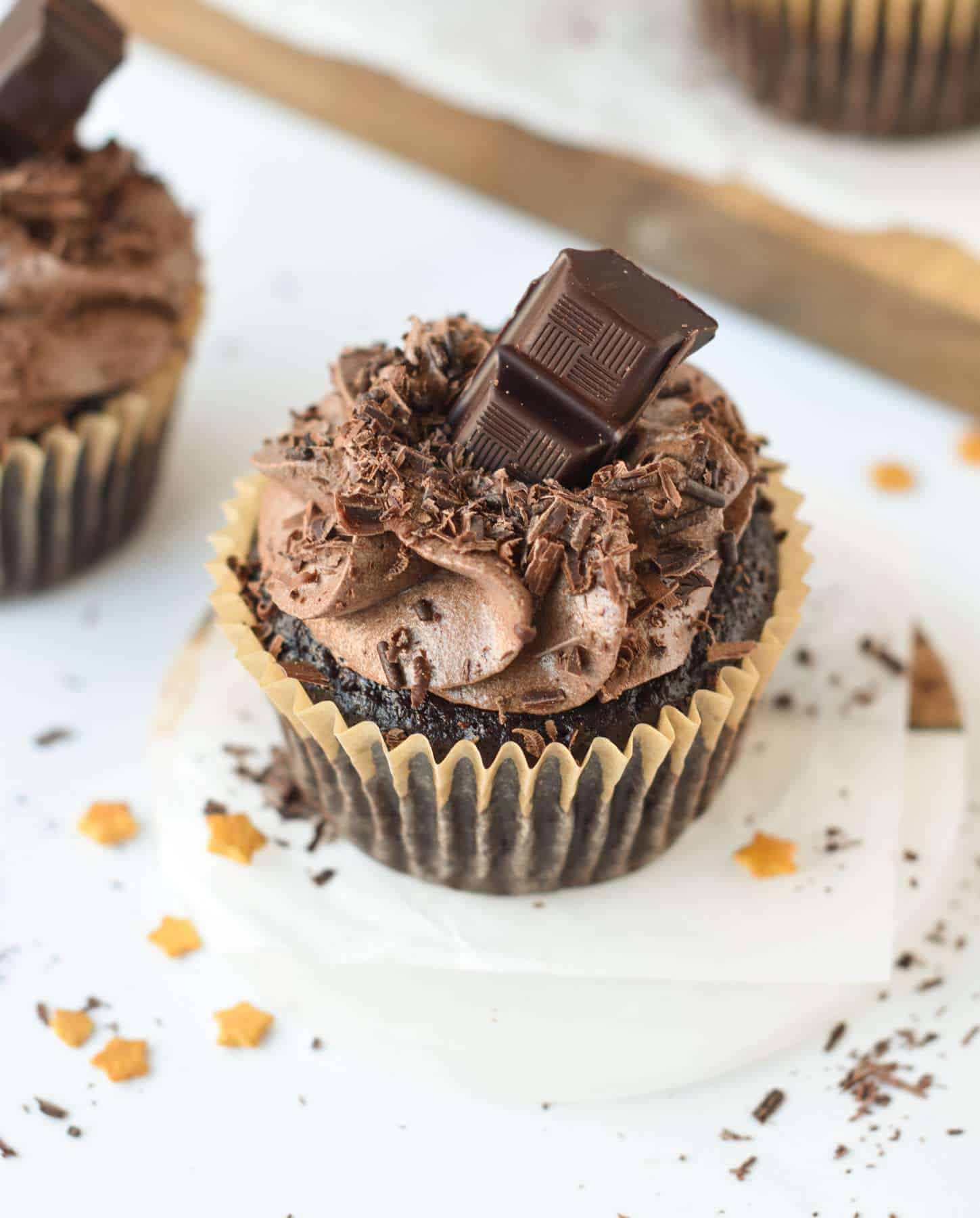 Vegan Cupcake Decoration
These vegan cupcakes are topped with my vegan chocolate buttercream recipe. I used a piping bag to pipe about 3 tablespoons of frosting on each cupcake.
Then, I placed two squares of 85% Green & Black dark chocolate.
Finally, I added some grated dark chocolate and a few vegan-friendly sprinkles for the color. You can also add some vegan candies or vegan marshmallows if you serve these chocolate cupcakes to a vegan kid's birthday party.
For a healthy cupcake topping option, choose some of the below:
Chopped nuts – peanut, pecans
Sliced almonds
Shredded coconut
Chopped seeds – Sunflower seeds, pumpkin seeds
Storage Instructions
These vegan chocolate cupcakes store well in the fridge in an airtight container for about 3-4 days.
You can also freeze vegan cupcakes, like regular cupcakes, keep them in an airtight box and thaw at room temperature the day before.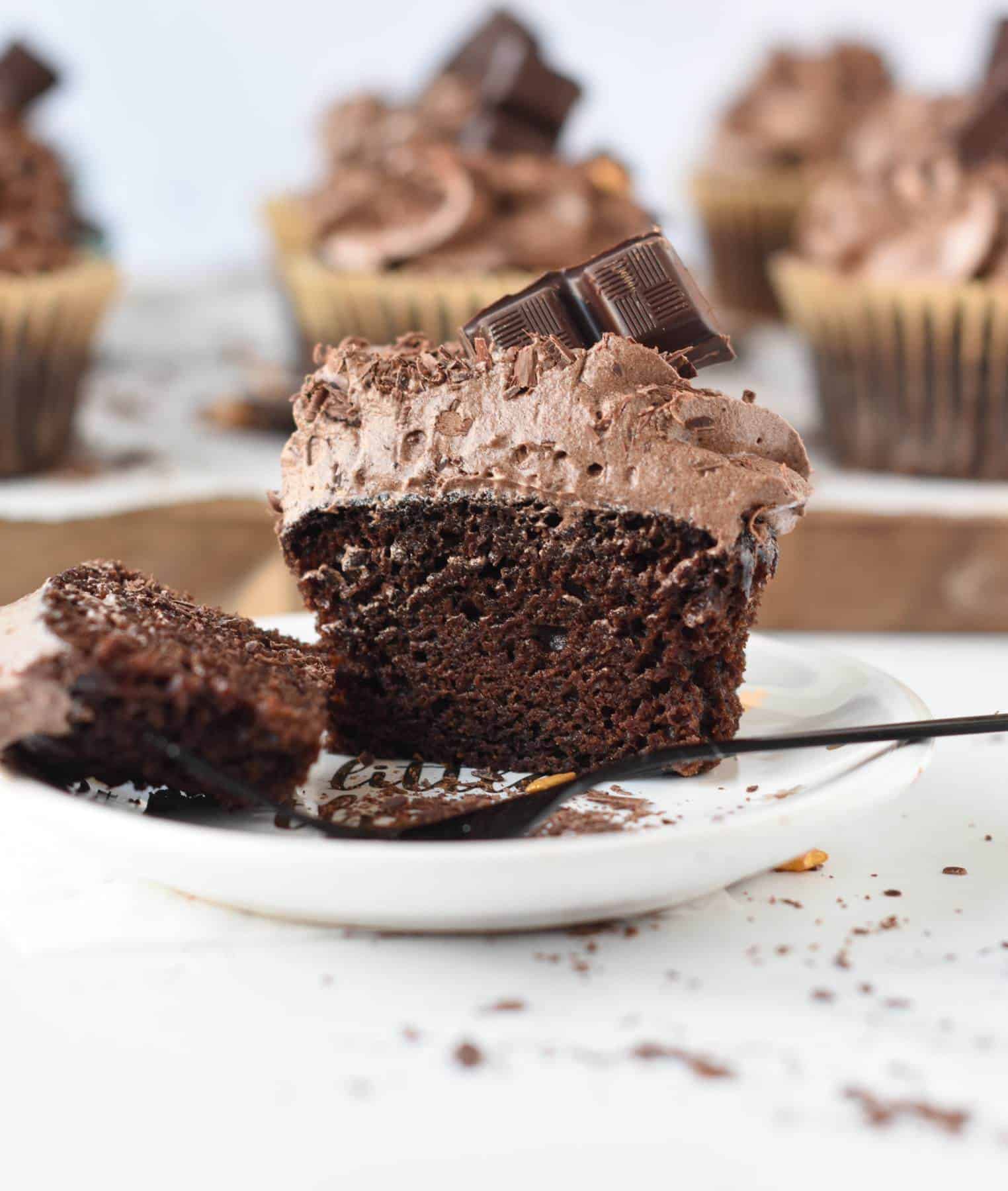 Allergy Swaps
Flour Swaps
One of the most common questions I get for vegan cupcake recipes is whether a flour can be swapped for another. Unfortunately, you can't swap all-purpose flour with low-starch flour like almond flour, oat flour, or coconut flour.
The only flour swap that works as a 1:1 replacement with these vegan chocolate cupcakes are:
Spelt flour
All-purpose gluten-free flour
Sweeteners
The next question is often about sweeteners. Here you can replace the sugar with any other crystal sweetener like:
Erythritol, allulose, xylitol – these are sugar-free options. I would recommend cutting down to 1/2 cup because they tend to be sweetener and slightly minty.
Coconut sugar – for a low-GI healthier sugar.
Sugar – white sugar or soft brown sugar works just fine.
Remember that you can't replace a crystal sweetener with a liquid sweeter, or the cupcakes end up gummy.
Don't use maple syrup, agave syrup, or any liquid sweetener to replace sugar.
Oil Swaps
I tested this recipe with many oils, and the best results for alight and fluffy vegan cupcakes are:
Canola oil
Light olive oil
Almond oil
Melted vegan butter, avocado oil, and coconut oil make the cupcakes slightly dense, and the last two options add a light aftertaste.
As a result, these three are not my first recommendation, but if it's what you have at home, it will work.
More Vegan Cupcake Recipes
I love to bake vegan cupcakes for any occasion, birthday, holiday season, or enjoy a treat!
Below I listed more vegan dessert recipes you may want to try.
Have you made these vegan chocolate cupcakes?
Share a review or comment below to connect with me and tell me how much you enjoy the recipe! I love to hear back from you.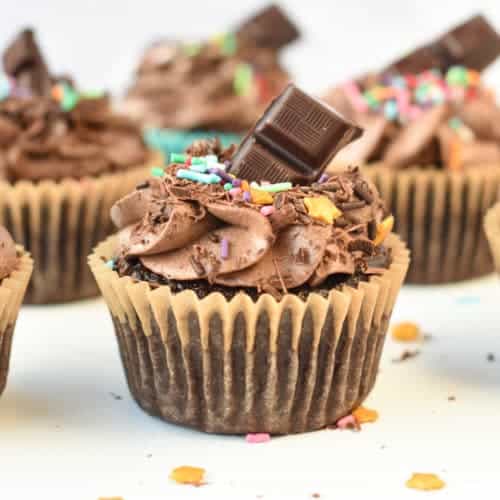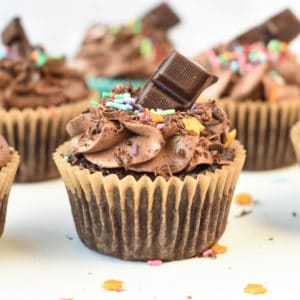 Vegan Chocolate Cupcakes
These Vegan Chocolate Cupcakes have a moist, fudgy chocolate texture and delicious dairy-free silky chocolate frosting.
Pin
Print
Review
Servings: 12 vegan cupcakes
Calories: 142.9 kcal
Ingredients
Frosting
1 batch Vegan Chocolate Frosting
Instructions
Preheat oven to 350°F (180°C). Line a cupcake tray with a paper liner. Lightly spray oil on the paper to prevent the cupcakes from sticking to them.

In a large mixing bowl, whisk milk and apple cider vinegar. Set aside for 5 minutes until it curdles – this is what we call the vegan 'buttermilk'.

In another bowl, stir all the dry ingredients together: flour, cocoa powder, sugar, baking powder, baking soda, and salt. Set aside.

In the bowl with the milk, stir in applesauce, oil, and vanilla extract.

Stir in the dry ingredients into the wet ingredients in three addition to avoid lumps. Stir well between each addition. The batter should be fairly liquid by smooth with no lumps.

Fill each cupcake liner up to 3/4 level.

Bake on the center rack of your oven for 20 minutes or until a toothpick inserted in the center of the cupcakes comes out clean.

Cool them down on a cooling rack for 2 hours before frosting. Don't frost if the cupcakes are hot, or the vegan chocolate frosting will melt.
Storage
Store for up to 3 days in the fridge in an airtight cake box, or freeze for later.
Share on Facebook
Pin Recipe
Nutrition
Serving: 1cupcake (unfrosted) | Calories: 142.9kcal | Carbohydrates: 22.8g | Protein: 2.1g | Fat: 5.4g | Saturated Fat: 0.6g | Polyunsaturated Fat: 1.6g | Monounsaturated Fat: 3.1g | Trans Fat: 0.1g | Sodium: 191.4mg | Potassium: 76.7mg | Fiber: 1.2g | Sugar: 13.1g | Vitamin A: 43.4IU | Vitamin B12: 0.2µg | Vitamin C: 0.1mg | Vitamin D: 0.2µg | Calcium: 40mg | Iron: 0.9mg | Magnesium: 17.7mg | Phosphorus: 39.2mg | Zinc: 0.2mg