Vegan Black Bean Cupcakes
These easy Black Bean Cupcakes are fudgy, healthy small cupcakes perfect for kids. They taste like chocolate brownies, but they only contain 4 grams of sugar per serving, no refined sugar, and egg-free and dairy-free.
How to make black bean cupcakes?
These black bean brownie cupcakes are super easy to make in 10 minutes, in a blender.
Ingredients to make black bean muffins for toddler
All you need to make these delicious fudgy chocolate cupcakes are:
Canned black beans – rinse and drain the black beans before using. Black beans are healthy plant-based protein to make fudgy egg-free chocolate muffins or brownies for kids.
Rolled oats – you can use old-fashioned oats or instant oats – they blend faster. For gluten-free kids, you can find gluten-free certified oats or replace them with millet flakes, but you may have to use more of it to achieve the same texture.
Unsweetened cocoa powder
Natural peanut butter – it means peanut butter with no sugar added. If your toddler is allergic to nuts, you can use sunflower seed butter. It's a great alternative full of protein and nutrients.
Melted coconut oil – or any oil you like including canola oil or avocado oil.
Vanilla extract
Milk of choice – for vegan kids recipe, I recommend using soy milk calcium-fortified, but any milk works in this recipe.
Maple syrup or any unrefined liquid sweetener you love.
Baking powder or half the amount if you want to use baking soda.
Blend all ingredients
Place all the ingredients in a high-speed blender and blend at high speed for about 1 minute. You may have to stop the blender every 20-30 seconds, scrape down the sides of the bowl and repeat until all ingredients come together.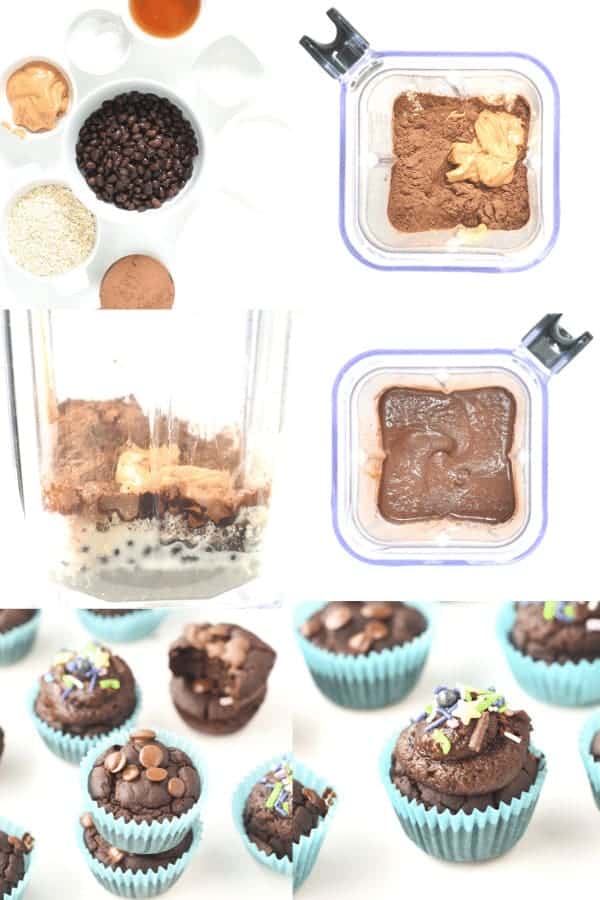 If your blender has a tamper tool, you can use it to push the food from the jug's sides to the center. It ensures perfect blending without stopping the blender.
The muffin batter is ready when all ingredients are combined, and the texture is slightly thick, smooth, not grainy.
Fill muffin tray
Preheat the oven to 350°F (180°C) and line two 12-hole muffin tins with cupcake liners. Then, pour the batter up to 3/4 of each muffin cup.
Bake
Bake for 15-20 minutes in the center rack of the oven or until a toothpick inserted in the center of the muffins comes out clean.
Cool completely
Cool these black bean muffins on a cooling rack for 1 hour before adding any frosting. However, if you don't want to frost the muffins, add a few chocolate chips on the hot muffins. The chips melt and harden after completely cool down.
How to make black bean cupcakes with peanut butter frosting?
This recipe is a healthy chocolate cupcake recipe for kids. To decorate the cupcakes with peanut butter frosting, beat together the ingredients below:
Natural peanut butter or sunflower seed butter for nuts allergy
Dairy-free butter
Unsweetened cocoa powder
Milk of choice
Vanilla extract
Powdered sugar
How do black bean cupcakes taste?
These black bean muffins vegan recipes taste like little brownies. They are dense and fudgy with a strong chocolate flavor. They are lightly sweet but only contain 4 grams of unrefined sugar per small cupcake.
Can I add chocolate chips to my black bean cupcakes?
Yes, you can add up to 1/2 cup of dark chocolate chips to the batter. Don't blend the chocolate chips in the blender jug, or they will break apart.
Stir them into the batter with a spoon or spatula. This adds a good amount of sugar to the recipe, so my favorite option is to only add 3-4 chocolate chips on top of each muffin, just after baking, so they melt.
Can I bake large muffins?
Yes, you can use this black bean blender muffin recipe for baking large muffins. The recipe makes 12 regular black bean muffins or 24 small cupcakes baked in two trays of 12 mini muffin holes.
I personally like small cupcakes for toddlers, they are very convenient for their little hands, and it's the perfect size for picky eaters – no leftovers guaranteed!
Can I use a food processor?
If you don't have a blender at home, you can use a food processor, but I would recommend pulsing the rolled oats into flour before using it in this recipe. The texture can be grainy and gritty in a food processor, so I highly recommend using a high-speed blender for these black bean chocolate muffins.
How to store black bean cupcakes
These muffins store for up to 4 days in the fridge in a sealed box. You can also freeze black bean muffins in an airtight container and thaw the day before at room temperature.
More healthy kids muffin recipes
I love to create healthy kids muffin recipes for my kids' lunchbox, breakfast, or snack. Below I listed more kids' muffin recipes for you to try. All are egg-free and dairy-free
Did you try this healthy recipe with your kids? Share a comment or review below! I would love to hear your feedback on these healthy black bean cupcakes,
Your friend, Carine
Black Bean Cupcake Recipe
An easy black bean blender recipe for muffins or cupcakes, 100% allergy-friendly, egg-free, and dairy-free with a delicious brownie texture.
Pin
Print
Review
Save
Saved Recipes
Servings:
24
small cupcakes
Ingredients
Peanut butter chocolate frosting – optional
Instructions
Preheat oven to 350°F (180°C). Line two 12-hole mini muffin baking trays with cupcake paper liner. Set aside.

In a high-speed blender, add all the ingredients: black beans, maple syrup, peanut butter, plant-based milk of choice, vanilla extract, rolled oats, melted coconut oil, unsweetened cocoa powder, baking powder.

Blend on high speed until smooth and consistent. If your blender has a tamper attachment, use it to help the food blend evenly together. Otherwise, stop the blender every 30 seconds, scrape down the sides of the bowl and repeat until the batter is smooth.

Fill the prepared muffin trays up to the top.

Bake in the center rack of the oven for 15-18 minutes or until a pick inserted in the center of the black bean muffins comes out clean.

Cool 10 minutes in the pan, then transfer to a cooling rack.

To decorate, add few chocolate chips to the lukewarm muffins. They will melt and set at room temperature. You can also make a quick chocolate peanut butter frosting and pipe on top of each muffin.
Peanut butter chocolate frosting – optional
In a large bowl, beat butter and peanut butter until light and fluffy. Beat in vanilla and stir in confectioner sugar, cocoa, and milk until it achieves an easily spreadable texture.

Pipe on top of the cooled small cupcakes and decorate them with sprinkles.
Share on Facebook
Pin Recipe
Nutrition
Serving:
1
small cupcake ( no frosting)
|
Calories:
56
kcal
|
Carbohydrates:
7
g
|
Protein:
1
g
|
Fat:
3
g
|
Saturated Fat:
1
g
|
Sodium:
59
mg
|
Potassium:
66
mg
|
Fiber:
1
g
|
Sugar:
4
g
|
Vitamin A:
1
IU
|
Calcium:
41
mg
|
Iron:
1
mg