Chocolate Spinach Muffins, No eggs, No refined sugar
These easy spinach chocolate muffins are soft, healthy kid muffins for lunchbox, breakfast, or snack.
They are vegan kids muffins which means they don't contain eggs, or dairy. Plus, the recipe is refined-sugar-free.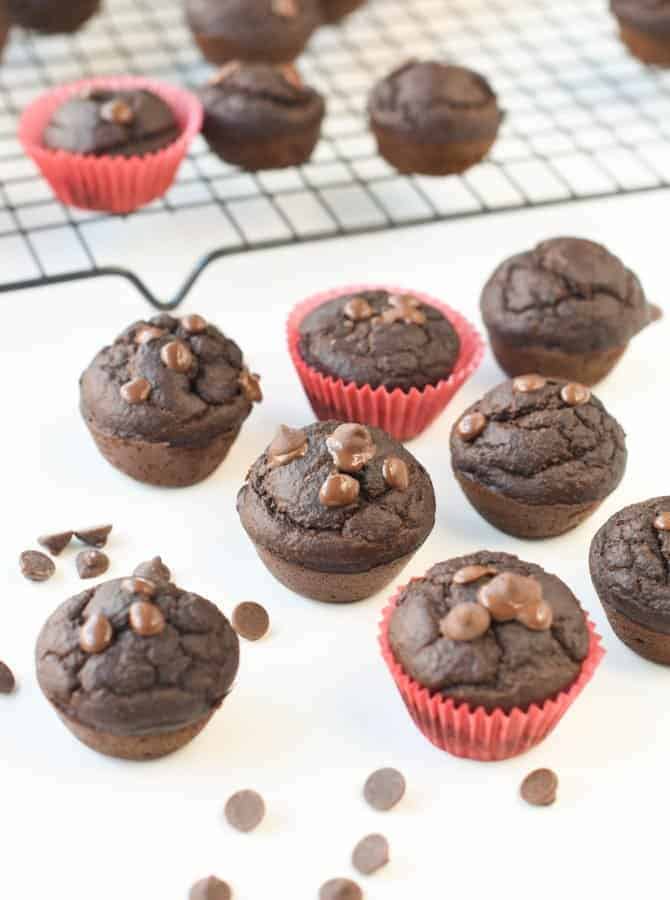 How To Make Spinach Chocolate Muffins
A spinach chocolate muffin recipe is a healthy chocolate muffin recipe that hides many nutrients from spinach.
Not all kids love spinach, so hiding spinach in muffins is a great way to add this nutrient-dense vegetable to their bodies.
Plus, these chocolate spinach muffins have the same color as regular chocolate muffins, so picky eaters won't notice the spinach at all!
To make these spinach chocolate muffins, you need a high-speed blender and a few simple, wholesome ingredients.
Ingredients
All you need to make these easy kid muffins are:
Non-dairy milk of choice – I used soy milk calcium-fortified, but almond milk works great as well.
Melted coconut oil or any vegetable oil you have in the pantry. Note that coconut oil solidifies under 73°F (23°C), so if it gets in contact with cold milk from the fridge, it forms oil lumps. It is preferable to add a layer of dry ingredients to avoid any oil lumps in the muffins.
Maple syrup or any liquid sweetener like agave syrup or rice syrup. Maple syrup is safe to eat for toddlers as long as they are ready for solid food. So this recipe can be used for baby-led weaning snacks. Note that maple syrup counts as added sugar in kids' snacks. That's why the recipe uses a tiny amount to keep the muffins healthy for kids.
Vanilla extract
Spinach – you can use fresh baby spinach, fresh regular spinach trimming the leaves first, or frozen spinach. For frozen spinach, thaw and pat dry to remove excess water before adding to the blender.
Ripe bananas – this is the key ingredient to add natural sweetness, hide the spinach flavor and avoid adding more liquid sweetener to limit added sugar.
Unsweetened cocoa powder
Rolled oats or instant oats both work well, but I prefer instant oats. It blends faster and won't leave a gritty texture in muffins.
Baking powder
Baking soda
Salt – optional. For toddlers or baby-led weaning, you can skip.
Blend all the ingredients
Place all the ingredients into a jug of a high-speed blender and blend at high speed.
First, add the wet ingredients except the coconut oil to avoid direct contact between cold milk and melted coconut oil that would form oil lumps.
Then, add the dry ingredients and top with melted coconut oil.
Baking
Preheat the oven to 350°F (180°C). Line a 12 holes muffin pan with muffin paper cups, or use cooking spray.
Then, fill each muffin tin up to 3/4 and bake in the oven's center rack for 15-20 minutes.
Finally, insert a toothpick in the center of each muffin to see if it's cooked in the center. If the pick comes out clean, it is ready.
Cooling
Cool the muffins on a cooling rack at room temperature for 1 hour before serving.
You can make spinach chocolate chip muffins by adding a few chocolate chips on top of the baked muffins.
The chocolate chips will melt and set after a few hours, adding a crunchy chocolate flavor on top to your spinach chocolate muffins.
Allergy Swaps
Making Gluten-Free Muffins
You can make gluten-free muffins but you can't blend the gluten-free flour in the blender, or the muffins will come out super dense and gummy.
So first, place 1 1/2 cup of all-purpose gluten-free flour blend in a large mixing bowl. Then, blend all remaining ingredients until smooth and consistent.
Finally, pour the wet ingredients onto the gluten-free flour, and stir until smooth and evenly combined. Bake as usual.
Storing Spinach Banana Muffins
These healthy chocolate muffins for kids are easy snacks to meal prep a kid's lunch box.
You can store these in a sealed container in the fridge for up to 5 days or freeze them for up to 3 months.
Then, pop frozen muffins in the lunchbox 4 hours before serving or overnight, and they will like fresh when the kids open their box.
Frequently Asked Questions
Can I use a food processor to make these spinach chocolate muffins?
I don't recommend using a food processor simply because rolled oats can easily pulse into the flour with a large blade.
The small blade of the blender makes it easier to create a smooth muffin batter.
If you only have a food processor, you have two options:
Replace rolled oats with wheat flour. Don't add the wheat flour to the blender. Add it to a separate large mixing bowl. Then, blend the remaining ingredients, pour the liquid batter onto the flour and combine until smooth.
Pulse rolled oats into flour first. Then, when the flour is fine, add the remaining ingredients and blend until smooth.
Can I remove the sweetener?
You can make this recipe without the sweetener for babies and replace it with 1/4 cup more mashed bananas to balance the loss of wet ingredients.
This ensures that the spinach chocolate muffins are soft, moist, and not dry.
How do spinach chocolate muffins taste?
These are soft, moist, and slightly sweet chocolate muffins perfect for baby-led weaning or kids of any age.
Depending on age, you can add some chocolate chips on top of the muffins or in the batter. They are delicious healthy muffins for kids with my kid green smoothie recipe on the side!
More Healthy Kid Recipes
I love to make healthy baked goods for my vegan kid's lunch boxes or breakfast. Below I listed my best vegan muffin recipes for you to try with kids.
Made these dairy-free spinach chocolate muffins? Leave a comment or feedback below, and let me know if your little one enjoys these sweet spinach muffins!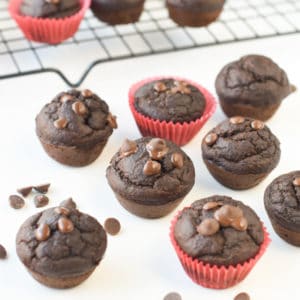 Spinach Chocolate Muffins
An easy, healthy spinach chocolate muffin recipe for kids, egg-free, dairy-free, and vegan-approved.
Pin
Print
Review
Servings:
24
mini muffins
Instructions
Preheat the oven to 340°F (170°C) or 325°F on the fan-forced mode (160°C). Line two 12-hole mini muffin trays with a paper liner. Set aside.

Measure all your ingredients in a small bowl for precision.

Place all the ingredients in the jug of a high-speed blender, follow the order listed in the recipe card above, making sure you put melted coconut oil in contact with cold milk, or the oil will solidify and form lumps.

Blend on high speed to form a thick chocolate batter. You may have to stop the blender and scrape down the sides of the bowl or use the blender stick to help the batter mix well together. Stop when the batter is smooth and consistent, not grainy. Rest batter 5 minutes in the jug to thicken.

Transfer the batter to the prepared muffin tray.

Bake for 15-18 minutes or until a pick inserted in the center of the muffins comes out clean.

Cool down on a cooling rack.
Storage
Store up to 5 days in a sealed container in the fridge or freeze and thaw 4 hours before at room temperature.
Share on Facebook
Pin Recipe
Nutrition
Serving:
1
mini muffin
|
Calories:
60
kcal
|
Carbohydrates:
8
g
|
Protein:
1
g
|
Fat:
3
g
|
Saturated Fat:
2
g
|
Sodium:
92
mg
|
Potassium:
90
mg
|
Fiber:
1
g
|
Sugar:
3
g
|
Vitamin A:
282
IU
|
Vitamin C:
2
mg
|
Calcium:
37
mg
|
Iron:
1
mg