Spinach Banana Pancakes (No Eggs, No Added Sugar)
These healthy spinach banana pancakes are easy banana oat pancakes made in a blender with no eggs, no dairy, and no sugar added.
They are naturally sweetened with ripe bananas and perfect as a toddler or kid food to introduce spinach.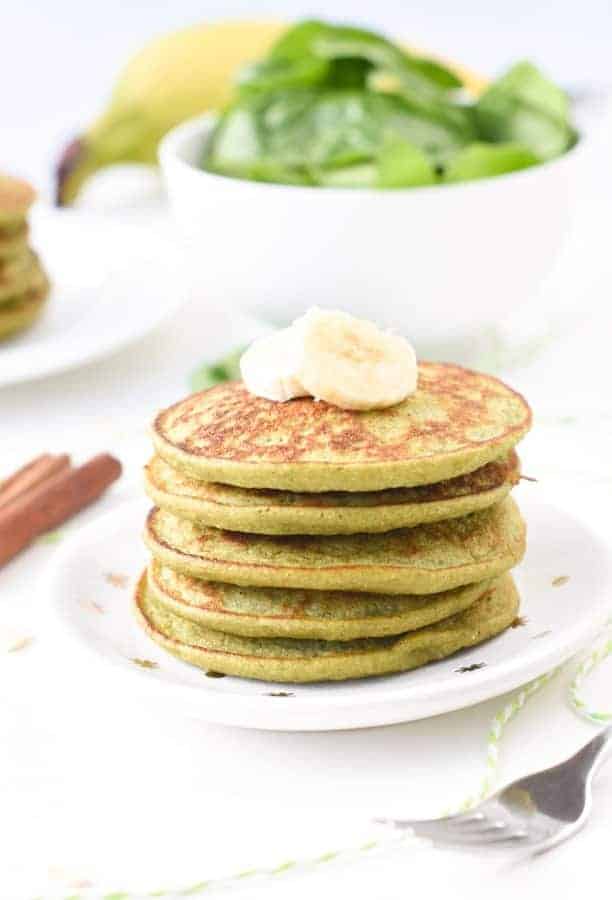 What Are Spinach Banana Pancakes?
Spinach Banana Pancakes are healthy pancakes made of ripe bananas, fresh baby spinach, and flour.
They are easy to make in just a few minutes in a blender.
How To Make Banana Spinach Pancakes
First, choose which flour you want to use. In fact, you can make banana spinach pancakes with two flour options, both providing different textures.
For a spinach banana pancake texture that is:
Fluffy and light – use all-purpose wheat flour or white spelt flour.
Chewy, thicker pancakes – use old-fashioned rolled oats or all-purpose gluten-free flour.
Then, start by measuring the amount of banana required by the recipe. For the perfect bananas, read my banana ripeness guide!
In fact, this is an egg-free banana pancake recipe, and bananas not only act as a natural sweetener but also as a binder.
Therefore, you must use the exact amount of mashed bananas required by the recipe for the best texture.
You can weigh the peeled bananas or mash them and measure them in a measuring cup.
Ingredients For Spinach Banana Pancakes
All you need to make this easy recipe is:
A high-speed blender – that's a must-have to make this recipe. A food processor wouldn't work if you chose old-fashioned rolled oats as 'flour'. In fact, a food processor doesn't have the powder to pulse oats into ultra-fine flour as blenders do.
Ripe bananas – the riper, the sweeter the pancakes will be.
Old fashioned rolled oats or all-purpose flour – as mentioned above, choose the option you like depending on the texture you want to achieve.
Fresh baby spinach leaves – don't use frozen spinach in this recipe. It wouldn't taste good.
Unsweetened almond milk – or dairy-free milk of choice.
Baking powder
Apple cider vinegar or lemon juice.
Blending All Ingredients
Now that you have measured all your ingredients precisely, add them all into the blender and blend at high speed until smooth.
If you chose to use old-fashioned rolled oats, I recommend pulsing them first into a fine powder, then adding the ingredients.
It's optional, but I found this method the best for a smooth pancake batter.
Cooking
Lightly oil the pancake griddle with coconut oil or olive oil and scoop out 3 tablespoons of pancake batter per pancake.
Cook the pancakes for 3 minutes on one side on medium heat until the side starts to dry out.
Then, flip and cook on the other side for 2 more minutes.
Cool down on a rack while you bake the remaining pancake batter.
For a different way of watching this recipe, check out my story about making the Vegan Spinach Banana Pancakes!
Serving Spinach Banana Pancakes
You can serve these banana pancakes plain as kid-friendly finger food or baby-led weaning food.
Kids love them hot or cold in lunch boxes, and it's a great kid vegan snack.
But you can also serve these pancakes for breakfast with many healthy toppings:
Maple Syrup or agave syrup – drizzle 1-2 teaspoons on top of 3 pancakes for a delicious breakfast.
Fruits – top your banana stack with 1/4 cup of banana slices, raspberries, or blueberries.
Dried Nuts – sliced almond, shredded coconut, or chopped peanuts.
Nut And Seed Butter – spread on top some almond peanut, sunflower seed butter, or peanut butter.
Storing Pancakes
These pancakes store very well in the fridge, in a sealed container for up to 2 days.
To rewarm the pancakes, bring them into a bread toaster or onto a hot griddle for a few minutes on each side.
These banana pancakes are also freezer-friendly. Pop them into a ziplock bag or airtight container and freeze.
Thaw the pancakes in the fridge, on a plate, the day before serving.
More Vegan Pancake Recipes
If you want to try more allergy-friendly pancake recipes with no eggs, no dairy, and no butter, I have plenty for you to try.
Below you will find my favorite vegan pancake recipes, including vegan gluten-free options as well:
Made these banana spinach pancakes? Tell me which flour option did you use and how you serve them. I love to hear your stories.
Spinach Banana Pancakes
This healthy spinach banana pancake recipe with fresh spinach is easy to make in a blender using rolled oats or simply in a bowl using all-purpose flour.
Pin
Print
Review
Servings:
14
pancakes (3 tbsp each)
Instructions
Before you start, keep in mind that the option with rolled oats makes the pancakes heavier and chewier, not as light and fluffy as all-purpose flour. Choose between oats or all-purpose based on the results you want.

In a high-speed blender, add old-fashioned rolled oats (or all-purpose flour), ripe bananas, baking powder, vanilla extract, baby spinach leaves, apple cider vinegar, and unsweetened almond milk.

Blend on high speed – speed 7 on my Kitchen aid – stopping the blender a few times to scrape down the sides of the jug and repeat until the batter is smooth, green, and no bites of oats are showing. Watch the picture in my post above to see what the batter should look like.

Pour the batter into a mixing bowl and set aside for 10 minutes.

Heat a pancake griddle pan over medium-high heat. When hot, reduce to low heat and scoop 3 tablespoons of batter per pancake, not more, or they are difficult to flip.

Cook for 2 minutes on one side, then when the borders are drying out, flip with a spatula and cook for 1-2 minutes on the other side.

Repeat until no more batter is left. You should have enough to form about 14 pancakes.

Serve with a drizzle of maple syrup, blueberries, or banana slices.
Storage
Store pancakes for 2 days in the fridge in a sealed container or freeze for later.
Share on Facebook
Pin Recipe
Nutrition
Serving:
1
pancake
|
Calories:
55
kcal
|
Carbohydrates:
11
g
|
Protein:
2
g
|
Fat:
1
g
|
Saturated Fat:
1
g
|
Sodium:
98
mg
|
Potassium:
157
mg
|
Fiber:
2
g
|
Sugar:
3
g
|
Vitamin A:
817
IU
|
Vitamin C:
4
mg
|
Calcium:
65
mg
|
Iron:
1
mg