Carrot Cake Overnight Oats (Vegan)
These Carrot Cake Overnight Oats are an easy, healthy vegan breakfast recipe with all the flavors of a carrot cake with a serving of vegetables.
It's vegan, dairy-free, and with a gluten-free option provided.
I have a passion for overnight oats recipes and especially dessert-for-breakfast flavors!
What's more comforting than starting the day with a healthy bowl of oats that taste like your favorite desserts?
Plus, overnight oats are a great recipe to meal prep breakfast ahead.
No more excuses to skip breakfast in the morning. It's all ready to eat with no cooking required. Just sit and enjoy.
So if you are a carrot cake lover, these overnight oats are a must-try.
How To Make Carrot Cake Overnight Oats
Like all overnight oats, this carrot cake overnight oats recipe is straightforward, but you do have to leave it overnight in the fridge to set.
Ingredients
Old-fashioned Rolled Oats or quick oats – both options work well, but old-fashioned oats contain more fiber, and it's more fulfilling. It also adds more texture to the recipe.
Chia Seeds – this boosts the plant-based protein of the overnight oats and also makes the texture firmer.
Unsweetened Almond Milk or any non-dairy milk you love like coconut milk or oat milk.
Yogurt Of Choice – feel free to use your favorite kind of yogurt. We love either coconut yogurt or soy Greek yogurt.
Raisins
Walnuts
Vanilla Extract
Cinnamon – nutmeg, or pumpkin spices.
Sweetener – we love maple syrup, coconut nectar, or rice syrup. Sugar-free syrup or stevia drops work as well to adjust the sweetness.
Grated Carrots
Preparation Instructions
Place all the carrot cake overnight oats ingredients in a large glass mason jar or any airtight container you like.
The order doesn't really matter, but I like to add all the solid ingredients at first as a general rule: oats, chia seeds, raisins, walnuts, and carrots.
Then, end up with the liquid ingredient: vanilla extract, sweetener, vegan yogurt, and almond milk.
Stir very well to bring all the ingredients together nicely.
Then, close the jar's lid or container and place it in the fridge overnight. It needs to rest for at least 6 hours to give the oats enough time to absorb the milk.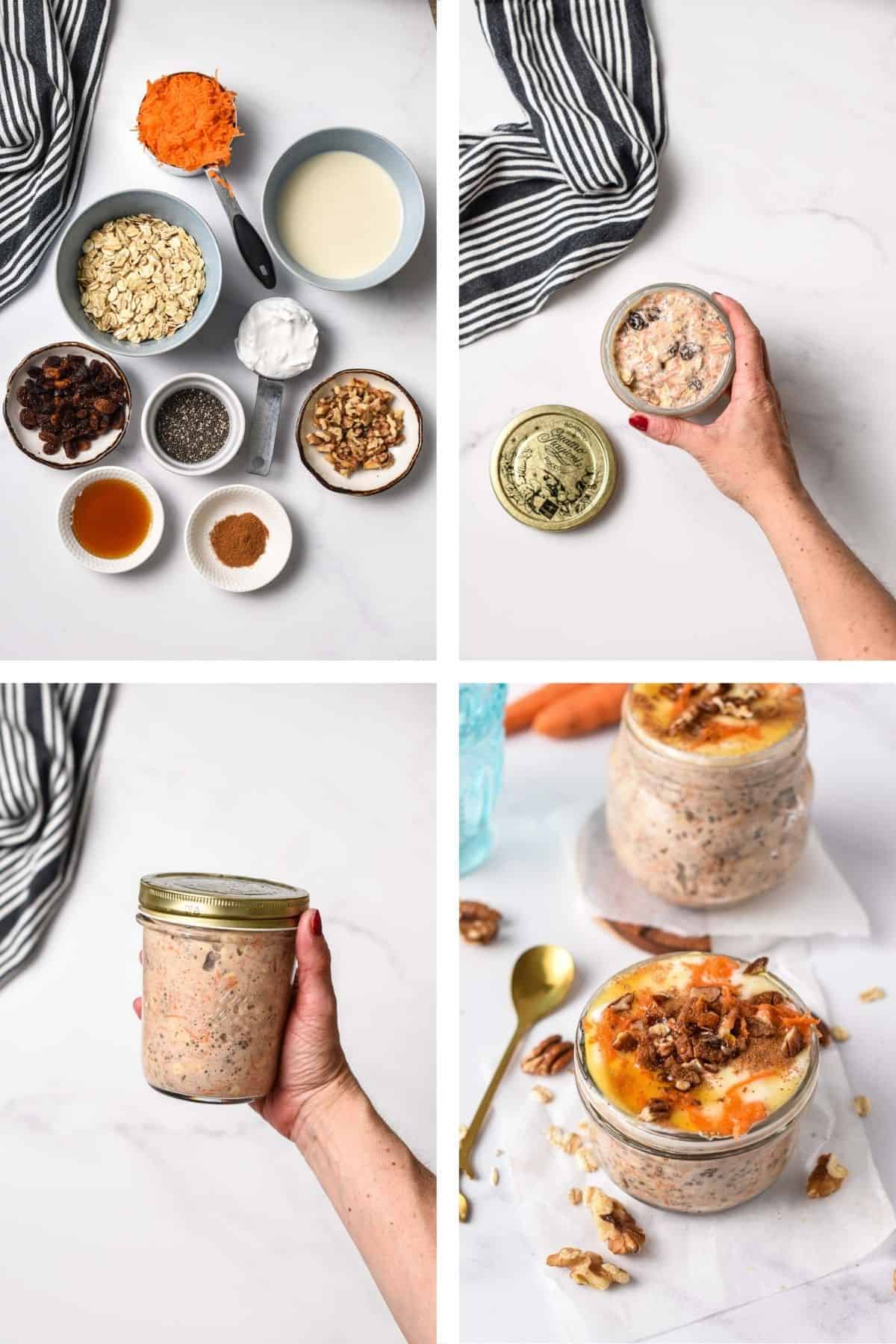 Serving
The next day, it's time for carrot cake for breakfast!
Divide the batch in half evenly. I serve mine in a jar or bowl and add some extra toppings like:
Yogurt – you can stir 1/4 cup of dairy-free yogurt with one tablespoon of protein powder to form a thick, high-protein topping that reminds cream cheese frosting.
Chopped walnuts or pecans
Extra grated carrots
Pinch of cinnamon
Drizzle of peanut butter or maple syrup
You can pop each serving in the microwave for 30 seconds if you want to eat it hot.
Storage Instructions
Overnight oatmeal can be stored very well in the fridge, and it's great for a busy morning when you don't have time to make regular oatmeal.
You can keep this recipe for up to 4 days in the refrigerator or freeze it for later.
Frequently Asked Questions
Can I Add Protein To These Overnight Oats?
You can easily boost the protein content of your overnight oats.
While this recipe already contains 7 grams of protein per serving, you can increase this by stirring some of the below ingredients:
Peanut butter or almond butter for less saturated fat – one tablespoon is enough and won't compromise the carrot cake flavor.
Protein powder – 1 to 2 tablespoons. If your protein powder is vanilla flavored, skip the vanilla extract, or the vanilla flavor will be overpowering.
Are Overnight Oats Healthy?
Yes, these overnight oats are packed with goodness.
They contain more than 7 grams of fiber per serving, but they are also a good source of:
Potassium
Vitamin A
Vitamin C
Vitamin D
Calcium
Iron
Magnesium
Phosphorus
Zinc
Can I Use Quick Oats?
Yes, you can use quick oats in the exact same way as old-fashioned oats.
Can I Use Steel-Cut Oats?
No, steel-cut oats or Irish Oats can't be used for overnight oats. They would remain hard.
Can I Eat Them Hot?
Yes, you can. When they are ready to eat, put them in the microwave for 30 seconds before adding the optional toppings.
Does It Have To Stay In The Fridge Overnight?
It's not called overnight oats for nothing!
In fact, what matters is to give the oats at least 6 hours in the fridge to soak up the milk and also to let the various flavors of the cinnamon and carrots combine.
More Vegan Overnight Oats Recipes
If you also love overnight oats, we've got you covered with many different flavors!
I hope you enjoyed this recipe! If you did, leave a rating and a review!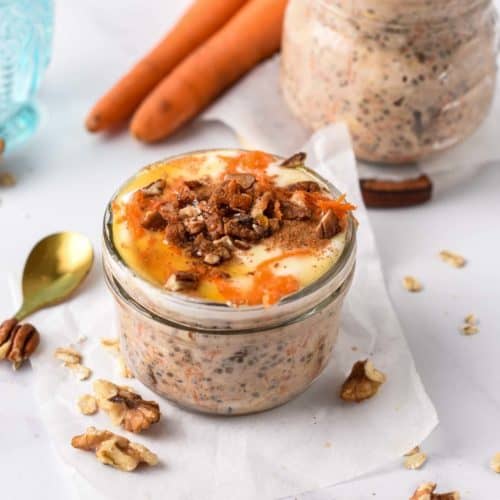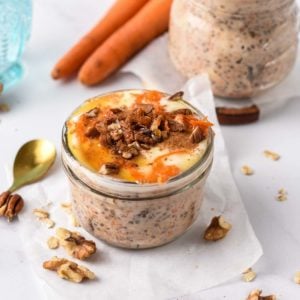 Carrot Cake Overnight Oats
These Carrot Cake Overnight Oats taste like real carrot cake! If you love dessert for breakfast this is a must-try.
Pin
Print
Review
Shop My Tools
Instructions
In a medium airtight container or glass mason jars, add all the ingredients in the order you like.

Stir, close the lid of the container, and place in the fridge overnight, or for at least 6 hours. I recommend stirring after 2-3 hours to prevent the seeds from sinking to the bottom of the bowl.

The next day, serve plain or with toppings like dairy-free yogurt, chopped toasted walnuts, carrots, and a pinch of cinnamon.
Storage
Store for up to 4 days in the fridge in an airtight container or in 8-ounce glass mason jars. Freeze in airtight jars and thaw in the fridge the day before.
Share on Facebook
Pin Recipe
Nutrition
Serving:
1
serving
|
Calories:
263.3
kcal
|
Carbohydrates:
43.6
g
|
Protein:
6.9
g
|
Fat:
11.1
g
|
Saturated Fat:
1.1
g
|
Polyunsaturated Fat:
7
g
|
Monounsaturated Fat:
1.8
g
|
Trans Fat:
0.1
g
|
Sodium:
113.8
mg
|
Potassium:
373.1
mg
|
Fiber:
7.3
g
|
Sugar:
3.8
g
|
Vitamin A:
5352.6
IU
|
Vitamin C:
6.7
mg
|
Vitamin D:
0.4
µg
|
Calcium:
190.6
mg
|
Iron:
2.1
mg
|
Magnesium:
72.7
mg
|
Phosphorus:
192.1
mg
|
Zinc:
1.4
mg