These Carrot Cake Pancakes are sweet, nourishing healthy breakfast pancakes perfect for fixing your morning carrot cake cravings.
Plus, they are healthy carrot cake pancakes, made without refined sugar, butter, or eggs.
What Are Carrot Cake Pancakes?
Carrot Cake Pancakes are delicious breakfast pancakes that taste like carrot cake.
They are not fluffy pancakes, denser as they use healthy oat flour and contain many grated carrots, raisins, and chopped nuts.
How To Make Carrot Cake Pancakes
First, prepare all the ingredients you need for the recipe.
There are quite a few so it's better to be prepared so you can whip up the carrot cake pancake batter fast.
Ingredients
All you need to make these healthy pancakes with carrots are:
Grated Carrots – depending on your taste, use the thin or large grating attachment of your hand box grater or food processor. I prefer to use the thick side, it adds more texture to the carrot pancakes.
All-purpose Flour – you can use gluten-free all-purpose flour if needed.
Oat Flour – follow my tutorial on how to make oat flour if you don't have some ready-made in your pantry. Otherwise, swap for the same amount of all-purpose flour.
Baking Powder

Baking Soda
Cinnamon
Coconut Sugar or Brown Sugar
Nutmeg
Salt
Unsweetened Almond Milk or any milk you like.
Avocado Oil, olive oil, or melted coconut oil.
Vanilla Extract
Dried Raisins
Chopped Nuts
Grating The Carrots
First, peel and trim carrots and shred the carrots.
Slightly pack the shredded carrots in a measuring cup to measure the exact amount required by the recipe.
Making The Batter
First, in a large bowl combine the wet ingredients: almond milk, lemon juice, vanilla extract, and oil. Set it aside.
In another bowl, whisk the dry ingredients together: flour, oat flour, spices, baking powder, baking soda, and coconut sugar.
Then, stir the liquid ingredients into the dry ingredients until a batter forms.
Finally, stir dried raisins, chopped walnuts, or chopped pecans, and grated carrots until evenly incorporated.
Cooking the Pancakes
Warm a pancake griddle or non-stick pan over medium heat.
Slightly rub the surface of the pan with a piece of absorbent paper dipped in vegan melted butter or coconut oil, or use cooking spray.
Add 3 tablespoons of pancake batter to the pan and cook until bubbles form and the sides are getting dryer and set.
Flip the pancake to the other side and cook for 1 more minute or until golden brown.
Repeat these steps using the remaining batter.
Place the cooked pancakes on a wire rack and add a piece of foil on top to keep them warm.
Storage
Store the leftover pancakes in the fridge, in an airtight box for up to 3 days. Rewarm the pancakes in a hot non-stick pan or on a pancake griddle or bread toaster.
You can freeze these healthy carrot cake pancakes in an airtight box, placing pieces of parchment paper between each pancake to prevent them from sticking to each other.
Thaw the day before in the fridge.
Serving
These Carrot Cake pancakes taste even more delicious with some toppings, including:
Powdered Sugar
Maple Syrup
A pinch of Cinnamon
Chopped, Toasted Pecans – dry roast 1/4 cup extra chopped nuts.
A Dollop of Coconut Yogurt
Cream Cheese Frosting – what's better than turning these carrot cake pancakes into a dessert by making carrot cake pancakes with cream cheese frosting! The best, healthy way to do so, is to use my coconut frosting recipe, it's dairy-free, much healthier, and gut-friendly than regular vegan cream cheese, and coconut matches carrot cake flavor so well.

Allergy Swaps
If you have some food allergies, I've listed below some food swaps you can apply to this healthy pancake recipe to make it yours.
Gluten-Free – replace all-purpose flour with a blend of all-purpose gluten-free flour containing gum like Bob Red Mill's 1:1 gluten-free flour. Replace oat flour with buckwheat flour, chickpea flour, or more gluten-free flour.
Nut-Free – swap the chopped nuts for more dried raisins, cranberries, or shredded coconut.
Oil-Free – swap the oil for unsweetened applesauce. This makes the pancakes dense and packed.
More Pancake Recipes
If you love baking pancakes for breakfast, especially healthy pancake recipes, then I have a collection of recipes for you to try below.
Have you made these Carrot Cake Pancakes? Share feedback below with a review or comment to let me know how much you love them,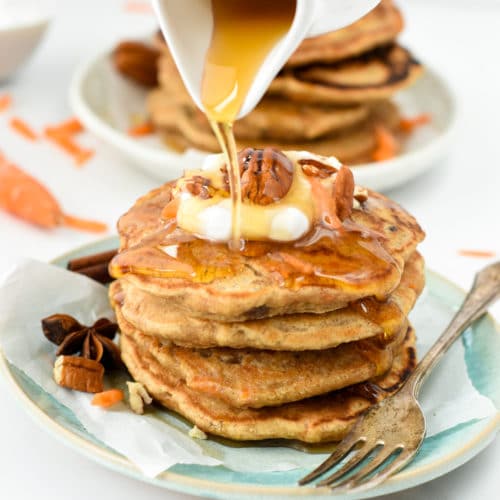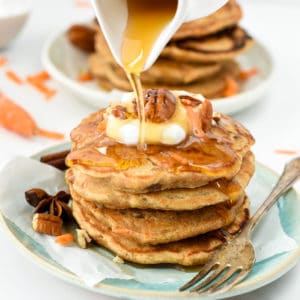 Carrot Cake Pancakes
An easy healthy Carrot Cake Pancake recipe for a nourishing, comforting breakfast.
Pin
Print
Review
Servings: 14 pancakes
Calories: 137 kcal
Instructions
In a bowl, whisk almond milk, lemon juice, avocado oil, vanilla extract. Set aside.

In another large bowl, whisk oat flour, flour of choice, cinnamon, nutmeg, salt, coconut sugar, baking powder, and baking soda.

Pour the liquid ingredients onto the dry ingredients and stir with a spatula until it forms a thick pancake batter with no lumps.

Stir in shredded carrots, chopped nuts, and raisins.

Heat a pancake griddle pan over medium-high heat. When hot, reduce to low heat and scoop 3 tablespoons of batter per pancake.

Cook for 2 minutes on one side, then flip and cook for 1-2 minutes on the other side.

Repeat until no more batter is left, you should form about 14 pancakes.

Serve with fruits of your choice, maple syrup, or peanut butter.
Notes
Make your own oat flour: In a high-speed blender, add about 1 1/4 cup of rolled oats and pulse on high speed for about 30 seconds to form fine oat flour, then measure the amount required by the recipe.
Share on Facebook
Pin Recipe
Nutrition
Serving: 1pancake | Calories: 137kcal | Carbohydrates: 16g | Protein: 3g | Fat: 7g | Saturated Fat: 4g | Sodium: 146mg | Potassium: 119mg | Fiber: 2g | Sugar: 2g | Vitamin A: 8IU | Vitamin C: 1mg | Calcium: 103mg | Iron: 1mg