This vegan carrot cake recipe has a moist crumb, with flavorsome pieces of carrots, nuts, and melt-in-your-mouth vegan vanilla frosting.
A delicious vegan cake for any occasion, especially the Easter holidays.
Is Carrot Cake Vegan?
Most classic carrot cakes from the bakery are not vegan. They contain many eggs, butter, milk, and cream cheese in their frosting.
However, making your own vegan carrot cake at home is super easy.
Let me share with you how to make it.
How To Make Vegan Carrot Cake
A vegan carrot cake is easy to make, but it requires quite a few ingredients, so first, prepare all of them on the kitchen countertop before starting.
The best way to make this cake is to first measure each ingredient in individual bowls, so you don't get confused when you start.
Wet Ingredients
Unsweetened almond milk or any non-dairy milk you love.
Apple cider vinegar or lemon juice.
Vanilla extract
Light olive oil – or canola oil or melted coconut oil.
Dry Ingredients
All-purpose flour – or spelt flour.
Baking powder
Baking soda
Brown sugar – or coconut sugar.
Sugar – you can use unrefined cane sugar or regular white sugar, or erythritol.
Cinnamon
Nutmeg
Ginger
Salt
Other ingredients
Grated carrots – peel, trim fresh carrots and shred in your food processor using the small attachment to ensure thin pieces of carrots in your cake. The thinner, the moister this vegan carrot cake will be.
Chopped nuts or sultanas raisins.
Vegan Cream Cheese Frosting Recipe
A classic carrot cake recipe uses cream cheese frosting. In order to mimic the same flavor in your vegan carrot cake, I recommend using a combination of vegan butter and vegan margarine to make your vegan buttercream.
Of course, you can also use vegan cream cheese from your grocery store to replace the butter. But, if you can't find some, this combination does the trick!
All you need to make your own vegan cream cheese frosting recipe are:
Vegan butter
Vegan margarine
Lemon juice – to add the tangy flavor you found in real cream cheese.
Powdered sugar
Vanilla extract
Soy milk
Vegan Buttermilk
First, in a large mixing bowl, combine unsweetened almond milk and apple cider vinegar.
Set aside for 10 minutes to curdle milk and create a vegan 'buttermilk'.
Next, in a large mixing bowl, combine all the dry ingredients together.
Whisk, all-purpose flour, brown sugar, sugar, cinnamon, ginger, nutmeg, baking powder, baking soda, and salt.
Set the bowl aside while preparing the liquid ingredients.
Combining Vegan Carrot Cake Ingredients
Bring back the large bowl with the almond milk mixture and stir in light olive oil and vanilla extract.
Gradually combine the dry ingredients into the wet ingredients until the batter is smooth.
Don't over-mix the batter to avoid a dense or gummy carrot cake.
Baking
First, grease two 9-inch round cake pans with coconut oil. Line the bottom of each pan with parchment paper to prevent the cake from sticking to the pan.
Then, divide the carrot cake batter evenly into each pan. Place both pans in the center rack of a preheated oven at 350°F (180°C).
Bake the cakes for 30 minutes to 35 minutes or until a toothpick inserted in the center of the cake comes out clean.
The baking time varies a lot based on where you place the cake pan in your oven.
The tricky question when making a two-layer cake is should I bake both layers at the same time?
I recommend you do, but place one cake pan in the center rack and one just under. Then, swap the cake places halfway through baking to make sure they bake evenly.
Otherwise, if you can fit two pans on the center rack, expect the cake placed at the back of the rack to bake slightly faster.
The last option is to bake the layer separately, probably better if your oven is small or a toaster oven that won't diffuse heat very well.
In this case, keep the second cake layer at room temperature on the kitchen counter while the first is in the oven.
Cool the cakes completely on a cooling rack before frosting. This can take up to 2 hours.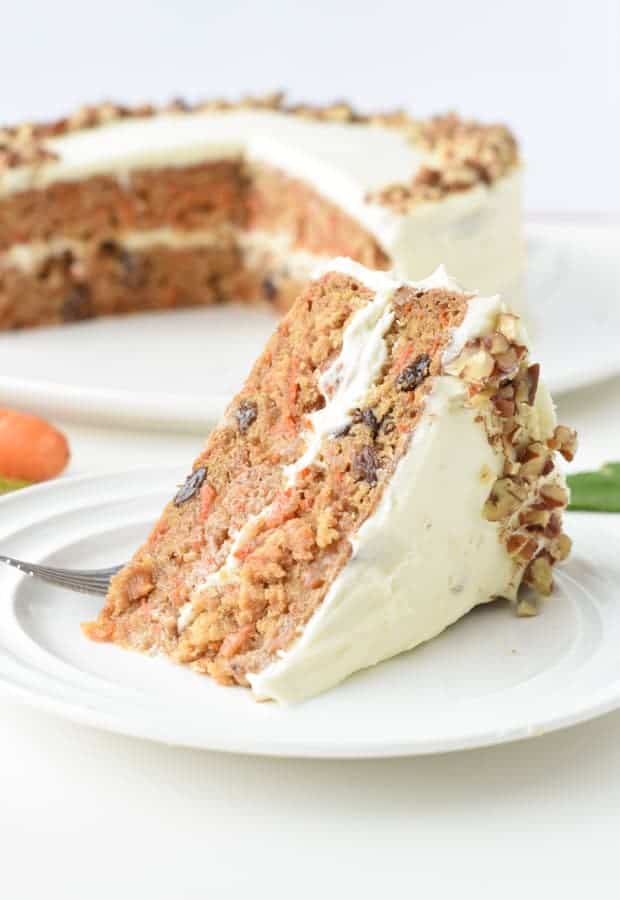 Buttercream Frosting
In a large mixing bowl, add softened vegan butter and vegan margarine. Beat on high speed until fluffy and creamy and whiter in color – about 30 seconds.
Then, stop the beater and add powdered sweetener, lemon juice, vanilla extract, and half soy milk. Beat again until fluffy and evenly combined.
If you love your frosting lighter and thinner, beat in the extra soy milk.
Assembling The Carrot Cake
Place the first cake layer on a plate or cake-turning table.
Then, add half the frosting to the Centre of the cake layer and, using a flat tool like a metal spatula, spread the frosting, turning the table at the same time to evenly spread the frosting all around the cake layer.
Now, add the second carrot cake layer on top. Place the remaining carrot cake frosting on top and repeat the same action until all the cake is frosted on its top and sides.
Decorate the top of your vegan carrot cake with chopped walnuts and chopped pecans.
Refrigerate the cake for 2 hours before slicing to give some time for the flavors to blend.
Allergy Swaps
You can swap a few ingredients in this recipe to make a healthy vegan carrot cake.
To do so, replace:
White flour with white whole wheat flour or spelt flour – this will add fiber to the cake and decrease the carbs. Note that this recipe doesn't work with almond flour or coconut flour.
Sugar – use a sugar-free sweetener like erythritol. This is a great diabetes-friendly sweetener.
Brown sugar – use sugar-free brown erythritol. This is a great sugar-free vegan option for cakes.
Vegan cream cheese frosting – use my coconut cream frosting to decrease refined oils.
Storage Instructions
This vegan carrot cake must be stored in an airtight box in the fridge for up to 4 days.
To keep it longer, freeze the vegan carrot cake slices in an airtight container for up to 3 months.
Thaw the cake at room temperature 6 hours before or overnight in the fridge.
Frequently Asked Questions
Can I Add Coconut Or Crushed Pineapple?
Yes, sure, you can add 1/2 cup of shredded coconut or crushed pineapple to your vegan carrot cake batter.
To do so, stir in the add-ons at the same time you add the grated carrots.
Note that crushed pineapple adds moisture to the cake. Therefore, it can take a little bit longer to bake.
Can I Use Gluten-Free Flour?
Yes, you can use any 1:1 gluten-free flour substitutes.
Do I Need A Flax Egg?
No, this recipe doesn't require a flaxegg or any egg replacer.
More Vegan Baking Recipes
If you love this vegan carrot cake recipe you may also want to try some of these other yummy vegan cake recipes:
Made this vegan carrot cake recipe? Share a comment or review below. I love to hear what you think about my recipes,
Vegan Carrot Cake
An easy, moist vegan carrot cake recipe to celebrate Easter or any occasion.
Pin
Print
Review
Ingredients
Vegan Cream Cheese Frosting
Instructions
Preheat oven to 350°F (180°C). Line two 9-inch round pans with parchment paper. Grease the pans with coconut oil on the sides and bottom, parchment paper included. Set aside.

In a small mixing bowl, whisk apple cider vinegar and almond milk. Set aside.

In another large mixing bowl, combine flour, sugar, brown sugar, salt, baking soda, baking powder, cinnamon, ginger, and nutmeg.

Make a well in the center of the flour and add olive oil, vanilla extract, and almond milk mixture.

Combine, scraping down the sides to bring all the ingredients together, and it forms a smooth batter.

Stir in shredded carrots, sultana raisins, and chopped nuts until well distributed into the batter.

Divide the batter evenly in half to fill the two round pans. Quickly bang each pan on the kitchen countertop to remove any trapped air.

Bake both pans on the center rack of your oven for 30-35 minutes or until they are golden brown and a pick inserted in the center comes out clean. You can also cook one in the center rack and one in the rack just under, halfway, switch pan to make sure they bake at the same speed.

Cool down on a rack completely before adding any frosting.

Meanwhile, prepare your vegan cream cheese frosting ingredients by taking out of the fridge the vegan butter and vegan margarine to soften.
How to frost vegan carrot cake
In a large mixing bowl, beat vegan butter and vegan margarine together until fluffy and light in color – about 30 seconds.

Add powdered sweetener, vanilla, lemon juice, and 2 tablespoons of soy milk. Beat again until evenly combined and fluffy. Add more milk for a lighter, thinner frosting.

Place one layer of cake on a large serving plate, add one batch of frosting in the center of the cake and use a spatula to evenly spread the frosting all around the cake. It's ok if it drips on the sides.

Top up with the second cake layer, add another batch of vegan frosting and repeat the same action, spreading frosting on sides as well until it entirely covers the top and sides of your cake.

Place the cake for 1 hour in the fridge to set the frosting and blend flavors.
Storage
Store cake in an airtight cake box in the fridge for up to 4 days or freeze and thaw the day before serving.
Share on Facebook
Pin Recipe
Nutrition
Serving:
1
cupcake (no frosting)
|
Calories:
438
kcal
|
Carbohydrates:
74
g
|
Protein:
4
g
|
Fat:
26
g
|
Saturated Fat:
5
g
|
Trans Fat:
1
g
|
Sodium:
395
mg
|
Potassium:
185
mg
|
Fiber:
2
g
|
Sugar:
30
g
|
Vitamin A:
4558
IU
|
Vitamin C:
2
mg
|
Calcium:
87
mg
|
Iron:
2
mg