This Vanilla Wacky Cake is the easiest 1-bowl vanilla cake recipe ever!
It's naturally egg-free, dairy-free and so a naturally vegan vanilla cake that takes just 10 minutes to prepare.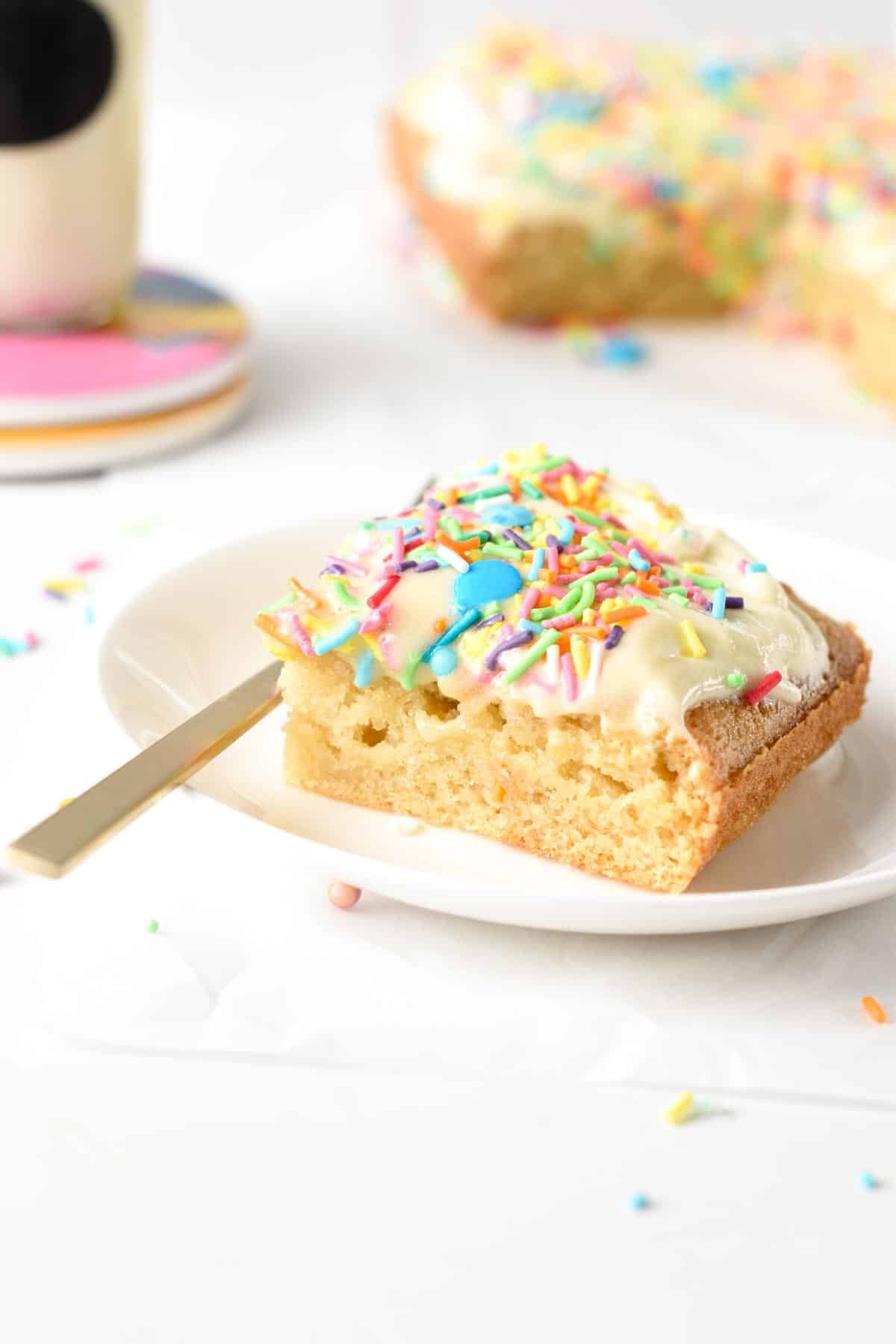 As a vegan family, wacky cakes are on the table for most occasions.
What's A Wacky Cake?
A Wacky Cake, also known as vanilla depression cake or vanilla crazy cake, is a one-bowl cake made only with pantry ingredients.
It's a cake that was created during the Great Depression when it was difficult to get fresh goods.
As a result, wacky cakes are naturally vegan, made without eggs, milk, or butter.
How To Make Vanilla Wacky Cake
It's very easy to make this vanilla crazy cake recipe in less than 10 minutes.
Ingredients
All you need are a few pantry items listed below:
All-Purpose Flour – you can also use all-purpose gluten-free flour; make sure yours contains added xanthan gum, or the cake batter won't hold up as well.
Sugar – white sugar or any granulated sweetener you have at home. This cake also works with sugar-free sweeteners for a sugar-free vanilla cake.
Baking Soda
Apple Cider Vinegar or white vinegar, or lemon juice.
Vegetable Oil – it can be canola oil, light olive oil, or melted coconut oil.
Vanilla Extract
Water
Making Wacky Cake Batter
Preheat the oven to 350°F (180°C).
Now you have two options to make the wacky cake batter.
You can work everything in the cake pan directly. However, it's not my favorite option because sometimes the cake sticks to the pan working this way.
So I like to line parchment paper in my square 8-inch x 8-inch pan. Slightly spray oil all over the paper and prepare the depression cake batter in a bowl.
In a mixing bowl, add flour, sugar, and baking powder. Whisk well to combine.
Make three wells in the flour. In the first well, add the apple cider vinegar. In the second one, add the oil, and in the last one, add the vanilla extract.
Finally, pour the water all over the bowl and whisk with a hand whisk until just combined.
Don't over-mix the batter, stop as soon as the wacky cake batter is smooth, thin, and no lumps show.
Baking Vanilla Wacky Cake
Pour the vanilla wacky cake batter into the prepared cake pan.
Bake in the center rack of the oven until the cake is golden on top, slightly raised, and a toothpick inserted in the center of the cake comes out clean.
The baking time varies from 30 to 35 minutes in an oven preheated to 350°F (180°C).
Cooling Down
Remove the cake from the oven and release it on a wire rack.
Let the wacky cake cool down completely before frosting. It takes about 1 hour at room temperature.
Frosting Wacky Cake Recipe
This vanilla crazy cake is delicious on its own with a dust of powdered sugar.
But you can also use the recipe to make a 2-layer cake. Simply double up the recipe and frost the cake layers using one of the frosting options below:
Add-Ons
Of course, this vanilla cake recipe is very versatile, and you can adapt the recipe to create a range of delicious cakes.
For example, you can stir in the batter 1/2 cup of:
Berries – blueberries, chopped strawberries, or raspberries.
Dark Chocolate Chips
Chopped Nuts and dried fruits like raisins or cranberries.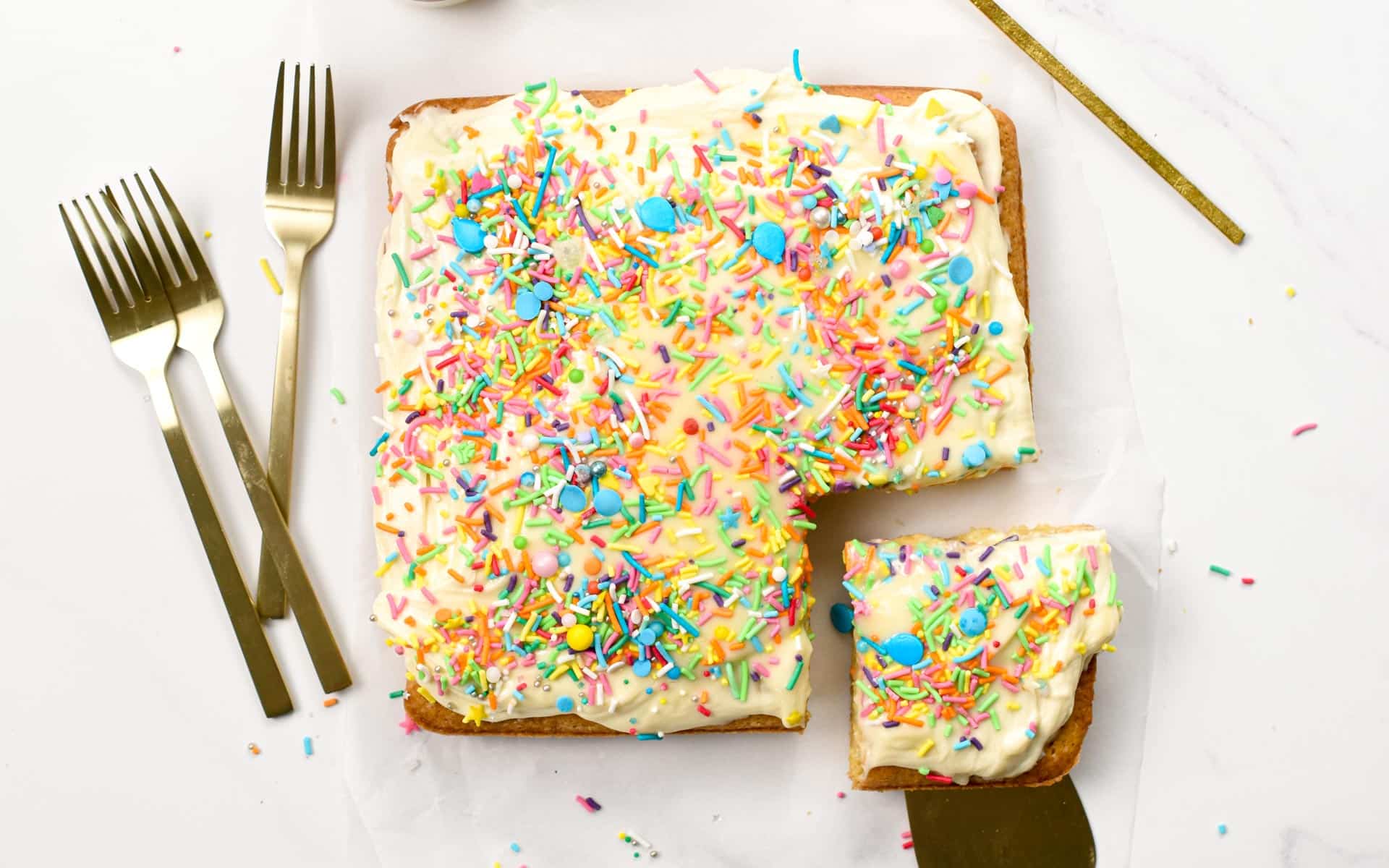 Storage Instructions
Store the leftover cake in a cake box or airtight container in the fridge for up to 4 days.
You can freeze leftover wacky cakes in zip-lock bags and thaw them in the fridge the day before.
Allergy Swaps
Below are some ideas to tweak the recipe to fit your food allergies:
Sugar-Free – Use a sugar-free granulated sweetener that has a 1:1 ratio replacement to sugar, like allulose or erythritol stevia blends.
Gluten-Free – Pick a gluten-free all-purpose flour blend with added xanthan gum. If there is no gum in your blend, add 1/2 teaspoon of xanthan gum along with the dry ingredients.
Oil-Free – You can replace the oil with the same amount of mashed banana for a banana crazy cake flavor or unsweetened apple sauce.