The Crazy Chocolate Cake is an easy vegan chocolate cake recipe made without eggs, milk, or butter.
Plus, it's an easy chocolate cake recipe made in one bowl with a delicious, moist chocolate crumb and a sweet chocolate frosting.

What's A Crazy Chocolate Cake?
Crazy Cakes, also known as wacky cakes, are easy cake recipes made with pantry ingredients – nothing fresh from the fridge.
Also known as depression cake recipes, this was first created during World War II when eggs and milk were scarce.
Nowadays, crazy cakes are popular on the vegan diet, and busy days to fix a quick cake craving with very simple ingredients and minimal dishwashing!
A crazy cake recipe is naturally:
Dairy-free
Egg-free
Vegan
How To Make A Crazy Chocolate Cake
There's always a day when you crave a deliciously moist chocolate cake, but you don't feel like spending hours washing the dishes or baking.
So this chocolate crazy cake is very handy for those days.
Ingredients
Below I listed the basic ingredients and substitutions available to make this crazy cake recipe with gluten-free, sugar-free, or oil-free foodies.
Flour – the original crazy cake recipe uses white flour. I personally recommend unbleached white flour or spelt flour, simply because they are more nourishing. Also, the recipe works very well with all-purpose gluten-free flour too. Other healthier flour options are spelt flour or oat flour. However, if you are using oat flour, then the texture will be less moist, and you will have to use sugar to keep the texture right. Xylitol or erythritol won't work with oat flour.
Sugar – white sugar will work very well, but I recommend unrefined cane sugar or a sugar-free crystal sweetener like erythritol or xylitol to make the cake sugar-free.
Unsweetened cocoa powder – sweetened cocoa powder will work, but the cake will be overly sweet, so it's not recommended.
Baking soda – or double the amount if you want to use baking powder
Oil – canola oil or light olive oil works the best. I love olive oil to decrease the saturated fat in the cake recipe. Other options are melted coconut oil or avocado oil. For an oil-free option, replace oil with the same amount of unsweetened apple sauce.
Water
Vinegar – apple cider vinegar is my healthy choice, but any vinegar or lemon juice would work too.
Baking Dish Options
It's a no-bowl recipe since you can simply mix all the ingredients directly into the baking dish!
There are two baking dish options for this recipe, depending on what you want, serving the cake in the pan or unmolding it and serving it on a serving plate.
Ceramic/glass baking pan – this is the best option if you want to serve the cake directly from the pan.
Regular cake pan – in this case, I like to lay a piece of parchment paper at the bottom of the pan. To prevent the piece of paper from moving, I grease it with oil on both sides. This way, it perfectly adheres to the pan, and the batter doesn't leak under the paper when you beat the batter into the pan. This pan is great if you want to unmold the cake and serve it on a cake stand or plate.
Combine wet ingredients to dry ingredients
The key to making a delicious, crazy cake is to first whisk all the dry ingredients into the baking dish.
Then, make two great depressions, meaning holes, in the dry ingredients and add in one of them the oil and the vinegar in the other.
Finally, pour water into all other cake ingredients and stir to combine and form a smooth chocolate crazy cake batter.
Baking
Bake the crazy cake in the center rack of your oven for 30- 35 minutes or until a pick inserted in the center of the cake comes out clean.
Cool down on a cooling rack before frosting.
Chocolate frosting
Meanwhile, prepare the chocolate frosting for your cake.
In a mixing bowl, melt dark chocolate chips and coconut cream.
You can also bring the mixture into a saucepan and melt it over medium heat until glossy and thick, like a chocolate ganache.
To boost sweetness, you can stir in 1/4 cup of powdered sugar in your frosting.
Spread the chocolate frosting over the cake and refrigerate the cake to set your frosting.
Allergy Swaps
You can replace the regular flour with all-purpose gluten-free flour to make an easy vegan, gluten-free chocolate cake.
Also, applesauce is a great oil-free option in this recipe. The cake texture will be different, but the flavor will still be delicious.
Storage Instructions
Crazy cake recipes are egg-free and dairy-free and can very well be stored in a cake box in the pantry for up to 4 days.
You can also store your wacky cake in the fridge, which increases its fudgy chocolate texture.
More Chocolate Baking Recipes
If you love egg-free chocolate cakes, brownies, and bars, I have a few more easy chocolate recipes for you to try.
Did you try this crazy cake recipe? Share a comment or review below! I love to hear back from you on my vegan recipes.
Your friend, Carine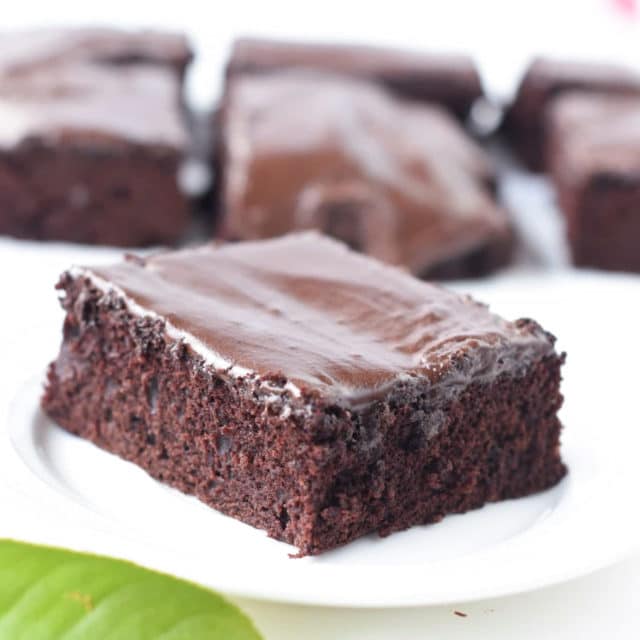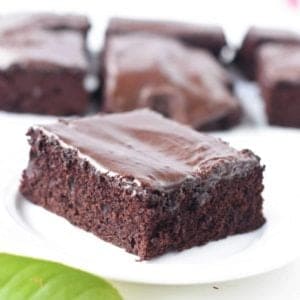 Crazy Chocolate Cake
An easy Vegan Crazy Chocolate Cake recipe ready in 10 minutes in 1-bowl and 100% egg-free, dairy-free and vegan-friendly.
Pin
Print
Review
Ingredients
Dairy-free chocolate ganache
Instructions
Preheat the oven to 350°F (180°C). Lightly grease a 9-inch x 9-inch square cake pan with oil. Glass or ceramic pans work the best.

Directly in the cake pan (no bowl is needed for this recipe), add the flour, sugar, unsweetened cocoa powder, salt, and baking soda. Whisk to combine.

Make 2 wells in the dry ingredients and add the vinegar in one of the wells and the oil in the other well.

Pour the water, at room temperature, over the ingredients and whisk to form a batter with no lump. Careful, don't use boiling water, or the cake will be very chewy. Very cold water may create lumps, especially with gluten-free all-purpose flour.

Bake for

25-30 minutes

or until a pick inserted in the center of the cake comes out clean.

Cool the cake down to room temperature before frosting. If you used a glass/ceramic pan, cool the cake in the pan, no need to unmold it. Otherwise, unmold after

10 minutes

and cool down on a rack.

Meanwhile, prepare the chocolate ganache
Chocolate Ganache
Combine the melted chocolate with coconut cream

Heat the coconut milk or cream in a small pan (you can also use your microwave), then pour over the dark chocolate chips and stir until the chocolate in the ganache is smooth and shiny.

Spread all over the cake before serving
Notes
Flour options: you can replace white flour with the same amount of spelt flour or all-purpose gluten-free flour, or oat flour. Oat flour makes the cake very dense and doesn't work in combination with sugar-free sweetener. The texture will be fragile if so. Sugar options: coconut sugar, unrefined cane sugar, or sugar-free option: replace sugar with erythritol or xylitol. Nutrition will be Calories: 176 kcal, Carbs: 17.8g, Sugar: 3.1g, Protein: 2.7 g Fiber: 1.8 g, Net carbs: 16g
Share on Facebook
Pin Recipe
Nutrition
Serving:
1
square with glazing
|
Calories:
225
kcal
|
Carbohydrates:
30.2
g
|
Protein:
2.6
g
|
Fat:
11
g
|
Fiber:
1.8
g
|
Sugar:
15.6
g