This Vegan Funfetti Cake is a light, fluffy vanilla cake filled with sweet colorful rainbow sprinkles.
It's the perfect vegan birthday cake for kids and anyone fan of rainbow vanilla cake.
Vegan Funfetti Cake Ingredients
First, choose the ingredients carefully. Not all sprinkles are vegan, as some contain food coloring from animal sources.
So make sure you choose sprinkles with a vegan label or check our vegan food additives guide to check if your sprinkles are vegan-friendly.
All you need to make a Vegan Funfetti Cake are:
Cake flour or all-purpose flour sifted works best for a light, fluffy vegan cake.
Sugar – any sugar works, but fine caster sugar provides the best light cake texture.
Baking soda, or if you want to use baking powder, double the amount requested by the recipe. It means 1 ½ teaspoons of baking soda comes to 3 teaspoons of baking powder.
Salt
Unsweetened almond milk or any dairy-free milk you love.
Canola oil or any light vegetable oil. You can also use melted coconut oil, but the cake texture comes out heavier.
Vanilla extract
Apple cider vinegar
Vegan sprinkles – as mentioned above, not all sprinkles are vegan-approved because some contain food coloring made from animal sources. Also, you can adjust the amount of Funfetti depending on how sweet and colorful you want the cake to be. I love to use between ½ cup and ¾ cup.
Making Vegan Funfetti Cake
First, in a large bowl, combine almond milk, canola oil, and apple cider vinegar. Give a quick whisk and set aside 10 minutes.
In a medium mixing bowl, sift flour and stir in sugar, baking soda, and salt.
Gently whisk the dry ingredients into the wet ingredients, just until combined to form a smooth cake batter.
Now, fold in the vegan sprinkles until well distributed into the batter.
First, grease two round cake pans with vegetable oil. Cover the bottom with a piece of parchment paper.
Transfer half of the cake batter into each 8-inch round cake pan. Bake one pan in the center rack of the oven and the over pan on the rack just below.
Baking
Bake for 30 to 40 minutes at 350°F (180°C), switching pan places halfway through baking. When a pick inserted in the center of the cake comes out clean, the cakes are cooked. Cool them down on a cooling rack at room temperature.
When the cake layers are cooled, it's time to prepare one batch of my vegan buttercream frosting. This recipe uses powdered sugar and vegan butter.
If you don't have vegan butter, you can use my coconut frosting recipe instead.
Frosting The Vegan Cake
First, make sure the two cake layers are at room temperature. Then, place one cake layer on a plate or cake turntable.
Add half of the vegan vanilla frosting to the center of the cake layer and use a flat tool to spread it evenly on top of the cake.
It's ok if the frosting overflows on the sides of the cake. The amount that overflows will be reused later to cover the sides of the cake.
When the top is fully covered with frosting, place the second cake layer on top. Finally, add the remaining frosting on top and spread on top and side using a flat spatula.
Place the frosted cake in the fridge for at least one hour to set.
Decorate with extra vegan sprinkles on top and sides if desired.
Best Vegan Sprinkle Brands
There are many vegan-friendly sprinkle brands available on the market. The best to use in this Vegan Funfetti Cake are listed below (contains affiliate links):
Frequently Asked Questions
What's a Vegan Funfetti Cake?
A vegan Funfetti Cake, also known as vegan confetti cake, is an egg-free vanilla cake filled with rainbow sprinkles in the batter.
It's called Funfetti cake because the sprinkles melt and look like confetti when the cake is baked.
More Vegan Cake Recipes
If you love baking vegan cakes, I have plenty more vegan cake recipes for you to try. Below I listed my favorite vegan baking recipes for you to try.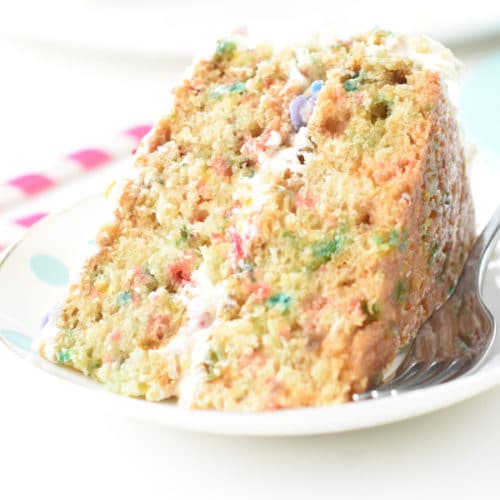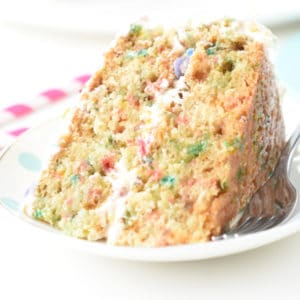 Vegan Funfetti Cake
The best Vegan Funfetti Cake with a light vanilla crumb filled with sweet vegan sprinkles.
Pin
Print
Review
Servings: 16 slices
Calories: 236 kcal
Instructions
Preheat the oven to 350°F (180°C). Line two 9-inch round pans with parchment paper. Grease the pans with coconut oil on the sides and bottom, parchment paper included. Set aside.

In a medium mixing bowl, combine apple cider vinegar, almond milk, canola oil, and vanilla extract. Set aside 10 minutes to curdle.

In another large mixing bowl, sift flour. Then, whisk in caster sugar, salt, and baking powder. Set aside.

Pour the dry ingredients into the wet, give a quick whisk to incorporate until ingredients are combined. Don't over-whisk, or the cake will be dense.

Stir in rainbow sprinkle to incorporate, again don't over mix, or the cake will be dense and gummy.

Divide the batter evenly in half to fill the two round pans.

Bake both pans on the center rack of your oven for 30-35 minutes or until they are golden brown and a pick inserted in the center comes out clean. You can also cook one in the center rack and one in the rack just under. Swap the pans halfway to make sure they bake at the same speed.

Cool down on a rack completely before adding any frosting.

Meanwhile, prepare your vegan buttercream frosting following my recipe here.

Place one layer of cake on a large serving plate, add half of the batch of frosting in the center of the cake and use a spatula to spread the frosting all around the cake. It's ok if it drips on the sides.

Top up with the second cake layer, add another batch of vegan frosting and repeat the same action, spreading frosting on sides as well until it entirely covers the top and sides of your cake.

Decorate with more rainbow sprinkles and place the cake for 1 hour in the fridge to set the frosting and blend flavors.
Storage
Store cake in an airtight cake box in the fridge for up to 4 days or freeze and thaw the day before serving.
Notes
Allergy Swaps
If you have food allergies, you can try to make this recipe gluten-free or low-sugar.
Gluten-free – replace wheat flour with all-purpose gluten-free flour like Bob Red Mills' or similar. You need a gluten-free blend that contains gum. This recipe won't work with just almond flour or coconut flour.
Sugar-free – you can replace sugar with a sugar-free sweetener like erythritol and use vegan keto sprinkles.
Oil-free – I didn't try making this cake without oil, but some people report success with applesauce as an oil replacement. Use the same amount of unsweetened apple sauce. The texture will be much denser, sweeter, and darker in color.
Storing Vegan Funfetti Cake
You can store this cake in a cake box in the fridge for up to 3 days.
You can also freeze this Funfetti Vegan Cake for up to 3 months in an airtight container.
Share on Facebook
Pin Recipe
Nutrition
Serving: 1slice | Calories: 236kcal | Carbohydrates: 40g | Protein: 2g | Fat: 8g | Saturated Fat: 1g | Trans Fat: 1g | Sodium: 183mg | Potassium: 21mg | Fiber: 1g | Sugar: 26g | Calcium: 75mg | Iron: 1mg | Magnesium: 4mg | Phosphorus: 36mg | Zinc: 1mg